Most grocery stores carry many different brands of butter, but are the expensive ones really any better than the discount brands? Since I myself am faced with this question regularly, I decided it was time to find the answer with a blind taste. I gathered together a panel of experts (as well as Robyn and me) to find out the answer to this butter dilemma.
Chef Serge Jost – Executive Chef at Fairmont Hotel MacDonald. You didn't think I would do a butter taste test without a Frenchman, did you?
Jacqueline Jacek – Owner and Cocoanista at Jacek Chocolate Couture. Jacqueline spends her days detecting small nuances in chocolates from regions across the world, so she possesses an ideal skillset for this challenge.
Amy Nachtigall – Co-owner and Head Baker at Sugared & Spiced Baked Goods. Amy uses copious amounts of creamy, buttery goodness daily for her baking treats, so this was a natural fit.
Jeff Nachtigall– Co-owner and Head Taster of Sugared & Spiced Baked Goods. Jeff was just really excited to eat a lot of butter.
We tasted butter of varying fat content, prices, and brands. That may seem like fun at first, but it was much harder than it sounds, trust me. Picking out the subtleties between them proved difficult, even for this panel of seasoned tasters.
Presidents Choice Organic- Superstore. ($4.50 for 250g) 1.8 cents per gram
Natrel – Safeway ( $4.89for 454 grams) 1.08 cents per gram
Lactancia – Safeway ($5.29 for 454g) 1.17 cents per gram
Cows Creamery – Duchess Provisions ($7.00 for 250g) 2.8 cents per gram
Foothills Creamery- Safeway ($4.79 for 454g)  1.06 cents per gram
Foremost – Superstore ($4.98 for 454g)  1.09 cents per gram
L'Ancetre – Safeway ($7.19 for 250g) 2.88 cents per gram
Sterling 84 – Duchess Provisions ($7.00 for 250g) 2.8 cents per gram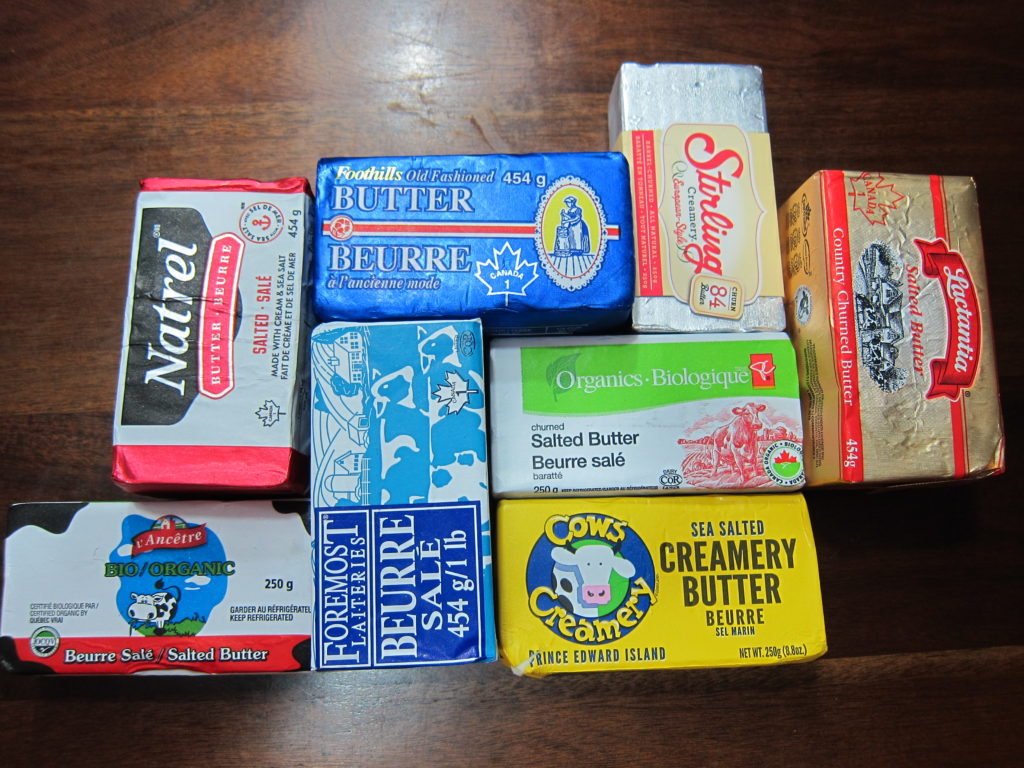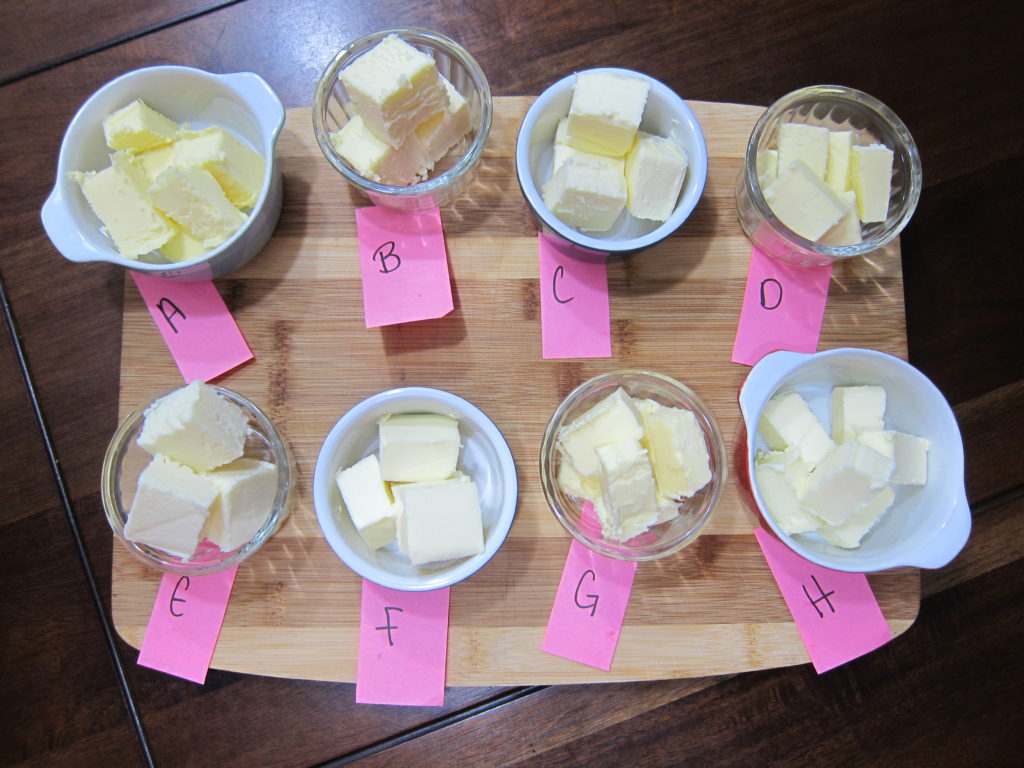 The rules were simple: we tasted salted butter, because that's what most people buy for home use, and the butter could be tasted either alone or slathered on some fresh baguette. We wouldn't want anything getting in the way of that butter flavour.
The results were not easy to come by, but we did end up with an almost unanimous winner. We also had a unanimous vote for last place and a few thoughts on the ones in between:
Winner– Sterling 84 
The judges found Sterling to be the most balanced, with the best combination of flavour and creaminess while keeping the saltiness in check. Sterling was also the second most expensive per gram of all the butter, but in this case, you get what you pay for. The higher fat content (84%) will also add an extra layer of deliciousness to your baking.
Loser– Presidents Choice Organic
You don't get more conclusive than a unanimous choice for worst, and that's what we had. Judges across the board found this butter to be much oilier than the rest, with a texture and flavour that didn't impress. It rings in as one of the higher costs per gram, so our panel says to give this one a pass.
The Rest
Lactancia scored well for creaminess and, though some judges found it a touch salty. It would be my pick for second place. Lactancia also has the distinction of being the best value, ranking high for quality and low on the price scale.
I expected Cow's to rate highly, but our judges found it to be far and away the saltiest of the bunch; far too much for everyday use. A few judges did note that the overt saltiness would be really nice on popcorn, however.
L'Acentre was the most expensive, yet the import from France only elicited lukewarm reviews. Judges noted the strong flavour that left a bit of an odd aftertaste.
Foremost was clearly the cheapest option up until a recent price drop on Natrel, and surprisingly did not rank last as I would have expected. Though light on flavour, at least the texture was better than the PC Organic.
Recommendations
So do you need to splurge for Sterling 84 and ditch your current brand of choice? Well, I'd say if the extra cost isn't an issue for you, then yes, by all means. If cost is a concern, do what I do and have Sterling on hand for occasions where the butter is the star, and keep the much cheaper Lactancia in your butter dish for everyday use.
More posts you might like :
Baconhound is an Edmonton food blog, focusing on the best restaurants and dishes in Edmonton and beyond. Phil Wilson is a food writer and also the host of the Canadian food podcast, Off Menu. Find it in the iTunes store and on Stitcher.