You don't have to be the wisest in all the 5 kingdoms to know that Edmonton has some pretty darn good scones. The only question is who will take the Iron Throne of scones?
I had a couple food friends in town a while back, which was a perfect opportunity to put their taste buds to the test and help crown a winner. Unlike the fried chicken crawl, there really were no duds in the bunch, so it was much more difficult to reach a consensus on our favourite as a group.
After a bit of research, I settled on a lineup of top contending scones to taste. Here's the list:
Some notes on the process:
Yes, scones are crazy delicious, but we're doing this mainly because I had a kickass name for the challenge.
Tests are conducted as blind as possible. In this case, 2 judges were completely blind to where each scone came from, I recognized a couple, and Robyn set up the tests and, therefore, knew them all.
Judges ranked each scone from favourite to least favourite. Their favourite scored 5 points, their second favourite got 4, and so on.
Eating this many scones in a short time frame is a terrible idea. It took me 2 days to recover from this all-out carb-fest.
In addition to Robyn and I, our other 2 judges were:
Carmen Cheng – a.k.a. Food Karma Blog out of Calgary. Though Carmen doesn't blog anymore, she's very knowledgeable and connected to the food scene in Calgary and Edmonton. She's the first call I make when I need info or advice on Calgary food.
Aditya Raghavan – Addie is a fixture on the Edmonton food scene, and has had articles published in National Geographic India, as well as Avenue Magazine here in Edmonton. Addie also teaches Indian cooking classes and is currently helping to develop a cheese making program in his home country of India.
Let the games begin!
Scone A
This raspberry white chocolate scone had a beautiful crust of crystallized sugar that all the judges loved. In fact, one judge drew a happy face next to that comment, so it's safe to say that addition was a hit. The texture was more moist and cakey than usual for scones, which judges were split on. The judges unanimously agreed that the fruit that was there was delicious, but that more fruit was definitely needed.
Scone B
The judges were in love with the generous amount of berries in this mixed berry and white chocolate scone. This scone also had a more crumbly texture than scone A, and was more rich and buttery. There was none of the crusty exterior that we all loved from scone A, and a slight amount of pastiness was noted in the texture, but the flavour was far more pronounced. One judge says that scone B had "more oomph", and another said, "this is a scone I would eat for breakfast – no butter needed".
Scone C
This blueberry scone scored off the charts for butteriness, as evidenced by one judges scorecard reading "butter butter butter!" "Look at those layers!" writes another judge, while adding a hearty sketch to the mix. The edges of this scone also got crispy and melt in your mouth, which reminded me a lot of a great shortbread, which may be why one judge questioned, "Is it too rich to be a scone?" Despite all those decadent and rich layers of tasty butter, the judges had a couple notes on the downside too, namely the lack of blueberry flavour and a heavy hand with the salt.
Scone D
This Blueberry Lemon scone had berry flavour to spare, with a light and crumbly texture. Most judges found the lemon flavour to be quite muted, but the tanginess came through. We all would have preferred a bit more lemon. This scone had a great balance of flavours between the butter and berries, with a nice crusty sugar topping. One judge noted that it would be great with some clotted cream and lemon curd.
Scone E
By the time we got to this fifth scone, I think we were all almost ready to tap out. This Pear and Ricotta scone was so different than the rest of the scones that it helped get the excitement level back up to where is should be, so it was probably a good choice to leave for last.
Judges found the addition of pear to be a standout. One judge commented that a bite including the pear was the single best bite of the day. The ricotta wasn't very noticeable, but may have added to the texture, which we found to be kind of a hybrid between the ultra-layered scone C and the others. Most judges wanted a bit more butteriness and a pinch more salt as well. There was more citrus in this one than in scone D, which judges appreciated, and the crispy edges were outstanding.
The Results
Our 4 judges each picked a different scone as their favourite, which is amazing to me. I guess that means that I was right in suggesting there's plenty of great scones here, even if I would have preferred a clear-cut winner.
After aggregating the scores, there was a 2-way tie for first place between Lock Stock (scone E) and Duchess Bake Shop (scone D). The great thing about that is that they're drastically different styles of scones, so you can pick the one that appeals to you the most.
There was also a 2-way tie for second place between Ampersand 27 (scone C) and Leva Cafe (scone B), with District Coffee (scone A) trailing just behind. It's worth noting that judges found that each of these scones were very enjoyable in their own right, and the difference came down to 1 point. It doesn't get any closer than that.
While there may not have been as much sex or beheadings as in Game of Thrones, the Game of Scones battle scenes were just as intense. Luckily you don't need to be as rich as a Lannister to try them all, and if you do I'd love to hear your results!
So what's your favourite scone? Let me know in the comment section below!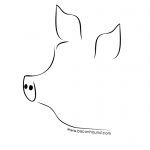 Baconhound is an Edmonton food blog, focusing on the best restaurants and dishes in Edmonton and beyond. Phil Wilson is also host of the Canadian food podcast, Off Menu. Find it in the iTunes store and on Soundcloud.