It turns out y'all really love fried chicken. So much so that my post on the first fried chicken crawl generated so many more great recommendations that I had to do a second round.
It's a tough job, but somebody's gotta do it.
I kept the format the same as last time, which means the tasting was done as blind as possible, with only Robyn knowing which chicken is what as she did the plating. Also, all the chicken was picked up and kept warm at a central location where the feasting would commence. The four judges remained the same as for round 1 (me, Robyn, Allen, and Lisa), so we were able to compare draw some comparisons between the 2 rounds also.
The competitors this round, in no particular order were:
Chicken A
The coating on this chicken was light, and beautifully salty. With an overall lack of salt being a primary complaint in round 1, all 4 judges loved the proper seasoning here. The chicken was nice and moist, and there was a subtle heat at the end that a couple of judges dubbed a "creeping heat". The coating had a light crunch, but stopped short of being crispy. All 4 judges agreed it could use a bit more of that flavourful coating for our tastes, but that's about the only nitpick we could find. It elicited comments such as "well-balanced and flavourful", and "very tasty".
Chicken B
This chicken had a lighter coloured crust than the first one, and was seasoned ok, though not as well as chicken A. Judges noted that the coating thickness varied quite a bit – thin in some spots, and thick in others. The chicken itself leaned very slightly to the dry side, but as one judge noted, "not unpleasantly dry." All 4 judges found the defining characteristic of this chicken was its spiciness. It was much more aggressive heat than chicken A, and though we're not exactly talking Buffalo wings hot here, it definitely had the most heat of any of the 10 chickens tested.
Chicken C
This was the first chicken that had a sauce, which came on the side and Robyn added right before serving. The breading looked delicious, and was noticeably thicker than the rest of the chickens but, strangely, it was not sticking to the chicken very well. At one point, the entire coating from my drumstick slid off and sat on the plate in a drumstick shape on its own. It seemed to be sticking to the white meat a bit better, though still not perfect. The seasoning on the crust was pretty good, and the sauce gave it a tangy/sweet quality, and a bit of heat.
The white meat portions scored high with the judges that had them, due to the juiciness and flavour of the meat. The chicken must have been brined, since the meat had great flavour, and not just the coating. Those of us that got drumsticks found the skin underneath the coating to be quite flabby and unrendered, which was unappealing. The meat inside was juicy, but a bit greasy and almost slippery. There was an extra piece extra piece of the white meat for us all to try and it was much better than the drums. So the final verdict was white meat, good; drumstick, not so much.
Chicken D
Well this is where things took a turn for the worse, my friends. Chicken D had a gloopy, gummy, and totally unappealing outer coating, covered in a sticky Asian chili sauce. The skin was fatty and chewy, and the actual meat didn't fare any better. What bits of meat we managed to scrape from the bone were tough, and as 1 judge noted, ginger beef-like. The meat was so sparse on it that I'd probably have better luck finding the Loch Ness Monster than a reasonable bite of chicken. It was closer to a box of battered bones, than fried chicken to me.
Chicken E
After the disappointment of chicken D, we were all hoping to finish off the testing with a good one, but chicken E hit the table looking burnt and way overcooked. Of the 4 pieces, mine was, easily, the least burnt one (the drumstick on the left of the picture), but even that one had a burnt flavour to it. The crust had crunchiness to it, of course, but burnt crunchiness isn't exactly what we're looking for. The chicken inside was dry, due to being way overcooked, but at least there was some chicken to get a bite of, unlike chicken D. The crust did have some saltiness to it, but the meat underneath didn't take in much flavour.
The Results
Much like round 1, we had 3 very enjoyable fried chicken, and 2 that none of us liked. After a short discussion, we came to a consensus on a favourite, which was…. drumroll please….
Chicken A!
It turns out that chicken A was the offering from the folks at North 53, and was a unanimous pick as our favourite. The sad part of this story is that this delicious fried chicken is currently only available on their late night menu, on Friday and Saturday nights from 11:15 pm-2 am. It's worth staying up late for though, and they've got some tasty cocktails to keep you amused until 11:15.
Second place went to It Dog (Chicken B), which was quite a surprise to me. I wasn't expecting them to rank so high, but that's the beauty of a blind taste test. Sometimes you can get surprised.
Third place goes to the saucy chicken at Mercer Tavern (Chicken C). Though our judges had issues with the drumsticks, the white meat pieces were very good. If the drumsticks were as good, I'm certain they would have taken second place (which is where one of the judges had them ranked).
The fourth and fifth spots were a toss-up between Denizen Hall (Chicken E) and Lee House (Chicken D). Each had pretty serious faults, and they each got 2 votes for last place.
I want to thank all of you for your suggestions – I was not planning on doing another round of our chicken crawl, but I got so many great suggestions that there was no way I couldn't not eat more chicken. All in the name of thorough research, of course.
Have you tried any of these fried chicken dishes? Which are your favourites?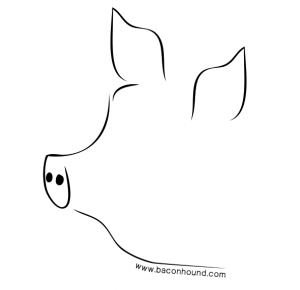 Baconhound is an Edmonton, Alberta food blog, focusing on the best restaunts and dishes in Edmonton and beyond. Phil Wilson is also the host of Edmonton, Alberta based food podcast, Off Menu.