Ever since starting this blog I've wanted to assemble a few people and blind taste test a bunch of Edmonton's fried chicken, then compare notes and pick our favourites. It's been years since this idea took hold and I can finally cross it off my "must blog" list. The assembled judges included myself and my wife Robyn naturally, plus I wanted a chef involved as well, so Allen Suddaby, head Chef of Elm Catering, enthusiastically agreed to come on board with his girlfriend Lisa, so our foursome was all set.
There was plenty of debate about how to accomplish the most authentic assessment of these fried chicken samplings while still keeping it as "blind" as possible. We went back and forth between forgoing the blind tasting altogether and just loading all 4 of us in the car and driving to each location to eat there, or sacrificing some freshness by splitting up to pick up all the chicken and meeting at a central location to feast. Each method has its merits; in the end, we decided the blind aspect of it was more appealing, and that each chicken would be sitting around the same amount which would offer no advantage to any one bird.And this way, each person might recognize 1 chicken, but we wouldn't be able to identify all 5 (with the exception of Robyn, who plated all the chicken). Besides, fried chicken is often a take-out food anyways, so we didn't feel like we were doing the restaurants a disservice.
With that decision made, we split up to gather chicken from the 5 places that made our collective short list from our own experiences, and suggestions of others. Robyn plated the chicken, assigned each a letter and we commenced the feast.
The competitors in no particular order were:
After each sample piece, we made a few notes on our likes and dislikes of that particular version.
Chicken A
All 4 of the judges found the coating nicely seasoned and crispy, but a little tough. One judge noted the meat lacked seasoning but the crust was flavourful. There was agreement across the board that it was very dry and overcooked, and 1 judge commented that it tasted like poor quality chicken.
Chicken B
All 4 judges found this chicken coating to be quite bland and oily tasting, with one suggesting that oil was the predominant flavour. Depending on the piece, judges found it either slightly juicy, or slightly dry. This was the palest looking chicken of the bunch, and the meat was also quite tough and chewy. I thought the last comment of a couple of judges pretty much summed it up – one says "blah", the other "pretty disappointing".
Chicken C
This chicken scored high marks for the coating, which judges found nice and crunchy with good seasoning. One judge found the coating a bit thick on their piece, noting it took a couple bites to get to the chicken. As for the chicken, we suspect it was brined, as it was moist and flavourful. 2 judges found an aftertaste that wasn't entirely pleasurable (from the brine?), and another called it a "strong flavour". We actually spent quite a lot of time in a "do I like it or not" debate due to that aftertaste, but the fourth judge was a strong yes. We could all agree, however, that the meat was moist and tender.
Chicken D
This crust was described as crispy, bordering on crusty. All 4 judges found the coating a touch under seasoned, but what flavour was there was decent. The white meat piece was judged a bit dry (though not as dry as chicken A), but the dark meat was juicy.
Chicken E
The crust on chicken E was quite different from the rest. The dark and coarse coating (it's actually corn flake crusted) had the best crispiness of all the contenders, and a texture one judge called "really fun". Everyone picked up on the nice sweetness in the coating immediately, but a lack of salt was also noted by the entire group. All 4 judges found this chicken to be the juiciest of all the samples.
One of the biggest take-aways from testing so many fried chickens back to back to back, is you start to see patterns. For instance, 4 of the 5 were too light on the salt for our judges, and most of the pieces of white meat were ranked as the driest.
So what was our favourite chicken?
The winning fried chicken with 3 first place votes (the other judge ranked it second) was Chicken E, which was from The Downtown Diner. A delicious, sweet and unique coating with the juiciest meat propelled it to the top.
The second place chicken was C, from Meat. It got 1 first place vote, two second place votes, and a third place vote. Had it not been for the strange aftertaste, it might have been a draw.
On the flip side, Chicken B from Wing Chix was ranked lowest of the 5 with the judges, getting 3 last place votes, with the last judge ranking it second last. Chicken A from Ralph's Handi Mart claimed the rest of the bottom 2 votes.
What are your thoughts on the state of fried chicken in Edmonton and where are your favourite places for deep-fried goodness?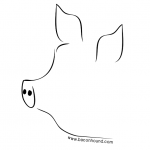 Baconhound is an Edmonton, Alberta food blog, focusing on the best restaunts and dishes in Edmonton and beyond. Phil Wilson is also the host of Edmonton, Alberta based food podcast, Off Menu.