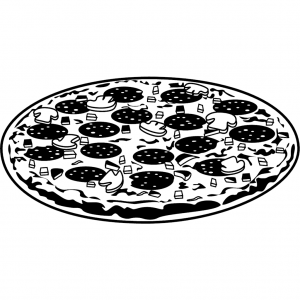 After a couple weeks away from pizza – sorry for leaving you hanging like that – I'm anxious to get back at it, putting 2 of Edmonton's Italian Markets head to head in this weeks pizza battle.
Nothing screams Italian quite like a real Italian market, so it stands to reason these 2 spots should be putting out some legitimate pizzas.
Italian Centre– 17010- 90 ave
I've been going to the Italian Centre for years, picking up everything from San Marzano Tomatoes, to deli meats, and a wide selection of cheeses. Not once have I ventured over to the cafe portion and ordered a pizza…until now. There's a good variety on the menu, but the Massimo, with mozzarella, capicollo, and spicy sausage was calling to me.
The Crust
The Italian Centre crust is thin, light, and airy, and had a bit of nice bubbling. It's crisp, without being hard, and had a great crunch on the cornicone. There's not a lot to nitpick with this one, unless you have a deep burning desire for a bit of charring on the edges. This is right up there with Leva as the best crust in the Pizza Odyssey to date.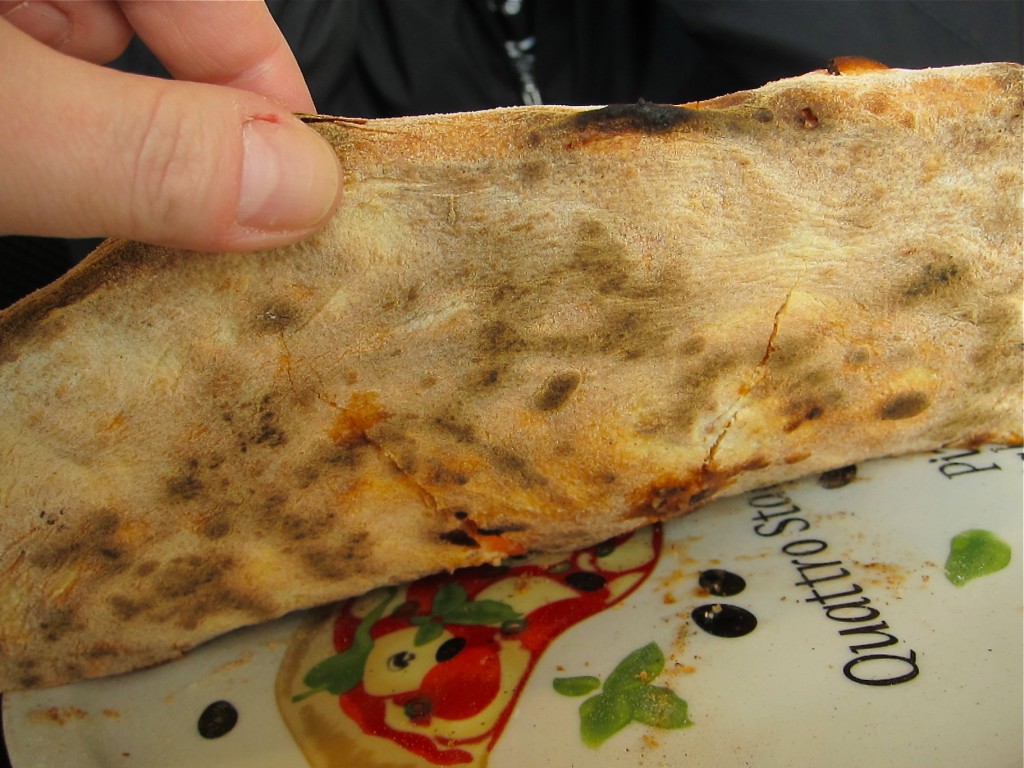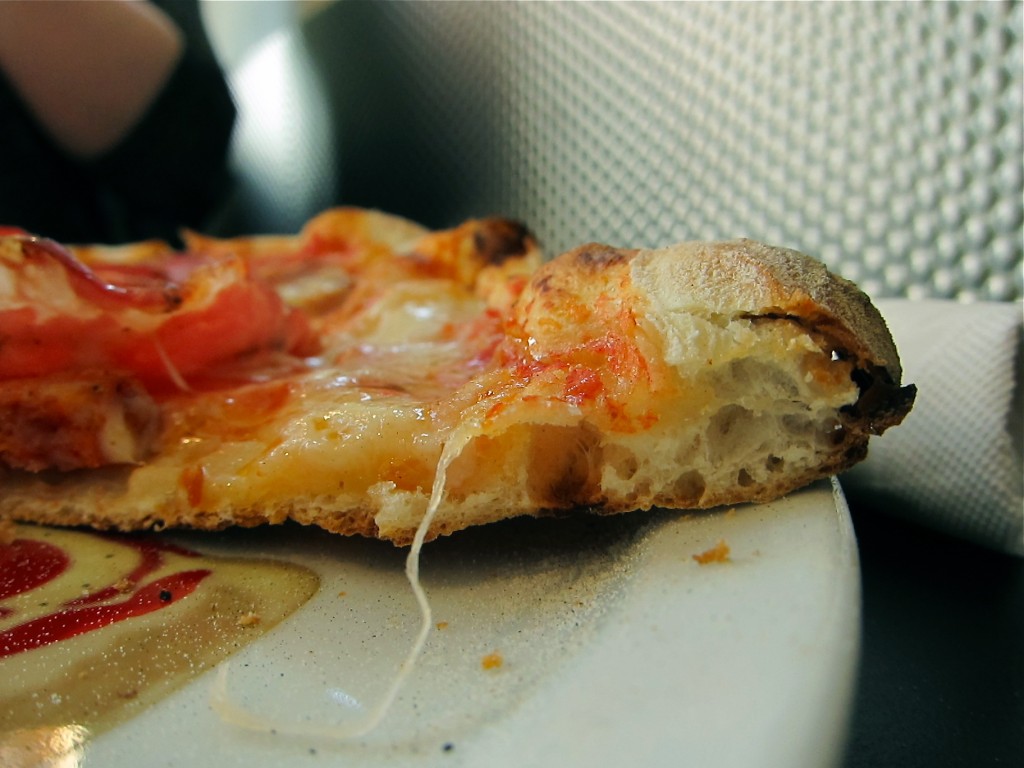 The Sauce–
No question, this is my favourite tomato sauce of the 14 I've tried so far. You're getting good, quality tomatoes, without a bunch of spices muddling up the flavour. That freshness the sauce brings is such a great compliment to the richer toppings. This is how it's done, folks.
The Toppings–
The Italian Centre puts a generous amount of stringy cheese on their pizza – a strategy that ranks high on my "reasons I want to be your friend" scale. That cheese gets a delicious boost in flavour thanks to the juices excreted from the tasty capicollo ham and spicy Italian sausage. Though the sausage is not put on the pizza raw (my preferred method), it still adds great flavour and the spiciness was just enough.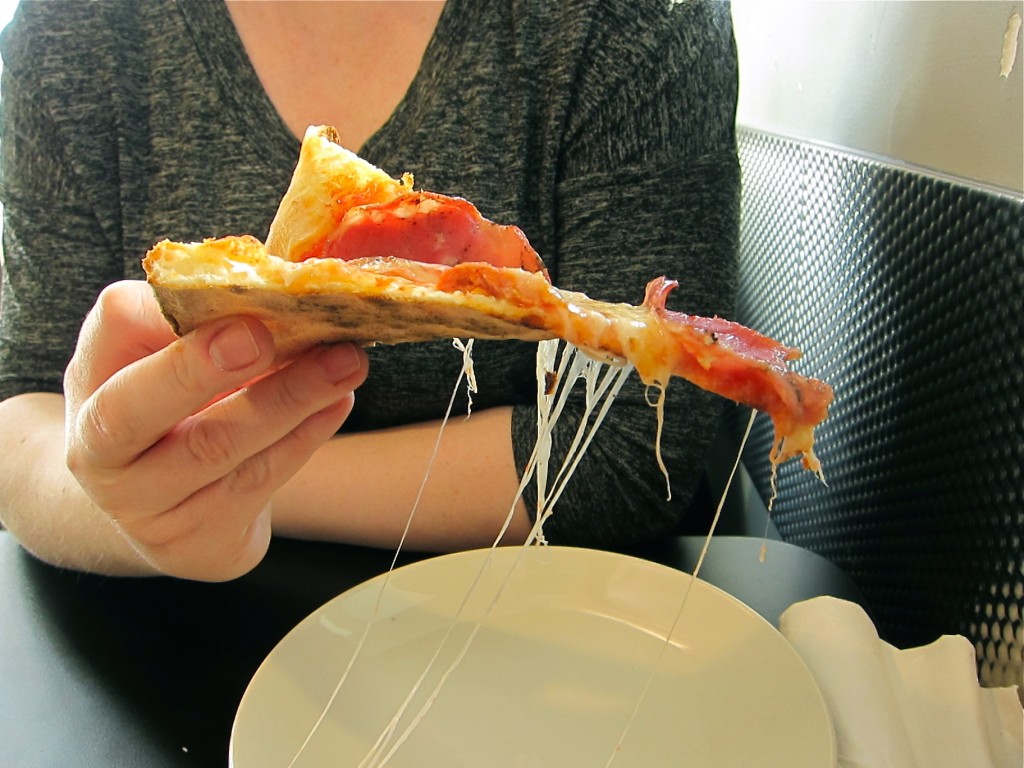 Up until this week, I had a clear leader in the thin crust category, but this fantastic pizza from The Italian Centre has made compiling the upcoming leader board a lot more difficult.
Cost- $14 for a 12″
D'Amore's Mercato– 4612- 99st
D'Amore's has been on my radar to try for a while now, but sometimes you just need that extra nudge to get you in the door. I guess a city-wide pizza search is as good an excuse as any, right?
I went for the Bianca, which has Tuscan Ham, mushrooms, mozzarella, and parmesan.
The Crust
D'Amore's crust is light and crispy, with quite a bit of charred bubbling. It's pretty decent, but could have used a bit more chew to it.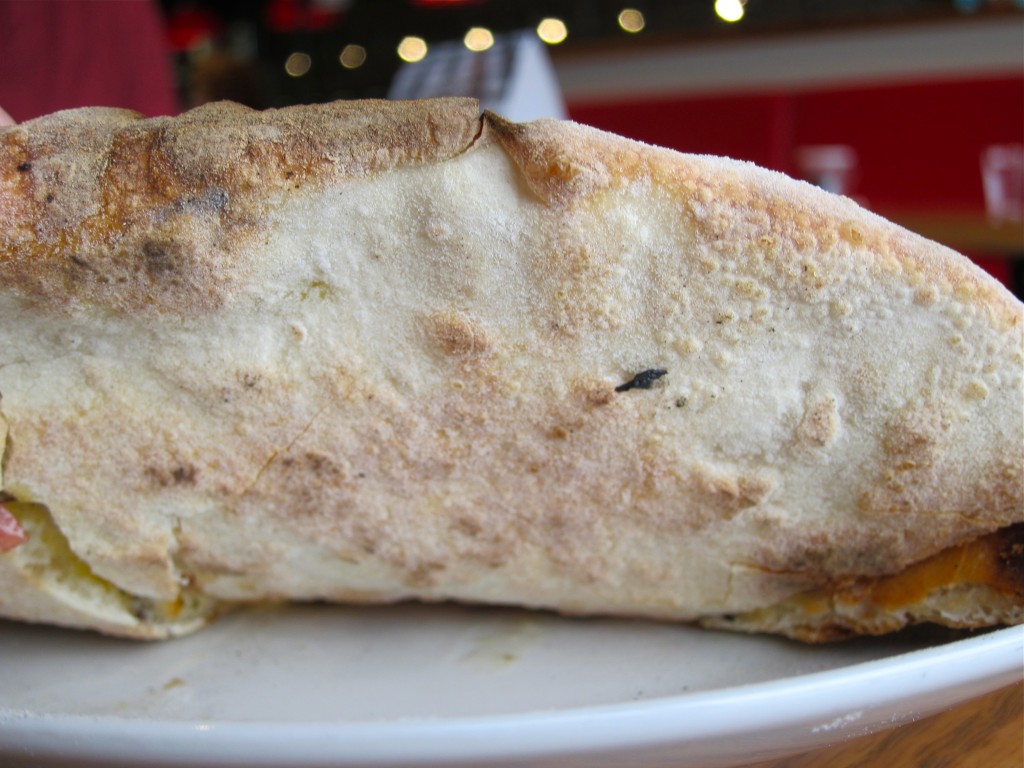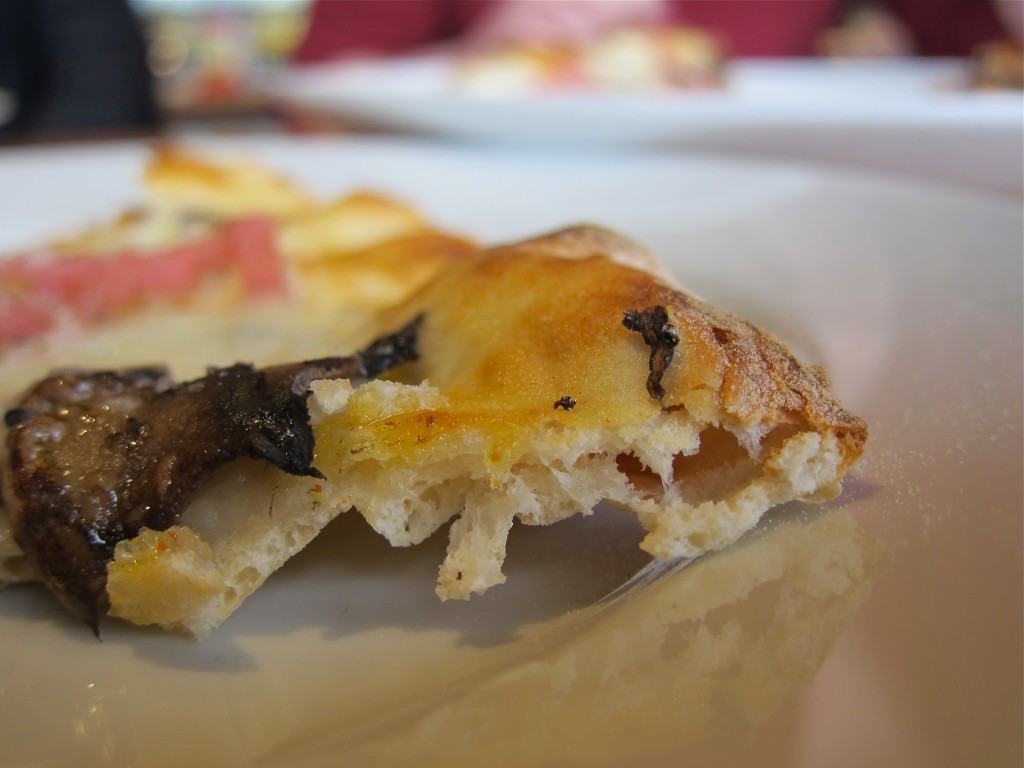 The Sauce
Well this is an easy one, since there was no sauce. Typically a Bianca would use olive oil and garlic as the base, or even a bit of white sauce, but I didn't see any evidence of either.
The Toppings
The slivers of Tuscan Ham provided surprisingly little in regards to flavour, which for me was the theme of this pizza on the whole. The mushrooms got a nice colour on them, but there wasn't enough of them to make much of an impact on my taste buds, and the expected saltiness from the parmesan didn't materialize either. Unfortunately, the bulk of the flavour came from the chili peppers I sprinkled on at the table.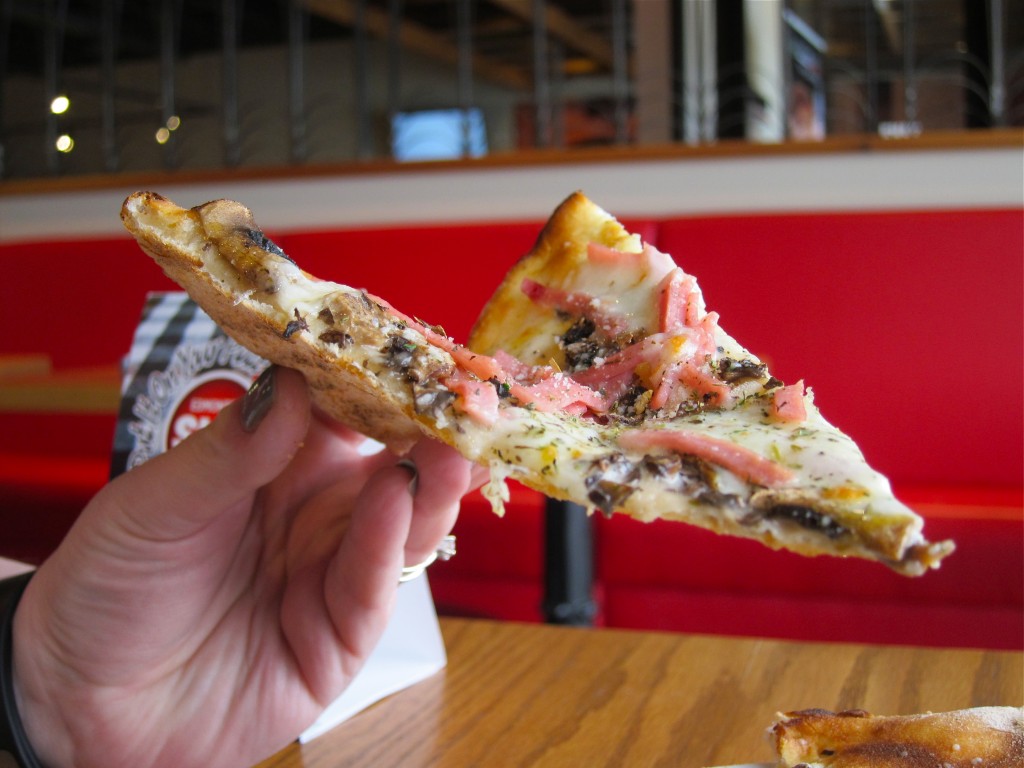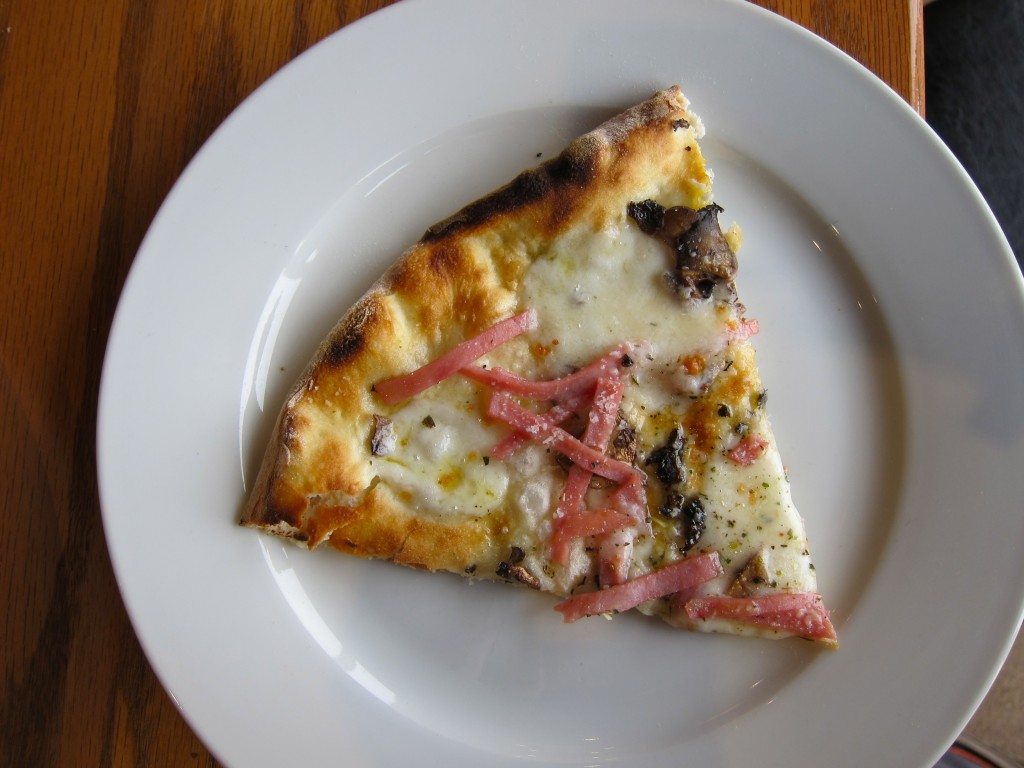 Cost- $13.95 for a 12″
These are two of the most cost-conscious pizzas I've had on the Odyssey but, regardless of price, the pizza at D'Amore's was a bit of a let-down for me in the flavour department, and the pizza at the Italian Centre was really solid all the way around. Without a doubt, The Italian Centre takes the win this week. I have to admit I wasn't expecting such a great pizza from a grocery store, but it just goes to show that great pizza can be found where you least expect it.
Baconhound is an Edmonton food blog, focusing on the best restaurants and dishes in Edmonton and beyond. Phil Wilson is also host of the Edmonton, Alberta based food podcast, Off Menu.