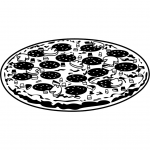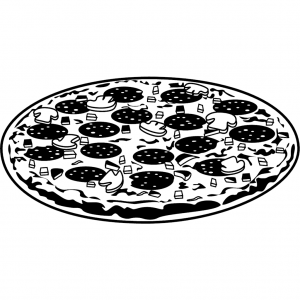 I'm back on the hunt for delicious thin crust pizza's this week, and it was a welcome reprieve from last week's heavy-duty pies. The 2 places I visited this week are both places I already love for other reasons – Beer Revolution for their beer, patio, and $2 pretzel nights, and Leva for their delicious coffee, baking, and breakfasts, but how would their pizzas fare?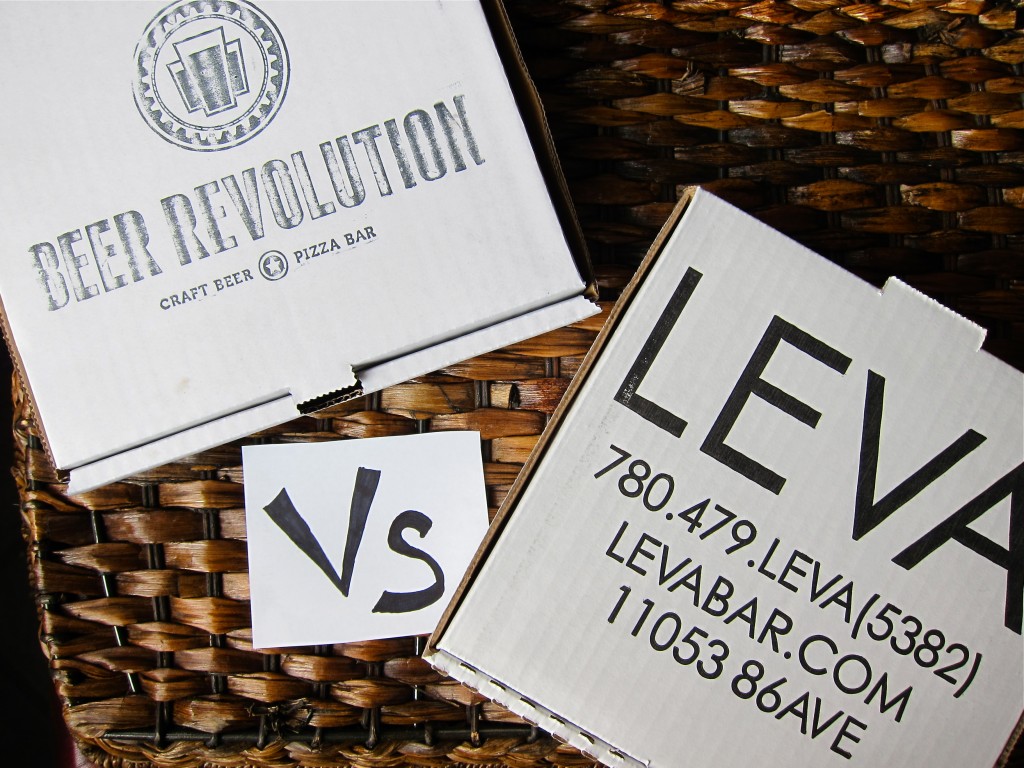 Beer Revolution – 11736 104 ave
Beer Revolution is a place that springs to mind for most people when they're craving a beer, but maybe it should be considered for their pizza too. They've got a selection of 13 thin crust pizzas with some interesting toppings, so finding one that tickles your fancy shouldn't be a problem. Robyn and I went with the Junior Boy, which has Prosciutto, grilled pineapple, roasted jalapẽnos, smoked cheddar, maple syrup, fresh basil, and marinara sauce.
Crust– The crust at Beer Rev is crispy, and exceptionally thin. It's got a fair amount of chew to it too, but lacks the charred bubbling on the cornicone* that you would expect from a pizza cooked at 700 degrees. The undercrust stayed crispy and had some nice pebbling. Overall, a pretty good crust.
* In case you didn't know, the outer ring of crust is actually called the cornicone. There, don't say I never taught you anything.
Sauce
Beer Revolution's sauce is a marinara, which is bright and acidic. It's got a bit of tang, and, with the basil leaves, adds some real freshness to the pizza. There was quite a bit on the one we got, which did cause the toppings to get a bit slippery.
Toppings
There's a lot of heavy toppings here for a thin crust pizza, but the slices were cut into small rectangles which helped keep each piece from collapsing under the weight. The prosciutto was a nice salty component and, when coupled with the flakes of salt added on top before serving, really helped bring out all the flavours. There was also some crushed red pepper flakes on the crust which was a surprisingly nice and spicy addition. Robyn appreciated that the jalapeno slices were left large enough to pick off, as she's less a fan of spicy than I am.
The smoked cheddar didn't impart much smokiness, but was a nice, creamy addition. The slightly charred pineapple rounded out the big, bold flavours going on with this pizza and added some sweetness to go with that delicious drizzle of maple syrup.
I already enjoyed Beer Revolution for their interesting beer selection, and now I can add pizza to their list of plusses.
Cost- 10″ square pizza- $19   ($5 off all pizzas on Sundays)
Leva- 11053 86 ave
It's sometimes easy to forget Leva makes pizza when you walk in and see all that fresh, homemade baking, but they take their  pizzas seriously too and it shows.
The selections get tweaked with each new menu change, but I'm fairly confident each new addition will be as good as the last. The new menu came out a week before my visit, and the Mushroom, gorgonzola, and potato pizza caught my eye on this visit.
Crust
Leva's crust is super thin, and the undercrust has some nice browning and crispness, while remaining tender. It's a little softer than some, but still holds up well when folded. It's almost pastry-like in its tenderness and the cornicone (there's that word again) is beautifully bubbly and airy. Those crunchy little bubbles add a textural element that a lot of pizzas fail to achieve, while the charred bits add another element of flavour.
Sauce
This particular pizza substitutes olive oil and garlic for the traditional tomato sauce. I do that myself at home quite a lot and always enjoy it. As a bonus, the toppings tend to stick to the dough much better without the tomato sauce. It doesn't have the tomato-y tang that I look for in a traditional sauce, but it worked so well that I didn't mind one bit.
Toppings
There's lot's of evenly distributed cheese on this beauty, and that gorgonzola adds a little zip that is delicious without being overpowering. There's a mixture of 3 different mushrooms, that, like the cheese, are evenly distributed. It's a small thing, but it shows that some care was taken when making this pizza. The garlic flavour comes through too, and this pizza smelled fantastic as it hit the table. I didn't think the potato added anything flavour-wise and I thought the large chunks might have even taken away from the finished product due to the texture.
Not surprisingly, I really enjoyed the pizza at Leva. It looks and smells amazing, and the taste backs it up. It's also nice to be able to get a great cup of coffee to go with that great pizza. And maybe even a chocolate croissant for the road…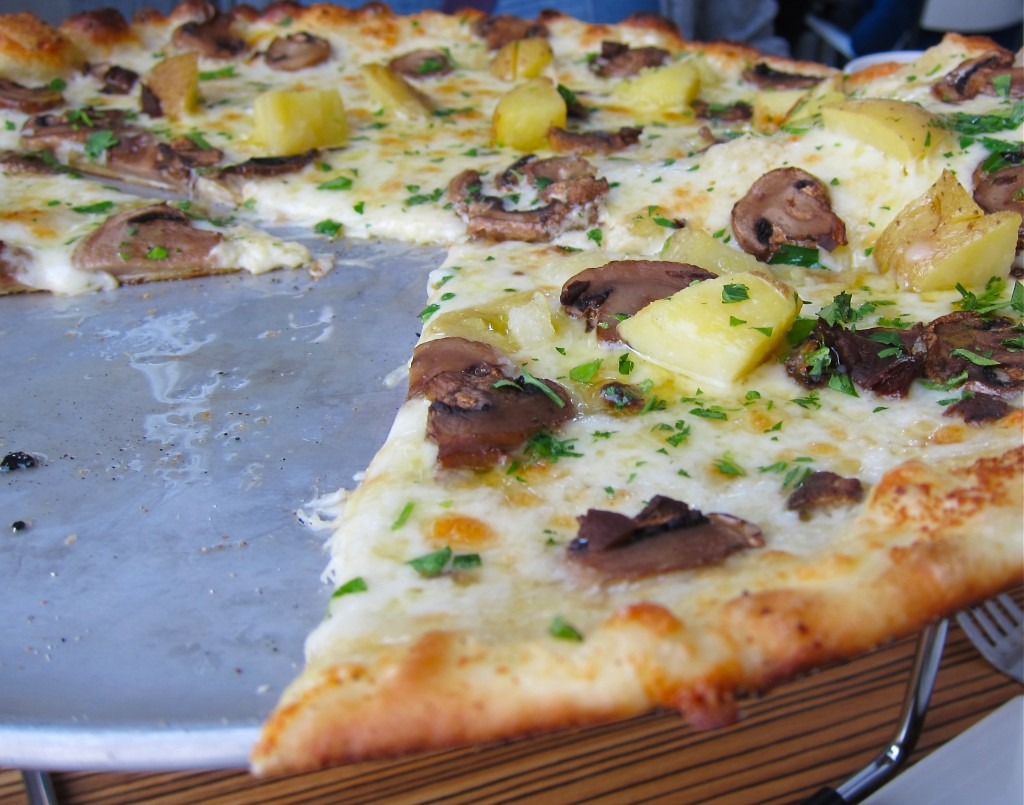 Cost – 12″ pizza $16.50
It's weeks like this that make me very happy I decided to eat 2 pizzas/week! The pizza at Beer Revolution is a champion in its own right, but this week's winner is Leva – the pizza there had incredible flavour from simple ingredients and it had my favourite crust to date.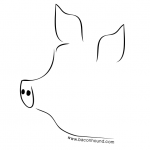 Baconhound is an Edmonton food blog, focusing on the best restaurants and dishes in Edmonton and beyond. Phil Wilson is also host of the Edmonton, Alberta based food podcast, Off Menu.