In the Wilson household, holidays always consisted of roasted turkey, stuffing, veggies, potatoes 2 ways (roasted and mashed, because we are carb people), and gravy, which are all pretty standard holiday fare, but the star of our show was always my mom's sausage stuffing.
We all know that Thanksgiving and Christmas dinners are pretty much just an excuse to have turkey gravy and smother everything in it, but this sausage stuffing is my absolute favourite thing to mop up gravy with, and making extra ensures there will be leftovers available to take tomorrow's turkey sandwiches to the next level.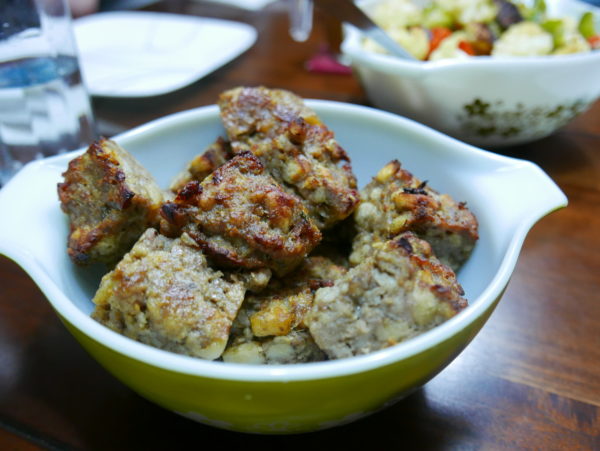 | | |
| --- | --- |
| | |
Preheat oven to 350 degrees

Season bread cubes with a few pinches of salt and pepper.

Mix all ingredients together and press into one large cassarole dish, or 2 smaller ones if more crispy edge pieces are desired.

Bake uncovered for 1 hour, and drain off rendered fat.
Sausage meat should already be salted, but if yours for some reason is not, add 1 tsp per pound to the meat.
Feel free to substitute fresh sage sausages if you like. Just remove from the casing, and if they are strongly sage flavoured, you might want to reduce the sage in the recipe by 1/2 tsp.