Edmonton has had really good pan style pizzas for ages, with it's thick bready dough loaded with toppings. In the last bunch of years we've seen some really good spots focusing on other styles too, such as the neapolitan offerings at Rosso and Famoso, and other thin crust options like Cafe Leva, The Italian Center, and Ragazzi.
What we haven't had is a true sourdough, slow-fermented dough in the neapolitan style, until now.
District Coffee Co. has recently revamped their evening menu away from small-plates to focusing mainly on pizza instead. The cafe wanted to concentrate their efforts on the thing that they do very well, which is baking, and pizza became a natural choice for the evenings.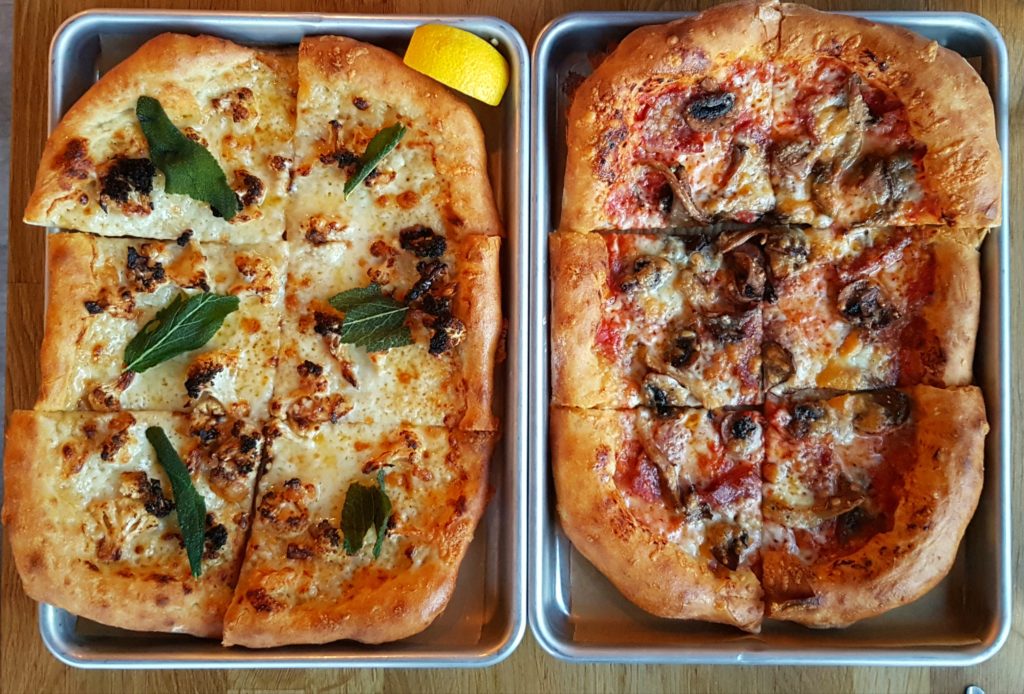 I tried the pizza at a couple of pop-up that District held before the official launch, and there was very little to criticize right from the get-go. After some small tweaking, the pizza menu went into full effect in mid- December.
We dropped in recently and tried 2 pizzas – the Pepperoni and Mushrooms, and the Cauliflower and Sage, both $18.00.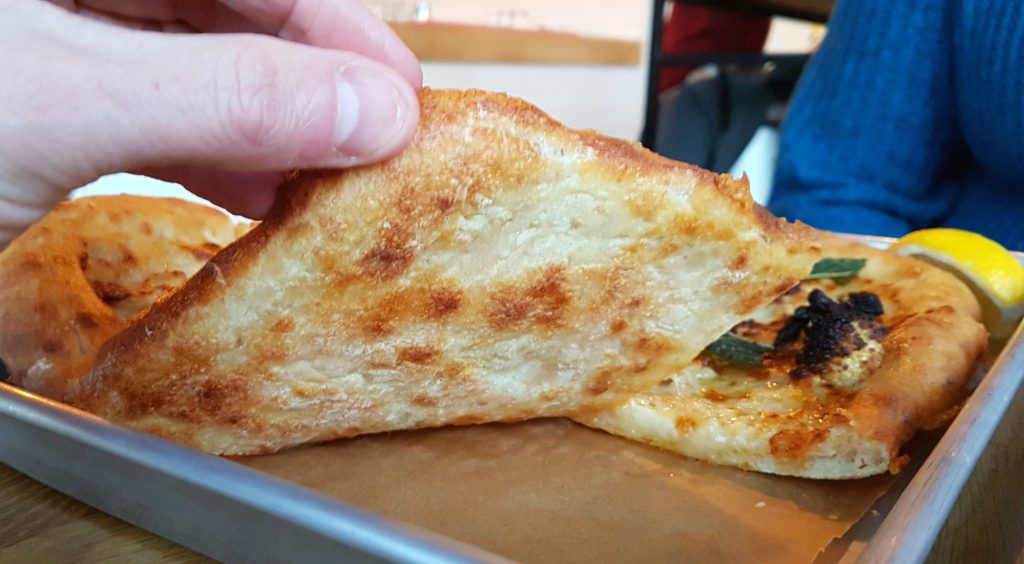 The crust has a beautiful sourdough flavour and plenty of chewiness, yet is still light and full of those airy bubbles that make great pizzas great. The rim is nicely browned all around, and crispy without being crunchy on the bottom. The crumb inside looks akin to cutting open a perfect baguette, and has a soft texture with tenderness. The only real concern I had was the pepperoni pizza had a couple spots where the rim was a bit too large, but the dough itself is so tasty and enjoyable that it's almost not a detriment. The visual may, however, give some folks cause for complaint. That's a pretty big rim on the front edge of the pizza below.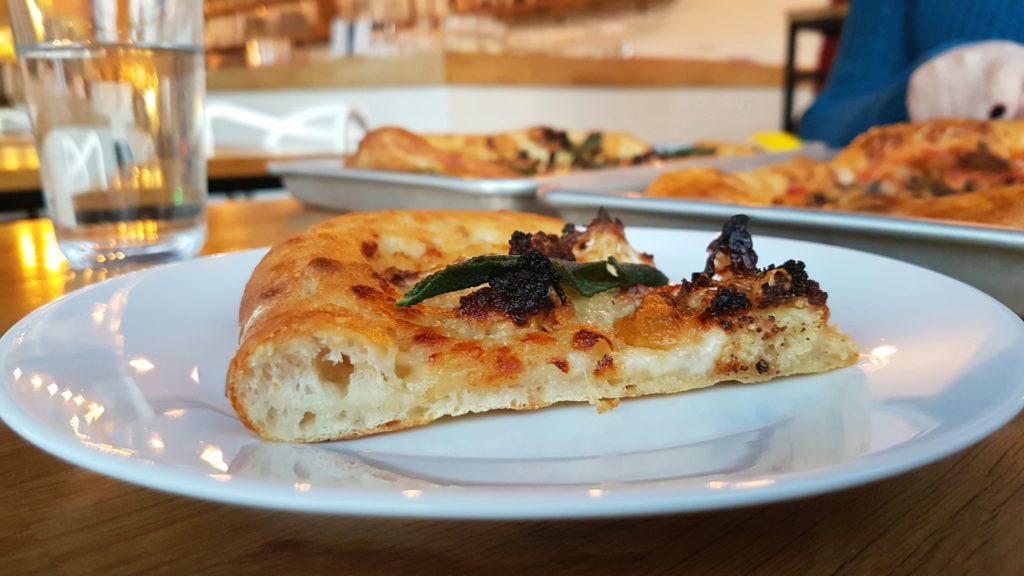 As for toppings, the quality theme from the dough carries on through. The pepperoni pizza boasts pepperoni from Muewly's, fresh mozza, provolone, and an assortment of roasted mushrooms. I especially appreciate the roasting of the mushrooms instead of lazily throwing raw ones on top. Sure it's an extra step, but if you care what your pizza tastes like, youtaske the time to do it.
The star of the show was unquestionably the cauliflower and sage pizza, with provolone and lemon. Vegetarians should be especially excited that the best thing on the menu is right in their wheelhouse, and us meat eaters ought to follow suit on this one. The charred cauliflower lends a wonderful flavour in perfect harmony with the fried sage, and the last-second addition of a few drops from the provided lemon wedge really takes it over the top.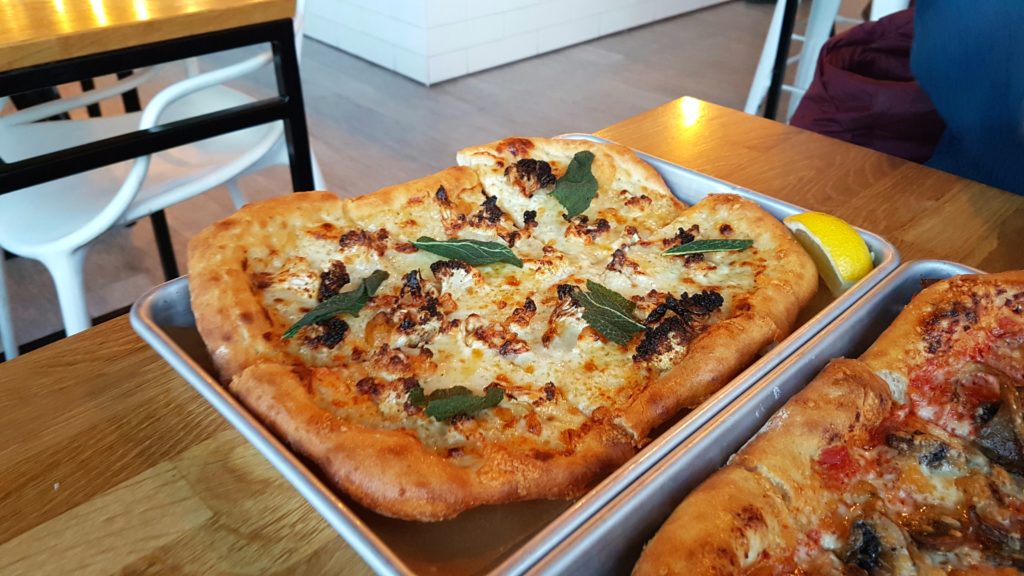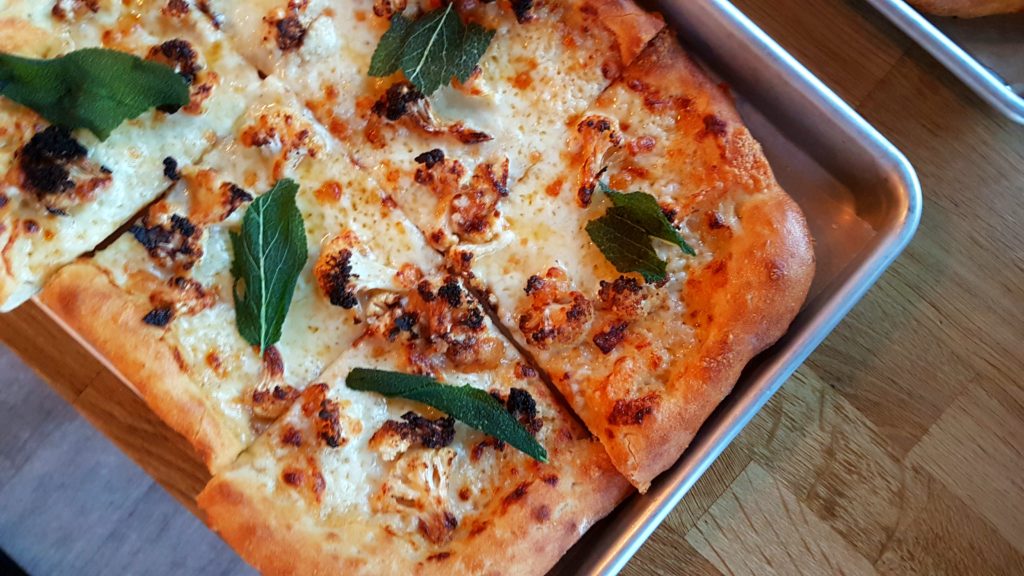 For my money, District has set a new bar for pizza in Edmonton, and given their recent hiring of former Corso 32 head chef Ben Chalmers, I would expect quality and consistency to become hallmarks here as it is at Corso.
10011 109st- Edmonton