Beer and pizza are soul mates, so it totally makes sense that this new microbrewery in Ellerslie would choose to make pizza the focus of their menu.
With that in mind, we, of course, ordered a pint to go with our pizza. I was a little disappointed in the pint of blonde ale as I found it very under-carbonated and thin on flavour, so I was counting on the pizza to turn things around.
We ordered the Night's Watch, which was described as confit chicken, cranberry jalapeno jam, chorizo, cornbread crumble, and parsley.
Town Square adds spent grains from the beer making process into their dough, which makes perfect sense to me. Use what's on your doorstep, I always say, and breweries have spent grains in abundance. As much as I love the idea, it doesn't really mean much if the end result isn't good though, right?
So was it good?
In a word, no.
Adding spent grains to doughs typically adds a more complex flavour to the dough, but also affects the texture; especially if you use too much. This dough was dense and chewy, and not the kind of chewy that characterizes a good pizza dough, rather, Town Square's dough was just hard to chew.  Even worse is that it had an extremely off-putting blue-ish tint to it, unlike any pizza I've seen before. After asking for an explanation, our server queried the kitchen and was told that since the pizza is called "The Night's Watch", they wanted to make the dough dark, so they added food colouring.
I'm not kidding. Food colouring.
In all fairness, a later instagram post from Town Square Brewing referenced the dough colour being due to the addition of squid ink, but there's a pretty dramatic difference between that picture and what I recieved. In the picture Town Square posted, the crust is noticeably black all around,  but on mine, you can clearly see it's blue inside and brown on the outside.
https://www.instagram.com/p/BcIqELflFo-/
On the plus side, the flavour of the toppings was actually not too bad. The star was the jalapeno cranberry jam, but the odd mixture of ingredients came together better than you might have expected. If not for the dreadful crust, the toppings might have at least elevated this to a decent pizza.
To add insult to injury, we also had the spicy chicken dip with bruleed feta and garlic flatbread. Though the dip itself was decent enough, the flatbread we recieved was overcooked to crouton status.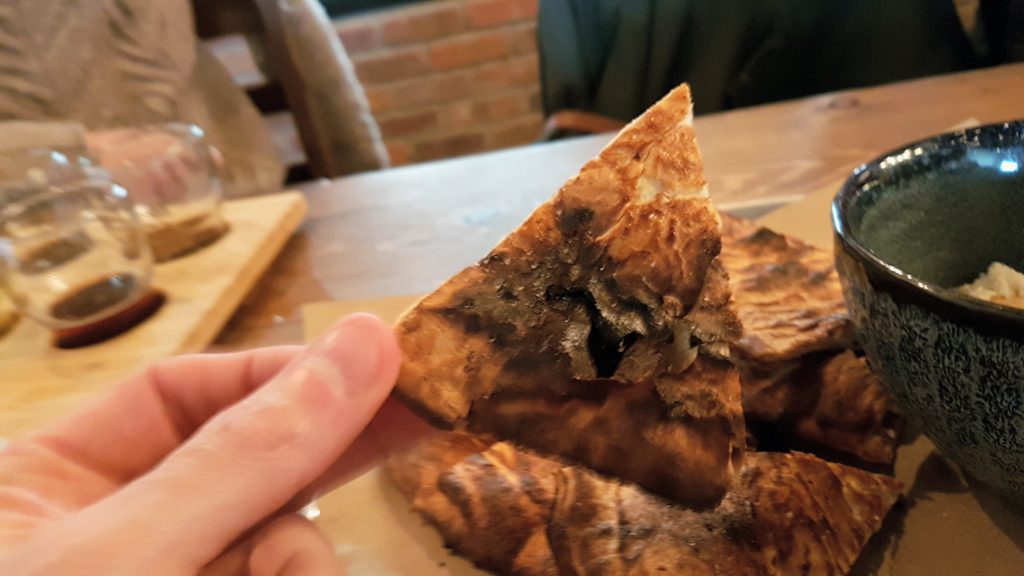 With this being my second disappointing visit to Town Square, it's safe to say it'll also be my last.
Town Square Brewing
2919 Ellwood Dr.