There's been plenty of action on the Edmonton pizza scene since my Pizza Odyssey a couple years ago, so it's time to check out some of the new additions vying to be crowned Edmonton's best pizza.
I thought a great place to start is with an overview of Edmonton's new quick-serve pizza options, namely home-grown joints Love Pizza and Urbano Pizza, along with U.S. chain Blaze Pizza.
Love Pizza-  10196 109st and #335- 935 St. Albert Trail St. Albert
The Rules-  $13.65 each. Build your own (4 toppings max.), or choose from 10 signature pizzas.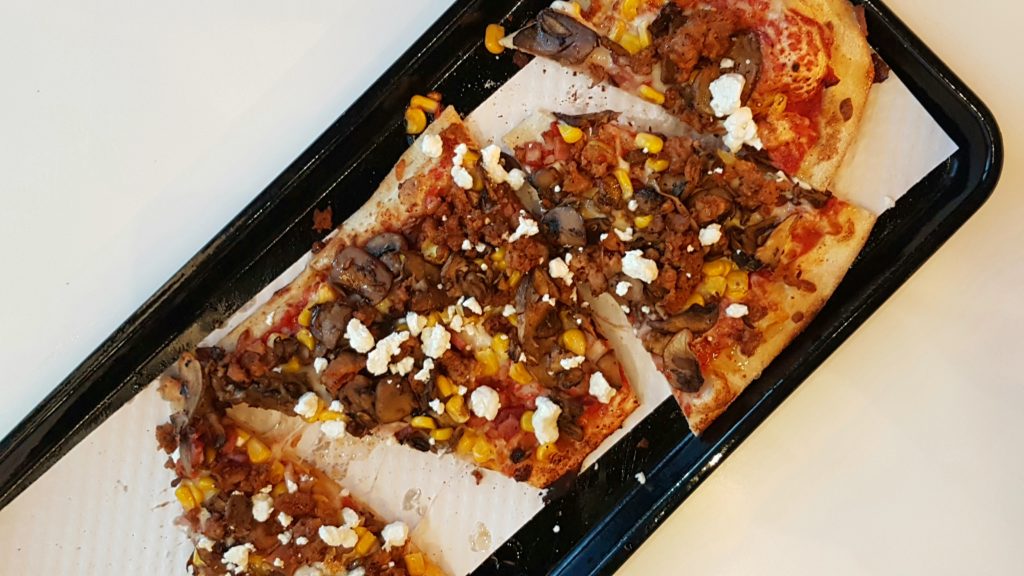 When it comes to giving people the option to add as much as they want to their pizzas at no extra cost, more isn't necessarily better. Most of us suffer from an acute inability to resist all-out gluttony, and thin crust pizzas tend to suffer from the over-abundance of toppings, leaving them either undercooked or soggy.
For this reason, Love Pizza's switch from a "go nuts" policy to the new 4 pre-oven topping maximum rule shortly after opening. Sometimes being forced to do the right thing is required. Don't fret though, as there's still plenty of opportunities for greediness after the pizza comes out of the oven since Love Pizza has a number of "post-oven" toppings you can add at no extra charge.
Love Pizza offers 3 crusts (regular, whole wheat, and gluten-free), along with 7 sauce options and a total of 11 different cheeses, so if you can't find a combination that works for you, you're not trying.
We built our own, consisting of the regular crust, tangy tomato sauce, bacon (of course), sausage, roasted mushrooms, and corn, topped with goat cheese and honey post-oven.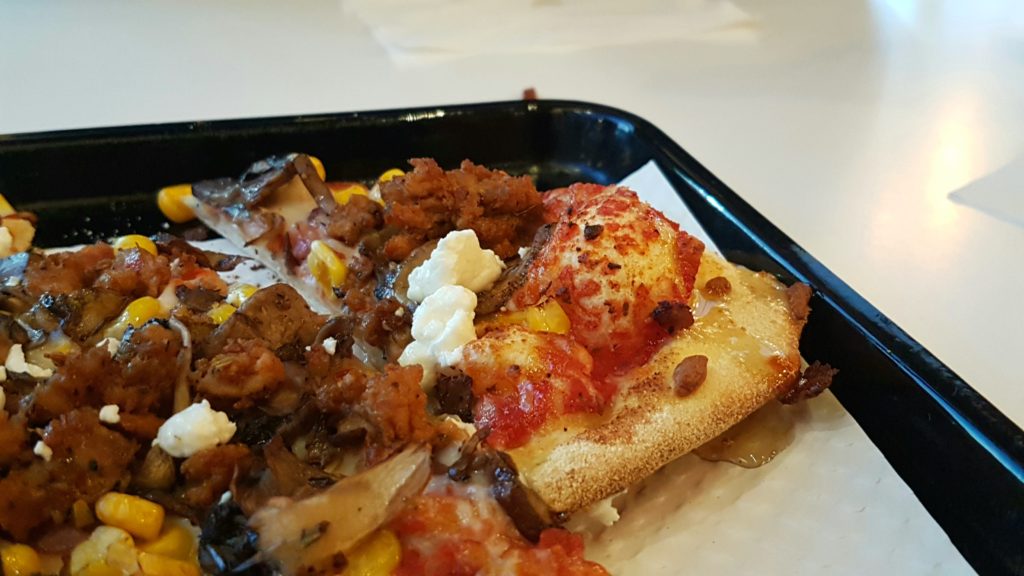 The Verdict
Of the 3 quick-serve pizzas we tried, this dough was by far the most enjoyable, despite the disadvantage of being the only one rolled out in advance of ordering. There was some surprisingly decent bubbling around the cornicone and it had a nice light texture. The crust didn't have much going on by way of crispiness and lacked the full flavour of a great, slowly fermented dough.
Though Love Pizza limits you to 4 pre-oven toppings, that is definitely enough and the selection of toppings is very good. I appreciate the little details such as sauteeing the mushrooms as opposed to Blaze, who just throws them on raw. Of the 3, Love Pizza is the only one that offers a drizzle of honey for the cooked pizza, which is a very underrated topping choice.
Love Pizza chooses to support some local producers as well, which I appreciate.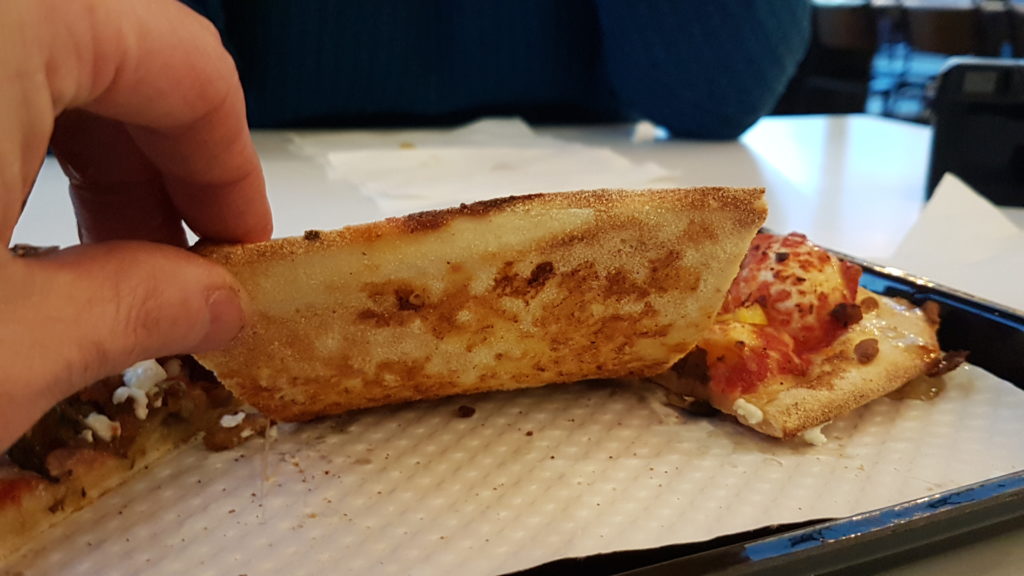 Blaze Pizza– Multiple Locations
Blaze is an American chain that opened the doors in Edmonton last year and they now have 4 locations in Edmonton and area.
The Rules: Blaze has 9 signature pizzas and a build-your-own option for $11.95. No limit on toppings. Blaze has 3 dough choices (original, a thicker version for $2 upcharge, and a gluten-free dough for a $4 upcharge), along with a selection of 4 sauces and 6 types of cheese.
Our build-your-own pie was topped with bacon, raw mushrooms, sausage, mozza, goat cheese, and pineapple. With a splash of balsamic after it came out of the oven.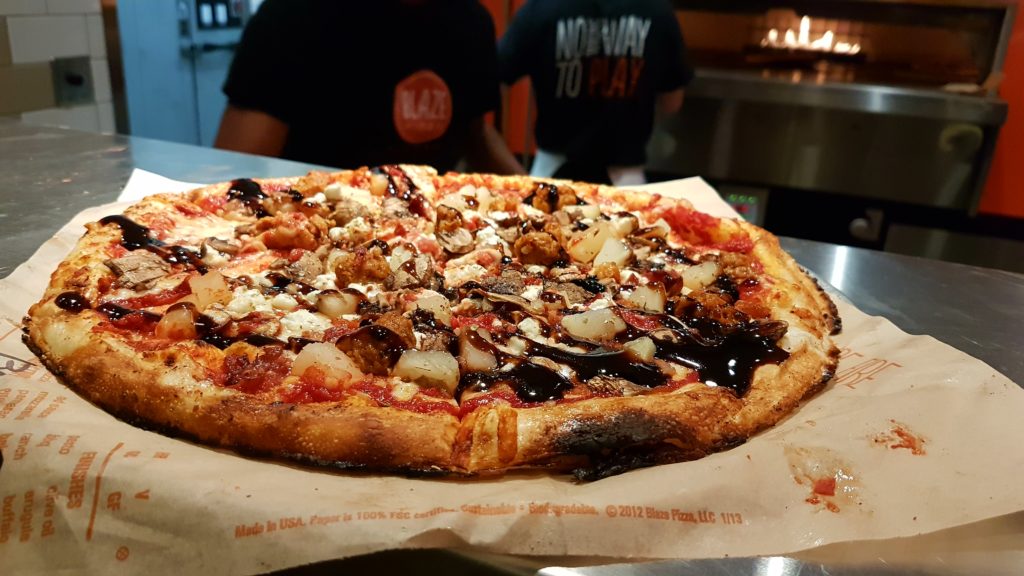 The Verdict
Blaze Pizza boasts of their slowly fermented dough, but its flavour has no evidence of that. Our pizza also had a weird, overwhelming processed flavour throughout, which was unpleasant. Though you are not limited to topping choices, even after asking for a second portion of bacon, it was scarcely noticeable. Two helpings of bacon at Blaze totalled far less than the one application at Love Pizza. I guess they made up for it with the lake of balsamic vinegar applied at the end. Yuck.
On the service side of the equation, I found it odd that our pizza was passed around behind the line like a joint at frat party. No fewer than 8 people handled my pizza during the process from saucing to slicing. After the pizza came out of the oven, the confusion continued, as pizzas sat in the cutting area while fresher pizzas came and went. It was a bit chaotic back there, which didn't make for a great customer experience.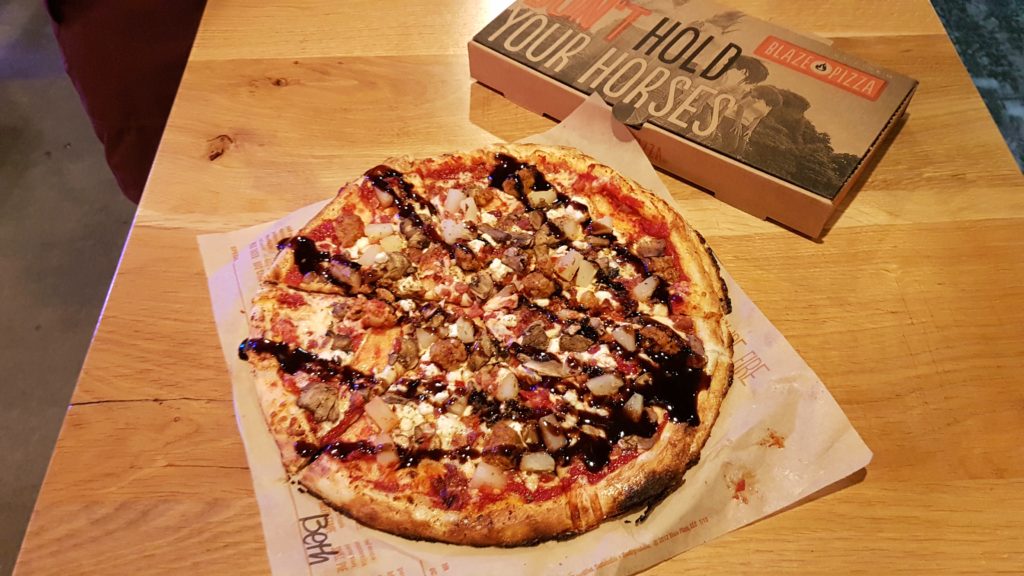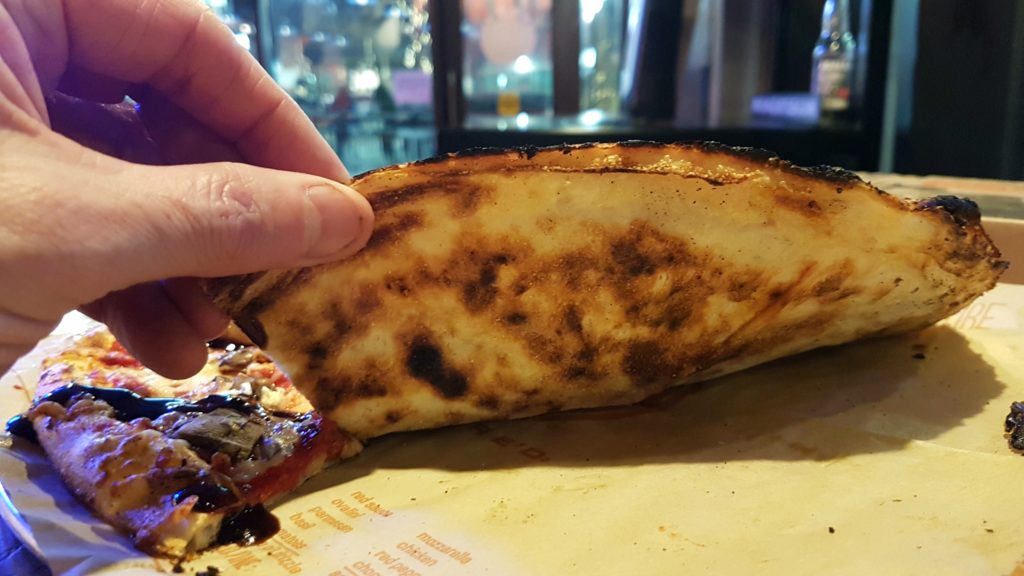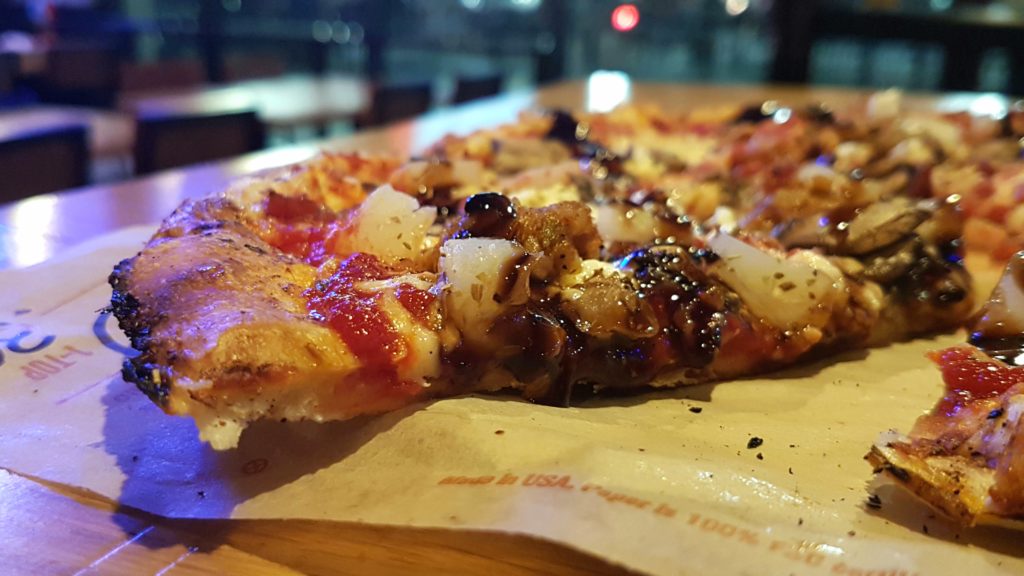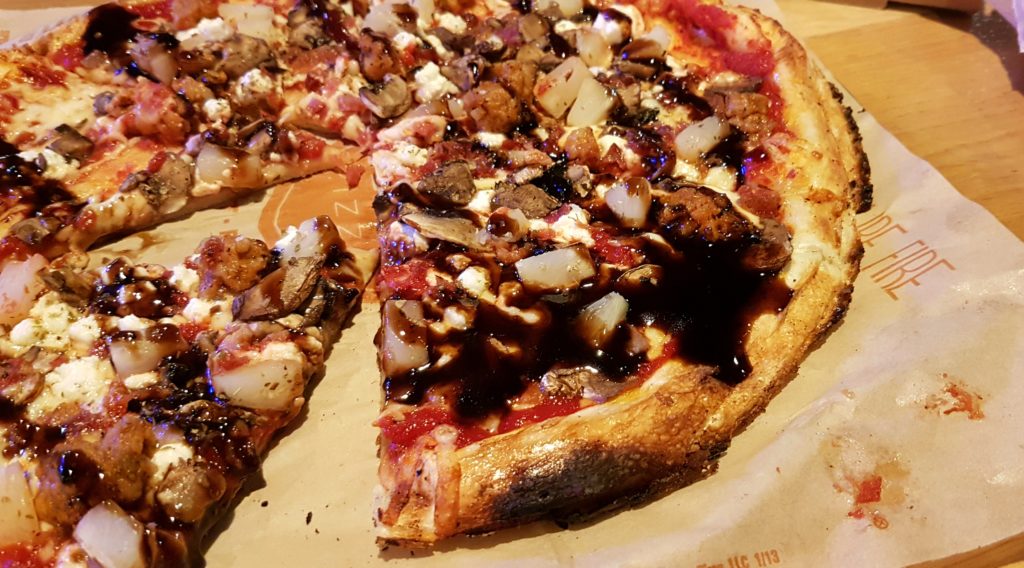 Urbano Pizza- 10326 124st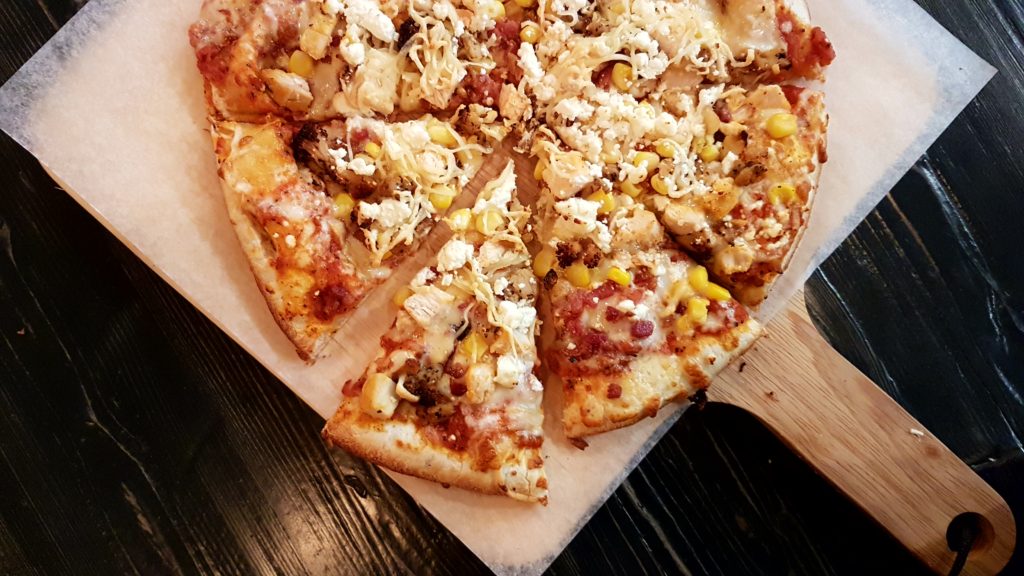 Urbano Pizza opened their first location a couple years ago on 103 st, next to the owner's Flagship restaurant, Sabor Divino, Since then, Urbano has opened 2 more locations, and subsequently closed 2 of the 3 locations, leaving only the 124 st location standing.
The Rules– Urbano offers 9 signature pizzas as well as a build-your-own pizza option for $11.95. No limit on toppings. Gluten-free and whole wheat dough available.
We went with the original dough, topped with fire roasted tomato sauce, mozza, smoked gouda, goat cheese, bacon, corn, roasted cauliflower, and piri piri chicken.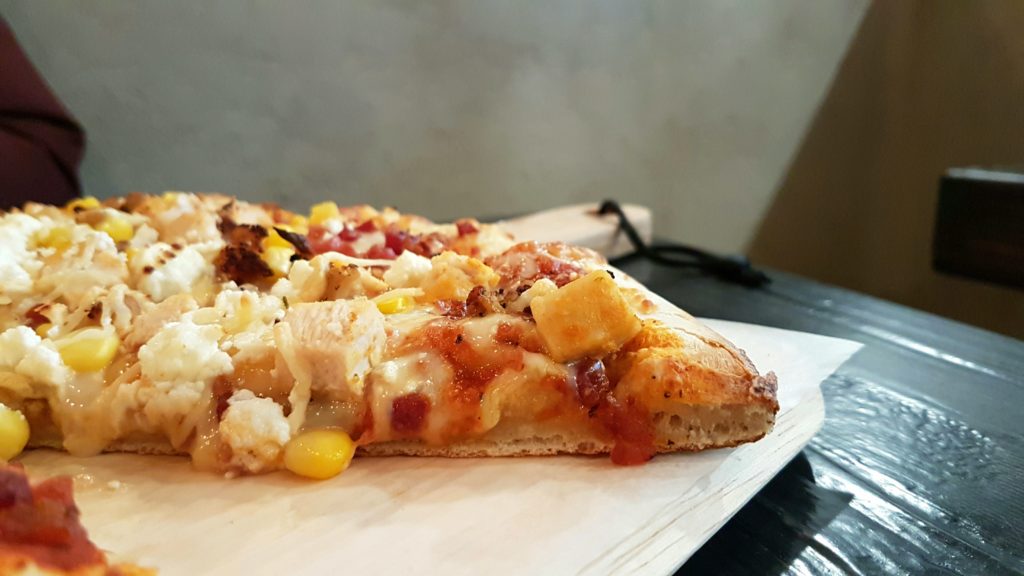 The Verdict
I tried Urbano when they first opened and was not a fan of their dough. It does look like the dough has changed somewhat, but wasn't noticeably better. In fact, our pizza was quite mushy and raw under the toppings and the dough strangely peeled away in layers, which I think is a first for me.
On the plus side, Urbano does have an interesting selection of toppings, from piri piri chicken to smoked gouda, to roasted cauliflower, and those toppings are applied generously. The pizza didn't seem any heavier on toppings than the other 2, but given this one had raw dough I would be inclined to ease up on the toppings more here. It's also worth noting that no post-oven toppings are offered at Urbano.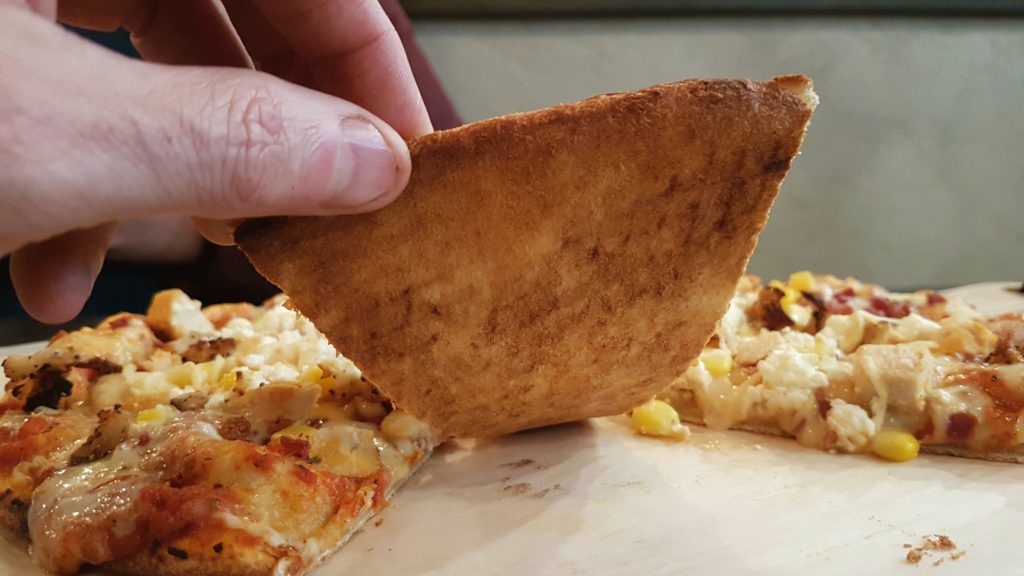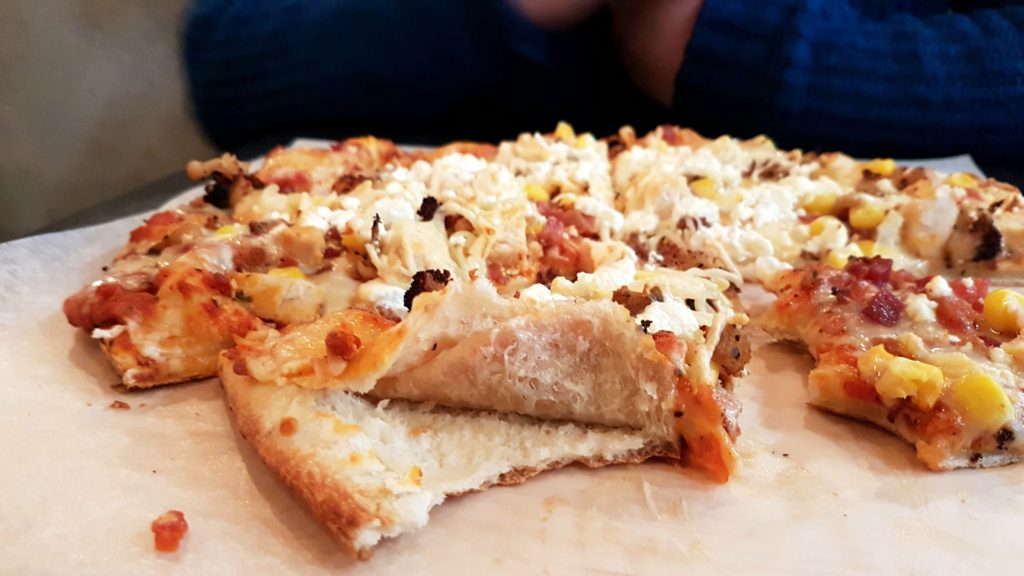 The Final Slice
It must be said that these 3 pizza options are akin to fast food, and should be judged accordingly. I wouldn't necessarily put any of them up against the best pizzas in Edmonton, but the fast-casual format is great for people who just want to pop in for a quick pie.
Based on my taste tests I would choose to return to Love Pizza over the other options. It was the best crust of the 3, offered my favourite selection of toppings, and was the most pleasurable experience overall.
Baconhound is an Edmonton food blog, focusing on the best restaurants and dishes in Edmonton and beyond. Phil Wilson is a regular contributor on CBC Edmonton AM, and a food writer at Baconhound, Eat North, and Culinaire Magazine