Soup weather is upon us, and it's one of the few reasons I actually look forward to the cooler weather. Few things are as satisfying as a delicious hot soup for lunch on a cold and blustery day, but finding a really great bowl isn't always easy to do without a hot tip from a friend.
Luckily, I consider you all my friends.
Here's my picks for some great independant spots to indulge in some delicious soup in Edmonton. Note: I didn't include Asian soups like Ramen and and Pho, which could be a whole separate category unto themselves.
Sequel Cafe – 10011 102 ave
Sequel Cafe is well known on the downtown lunch circuit, but seeing as I don't work downtown I needed it's biggest fan, CBC Edmonton AM's Mark Connolly, to clue me in to this gem.
Sequel Cafe has a rotating selection of soups daily, with the Tomato spinach and corn chowder being staples, along with 2 other daily soups. All Sequal's soups are vegetarian, and gluten free.
After trying 3 different soups (tomato spinach, carrot ginger, and black bean) at Sequel Cafe, I can say I was really impressed with the great flavours and textures of their soups. You really can't go wrong with any of them, but the black bean was my favourite. At $4.75 per bowl, they're a pretty darn good value too.
Open M-F, 7:30-3pm
Swiss 2 Go – 4306- 118ave
Swiss 2 Go is well known for their sandwiches on homemade pretzel rolls, but I'm here to tell you the soup is no joke either. I recently tried the Alpine Beef soup, which was loaded with peppers, cabbage, and topped with rich and delicious Swiss Emmental cheese. This is a hearty and deliciously creamy bowl, served with a beautiful salted pretzel. Side note- pretzels may be the best soup side ever. A great lunch for $6.99. Check the monthly soup schedule for the current line-up.
Lapatrona – 2- Athabascan Ave, Sherwood Park
Lots of Mexican restaurants have a tortilla soup, but La Patrona's house-made pasilla broth and fried tortillas make the drive to Sherwood Park so worth it. This soup is topped with feta, sour cream, avocado, and salsa Mexicana. It's full of flavour, and just kept getting better with every spoonful.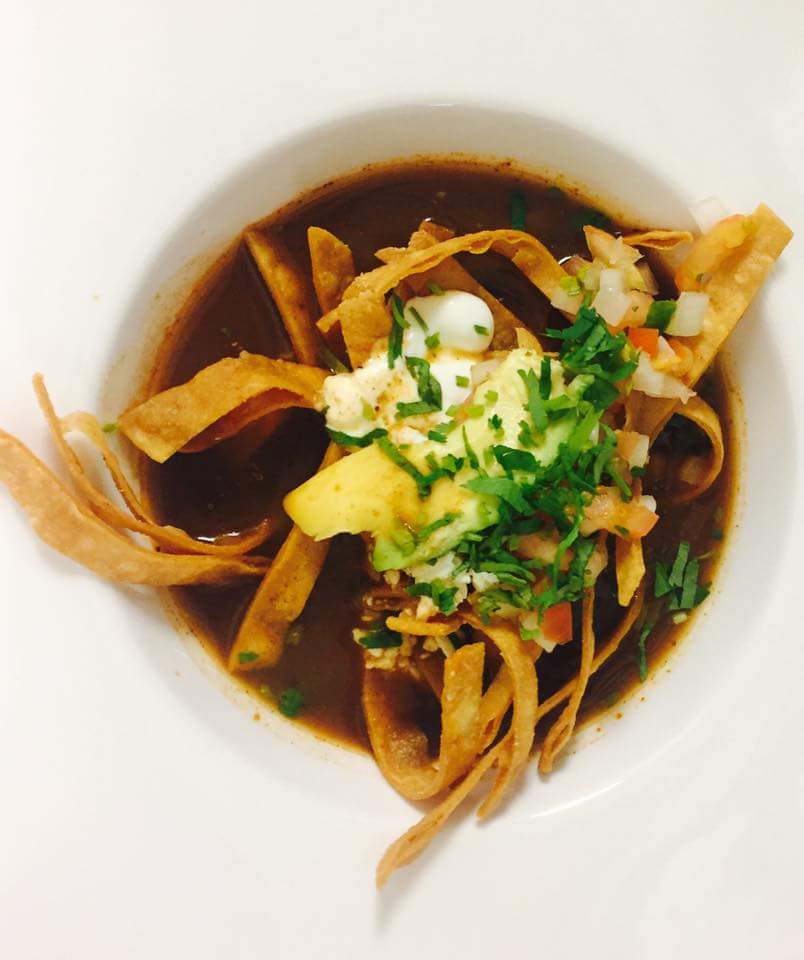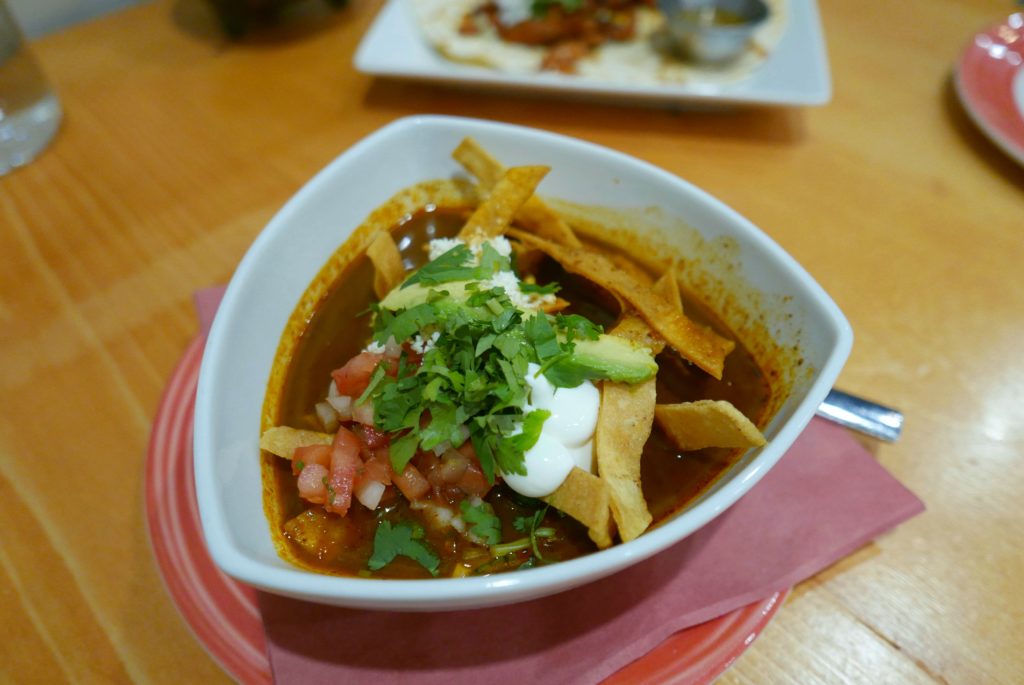 Continental Treat –  10560- 82 ave.
The Pickle Soup at Continental Treat may be Edmonton's most famous soup, and also one of it's best. The cream of potato base gets an addition of chopped veggies and pickles, along with just a touch of pickle brine. This soup is justifiably popular, striking just the right balance of creaminess and saltiness. It comes in a range of sizes for any appetite, from a cup ($4.95), to a bowl ($6.95), and even a huge Euro-bowl ($14.95).
Bonus for Celiacs- almost the entire Continental Treat menu is gluten free, including the soup.
Open Monday-Sunday, 11am-10pm
Green Bean Java Bistro – 11120- 142st
Since discovering the Green Bean Java Bistro over a year ago, I've become a regular for lunch. Their selection of from-scratch soups varies greatly based on what the chef decides to make on any given day, but every bowl I've had, from Mexican goulash, to Bacon corn chowder, and this creamy chicken vegetable soup pictured below has been great. The Bistro typically does 2 soups a day, and serves some good quality sandwiches to pair with.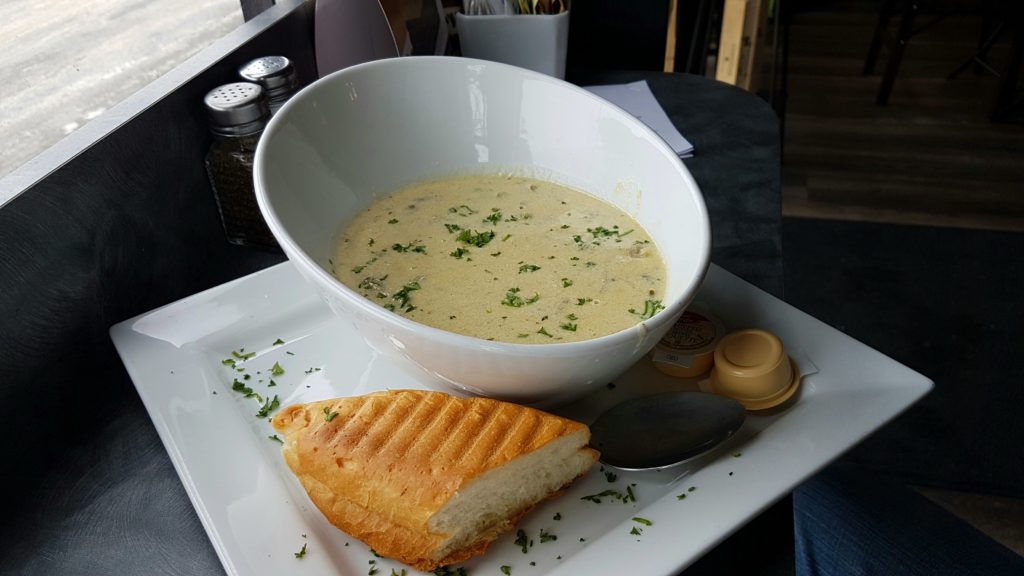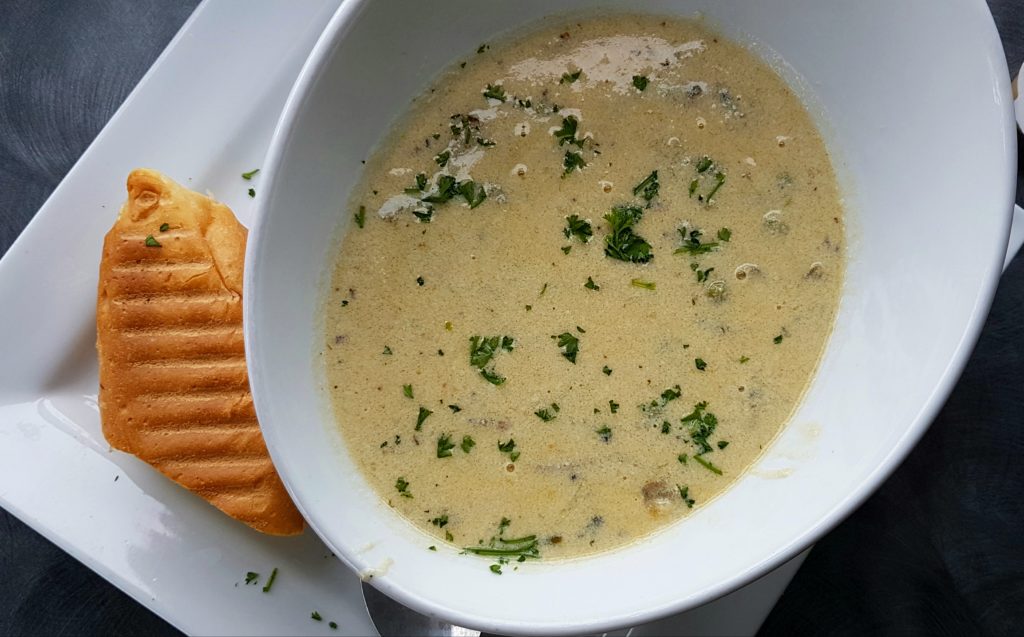 Open M-F, 8-8. Saturday 10-4
Baconhound is an Edmonton food blog, focusing on the best restaurants and dishes in Edmonton and beyond. Phil Wilson is a regular contributor on CBC Edmonton AM, and a food writer at Baconhound, Eat North, and Culinaire Magazine