Edmontontonians are supposed to hate everything about Calgary, and vica versa, but I just don't feel it. In fact I freely admit that I really enjoy Calgary. The beautiful Bow River,  the proximity to the mountain parks, and of course the food. Oh man do I love the food.
It had been at least a couple years since my wife Robyn and I visited Calgary last, so we enlisted the help of our trusty food friend Carmen (she knows everything about Calgary Restaurants) and tackled as many spots as we could.
This was a weekend of surprises- but the surprises weren't that the restaurants were good, it was that Inever would have expected the dishes we ordered to be as exceptional as they were..
Surprise #1- The Charred Cabbage at Pigeonhole
When Carmen insisted we try the charred cabbage at Pigeonhole, I distinctly remember wondering what could be so damn great about a plate of cabbage? It's cabbage, big deal. Well, simply put, this was the most flavourful and surprising cabbage dish I can remember having anywhere.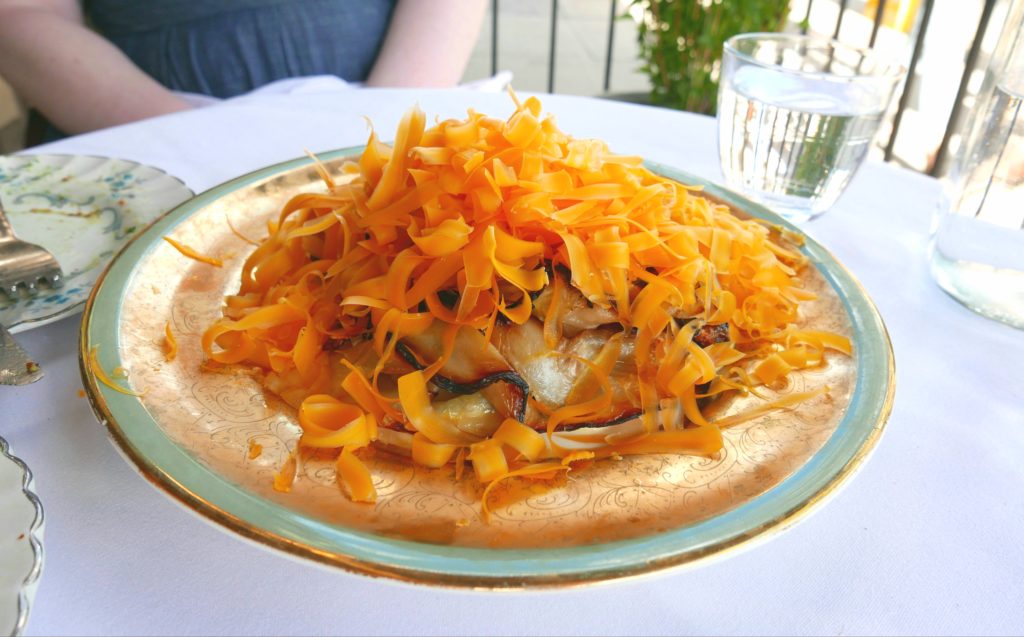 Something magical happens to cabbage when you char it and, it turns out, magic is delicious. While the cabbage is still warm from the grill, it's dressed with jalapeno salad cream and topped with so much creamy mimolette cheese that you can hardly see the cabbage underneath. It's a perfect combination of fresh and grilled flavours from the cabbage, sauciness from the salad cream, and outright decadence from the mimolette.
This one is a must-have.
Surprise #2 – Random Truffles from Charcut
The duck fat fried poutine at Charcut is freaking delicious, but that's no secret. The surprise was that this time we ordered it and discovered that Charcut was shaving white truffles atop random dishes that night. That's a win in my books.
Surprise #3 – The Spaghetti Pomodoro at Ten Foot Henry
There are dishes at Ten Foot Henry with a higher instagram celebrity status (the Yam Tortilla and Roasted Cauliflower come to mind), but for me the spaghetti was the standout dish of the evening. With a deep tomato flavour and the perfect amount of heat, this dish was wholly satisfying and definitely underrated based on how few of them we saw leaving the kitchen.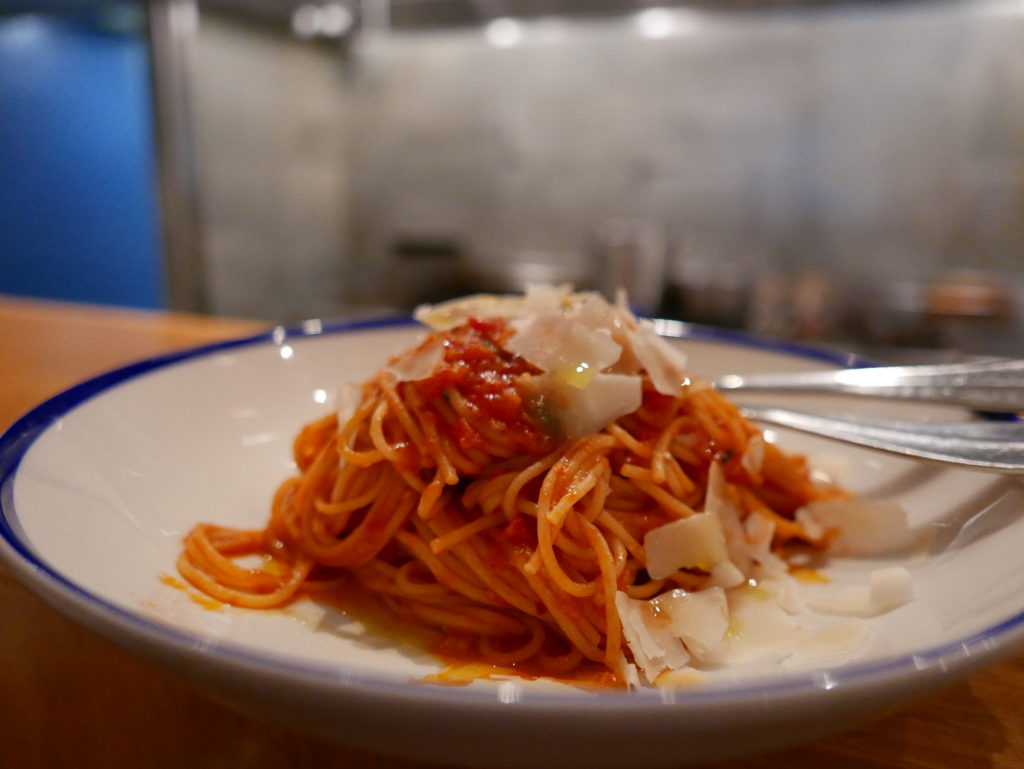 Surprise #4 – The Esquites and Salsa Tasting at Native Tongues
Most people have had Elotes at a Mexican restaurant at one time or another, but what about it's less messy, yet equally tasty brother, Esquites? It's braised corn, herb oil, mayoress, white onion, queso fresco, and cilantro, brought to the table in a bowl for easy serving, saving you from the messyness that comes with corn on the cob. I may never go back to the cob again.
Our second surprise of the meal was something I would have never ordered without Carmen's suggestion- the salsa tasting. Missing out on this would have been a shame though, as these are not your typical salsa's we're talking about. All 5 salsas were delicious and drastically different from each other, with the dish of chili oil and crushed peanuts being the surprise standout.
Surprise #5 – Cheese Sticks at Sidewalk Citizen
You can stand in front of the bakery case at Sidewalk Citizen for a good long time trying to decide what to get, because it all looks ridiculously good, but if you're there on a Saturday take my advice and go for the cheese sticks. They're essentially a buttery croissant dough laced with salty cheese and rolled into two feet of happiness. They are so good and perfectly transportable, that you'll be begging your Calgary friends to deliver you some next time they come to Edmonton (thanks Carmen).
Surprise #6 – Every damn thing at the Whitehall Roast Lunch
Growing up in an English family, roast beef, roasted potatoes, and yorkshire puddings were a Sunday dinner staple for me, but until now I had never considered it for a Sunday lunch.
Whitehall is an upscale restaurat, but this fantastic and decadent lunch is a steal of a deal at $38 for 2 courses (plus bread to start), or $45 including dessert. Given that every bite we ate was outstanding, it's tough to imagine how this lunch doesn't have lineups out the door every Sunday, instead of the paltry 3 tables (including us) that were there the Sunday we went.
Before the first course, a basket of fresh bread hits the table, with salted butter and whipped pork fat. Delicious.
You've got 5 options for the first course, but anyone who forgoes the 1608 double baked cheese souffle has lost his/her marbles if you ask me. It's light and fluffy, cheesy as hell, and makes my mouth water just remembering it. I'd eat 3 courses of just this and die happy.
Your second course is a more difficult choice, but 3 of our 4 went for the beef and regret nothing. The wow factor was strong with this course, served family style for all 3 to share, and the flavours didn't disappoint. Perfectly cooked beef sprinkled with finishing salt, perfectly crispy roast potatoes, a few turnips for good measure, and the most jaw-dropping yorkshire puddings I've ever seen left our group all smiles and strained belts.
Other posts you might like: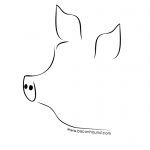 Baconhound is an Edmonton food blog, focusing on the best restaurants and dishes in Edmonton and beyond. Phil Wilson is a regular contributor on CBC Edmonton AM, and a food writer at Baconhound, Eat North, and Culinaire Magazine.