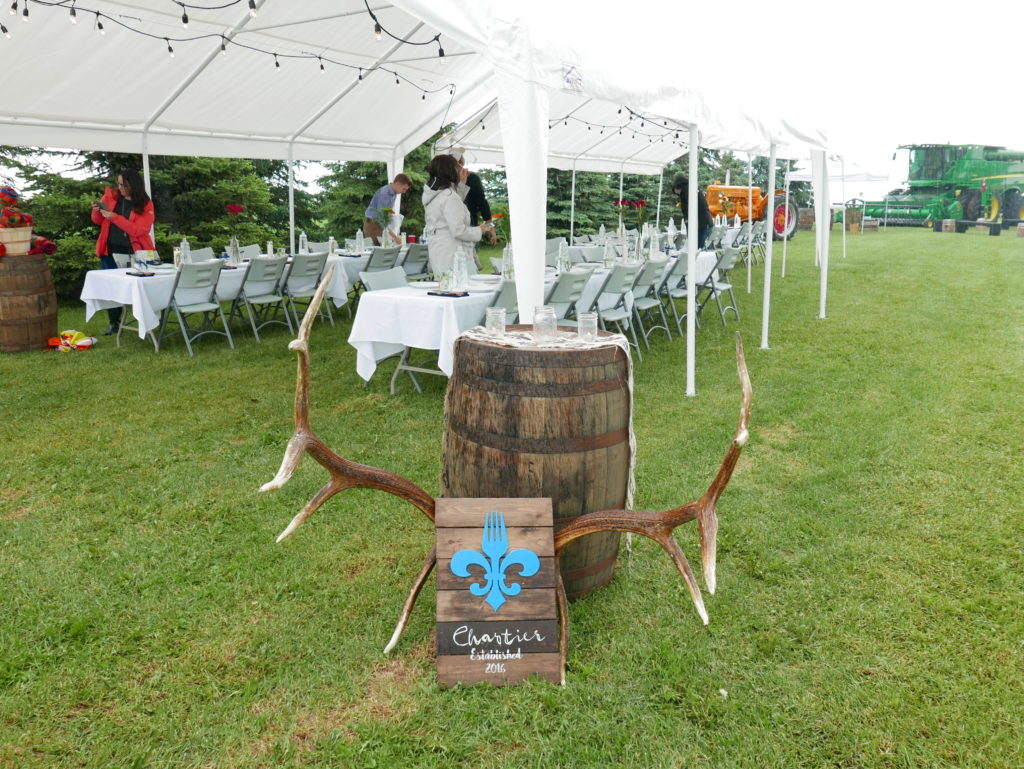 On Wednesday, June 14, 2017, I attended a farm dinner put on by Chartier, a much-celebrated French Canadian restaurant in Beaumont. They partnered with Great West Farms and Leduc's Rig Hand Distillery to produce an evening full of great food and locally-made spirits. The evening was so fantastic that I wanted to share my experience, and let you live vicariously through a boatload of pictures.
*Disclaimer: I did receive last-minute discounted tickets to this event, with no expectation of media coverage expected or promised.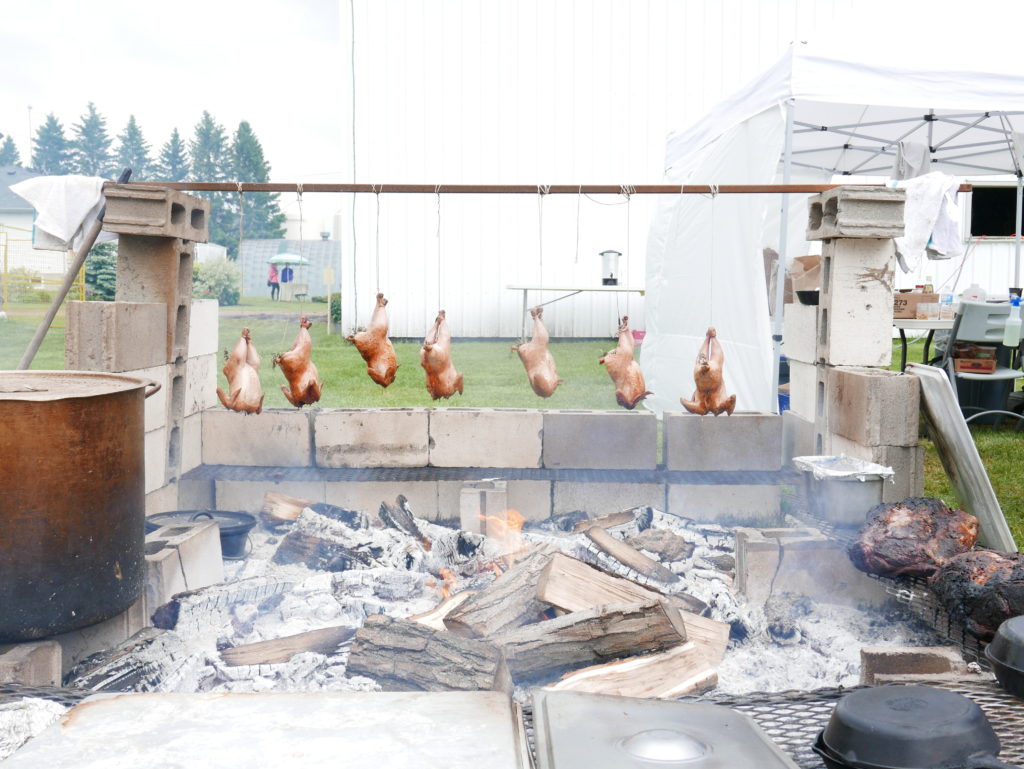 Since Chartier's farm dinners are all-inclusive, and all-inclusive means cocktails, I would suggest carpooling into the country with as many friends as you can fit into your '87 Civic (I like that visual). That way less of you have to endure the pain of watching your associates revel in cocktail happiness while you slowly sip on your glass of ice water, plotting your revenge. Does it sound like I'm speaking from experience? As it happened, I drew the short straw and did the driving. This allowed my wife Robyn and our dinner companion, CBC restaurant reviewer Twyla Campbell, to enjoy as many of evening's cocktails as they wanted. And unlike many other dinners, the drinks weren't limited to pairings, so I got to watch them enjoy the paired cocktails as well as in-between beers and boozy extras. Lucky me.
Upon arrival, we were greeted by a welcome cocktail and immediately strolled over to the large open fire pit built specifically for this event. The chickens were hung above the hot coals around the edge of the pit, slowly absorbing delicious smoke and cooking gently, their butts stuffed with herbs.
This being the second of 3 dinners in as many days, you could see the crew had found their comfort zone and were having a lot of fun. Tending the fire, making sure the guests were supplied with beverages and entertaining the inevitable congregation around the open-fire cooking is all part and parcel of this kind of dinner. Despite the rain, the folks from Chartier handled it all with apparent ease.
While guests were still trickling in, we perused the farm grounds and were treated to a trio of hors d'oeuvres including maple fry bread, tomato and chevre salsa, and Andouille sausage with chow chow.
Since all farm dinners should involve great bread, a platter of Chartier's delicious sourdough, cooked in yet another custom-built wood-fired oven, was the first thing to hit the table.  Served with housemade cultured butter, this bread was outstanding. Our group couldn't stop slathering butter on all that bread and topping it with herb salt. On any other night that platter alone could have been my dinner.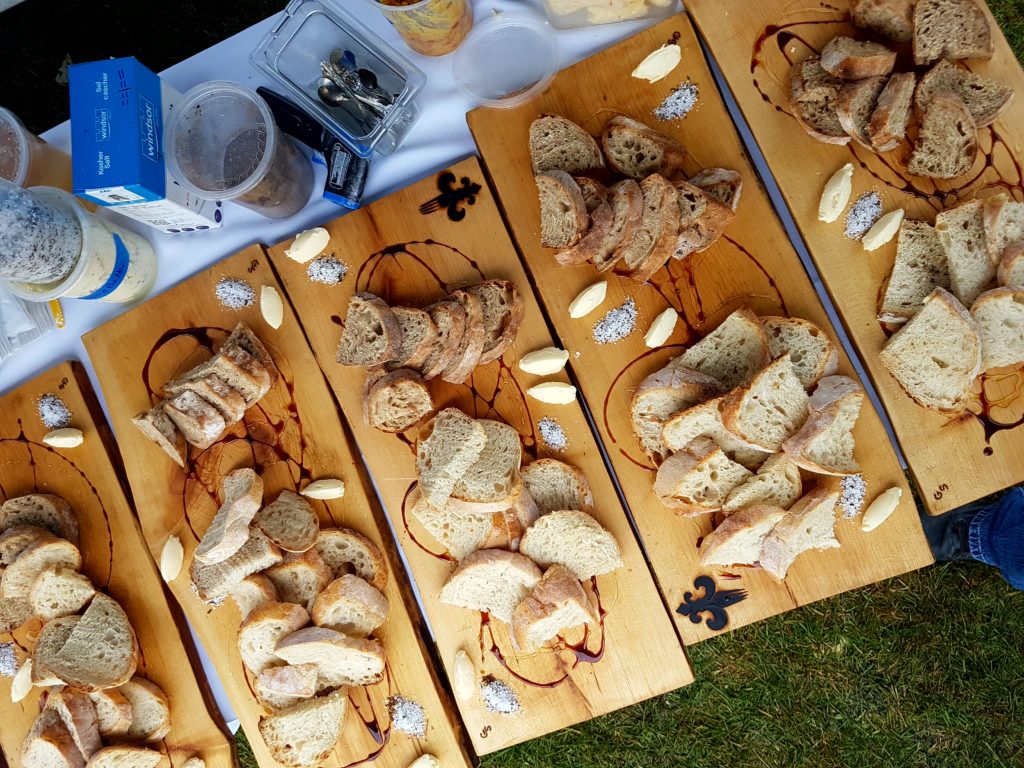 Our dinner continued with a trio of salads, which you might think would be ho-hum, but you would be dead wrong. These were 3 of the most delicious salads I've had in a long time, with the watermelon salad being my favourite. I'd happily order any of them in the restaurant in a heartbeat. (the salade de Chartier is, in fact, on the restaurant menu)
After the salads, we moved on to flatbreads, cooked in the same oven used for the sourdough. I admit I was almost full already after these, but I am not a quitter. Thankfully, I noticed plenty more delicious things cooking yet to come, so I took a walk over to the fire to survey the situation (pester the chef and get in the way), and that walk burned at least 5 calories, so I was ready to rock and roll again.
The main attraction came to the table on enormous serving boards for us to consume family style. Since I'm usually one of the faster eaters at the table, I fully endorse this method, as it usually means I'm about to get way more than my share. In this case, there was so much food in front of us that there was more than enough to go around.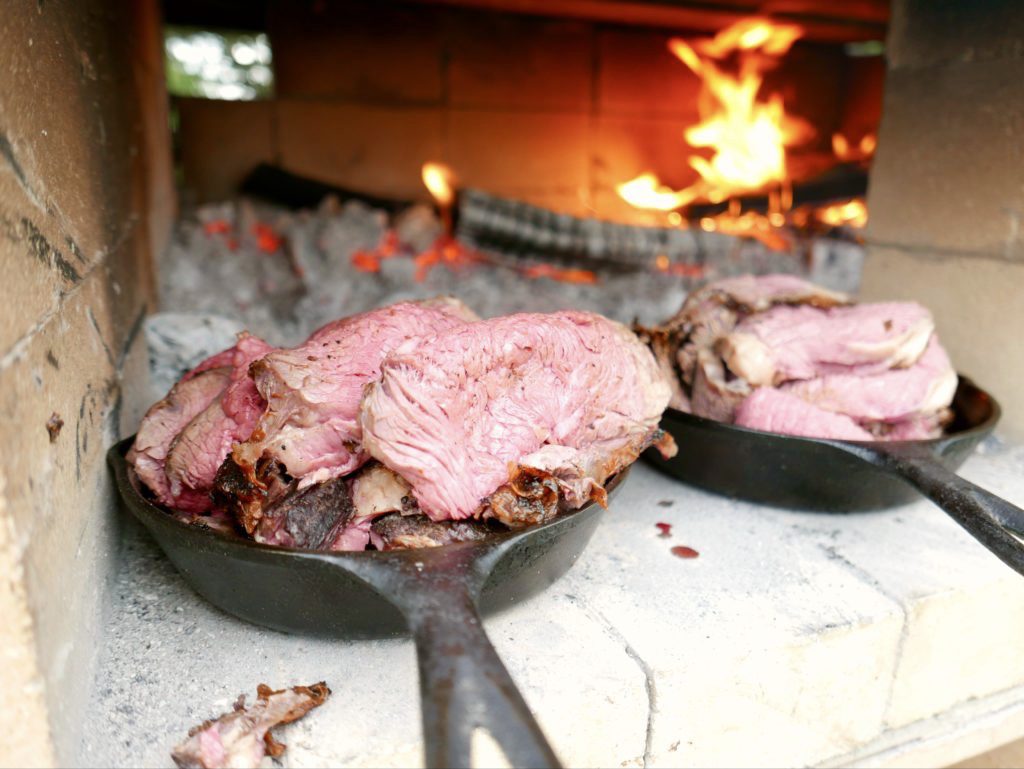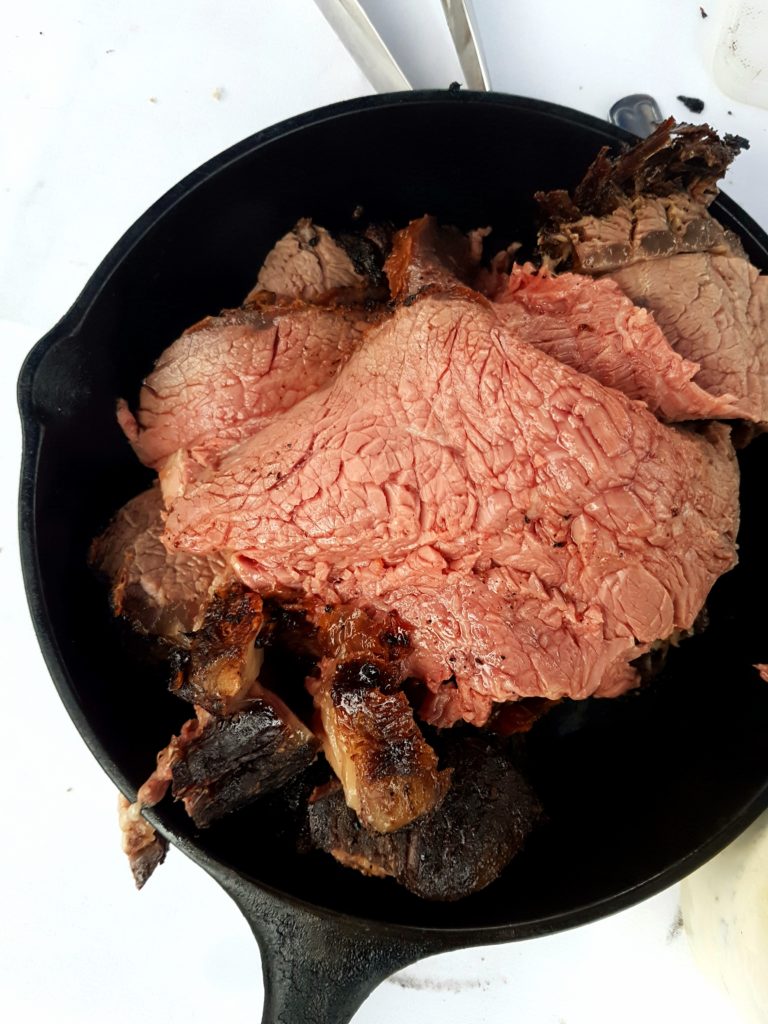 By this point, as you could imagine, we were all pretty stuffed. That didn't stop anyone from indulging in some campfire smores for dessert though. The only trouble was that pillowy-soft, house-made marshmallows were having a hard time staying on the sticks, thankfully they were so good that we ended up just eating them as-is.
From the food and drinks to the easy camaraderie of our hosts, this was easily one of the best outdoor dinners I have eaten, so be sure to check out Chartier's website to keep up to date on any future farm dinners and events – you will not be disappointed.
Oh, and keep scrolling to see a few more pictures from the dinner.