The Community Table Project is about sharing signature recipes from everyday folks, and creating a sense of community around food. If you make a signature dish you think is great, send me an email at baconhound@gmail.com and let's talk!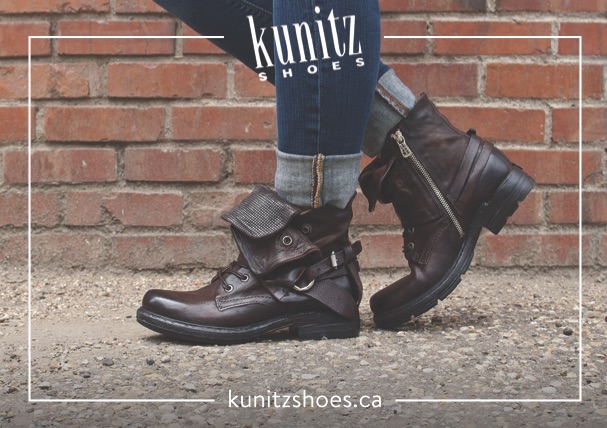 I love seeng the fusion of two distinct cultures in food. One of my favourites, for taste and originality is Chinese and Mexican. Now, thanks to the Community Table Project, I can add Italian and Indian to my list of tasty "who knew?" recipes.
The Cook:
Nicole Muhly.
Nicole is a graphic designer and communications professional who grew up in a small town in central Alberta. She credits an evolving social circle, once she moved to Edmonton for University, for expanding her palate.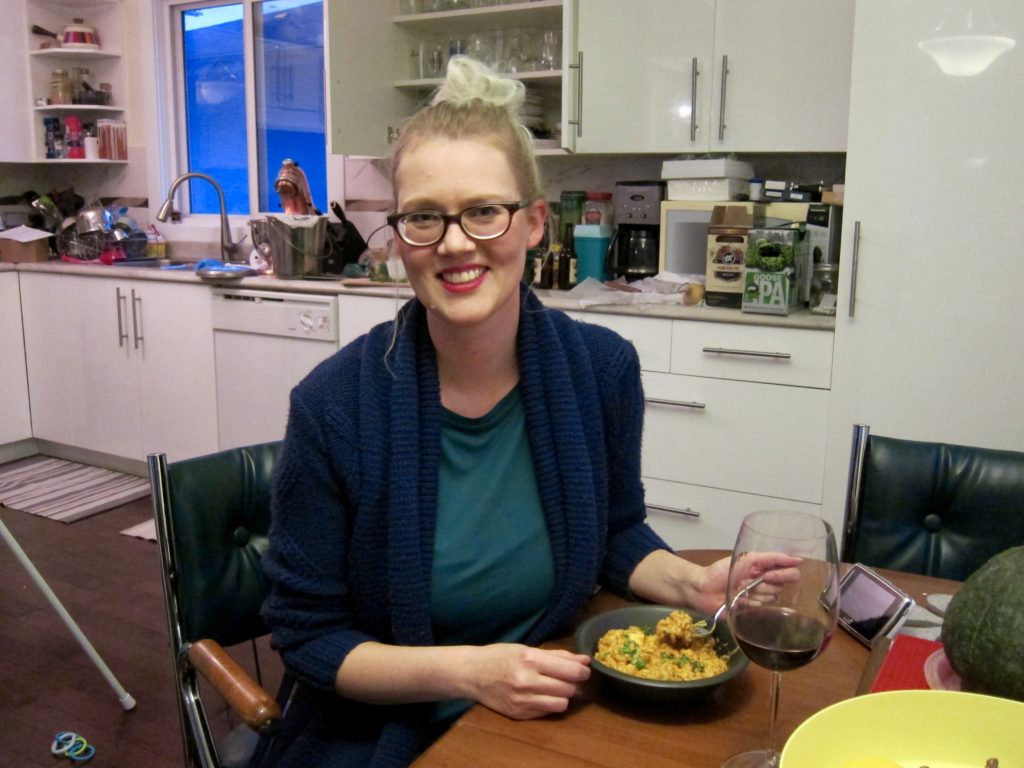 The Dish:
Butter Chicken Risotto.
Nicole isn't a conventional person, and that is evident in the recipes she experiments with in the kitchen. She also credits her laziness to being the impetus for this particular dish.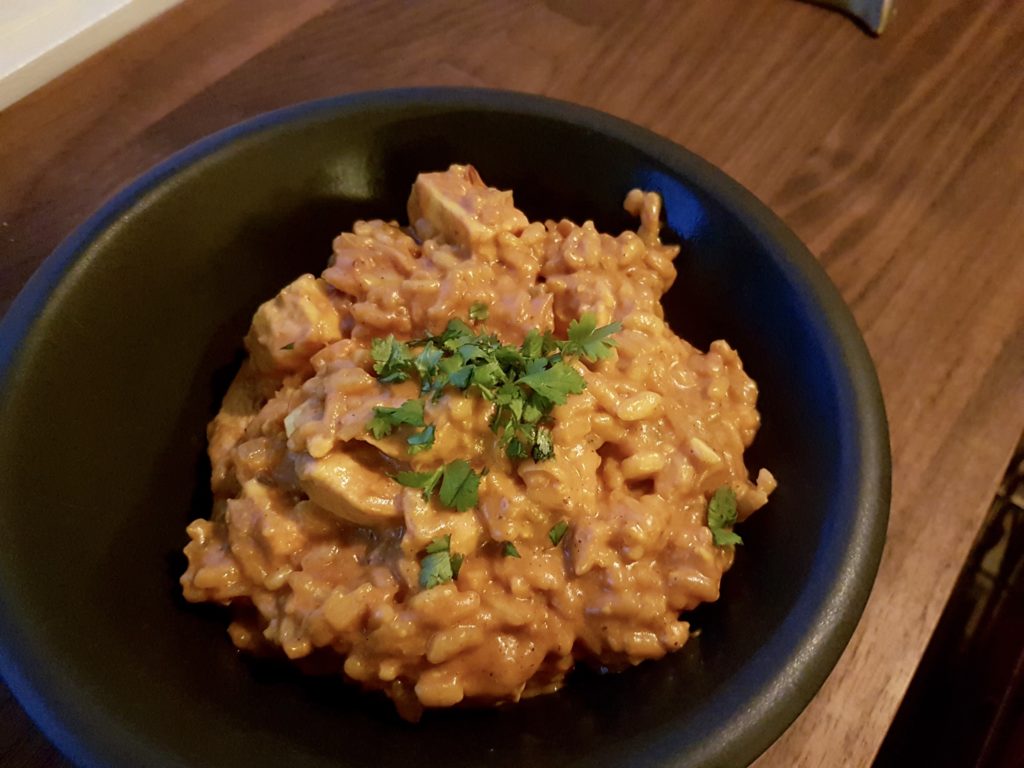 The Story:
Nicole loved the idea of being able to make the classic Indian buffet staple at home but after a couple of of attempts, she was not excited about the number of dishes she was left to clean. Around the same time, she was experimenting with a classic Italian risotto and an idea started to brew: the Indian taste she enjoys, made with the simple one-pot Italian method.
Since that "Eureka" moment, she has continued to experiment with the dish, and has discovered its easily adaptable for different dietary restrictions. Nicole has made it gluten-free, she makes it vegetarian by swapping out the chicken for paneer, she even figured out how to make it vegan-friendly (use olive oil instead of butter, vegetable stock for the chicken, and coconut milk for creaminess instead of yogurt)! Since this is a favourite dish to serve to all of her friends, its important to Nicole that everyone can be able to enjoy it regardless of their diets.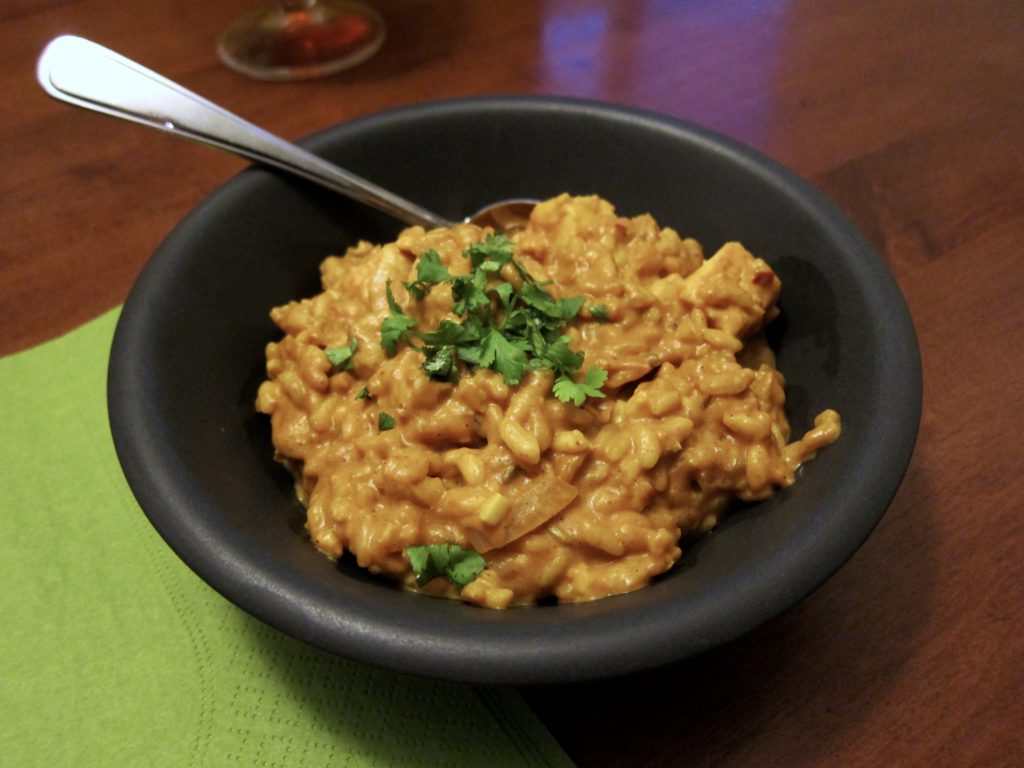 The Recipe: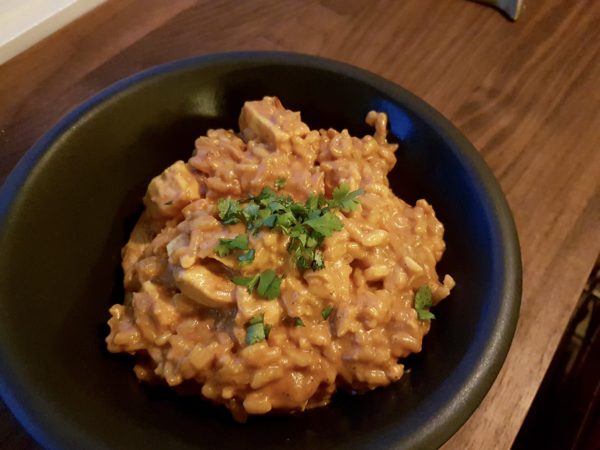 | | |
| --- | --- |
| | |
Melt the butter in a large, deep skillet on medium heat. Add the onions, garlic and whole spices. When spices are fragrant and onion is translucent, add the ground spices. Once mixed (and the whole thing resembles a paste), stir in the rice.

Add in the diced tomatoes and continue stirring. Once the rice has absorbed the liquid, start adding the risotto liquid in, ½ cup at a time. Wait for absorption and add more. At about the 30 minute mark (remember the whole dish takes about an hour), add in the chicken and any other "fillings" ingredients. This probably won't be too long after you start adding the liquid. Continue stirring and adding more liquid when the previous portion has been absorbed by the rice, until all of the liquid is absorbed. Check your chicken and rice are fully cooked.

Turn heat down to low, stir in the yogurt and cover for a couple of minutes. Add cilantro to garnish, just before serving.
Tips and Tricks:
Can substitute paneer, cauliflower florets, red pepper, chickpeas, or any other vegetables for the chicken
The total liquid should be 6 cups, however you choose to make that 6 cups is up to you and what flavours you want to highlight
You can heat the risotto liquid before adding to the rice, but this is not a necessary step
For a more low-maintenance risotto, you can add all the liquid at once, and only stir a couple of times. Ensure the filling ingredients are added first.
To make vegan friendly:
Sub 2 tbsp olive oil for butter
Reserve 1/2 cup of coconut milk to replace the yogurt (use more veggie stock to replace the coconut milk in the risotto liquid)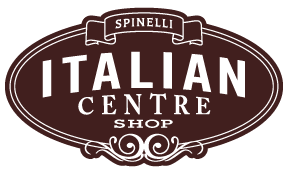 Big thanks to Kunitz Shoes and The Italian Centre Shop for coming on board and sponsoring The Community Table Project. The support of strong community-minded companies like these help make content like this possible, so go see Kunitz Shoes next time you're in need of quality shoes and cool socks, and The Italian Centre Shop for everything you need to make these recipes at home.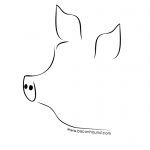 Baconhound is an Edmonton food blog, focusing on the best restaurants and dishes in Edmonton and beyond. Phil Wilson is a food writer and also the host of the Canadian food podcast, Off Menu. Find it in the iTunes store and on Stitcher.