The Community Table Project is about sharing signature recipes from everyday folks, and creating a sense of community around food. If you make a signature dish you think is great, send me an email at baconhound@gmail.com and let's talk!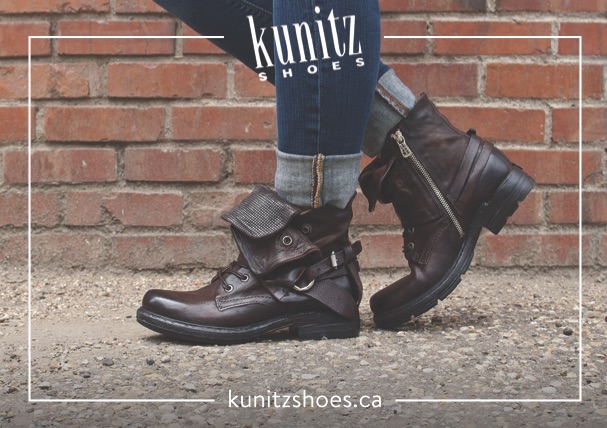 When I approached the fine folks at Kunitz shoes to sponsor the blog, they were excited to get on board. They were even more excited to participate and quickly sold me on attending one of their weekly family dinners.
Full disclosure, when I think of family dinners, I think of a holiday gathering full of awkward conversation and hiding in the bathroom just to get away for a minute. Apparently that is not everyone's experience! The Kunitz family dinner gathers 3 generations together every Monday and is full of terrific food, boisterous chatter, plenty of laughs and, on this particular Monday, an impromptu dance party.
The Cook:
Darlene Kunitz.
Darlene is the matriarch of the Kunitz family. Her love of cooking began at the age of 10 when her mom gave her a cookbook and told her she could choose one recipe every week to prepare herself. Ever the resourceful cook, over the years Darlene also taught herself, and her kids, how to urban scrounge as well as to dehydrate and preserve foods, which has come in handy on camping trips when they are the best fed group in the back country.
The Dish:
Chicken with Dried Fruit and Olives.
With many recipes at her disposal, Darlene asked her family what recipe she should submit to the Community Table Project, and this was the overwhelming favourite. It is based on a Flemish-style braised rabbit dish that is a favourite of Darlene's. She has adapted it to include chicken – which is more readily available – and some dehydrated fruit that Darlene makes herself and always has on hand.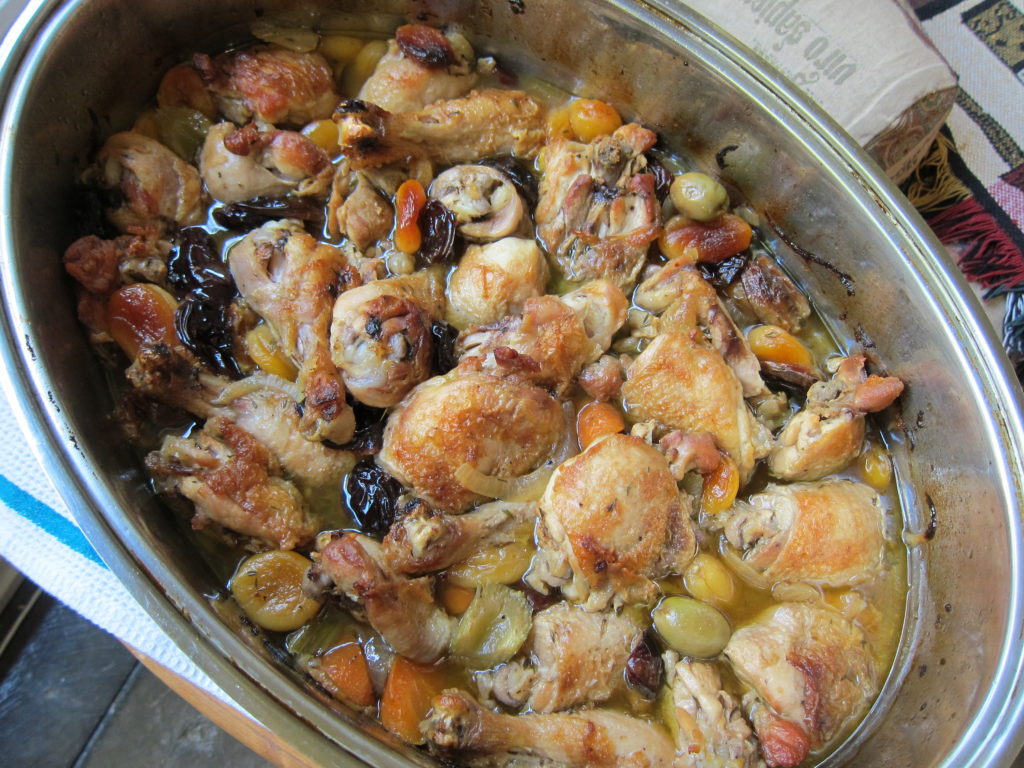 The Story:
The Kunitz family Monday night dinners began a couple of years ago when everyone got together to visit with an out of town guest and just kept happening from there. Its a casual affair with people coming and going through Darlene and Dwane's garden door as their schedules allow. Rowan, Morgan and Everett, their spouses and children all wander in after work, eager to share stories of their week.
It soon becomes loud and boisterous with children playing, and everyone laughing and chatting as they dish up, slicing homemade bread for each other and fighting over who gets the last bit of salad. Then the grandchildren are bathed, leftovers packed up, and kisses given as family members head out for community meetings and choir practice. Its a whirlwind of food, fun and family. Oh, and wine! Did I mention the wine?
As the table was cleared, Darlene showed us her binders full of hand-written recipes that have stood the test of time. She has proudly passed on her love of good, resourceful cooking to her children and they often get together to make big batches of dehydrated soups and preserved fruits and vegetables to share among the whole family. With a family who is as committed to home cooking as they are to each other, I can see this Monday night tradition carrying on for another 3 generations.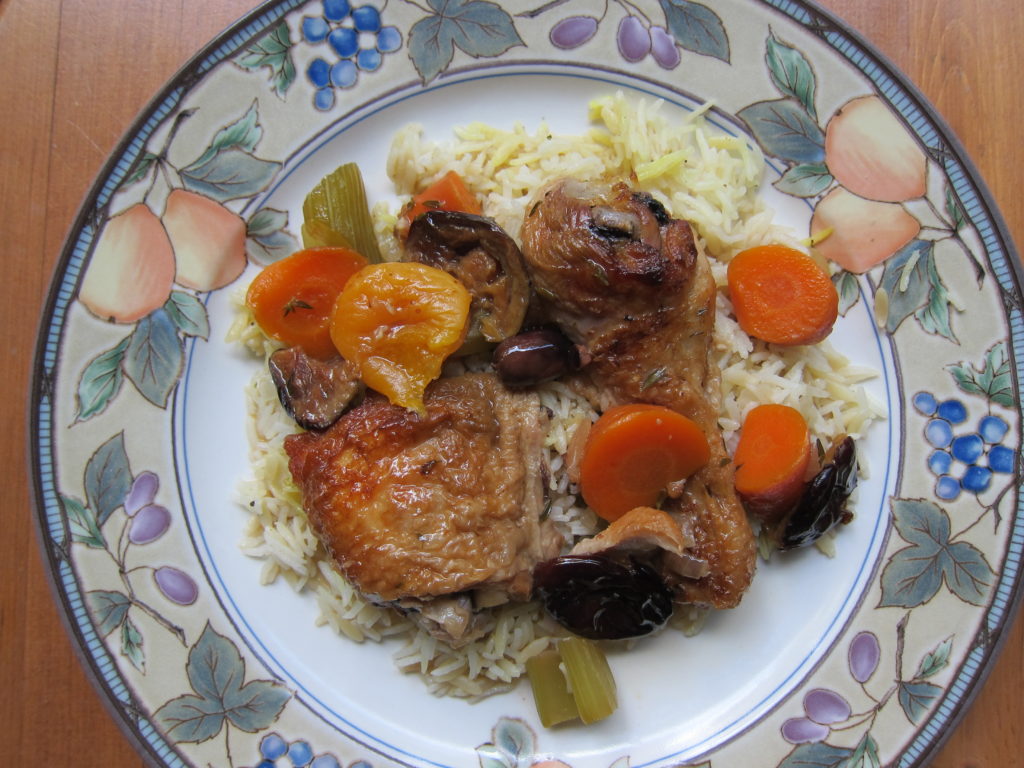 The Recipe: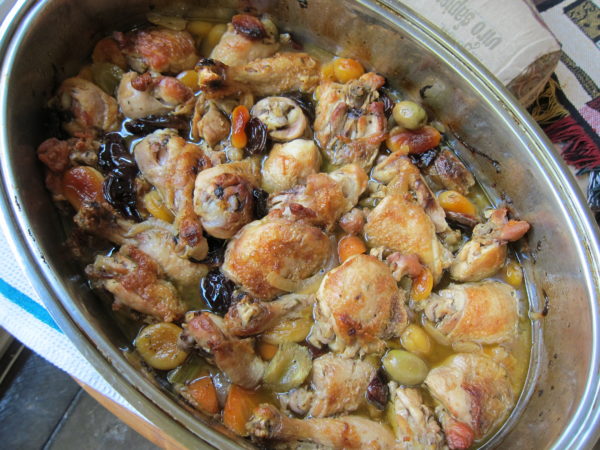 | | |
| --- | --- |
| | |
Heat oil, add chicken in two batches, browning on both sides. Set aside.

Drain all but 1 tbsp. fat, add onions and saute until translucent, then add celery, carrots and garlic. Deglaze with wine, then add back the chicken, olives, and herbs.

Add enough chicken stock to partially cover the chicken, and put covered in the 350 oven for 45 minutes. Check level of liquid, adding more if necessary, and stir in dried fruits. Add salt and pepper to taste.

Return to oven, uncovered, for 15-30 minutes.
To try Darlene's favourite Flemish-style braised rabbit:
Replace the chicken with rabbit, and the wine with a good Belgian beer.
Leave out the olives and add 1/2 cup of currant jelly just before serving.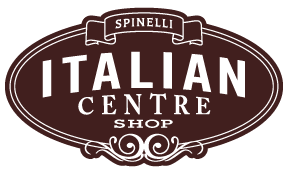 Big thanks to Kunitz Shoes and The Italian Centre Shop for coming on board and sponsoring The Community Table Project. The support of strong community-minded companies like these help make content like this possible, so go see Kunitz Shoes next time you're in need of quality shoes and cool socks, and The Italian Centre Shop for everything you need to make these recipes at home.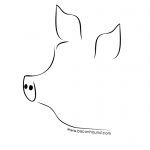 Baconhound is an Edmonton food blog, focusing on the best restaurants and dishes in Edmonton and beyond. Phil Wilson is a food writer and also the host of the Canadian food podcast, Off Menu. Find it in the iTunes store and on Stitcher.