The Community Table Project is about sharing signature recipes from everyday folks, and creating a sense of community around food. If you make a signature dish you think is great, send me an email at baconhound@gmail.com and let's talk!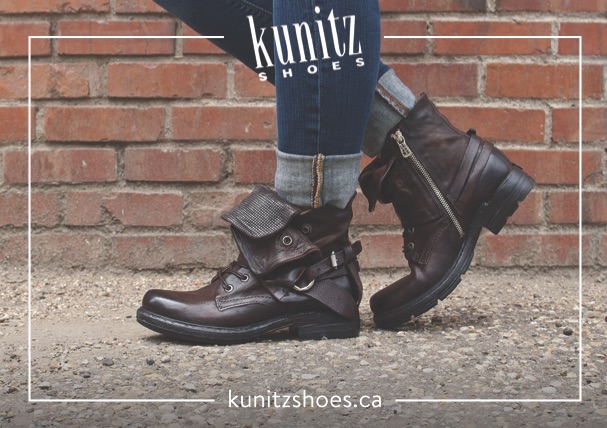 Gnocchi is one of those dishes that I am always a little bit wary of. When its done right, its delicious – light and fluffy little nuggets of potato-y goodness – but when its done poorly, its heavy and doughy and gummy. Sarah guaranteed me that hers were the former, and my full belly could not have agreed more!
The Cook:
Sarah Rodwell.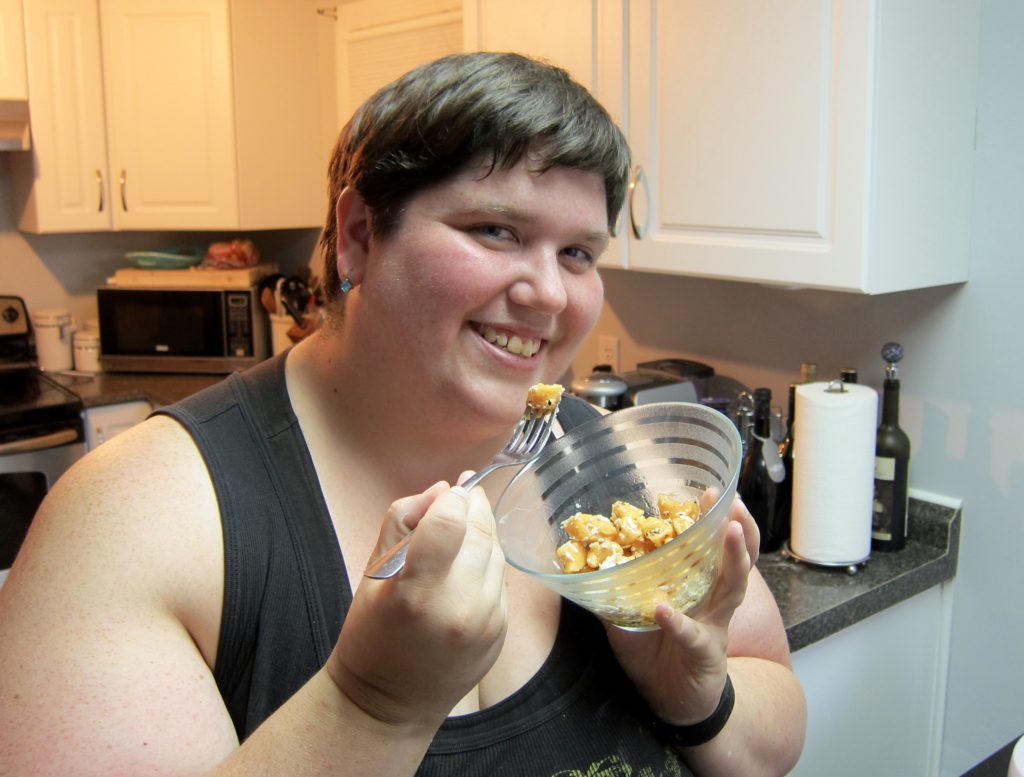 Sarah was born into a large family and raised in St. Albert. She is passionate about farm to table eating, getting fresh vegetables, eggs and even beef from friends and family who farm.
The Dish:
Sweet potato gnocchi.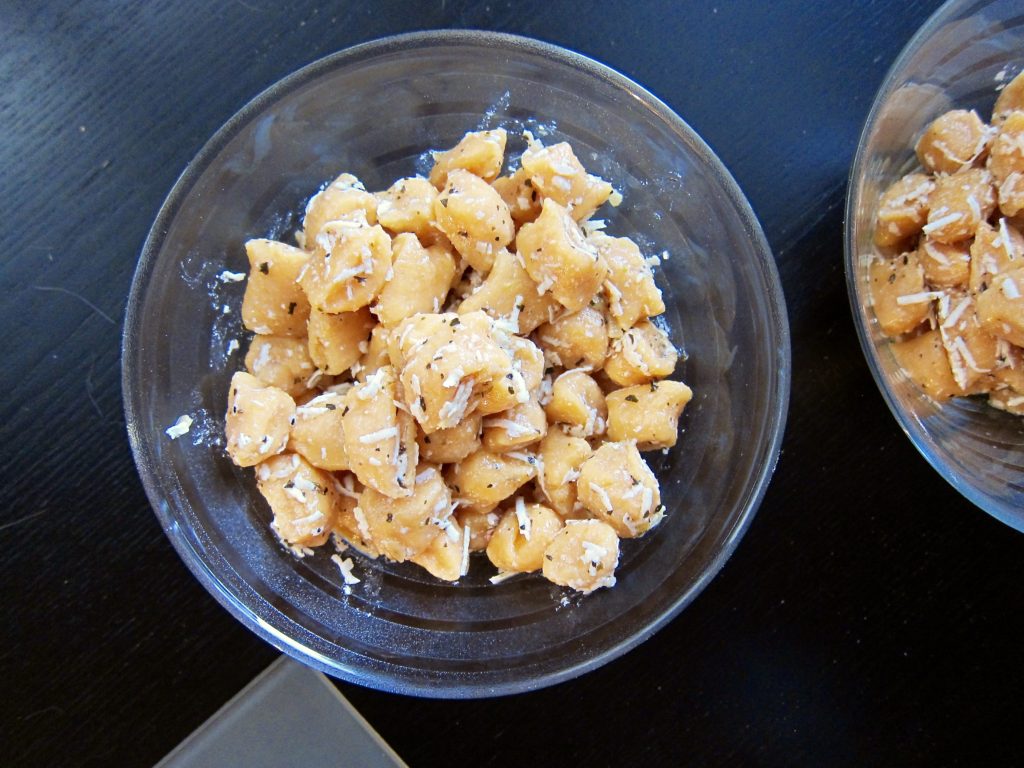 After getting hooked on pre-made gnocchi, Sarah decided to take the plunge and learn how to make it herself. She enjoys how the flavour of the sweet potato mixes with the brown butter-garlic sauce that she most often pairs with the gnocchi. Sarah has also experimented with swapping out potato altogether for other root vegetables like butternut squash and combining nutmeg and walnuts in the sauce for an autumnal feel.
The Story:
The first time Sarah experimented with homemade gnocchi, she went all out and made it for a family dinner with the help of her Auntie Jane.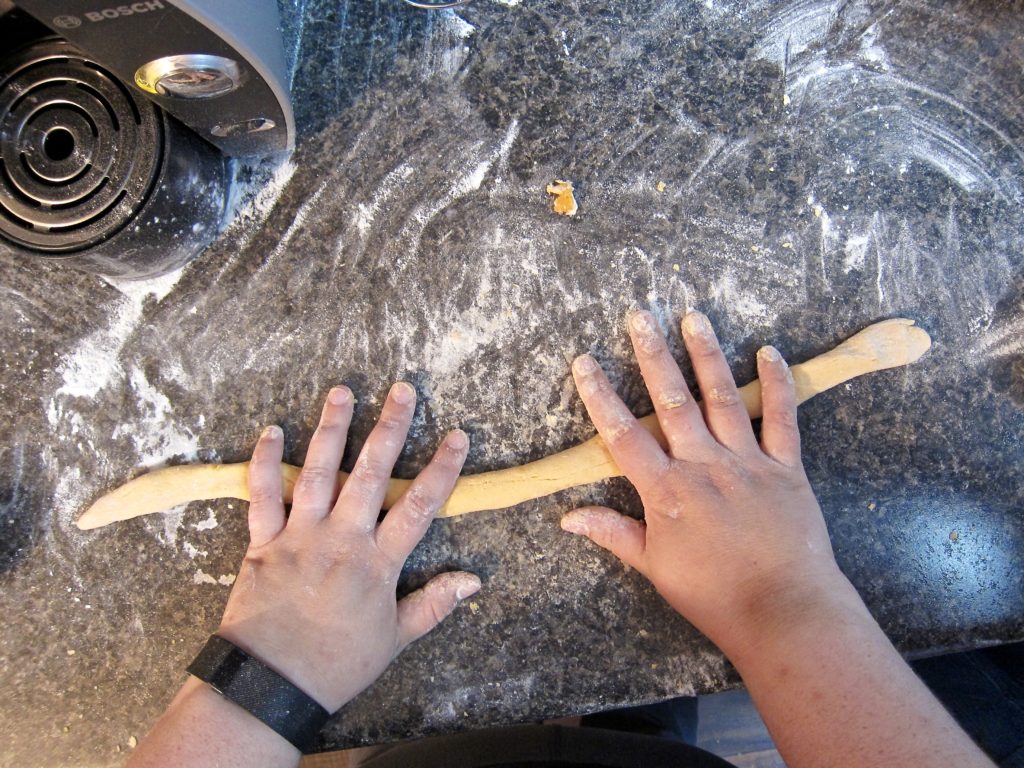 As is the case with many home cooks, her gnocchi is constantly evolving. She started with traditional potatoes, before trying (and loving) it with sweet potatoes. The latest evolution came with the addition of mizthra cheese, which is rumoured to have been eaten by Homer while he wrote the Iliad.
Sarah often makes the gnocchi as a side dish for any number of proteins. She also mentioned that, on its own, it is a favourite comfort food for her and her husband on a lazy Sunday afternoon. Sarah doesn't consider herself on par with Homer, but I have no doubt this gnocchi has sparked some inspired Netflix bingeing which, I think we can all agree is way better than the Iliad when you're in need of a little comfort.
The Recipe: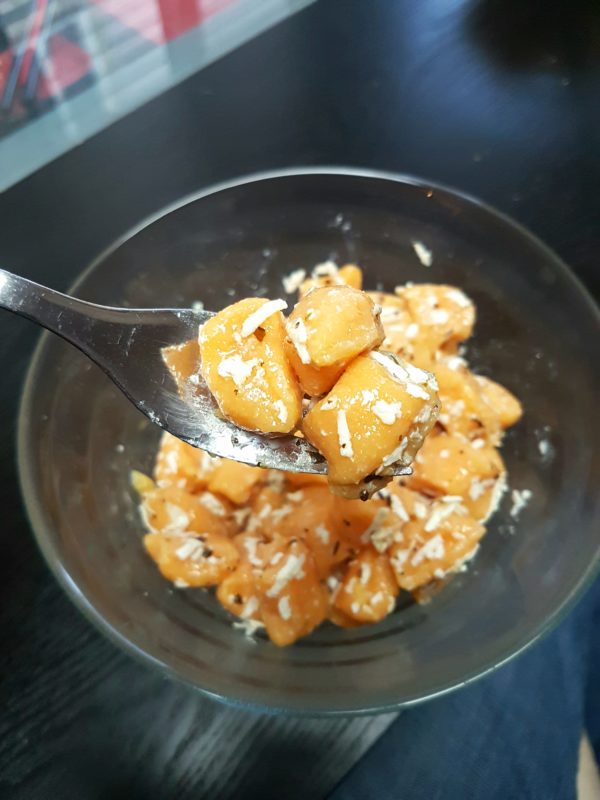 | | |
| --- | --- |
| | |
In a small sauce pan, add some of the butter and lightly sauté the garlic until softened (roughly two minutes).

Reduce heat to medium-low and add the rest of the butter. Melt the butter. Once melted, stir continuously until the butter has been browned. (Caution: the points of burnt butter and browned butter are very close. Make sure you are stirring the sauce and watching it or it will burn).

When the butter is almost browned, add the oregano and dried basil, then reduce heat to low to keep the sauce warm as you prepare the gnocchi.
Peel, cube and boil until soft the yams/sweet potatoes. They should be soft and easily mashed with a fork. Strain and rise with cold water until no longer hot. (Note: this can be done the night before and the cooked potatoes refrigerated. You're cooling it down so you don't burn yourself when mixing the mixtures).

In a large bowl, mash the potatoes until smooth and there are no more lumps. Add the 2 cups of flour slowly. Recommended adding ½ cup at a time. Mix until completely combined.

Push a well into the potato-flour mixture and add the beaten egg. Using your hands, knead the egg into the mixture. Add flour as required until the mixture is the consistency of dough.

Dust counter with flour. Knead the dough until thoroughly mixed and there is a consistent texture. Divide the dough into 4 or 5 pieces. Using your hands take the pieces and roll them into long snakes 2-3 cm in diameter. Using a butter knife, cut each piece into dumplings about 2cm in length.

Each section of dough is a batch of gnocchi. Bring a large pot of salted water to a rolling boil. Put the gnocchi in the boiling water. Once the dumpling floats, it is cooked. Remove from the water. Once a batch has been completed and removed, repeat until all the dough has been cooked.

Toss each batch in the brown butter sauce immediately as it comes out of the water. Add cheese and toss some more.

Garnish with chopped basil and more cheese if desired. Serve immediately.
Serves 4 people as a side dish or 2 people as a main.
Tips and Tricks:
To add a bit of texture, you can toss the gnocchi from the water into a frying pan to brown and crisp the outside of the dumplings
Don't be afraid to experiment. Swap out the potato for ricotta to make gnudi, or use other root vegetables to add a different flavour to the dish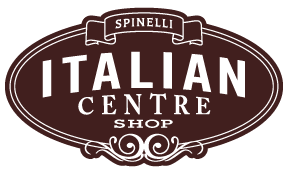 Big thanks to Kunitz Shoes and The Italian Centre Shop for coming on board and sponsoring The Community Table Project. The support of strong community-minded companies like these help make content like this possible, so go see Kunitz Shoes next time you're in need of quality shoes and cool socks, and The Italian Centre Shop for everything you need to make these recipes at home.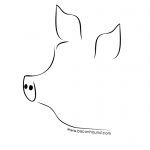 Baconhound is an Edmonton food blog, focusing on the best restaurants and dishes in Edmonton and beyond. Phil Wilson is a food writer and also the host of the Canadian food podcast, Off Menu. Find it in the iTunes store and on Stitcher.