I have been wanting to travel to the Canadian east coast for some time now. Since we have so many transplanted Easterners here in Alberta, I've been graced with tales of the legendary beauty of the coastlines, the friendliness of the people and now, the explosion of the food scene. With the Canadian dollar still in the tank, this summer seemed like the perfect time to visit and see Nova Scotia and Prince Edward Island for myself. I have compiled a list of some of the standout moments from our trip below:
Best Drive
Conventional wisdom would state that the best drive of Nova Scotia would be the Cabot Trail. I can't really dispute that – there are stunning vistas, valleys full of the greenest trees you can imagine, and rocky cliffs that drop into the ocean. It's beautiful. But for me, I enjoyed the drive down Hwy 333 from Halifax to Peggy's Cove, and on to Lunenburg.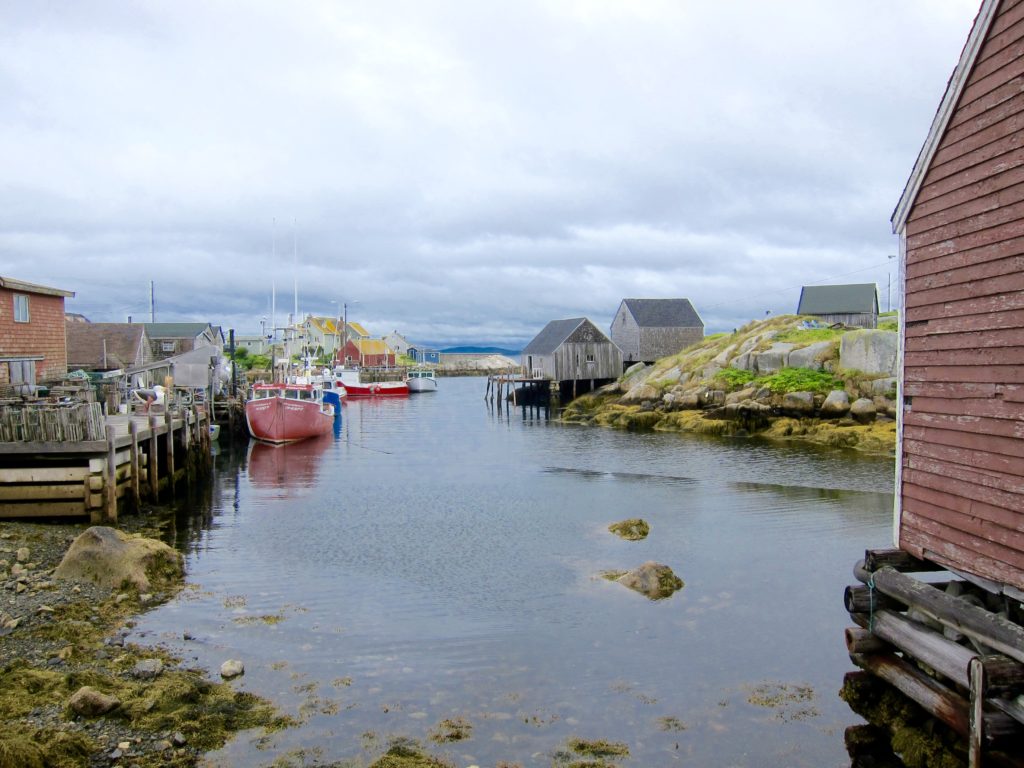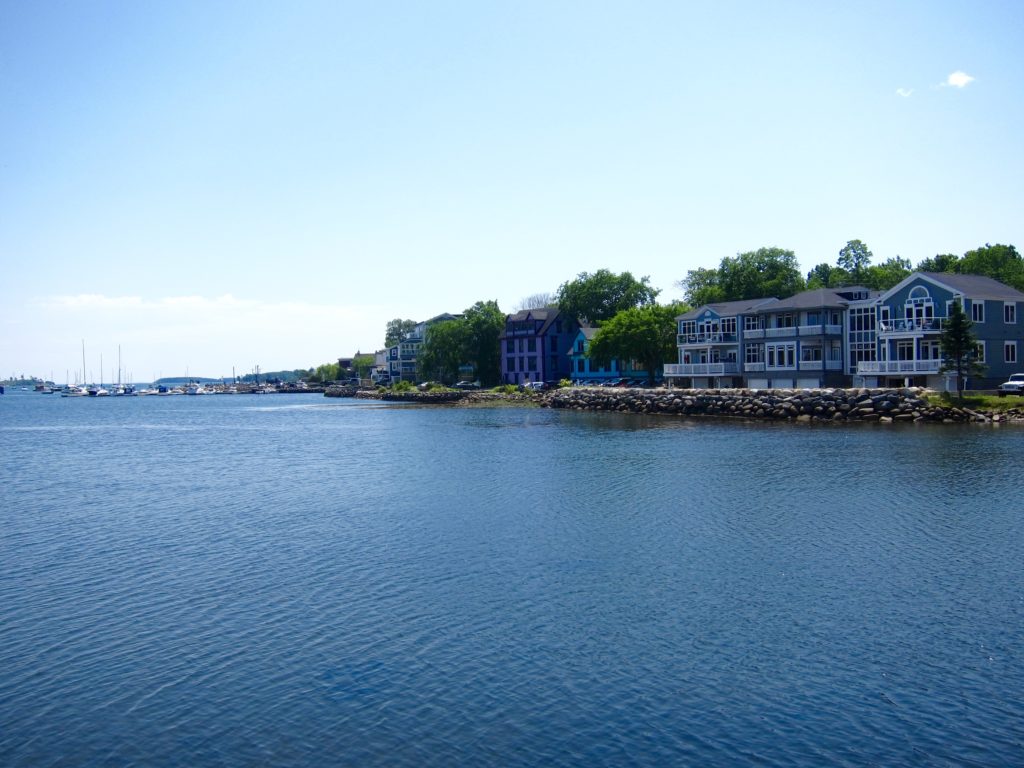 Google maps says the drive should take just over 2 hours, but you'll want to give yourself much more time to allow for open-mouthed admiration. As you drive along the windy road, you can pull over and look at the houses that back out to the ocean. Imagine yourself enjoying a cup of coffee on the deck overlooking the water or walking along your private dock to an awaiting boat. You'll pass through small towns that sell handmade quilts and have community lobster dinners every week. As a bonus, at the end of your drive, you end up in Lunenburg, a beauty in its own right.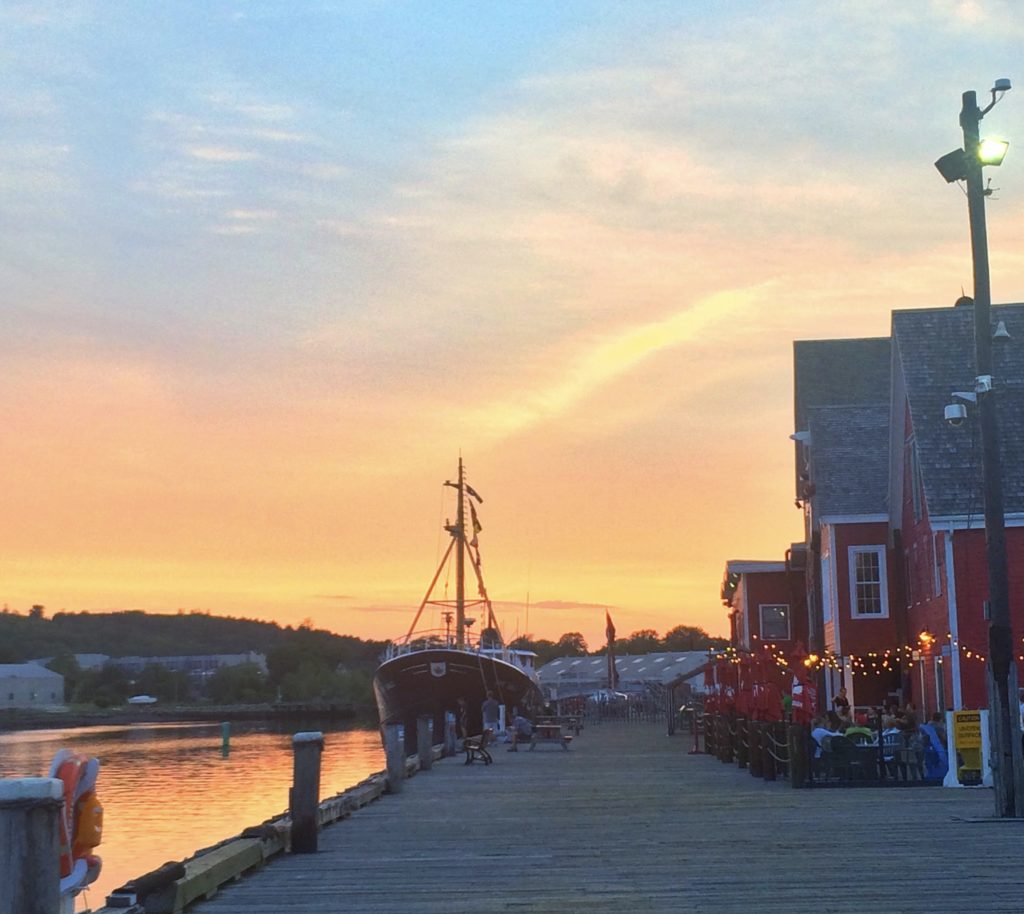 Best Fish and Chips
This is a tough call, and most likely a controversial one, since I'm sure every local and visitor to the eastern shores of Canada has their favourite fish and chip shop. My favourite was the South Shore Fish Shack in Lunenburg, NS.
The fish was obviously fresh, which ensures a tender, flakey texture. The batter was light and crisp, not too thick and not too greasy. The fries are nice and salty, and there's more than enough to satisfy the hungriest of travellers.
Best way to watch the sun set
Many towns along the coast offer boat tours. Whether its a lobster cruise, or a powerboat, or a whale watching adventure, there is something for every interest. Personally, I went for the sunset sailboat ride from Star Charters in Lunenburg, NS.
Once the boat leaves the harbour, the engines are turned off and the sails are set. The peace and quiet as you sail along the waves and watch the sun fall into the ocean can lull you into a state of relaxation. But don't get me wrong, its not all calm serenity and content sighs, there are plenty of thrills to keep you on your toes – literally at times, as some people planted their feet on the side rails for stability. When the boat takes a turn, one side of the boat dives towards the water, sometimes tipping so close that water spills over the edge of the boat onto the floor, the other towering high in the air. The thrills may get your heart racing, but as the sky darkens, the heat of the day goes down with the sun, so a sweater will come in handy.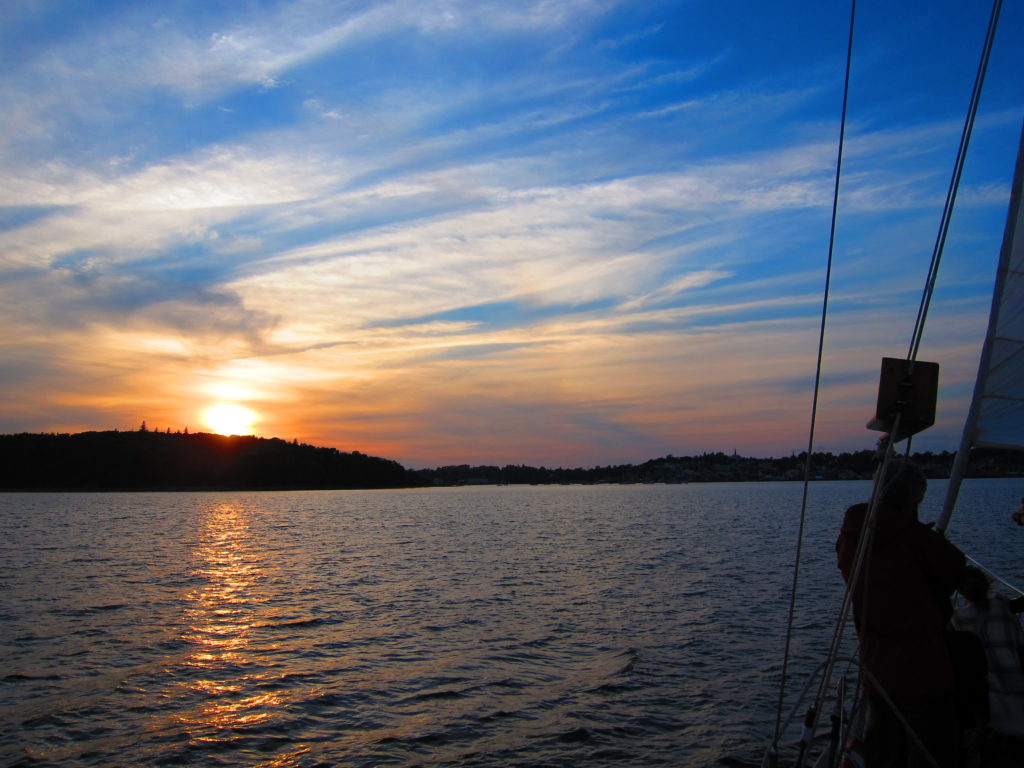 Best place to imagine you're a Goonie
Ovens Natural Park near Lunenburg, NS offers a campground to stay or you can drive up for the day and hike around the park. There is a cave trail walking tour, a recommended 1 hour trek along the cliffs that takes you down into the sea caves. The hike is doable for all fitness levels, you can take it as fast or as slow as you want. There are plenty of benches to sit and enjoy the views, though we were often chased back on the path by annoying (though not particularly angry) wasps.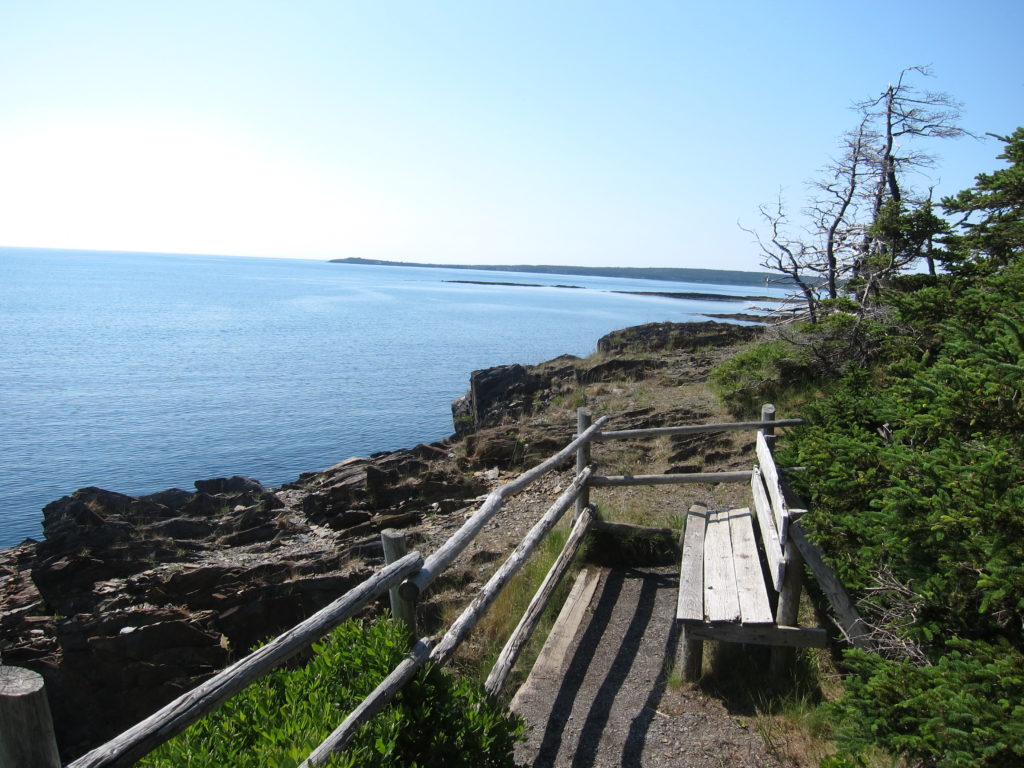 At the top of the cliffs are stunning vistas that look out over the ocean and when you descend the rocky steps, you'll find yourself in cool damp caves, surrounded by stunning rock formations. Its easy to imagine a rogue adventure taking place in these caves, or smugglers hiding out with their loot, especially when the waves crash into Cannon cave and let out a thunderous boom.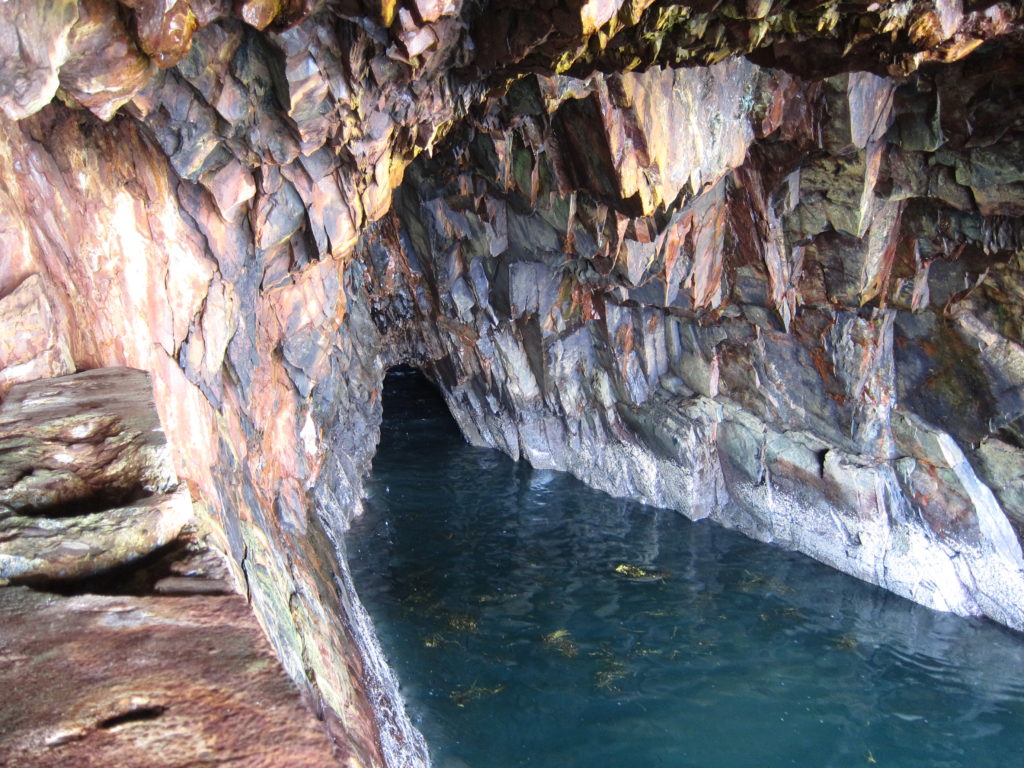 Adventuring with @baconhound #visitnovascotia pic.twitter.com/aT7I7GYP7f

— Robyn Wilson (@joyfulfollies) July 12, 2016
Best way to get your daily intake of Vitamin C
The Pear Eau de Vie Brandy from Ironworks Distillery in Lunenburg, NS comes with a full pear marinating right in the bottle! It is a beautiful and tasty treat, and the more of it you drink, the crazier the ideas get about how they actually got the pear in there. When we visited Boates Farm, near Wolfville, NS we got our answer.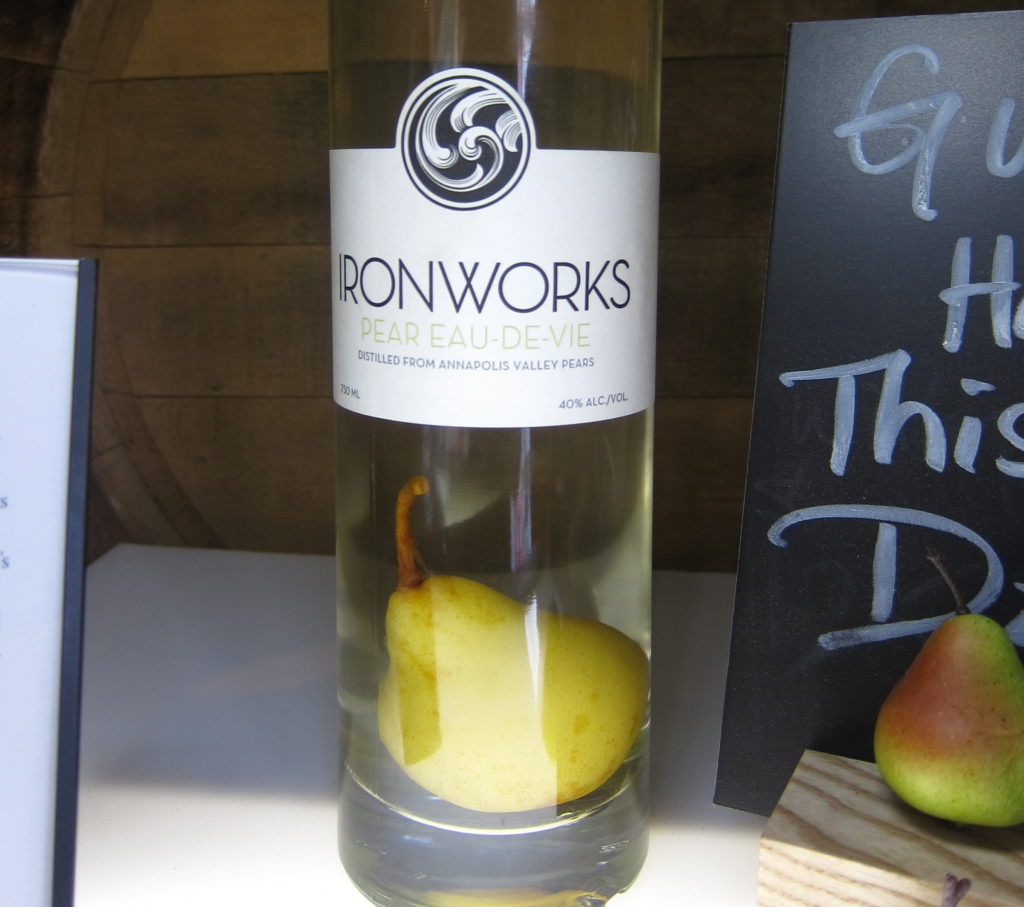 They grow the pears right in the bottles! It was quite a sight to walk through this otherwise standard U-Pick farm and see all the bottles strapped to the trees and the pears growing inside each one. I sure appreciate their outside-the-box/inside-the-bottle thinking on this one as I drink the brandy, feeling confident that, thanks to the real fruit content, I won't be getting scurvy any time soon.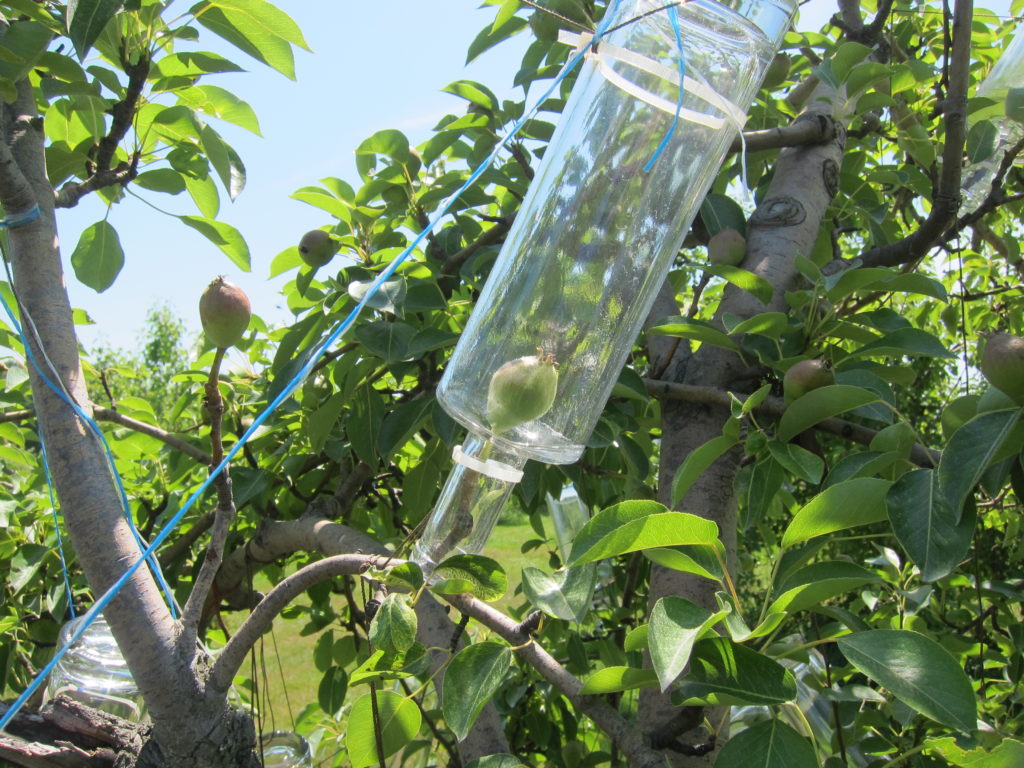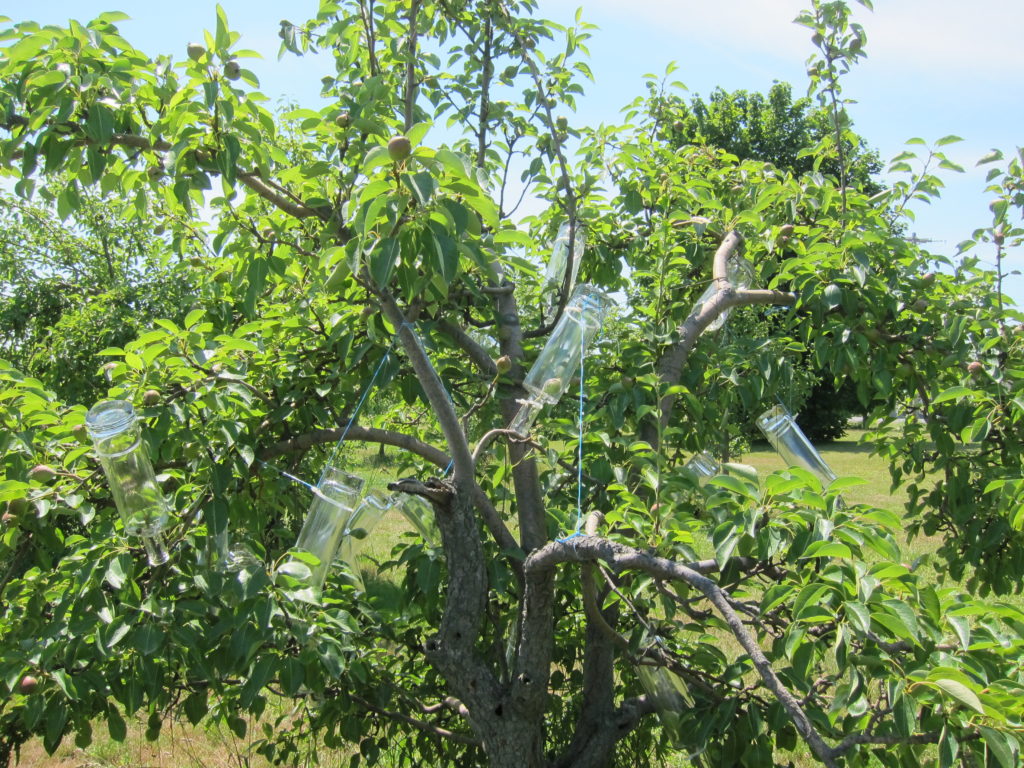 Best cider
Most establishments around Nova Scotia offer locally made Bulwark cider, which is a nice refreshing drink when you want something other beer (hey, it could happen!). But if you find yourself in Wolfville, NS, belly up to the tasting bar at Annapolis Cider Co. They have 3 ciders on tap – the Juicy and Sweet, the Crisp and Dry and rotating cider; all are available to taste, in a flight or even a growler to take home. They don't export their ciders, so you have to go to Wolfville to try them, though we did find bottles available on the menu at Le Caveau.
Best Place to make a toll free phone call
Luckett Vineyards near Wolfville, NS has it all. Wine, of course, outdoor dining, beautiful scenery and a vintage phone booth right in the middle of the vineyard.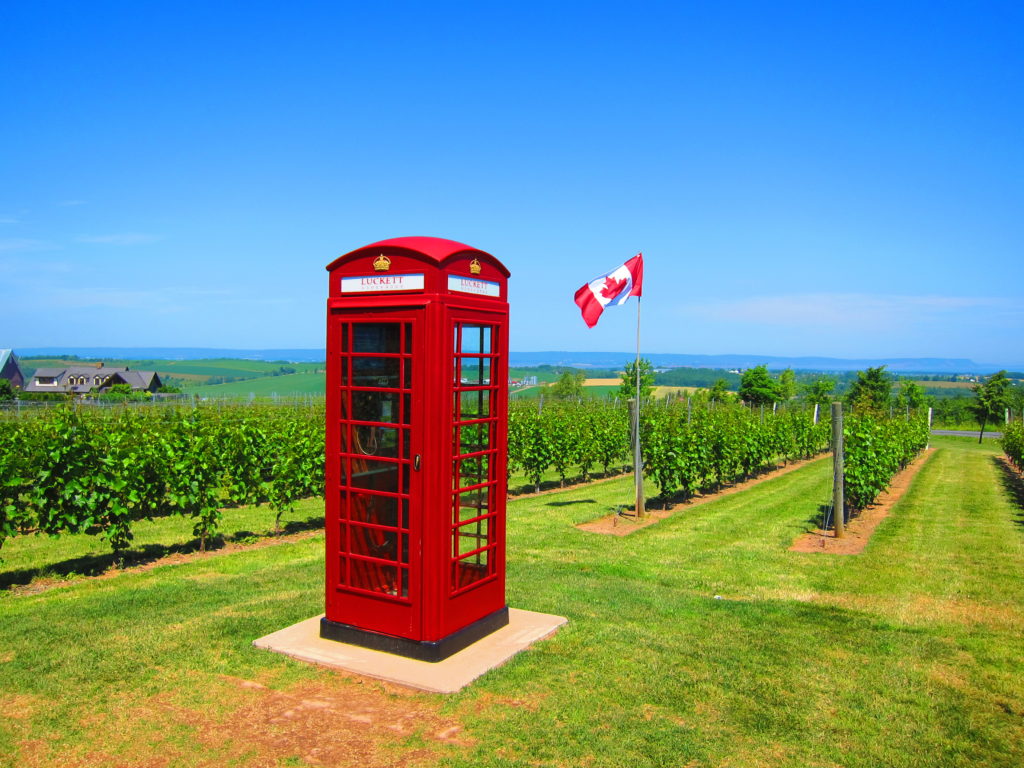 And this booth isn't just cool to look at, it is fully functional and allows free phone calls anywhere in North America (I may have used it to call my dentist back in Edmonton for advice on a broken tooth).
Best Place to relax on Cape Breton Island
We knew that we wanted to stay somewhere beautiful and relaxing on Cape Breton Island, and it certainly presented many options. Ultimately, we chose the small town of Baddeck, and we could not have been happier with it. We stayed at the Silver Dart Lodge which sits atop a hill at the edge of Baddeck, NS. Its rooms overlook the ocean and have attached decks, as well as adirondack chairs on the lawn that allow outdoor viewing without straying too far. The hotel restaurant boasts floor to high-ceiling windows that also offer expansive views while you eat.
My favourite part of the Lodge was off the grounds and a bit closer to the water. If you walk across the street and follow an almost-hidden path, you'll find yourself at a private dock and gazebo. I could've sat for hours on the floating dock just watching wave after wave roll under me, but this rookie forgot a sweater and the cool, ocean breeze definitely got the better of me.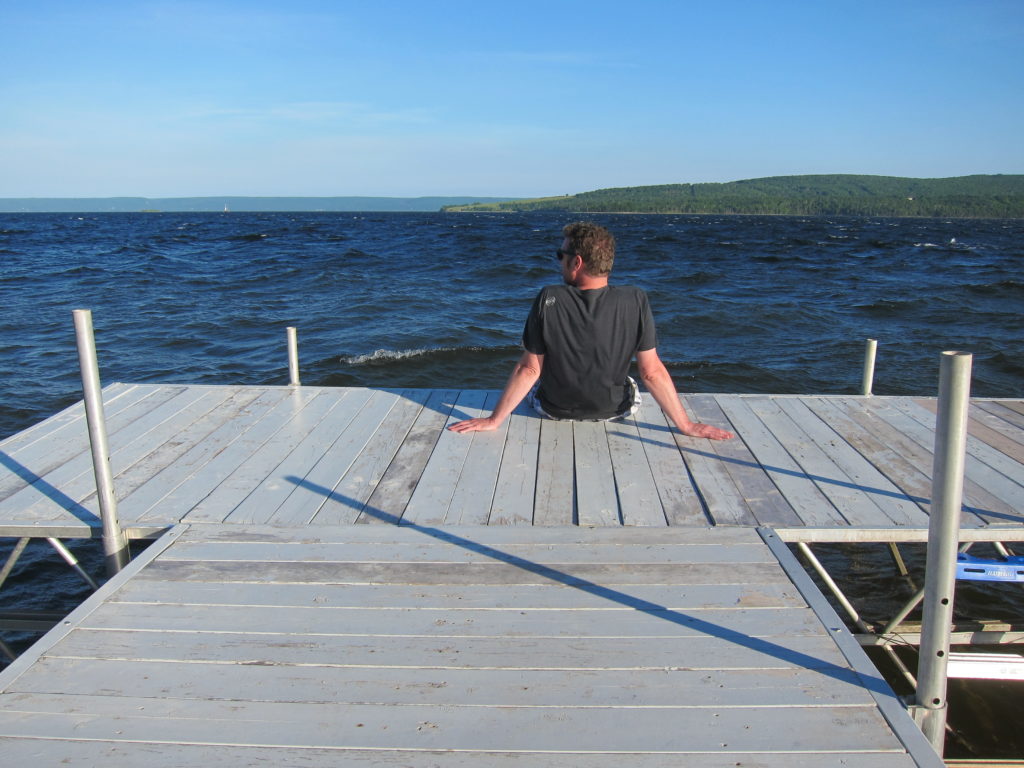 Best Breakfast
We were just planning on having coffee, I swear. But then the menu at Receiver Coffee in Charlottetown, PEI called out with items like pork belly and candied bacon and we simply couldn't resist. Now, I'm sad we never got back to try more. Receiver is doing coffee right, roasting their own beans in small batches to ensure the highest of quality. It was so good that we even bought a couple of bags to take home with us. That commitment to quality followed through into their food offerings as well.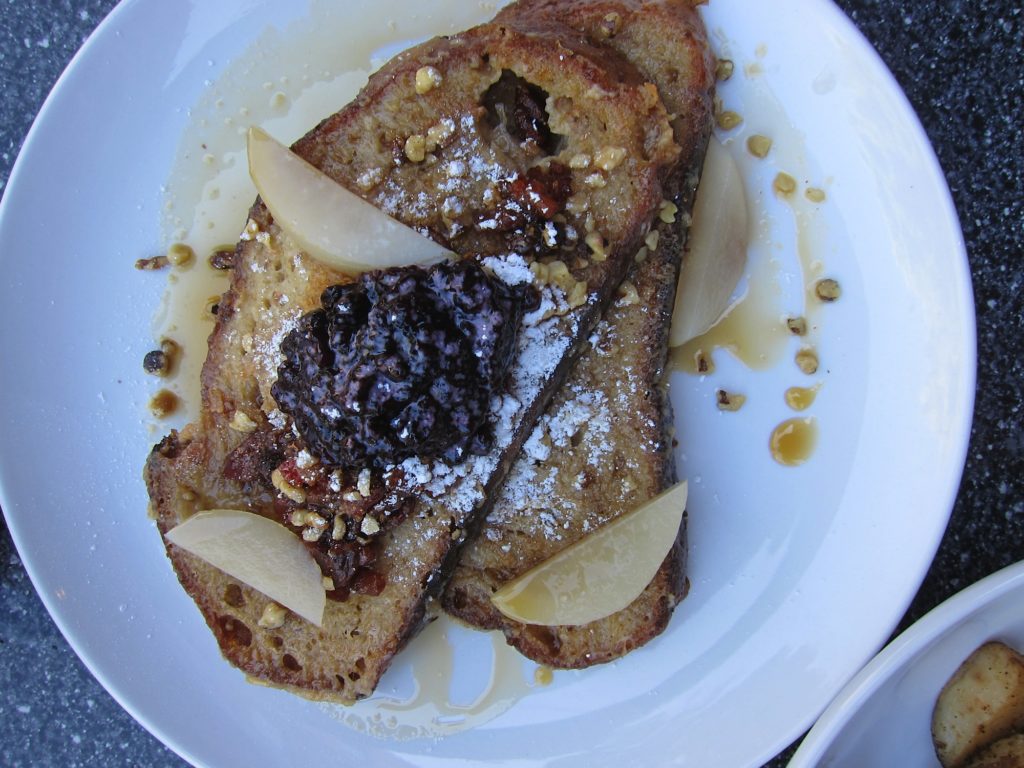 I got the Receiver Breakfast, with roasted potatoes, poached eggs, white cheddar, hollandaise and, of course, pork belly ($13). Robyn went for the french toast with candied bacon, poached fruit, whipped cream and espresso maple syrup ($10). I can honestly say that I have never seen such a generous portion of pork belly for such a reasonable price and it was cooked perfectly. We indulged in a lot of high-end, well-rated food on our trip, but this breakfast was the meal we kept raving about long after we got home.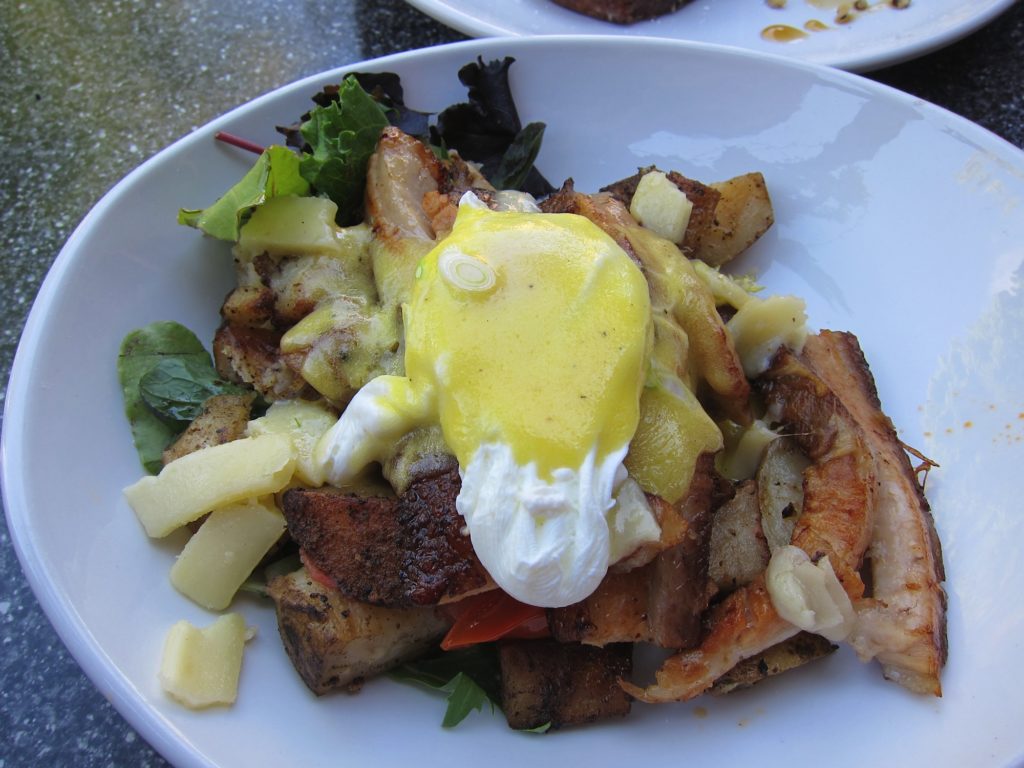 Best French Fries
You can find The Chip Shack near the water in Charlottetown, PEI. A small red food cart that offers lobster rolls, fish and chips, hot dogs and poutine. I'm sure its all great, but all I really needed was a massive order of french fries. The large order comes out in a paper bag filled with deep-fried PEI potatoes. When we went, we were already well on our way to being full, so I wasn't really expecting to finish even half of that bag but somehow Robyn and I could not stop shoving those delicious deep-fried potatoes in our faces and before we knew it the bag was empty.
It was all I could do to resist ordering another order.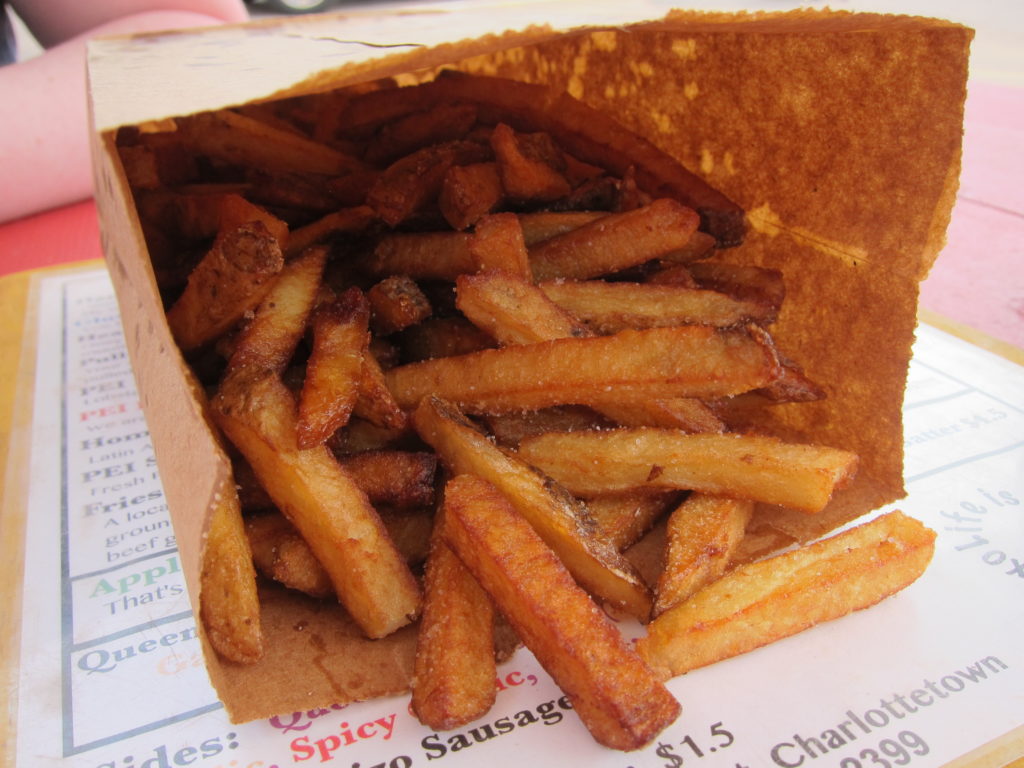 Best way to interact with a Food Network Star
If you drive to the north-eastern tip of Prince Edward Island, you'll find yourself at the Inn at Bay Fortune. This little Inn is owned by Chef Michael Smith and his wife, Chastity. The Inn is perfectly picturesque, vines winding up the walls, and adirondack chairs artfully placed for outdoor relaxing. Out back, you'll find vegetable gardens, herb gardens and even live pigs, if you look around, you are likely to see the Chef, tending the garden himself.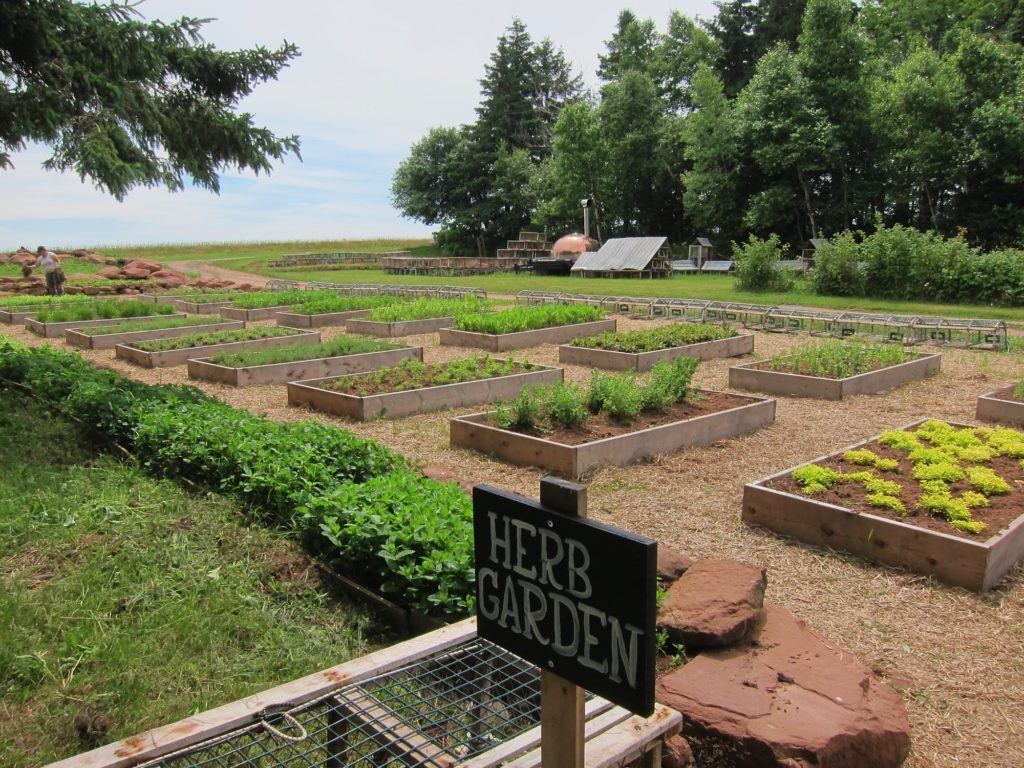 As lovely as the Inn is, the experience is so much more than your average hotel. Treat yourself to The Feast that is offered there nightly. The multi-course dinner, which includes fresh made bread, fish, soup, salad, a protein and dessert, is preceded by an all-you-can-eat Oyster hour.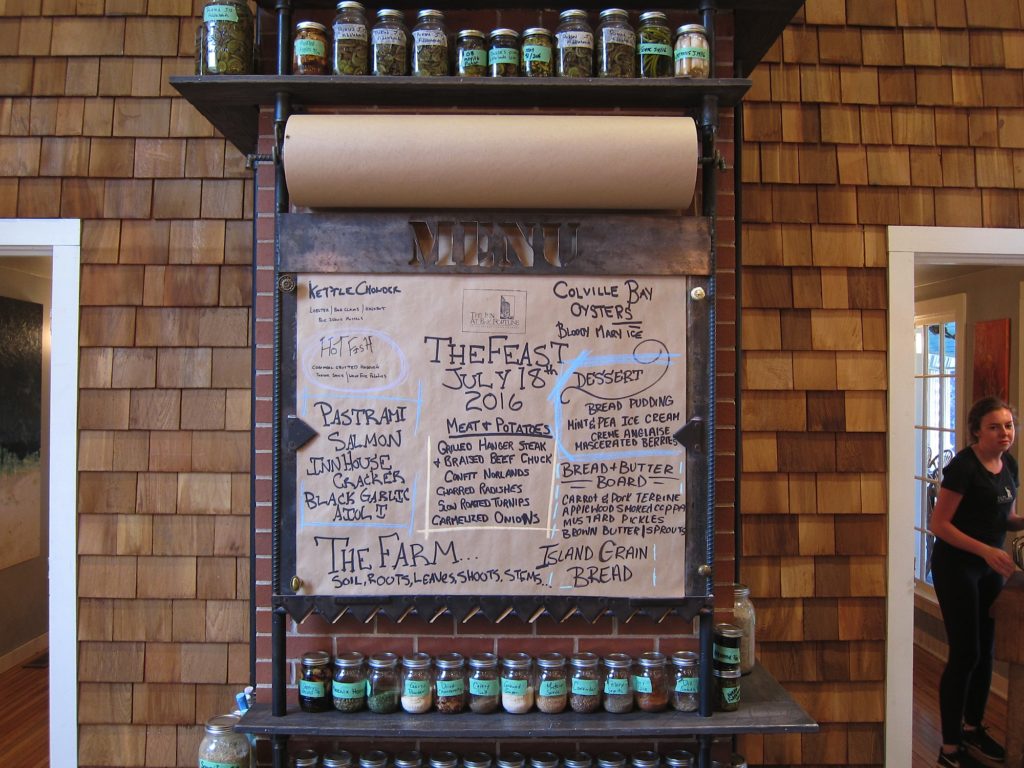 Oyster hour offers different stations of appetizers, each manned by a hotel chef, and roaming the grounds around each station is Chef Michael Smith, himself. Chatting with guests, taking pictures and encouraging everyone to eat as much as they can (I may have had my arm twisted to eat over a dozen oysters myself). It is a great opportunity to see the Chef at Home.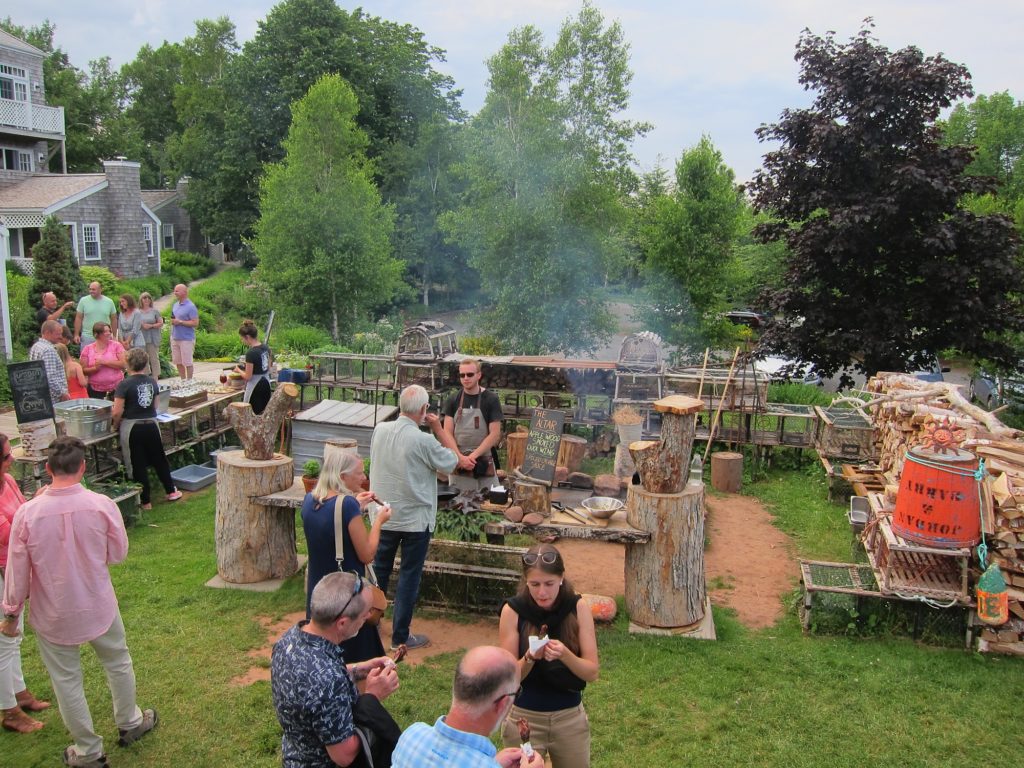 Never felt short before. @ChefMichaelSmth pic.twitter.com/cFCiVA9EbM

— Phil Wilson (@baconhound) July 18, 2016
Best place to drink outside
Stillwell Beer Garden in Halifax doesn't have a massive beer selection, but with a rotating tap selection of 10 beers, there is sure to be something for everyone. Stillwell also has a small, but enticing food menu which includes beef brisket, fried bologna sandwiches, and salty chips with salsa – all things that go perfectly with an ice cold beer.
If you prefer something a little sweet with your beer, the Dairy Bar backs on to the lot and has an ever-changing selection of soft serve ice cream to keep you cool in the summer.
Best Place to forget you're in a city
Halifax Public Gardens is an oasis from the hustle and bustle of Halifax. Keeping up their Victorian roots, there is no running, no bicycles, and no pets. Though there are ample ducks waddling around the park and wading in the water to keep you smiling.
Wander along the paths, stop and smell the flowers, or grab a seat on one of the many benches and watch the ducks waddle by. After some time in the Gardens, your blood pressure will be back down to normal in no time.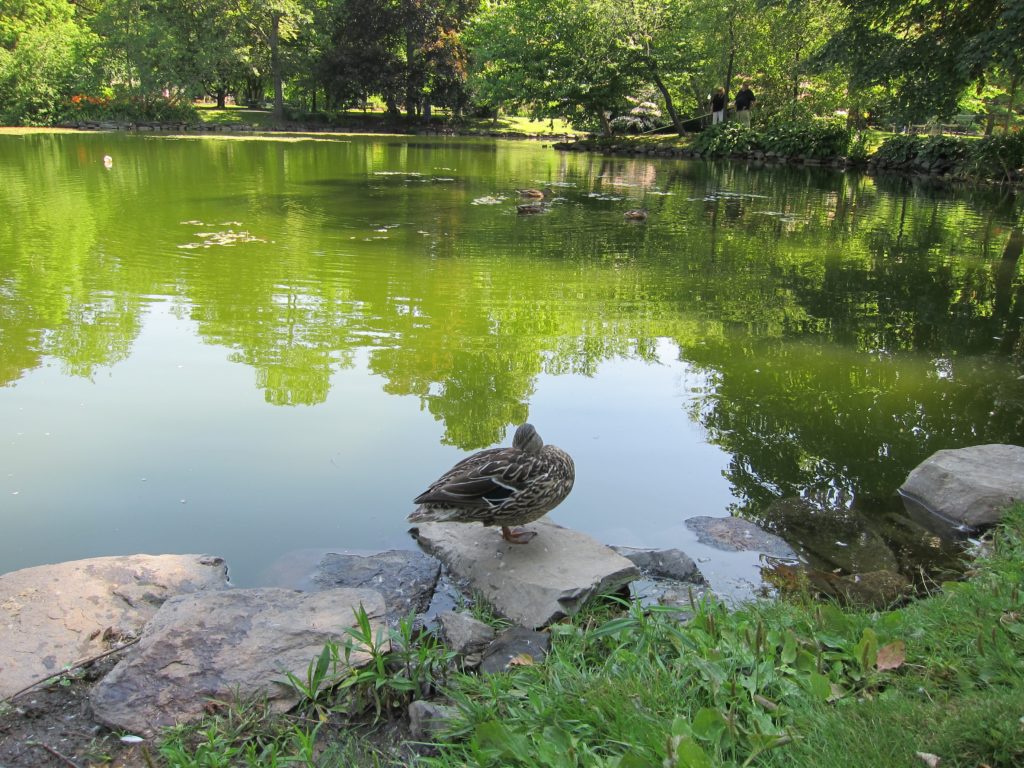 Best public art
In Halifax, on Barrington street facing George street is a mural painted on the side of the building occupied by Freak Lunchbox. The mural is fittingly Maritime-themed and is beautiful in the sunlight, but its at night when this painting really comes alive. There are coloured lights that shine on the mural and as the colours of the lights slowly change, so do the colours in the mural.
It is breathtaking.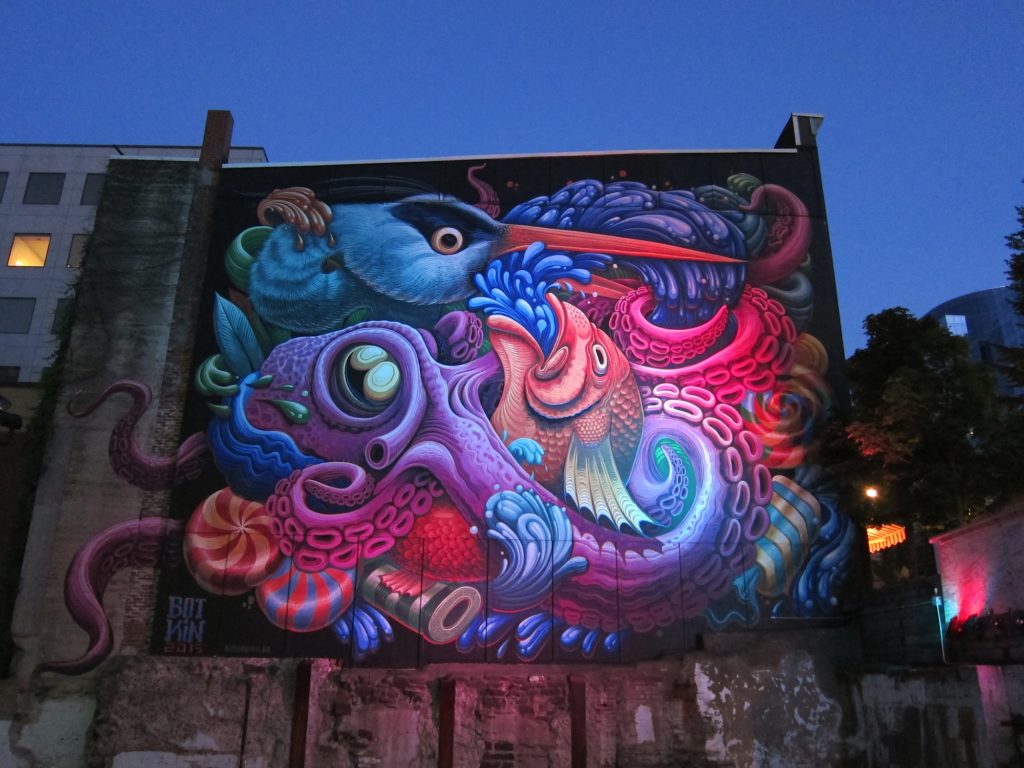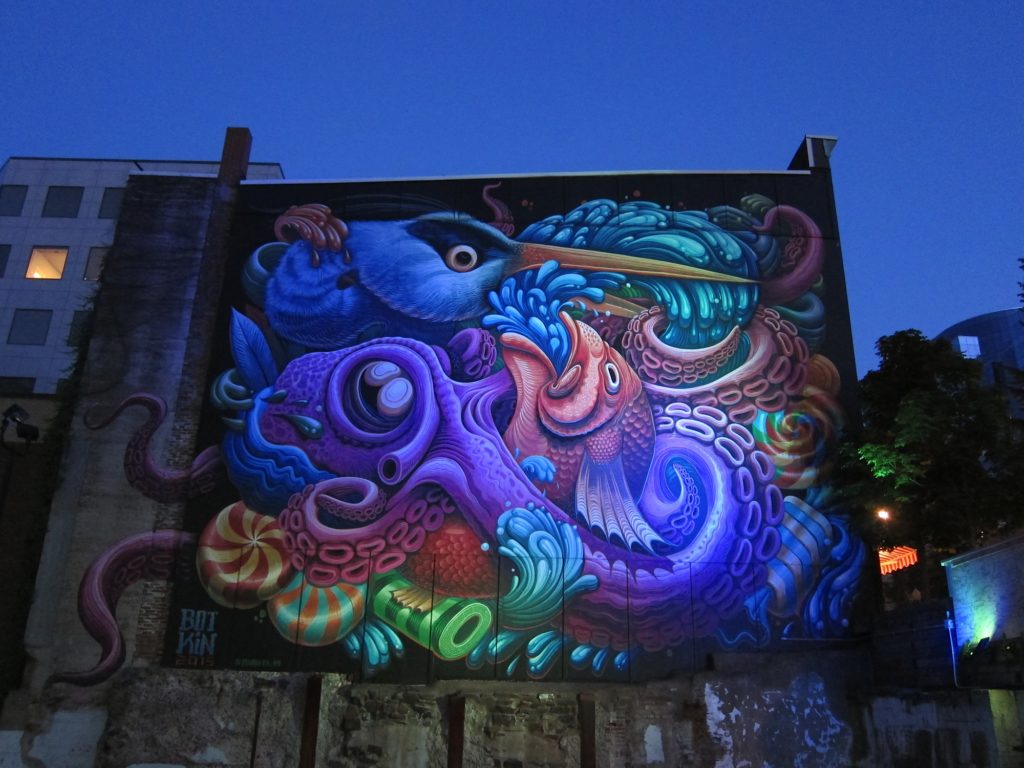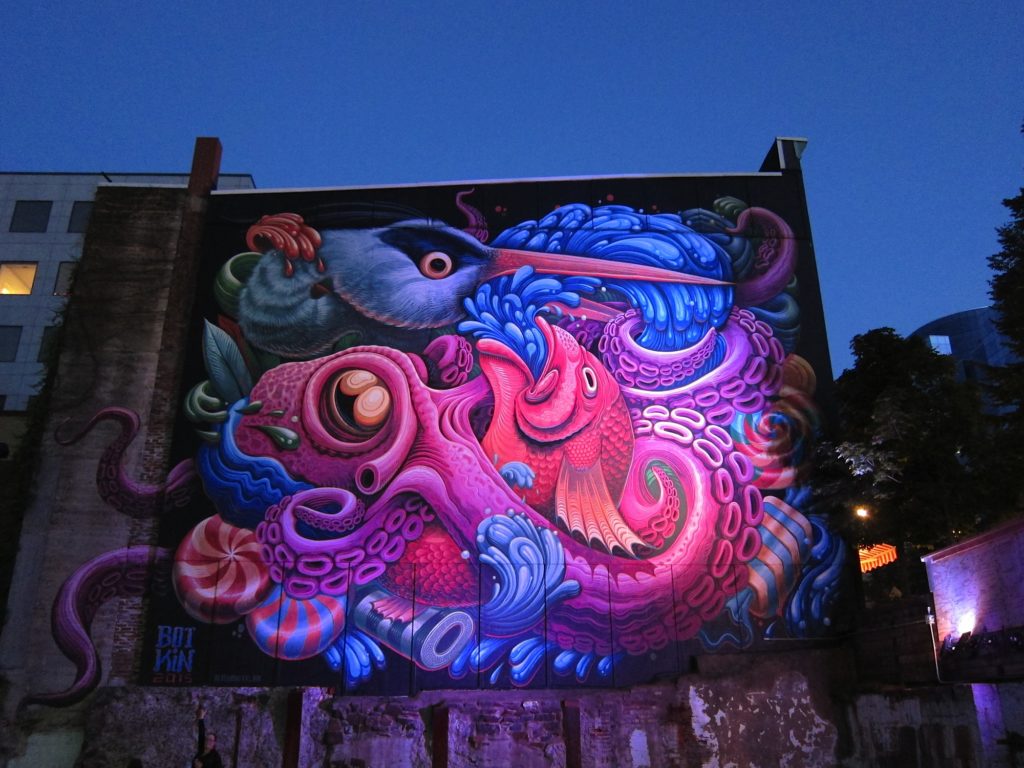 Robyn and I stood in the parking lot looking at the mural for a dizzying amount of time, and every time some new onlooker walked by, we heard their gasps of awe as they noticed the subtle changes in colour before their eyes. Don't take my word for it, last year, it even gained international recognition as one of the top 20 best murals in the world.
Time lapse of the stunning artwork in downtown #hfx. #VisitNovaScotia pic.twitter.com/ASGE0o291Y

— Phil Wilson (@baconhound) July 21, 2016
It was a heckuva trip. I want to thank Nova Scotia Tourism for hooking Robyn and I up with a car and allowing us to tour around the province at our leisure. I can't believe it took us this long to visit, and I already can't wait to go back. I know there's so much more to see and that I've missed a lot of other "bests" in this post.
What are your favourite parts of Nova Scotia or Prince Edward Island?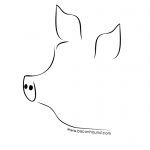 Baconhound is an Edmonton food blog, focusing on the best restaurants and dishes in Edmonton and beyond. Phil Wilson is a food writer and also the host of the Canadian food podcast, Off Menu. Find it in the iTunes store and on Stitcher.