Meat and The Next Act may have the same owners, but the menus don't necessarily convey that relationship. The brunch offerings are distinctly different from each other, and equally interesting. The Old Strathcona area fared pretty well in my searches for Edmonton's best fried chicken and pizza, and the nearby Ampersand 27 got the area off to a great start on brunches, so I was looking forward to checking these 2 spots off the list.
Next Act Pub – 8224 104 st
This watering hole has been a favourite of mine for years now, and though I don't find myself sipping craft beers and people watching at the pub as often as I'd like these days, I still love to drop in when I'm in the area.
The brunch menu has plenty of options that piqued my interest, but I settled on the Pulled Pork Melt ($15), which has hashbrowns baked in cheese sauce, pulled pork, pea shoots, and a poached egg.
Robyn went with the Breakfast Sandwich ($13), with cheddar, bacon, lettuce, tomato, mayo, and an over easy egg, served on a toasted brioche bun. It's served with hashbrowns.
Execution and Taste
This is a great soft brioche bun, but it's hard not to notice how much it seemed to dwarf the contents of the sandwich. With none of the contents being particularly bulky, you definitely get some pretty bun-heavy bites, which would be a real problem if the bun wasn't so good. The bacon was perfectly cooked, and there was enough to get some in every bite. The fried egg still had a nice runny yolk, which made for some drippy goodness when bit into. The soft paprika seasoned hashbrowns were quite tasty, even though the crispiness wasn't there. There were plenty of potatoes on the plate, and Robyn found the spice a bit overpowering by the end. She also had a side of hollandaise to dip the hashbrowns in, which was fantastically buttery and delicious. Definitely get a side of that for whatever you order.
My Pulled Pork Melt had the same hashbrowns, but smothered in cheese sauce. The ample cheese and the runny yolk from the perfectly poached egg made a great combo. When paired with a bite of the slightly-smokey pulled pork, that's some good eats. My dish seemed a bit skimpy on the pork -I would have liked another ounce or 2 – so I had to ration it carefully. The fattier elements like the pork and the cheese were balanced nicely by the acidic salsa on top. Another layer of freshness came from the pea shoots, but in the end I think the clunkiness of the long pieces made them more of a pain to maneuver then they were worth.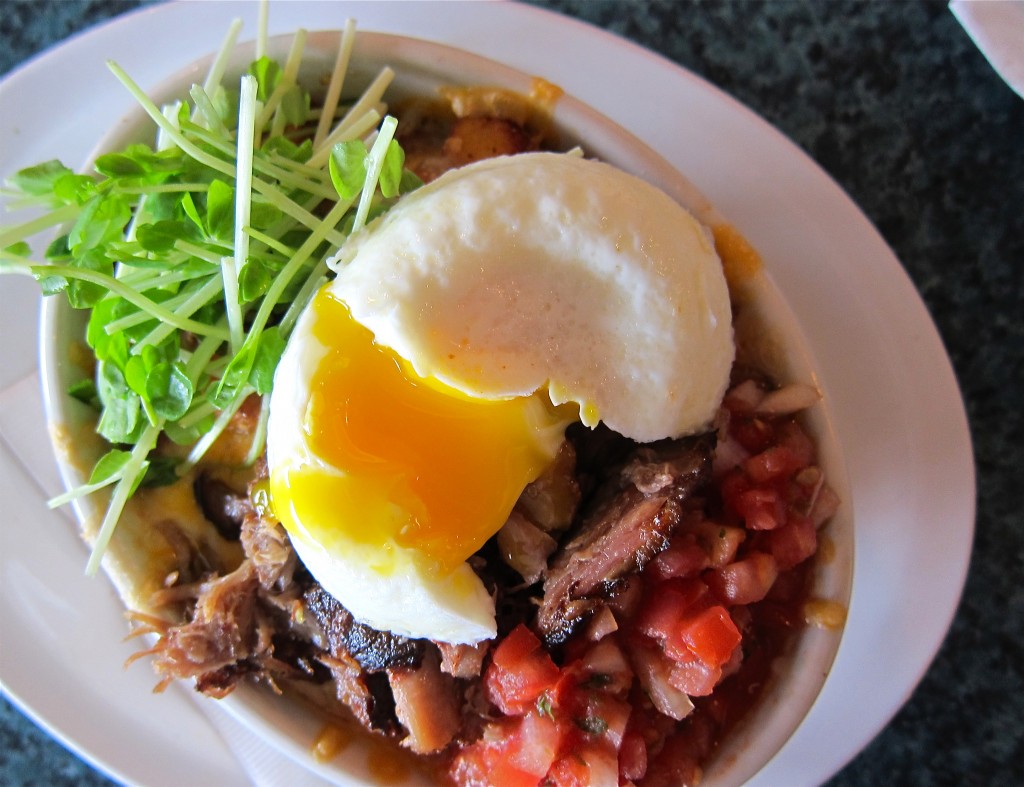 Value
Anytime I can leave a brunch that I enjoyed, feeling full, and spending $15 or less, I consider it a win. I'd happily come back for the Pulled Pork Melt, and though there were no major complaints with the sandwich, I'd probably swap it out for the Breakfast Poutine next time.
Meat –
I've been complimentary about Meat's fried chicken in the past, but have felt less enthusiastic about their brisket. Brunch seemed like a great way to break the tie.
Robyn went for the Fried Chicken & Cornmeal Flapjacks ($16), with rosemary maple syrup and butter. It was pretty hard to resist ordering it since we know the chicken is delicious.
I had my sights set on some classic Southern Grits ($13), with pulled pork (or brisket if you prefer), poached egg, and sausage gravy.
Taste and Execution
As expected, the fried chicken was crispy and delicious. There's one thigh and one drum, which are great on their own, but might be even better with a little hit of that rosemary maple syrup. The cornmeal added a nice texture to the 3 large pancakes, without making them tough or heavy. They were perfectly fluffy and light, like a good pancake should be.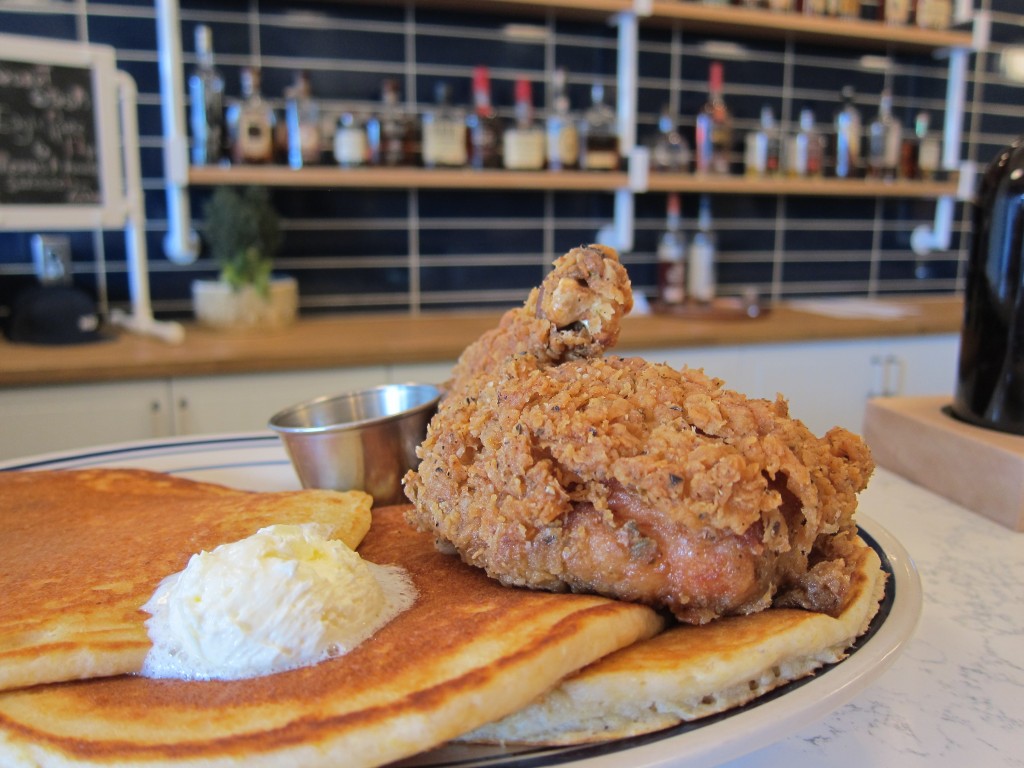 Traditionally, grits are pretty bland, and I found that these were no exception. If you're eating them on their own, they often need some help, usually in the form of cheese and a touch of heat never hurts. In this case though, the nicely creamy grits were paired with tasty pulled pork, and peppery sausage gravy. When eaten together, it's a pretty enjoyable breakfast. The addition of some smokey sausage bits to the sausage gravy was a welcome touch too.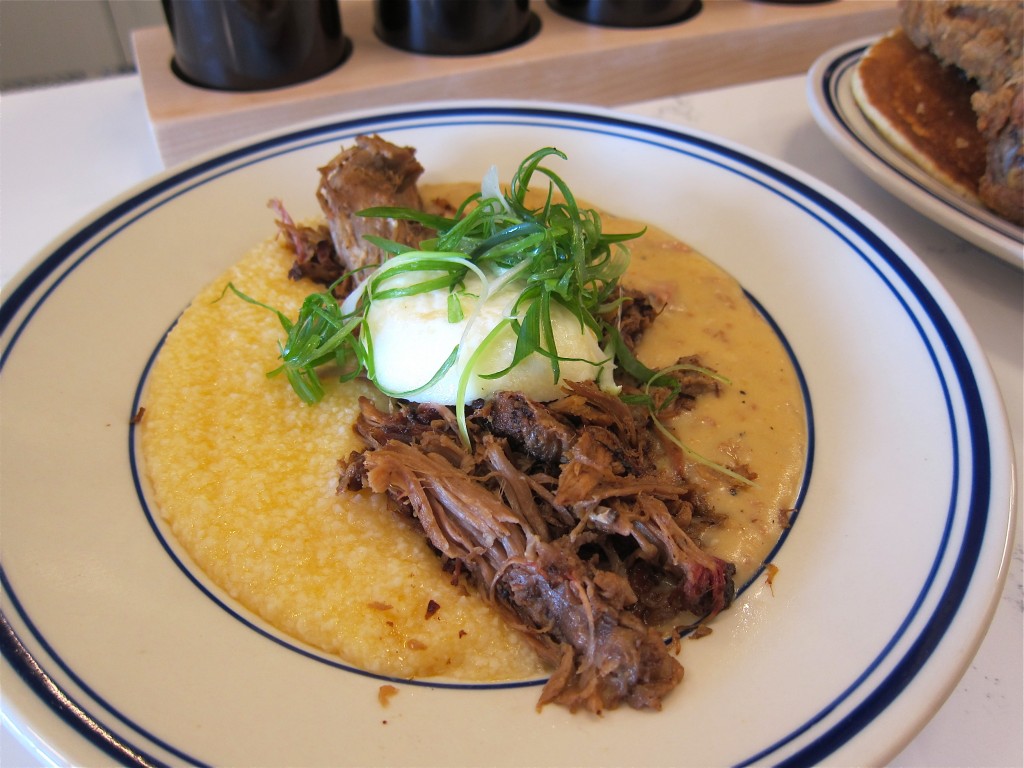 Value
For $16, the chicken and flapjacks delivers a very satisfying and filling brunch. Robyn walked out full and even took a pancake and a half home. That's decent value.
Grits tend to be polarizing – loved by some, and hated by others. I happen to love them, and not surprisingly really enjoyed this dish as a whole. The $13 price tag is fair, and it's quite a unique ingredient in the Edmonton brunch scene.
It's a tough call this week, with both spots ranking as solid brunch options. I'm going to give the nod to Meat, since I thought both dishes were slightly better executed and are more distinctive than the general brunch offerings around town.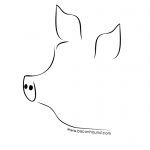 Baconhound is an Edmonton food blog, focusing on the best restaurants and dishes in Edmonton and beyond. Phil Wilson is also host of the Canadian food podcast, Off Menu. Find it in the iTunes store and on Soundcloud.