The Alberta food scene has grown by leaps and bounds in the last decade, with Calgary leading the way with an abundance of top quality independent restaurants. The last few years have seen big strides taken here in Edmonton as well, with the promise of more great things to come.
I figured it was time to sit down and chat about it with a couple of Alberta's most popular food writers.
From the City of Calgary, Dan Clapson, and from Edmonton, Twyla Campbell.
Listen in as we get some insights on food trends, we hear some strong opinions on mason jars as serving vessels, and I throw the "is a hotdog a sandwich" head scratcher at them.
Twyla's website – weirdwildandwonderful.ca
Dan's website – eatnorth.ca


Dan's Edmonton Food Picks – Woodwork, Duchess Bakeshop, Rge Rd
Twyla's Calgary Food Picks – Model Milk, Anju, Avec Bistro, Milk Tiger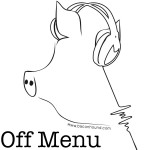 Baconhound is an Edmonton food blog, focusing on the best restaurants and dishes in Edmonton and beyond. Phil Wilson is also host of the Canadian food podcast, Off Menu. Find it in the iTunes store. 
Podcast: Play in new window | Download