Two restaurants attached to hotels. One in Old Strathcona, and the other Downtown. The chef at one used to be the chef at the other. Plenty of good reasons to put Ampersand 27 and Wildflower Grill together in the Brunch Odyssey, so that's what I did.
Ampersand 27 – 10612 Whyte avenue
Fancy plating and upscale digs are the hallmark of Ampersand, but they aren't shy on kitchen credentials either. Their head chef is 2 time Edmonton Gold Medal Plates champion Nathan Bye, so the food ought to be good, right?
After perusing the menu, we settled on a few dishes to try. Robyn went with the Lemon Ricotta Pancakes, with Zest, Lemon Gel, Preserves & Sugar Dusting.
While Robyn tends toward the sweets, I usually veer in the direction of corned beef, and this day was no exception. The Corn Beef Hash, with in House Corned Beef, Spice, Duck Fat Fried Potato, Worcestershire Gastrique, Onion, Poached Egg & Hollandaise sounded right up my alley.
Normally we would have stopped with those 2 dishes, but the table next to us had a platter of fresh baked blueberry scones hit their table right as we were ordering, and they looked way too good to pass up. What the hell, we can always enjoy the leftovers tomorrow morning, right?
Execution and Taste
Thanks to our table neighbours, we already knew the scones looked fantastic. As much as our eyes loved them, our mouths loved them even more. Slightly crispy, sweet, and endlessly flakey, these would be my pick for the best scones in Edmonton. They're served with chantilly cream, preserves, and whipped butter which were all good in their own right, but I barely used any of that. The scones were delicious all on their own, and melted in our mouths like shortbread.
 Robyn's Lemon Ricotta Pancakes impressed as well. I love a light and fluffy pancake, and these delivered. I enjoyed the slight sweetness and subtle lemon flavour.
My Corned Beef Hash had a bit of creeping heat, which I found nice. It was dangerously close to being the defining characteristic of the dish though, so I wouldn't want any more heat than was there. I also appreciated the fact there were big enough pieces of corned beef that I could get a good taste. The hollandaise was solid and the egg poached perfectly, with the essential runny yolk. The potatoes however were not crispy, and were a bit oily. They tasted good, but as you know, I like crispy potatoes at brunch.
Value
At $9, the scones were a pretty decent value. That dish could easily be my entire meal, and just might be next time we visit.
The Corned Beef Hash at $16 is similarly priced to other similar dishes around town, but might be a bit smaller portion than most. It was pretty good though, and since we had the scones, I didn't go home hungry.
So one good value, and one fair value so far. Which brings us to the pancakes. At $13 for 3 pancakes, I can't find a way to reconcile that in my head. If they came with a couple slices of bacon and some fruit maybe I'd change my tune, but they don't. They're good, but $4.33/pancake good?
Wildflower Grill – 10009 107 st
Most of the restaurant buzz downtown focuses on Jasper avenue and spots north of there, so it's easy to forget sometimes that Wildflower Grill is laying in the weeds just south of Jasper in the Matrix Hotel.
We settled on a Country Skillet for me, which has italian sausage, eggs, onions, peppers, rosemary potatoes, ancho cheddar fondue, and fruit.
Robyn went with a recommendation from the server – the Baked Eggs and Brioche. It's got fingerling truffle potatoes, parmesan, and of course brioche.
We dined with a friend, who decided on Chicken and Waffles. I didn't try it, but couldn't help notice that the chicken was a very dry roasted chicken, which was not specified on the menu. In fairness, it didn't specifically say it was fried chicken either, but a lack of descriptor generally assumes a traditional take on the method. I don't know about you, but I'd have been pretty pissed off to receive this when expecting fried chicken.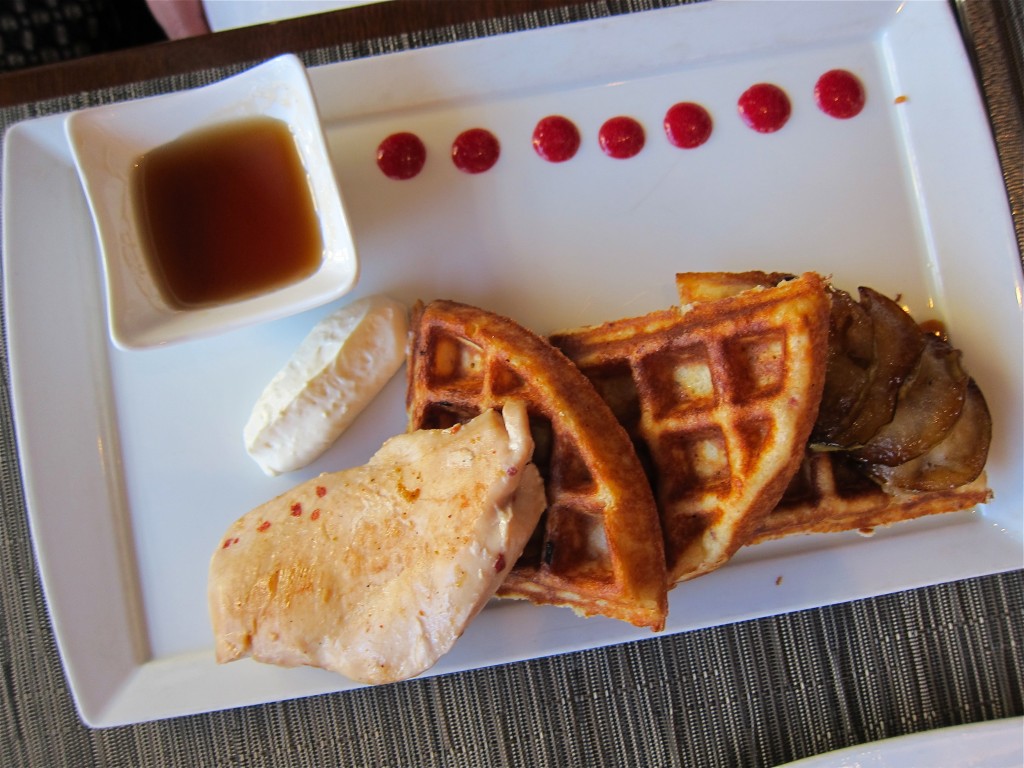 Execution and Taste
So here's the deal: I don't really like wraps. That's why I don't order them. So you can probably imagine how excited I was to find the "skillet" I ordered was just a wrap served in a skillet, topped with a fried egg. After confirming that I was not in fact being punk'd, I tried to move past the ridiculously misleading menu descriptions and give the wrap a fair shake. Unfortunately the only shake to give here was a head shake. The wrap was bone dry, as was everything inside. The sausage on the side was also dry, as were the pale and bland potatoes underneath. I also couldn't manage to pinpoint any sign of the cheese fondue that was listed. I always try to find some sort of redeeming quality to any meal, which in this case was the bowl of fruit. At least it had a blackberry, a blueberry, a strawberry, and a gooseberry in addition to the standard melon slices.
Robyn's Baked Eggs and Brioche fared a little better, but suffered from dryness and blandness overall. The eggs were baked hard, with crumbly yolks. The potatoes were nice and creamy, but didn't have much going on flavour-wise. There were a couple positives though, as the brioche was pretty good, and we really enjoyed the french press coffee, though our server couldn't tell us where it was from.
Value
Given that we struggled to find a positive or 2 to mention about our brunch at Wildflower Grill, it's tough to find value here. The prices are pretty much in line with typical brunch dishes, so if any of the dishes had delivered on expectations the value might have been fair. All 3 dishes we ordered were $16.00.
There wasn't much deliberation time requited this week to pick a favourite, and obviously it was Ampersand 27. Those scones alone are enough to bring me back.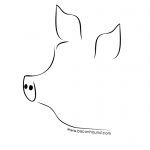 Baconhound is an Edmonton food blog, focusing on the best restaurants and dishes in Edmonton and beyond. Phil Wilson is also host of the Canadian food podcast, Off Menu. Find it in the iTunes store and on Soundcloud.