Aesthetically, these 2 Oliver eateries are pretty similar – industrial, raw, and unpretentious. The food at both tend to follow the same vein, so they are the perfect spots to pair together in my search for the best Edmonton brunch.
Daravara has been around a couple years, while The Local Omnivore has just a scant couple months under their belts. Would either impress with their brunch offerings, or would they disappoint like so much mild cheddar? *
Those of you without short attention spans are about to find out.
Daravara– 10713 124 st
This 124 st watering hole fared pretty well in the Yeg Burger Odyssey, and I had been hearing good things about the brunch lately, so when we finally visited the expectations were high.
The menu looked like pure debauchery, studded with sinful stuff like Chicken & Waffles, a Dirty Burger (double burger with beer cheese, egg, and sausage gravy), a Breakfast Pork Biscuit, and Valrhona Cocoa Beignets. Proving unequivocally that the server had no idea who I was, he even tried to sell me on their Smoked Tofu Scramble, which according to him is a must-try.
We however shunned all that, and Robyn went for the Molasses Bread Pudding French Toast ($13), with Guinness butter, maple syrup, berry compote, and choice of bacon, turkey sausage, or herb grilled tomato.
I couldn't resist  the lure of the Ancho and Coffee rubbed Smoked Brisket Hash ($16), with cheddar, red cabbage, onion, and tomato.
Execution and Taste
Molasses Bread Pudding French Toast– At first glance, the 2 slices didn't seem like a very large portion, but they're quite substantial in weight, filling you up quickly. The dense bread was moist, and tasted good on it's own. The Guinness butter on top was a nice idea, but ultimately neither of us particularly enjoyed the bitter notes it added to the dish, so both of us would opt for regular butter next time. There was plenty of blueberry compote, which means no having to ration it down to the single berry to ensure you've got some left for the last bite. I do wish the bacon had left the beach a minute or 2 earlier though, as it was overcooked and dry. Overall, a good dish, but we both felt it could have used one more element to tie it together just a bit better – a small dollop or whipped cream, a drizzle of chocolate sauce…. something.
Smoked Brisket Hash- I'm admittedly a pompous bbq brisket snob, and I like my brisket like I like my R&B groups; strictly Salt N Pepa. Daravara's ancho and coffee rubbed brisket was pretty darn good though, I have to say. There was no shortage of it either, as it seemed like I was getting a large chunk of it in every bite. There were a couple pieces that dried out a bit, but nothing critical. The cabbage and onion added a welcome crunch, and the lightly fried potatoes held up nicely to the heavy toppings. I also thought the grilled tomato on top was a touch of genius, adding some much needed acidity and freshness to a very fat-heavy dish. It helped balance the dish out, and caused me to use the pretentious foodie term elevated. The dish also had a bit of cheddar melted on it which congealed quickly, so it might have worked better with a cheese sauce, since I felt like the dish would have benefited from a slightly saucy element added to the mix anyway.
  We noticed a small W next to the description of this menu item, and found out that it means the dish comes with bottomless hash, as do all the dishes that come with potato hash. What a great idea, virtually ensuring that no matter your appetite, you won't go home hungry. Of course I had to test the theory and ordered some extra hash for myself, though I  didn't particularly need it. Moments after requesting more, our server showed up with an extra bowl of hash  browns. Though clearly not "hash", it's still a great idea.
Value
At $13, I think the Molasses Bread Pudding French Toast represented a fair value, and you're not likely to go home hungry. The Smoked Brisket hash at $16, given the copious amount of brisket, was quite a good value. When you consider the bottomless hash browns, you just can't go wrong here.
The Local Omnivore– 10933 120 st
The bricks and mortar shop may be new, but The Local Omnivore's food truck was well known for cured/smoked meats and fried egg sandwiches, so brunch seems like a natural fit for these guys. The brunch menu is quite small, but items such as the Broke Back Breakfast – which has 5 meats with refried beans, eggs, fries, and toast – and the Sloppy Taco's, which is creamed polenta, spiced ground sausage, pico de gallo, salsa verde and cheese sounded pretty tempting. We sipped a cup of Iconoclast coffee while we tried to come to a decision.
In the end, The Fraulein just sounded too good for Robyn to pass up. Bacon Schnitzel, grilled cheese, fried egg, and hollandaise on Russian rye bread. Who could say no?
I have a fairly strict "See Breakfast Poutine. Order Breakfast Poutine" policy, and that's exactly what I did. It's how I live my life – don't judge me.
Execution and Taste
The Fraulein – First things first- if you're not asking yourself in your head "what the hell is bacon schnitzel?", then you're probably reading too fast and should gear down and see above. It's simple, really. They pound out their super smoked bacon nice and flat, then panko crust and deep fry it. Pretty standard health food stuff, right? It was smokey, crispy, and tasty, with only a couple small nibbles being slightly chewy.
  I appreciated the runny yolk and the ample cheese, but would have liked a bit more of that deliciously citrusy    hollandaise. The Russian Rye bread was much softer and less dense than I typically expect from bread that  looks like that, which made it a great fit for this sandwich. I might just head down to Handy bakery and pick  myself up some of that one day.
  Breakfast Poutine – I'm not going to lie, I had serious concerns that there wasn't near enough hollandaise and  gravy on that poutine when it first hit the table, but was relieved to find a lot had pooled at the bottom, requiring a simple toss to coat. The fries are doused in the signature spicy pirate seasoning, which should probably be stated on the menu for those who are adverse to the heat, but I loved them. The runny yolks from the 2 over easy eggs on top added to the sauciness, which is always a good thing. I would like to see a few more curds in the portion, but that's about all I could find to complain about here.
Value
At $12, I'm a bit torn about the Fraulein's value, since it is a stand-alone sandwich with no sides. It was fairly filling all on it's own, but if I want potatoes with my breakfast, and I almost always do, my only option here is to add an order of fries at $6.00. To me, hashbrowns are a must at brunch.
The Breakfast Poutine also checks in at $12, which I think is pretty reasonable. I left full and satisfied, and the price is in line with breakfast poutines elsewhere.
My Pick
Oh boy, usually the really tough decisions come much later than week 2, but both of these brunches made me anxious for a return visit. Only an asshole would leave a tie though, so while Daravara has a larger selection of dishes I'm looking forward to trying, I enjoyed the flavours and execution at The Local Omnivore just a touch more.
Go try them both though, and let me know what you think.
* Mild Cheddar? Why? Why would anyone do this??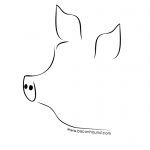 Baconhound is an Edmonton food blog, focusing on the best restaurants and dishes in Edmonton and beyond. Phil Wilson is also host of the Canadian food podcast, Off Menu. Find it in the iTunes store.