I was lucky to be invited to enjoy Jasper in January's Appetites weekend where Robyn and I got to participate in a lot different activities. We checked out the Wine in Winter event, went snowshoeing and attended a Back Country Cooking demonstration. We also had lunch and brewery tour at Jasper Brewing Company and ate a 5 course dinner at Jasper Park Lodge's Italian restaurant, Orso.
On Sunday before we made the drive home, we had a choose-your-adventure day. Some of our group went skiing up at Marmot Basin, while Robyn and I (along with Sharon and Mack) decided to drive up to Pyramid Lake and see what was going on up there.
Turns out, there was a lot going on!
When we turned the corner that brought the lake into view, the four of us gasped at all the activity going on ON the lake! Skating, cross-country skiing, hockey, curling, snow-shoeing, and sleigh rides all happening on a frozen-over lake, in the shadow of Pyramid mountain. You can even rent snow shoes or skates if you didn't bring your own. I don't think it was possible to get a more perfect Canadian experience.
We wandered around the lake in awe. Walking from activity to activity, our smiles just kept getting bigger as we saw all the people enjoying the beautiful winter day and the picture-perfect setting. When the curling pad was free, we each took turns throwing the "curling logs" to see who could land it closest to the marker. Not to brag, but yours truly walked out of that match a winner (personal slogan: quit while you're ahead).
After such a physical and mentally strenuous activity, we were starving. Thankfully The Pines restaurant at Pyramid Lake Resort was still serving brunch. We grabbed a table next to the fireplace and placed our orders – breakfast croissants for Mack and Sharon, banana bread french toast for Robyn and corned beef hash for me. The dining room is on the second floor and overlooks the lake, so we sat and enjoyed the expansive view while we waited for our plates to arrive.
The corned beef hash was well done, with big enough chunks of meat that you can get a good taste of it, slightly crisp potatoes, 2 perfectly poached eggs with beautifully runny yolks, and most importantly, enough hollandaise dredge those potatoes through.
As much as I enjoyed my corned beef hash, it was unanimous that Robyn's 3rd Generation French Toast was the winner at the table. Apparently it's Grandma's warm banana bread french toast (whose grandma, I don't know), with maple syrup, chantilly cream, vanilla bean creme anglaise, and fruit. This was moist, saucy, and delicious.
After our bellies were full and our toes were warm, we headed back out to the lake to take a ride on the horse-drawn sleigh. It $25 per person for a half an hour ride around the lake, which I though was pretty reasonable. It was a warm day, but the wind picked up out on the lake so we still took advantage of the blankets laying on each seat, and cuddled in to each other. The horses took their time as they pulled us along side the skating track. We watched many skaters and skiers pass us, many with dogs running along beside, who couldn't resist stopping to bark at the massive horses.
The horses stopped at the far side of the lake to allow us to get out and take some pictures. Robyn and I have come to Pyramid Lake many times in the summer and often take the bridge over the lake to Pyramid Island, and it was such an interesting vantage point to be standing on the lake looking at the bridge and the island.
The ride back to shore was decidedly cooler as we were travelling into the wind, so we wrapped up in our blankets, took a couple of selfies and basked in the joy of the day. It was a fantastic way to end a fun-filled weekend at Jasper in January.
Big thanks to Jasper Tourism for giving Robyn and I the opportunity to experience Jasper in January and all that Jasper has to offer!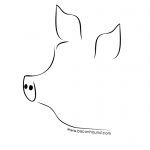 Baconhound is an Edmonton food blog, focusing on the best restaurants and dishes in Edmonton and beyond. Phil Wilson is also host of the Edmonton, Alberta based food podcast, Off Menu.