Tipping is such a contentious topic, with plenty of points to be made either pro or con. To sort things out, I enlisted Garner Beggs, co-owner of Edmonton's highly acclaimed Duchess Bake Shop, and Kelsey Johnson, kitchen manager and co-owner (along with the Duchess owners) of an upcoming breakfast spot yet to be named. Kelsey has been the kitchen manager at Duchess, and recently moved full time into the role of opening the new restaurant.
Before we get to that though, Julian Faid and Kory Mathewson, improvisors from Edmonton's Rapid Fire Theatre choose sides and debate the merits of the tipping custom. Feel free to weigh in on who you thought had the better argument! Julian and Kory also perform improvised TED Talks, which you can check out here.
Garner and Kelsey's Edmonton restaurant picks:


Off Menu is now available on Soundcloud! Click HERE!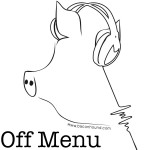 Baconhound is an Edmonton, Alberta food blog, focusing on the best restaunts and dishes in Edmonton and beyond. Phil Wilson is also the host of Edmonton, Alberta based food podcast, Off Menu.
Podcast: Play in new window | Download