I love a project.
I loved doing the Edmonton Burger and Pizza Odysseys, and had a blast with smaller projects like 2015's Edmonton Fried Chicken Crawl, and my search for Edmonton's best perogies. I guess you could say that employing a detailed analysis method to find the best of <insert tasty food stuff here> has kind of become my thing. As a devout quality over quantity kind of guy, that suits me just fine.
For 2016, I've decided to turn my attention to something that gets a pretty bad rap for being underwhelming here in Edmonton – brunch.
Truth be told, I am one of those people who whine about the sad state of brunch here compared to the overwhelming great local options even in Calgary. Why should they have so many great, creative, and delicious spots to choose from, while we have so few? Or have I, and I would suggest collectively, we, become so resigned to that fact that we're doing a disservice to those places that have started serving a great brunch?
That's what I'm about to find out, and I hope you all join me for the ride.
So begins my Edmonton Brunch Odyssey.
I'm starting off the series with a couple far south spots – one brand new in the last couple months, and another with a couple of years under their belt:
Hart's Table– 14229 23 ave, Edmonton
Terwillegar isn't exactly blessed with an overabundance of great dining options, so Hart's Table instantly became one of the most popular spots in the area when they opened a couple of years ago. Brunch was my first visit to Hart's, and I was expecting it to be much busier. We were one of 3 tables on a Saturday around noon.
Robyn was wavering between the Carrot Cake Pancakes and the Cinnamon Raisin French Toast, and after hearing from the server that the pancakes were "really quite sweet," she decided on the french toast.
I was having decision anxiety between 2 of my favourite brunch classics – Corned Beef Hash, and Chicken and Waffles. In the end, the lure of house made corned beef won out.
Execution and Taste
French Toast– The plate certainly looked nice and colourful when it arrived, but we soon discovered that the french toast was very dry and overcooked. There was a good amount of berries, almonds, and lemon anglaise on the plate but, without being properly toasted, the almonds added little more than texture. We had a tough time identifying lemon in the anglaise, but enjoyed the addition of the sauce all the same.
Corned Beef Hash- The potatoes, though lightly roasted and oily instead of fried crispy, had pretty decent flavour. The corned beef was shredded into tiny tidbits, which makes it difficult to get a good taste of it on its own. After playing a bit of breakfast tetris in the bowl, I managed to get a forkful of corned beef, and it was decently flavourful, if a bit on the mild side for my tastes. As for the poached eggs, I asked for medium, and specified runny yolks. As you'll see from the picture, they went much farther than that, which is a shame. Solid, gummy yolks in a poached egg is a crime. Some runny yolk would have been a nice saucy addition. The hollandaise added some sauciness, but had little by way of flavour.
Value
The French Toast at $14 was not a great value, given it's only 2 slices of very thin bread at it's core. I can overlook poor value if the flavour is outstanding, but that's just not the case here. The Corned Beef Hash at $16 represented a slightly better value than the french toast, but given it's faults, still ranks low.
Workshop Eatery – 2003 91 st SW
Workshop opened in late 2015 on the extreme south end of the city, in an interesting net-zero building. The room is a bit industrial looking, but with some warming touches from the reclaimed wood in spots. It's a sharp looking space to be sure, and I couldn't wait to see if the brunch measured up to the esthetics.
One thing we noticed right away was a bit of confusion in regards to coffee. We couldn't find coffee on the menu (turns out drink menus were on the tables, but not on the bar where we were sitting), and found that only espresso based drinks are available. I like the option for lattes, but at brunch I prefer sipping a good drip coffee with a refill so I'm not sitting with an empty cup by the time my food arrives.
Robyn went with the Bananas in Pyjamas, which is banana bread french toast with nutella smear, slivered almonds, and Saskatoon berry compote. I went with the Huevos Benedicto, which is poached eggs, jalapeno cornbread, black beans, pico de gallo, bacon ancho hollandaise, and potato hash. I got a side of bacon too. I'm such a cliche.
Execution and Taste
Bananas in Pyjamas – The 2 thick slices of banana bread were moist and flavourful, with some nice, crispy edges. The Saskatoon Berry compote added some lightness, without being too sweet. The nutella smear on the bottom takes advantage of a good flavour combination, but would have worked much better thinned out with cream to make a nutella sauce. This would make dredging your banana bread through easier with it being too thick and sticky. Our dish arrived without the promised slivered almonds, which is unfortunate since they would have added a lot to the dish visually, as well as adding some texture and flavour.
Huevos Benedicto – You're going to score instant points with me anytime you ditch the crappy store bought english muffins in favour of, well, pretty much anything. The jalapeno cheddar cornbread was my favourite part of the dish, and would be worthy of ordering all on it's own. The eggs were poached nicely, nailing the requisite runny yolks, and the addition of some acidic tomato to break up the fattiness was a nice touch. The hollandaise failed to deliver the intensity I expected, given that it's billed as "bacon ancho hollandaise." We couldn't detect either of those flavours, and found it a touch bland overall. The quantity of hollandaise was a plus though, with enough to sauce the cornbread.
 The other half of the dish, the potatoes, lacked the crispiness that I crave from breakfast potatoes. They're tasty enough, but some crunch would have been a nice contrast to the rest of the plate, which was all soft textures. Sweet lord, why can't I just get some crispy potatoes in this town? Ok, rant over, but seriously… crispy spuds= delicious. Crispy bacon also = delicious, but perhaps not quite this crispy:
Value
Bananas in Pyjamas at $16 strikes me as a bit high for banana bread and nutella. The Huevos Benidicto, at $18, also triggers a high price alert for me, especially since it's meatless. In the end we did leave full, so at least you're not paying a high price and going home hungry.
My Pick
Given a choice between the 2, I'd pick Workshop Eatery for brunching in the deep south of the city. It was not without its own issues, but based on their better flavours and execution of the 2 brunch dishes we tried, its the one I'd rather return to.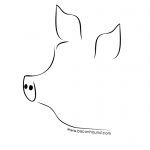 Baconhound is an Edmonton food blog, focusing on the best restaurants and dishes in Edmonton and beyond. Phil Wilson is also host of the Edmonton, Alberta based food podcast, Off Menu.