I was lucky to be invited to enjoy Jasper in January's Appetites weekend where Robyn and I got to participate in a lot different activities. We checked out the Wine in Winter event, went snowshoeing and attended a Back Country Cooking demonstration. We also had lunch and brewery tour at Jasper Brewing Company and ate a 5 course dinner at Jasper Park Lodge's Italian restaurant, Orso.
There is so much to do and see during Jasper in January that I found it was important to stay caffeinated. Thankfully, Jasper has a cool little coffee scene that can fit every need.
On Saturday morning, before we went snowshoeing, we stopped at Wicked Cup for breakfast. The coffee was strong and the latte art was on point. What really made Wicked Cup stand out for me was the art and design. They used reclaimed bicycle parts to create chairs, stools and tables, and the walls were filled with art that the owners had shipped over after excursions through Indonesia. Not only was the art beautiful, it was incredibly reasonably priced. Out of our group, 3 of us ended up picking up some pieces to bring home!
After getting ourselves sufficiently caffeinated, we were looking forward to digging into our breakfast. I usually find breakfast burritos underwhelming, but something possessed me to order this one anyways. I'm glad I did; it was surprisingly delicious, and jam packed with sausage, eggs, hashbrowns, and cheddar.
If something a little lighter is your style before exploring Jasper, Wicked Cup also has a formidable yogurt, fruit, and granola jar.
Apparently the BLT Baguette was also quite Instagram worthy…
After a day filled with outdoor activities, and with a full night of eating still ahead of us, Robyn and I went in search of another shot of caffeine to keep us peppy. Walking down Patricia street, we noticed a cafe/laundromat that fit the bill. We were greeted warmly as we stepped into Snowdome Coffee Bar and looked over the menu, though we couldn't help but feel intimidated by all the washing machines filling the room. It seemed like an odd fit, but once we started to think about it, the combination made perfect sense. What else are you going to do when you're washing clothes, but sit and have a cup of coffee while you wait? There were some table and chairs, but we took our coffees to go and kept exploring.
The next morning, before we made our way up to Pyramid Lake, we popped into the Bear's Paw Bakery. Bear's Paw is an institution in Jasper – in fact, when Robyn worked at a hotel there almost 20 years ago, it was considered the place to go, and it still is today (Its so popular that they opened a second location – The Other Paw – on Connaught street). Judging by the line up snaking through the bakery, its the first stop many people make before making the trip to Marmot Basin. I didn't mind the wait though because it gave me time to look over the baked goods before placing my order. Never one to resist massive amounts of cheese, I went for a cheese stick to go with my Americano, and Robyn satisfied her sweet tooth with a raspberry danish and a latte.
My only tip for ordering at the Bear's Paw is to get an espresso-based drink rather than a drip coffee, because that way you get a chocolate-covered espresso bean for extra zip!
I was surprised at the impressive coffee culture a small, tourist town like Jasper has going on. And with all the fun things to do, I appreciated every drop.
Big thanks to Jasper Tourism for giving Robyn and I the opportunity to experience Jasper in January and all that Jasper has to offer!
Interested in reading more about Jasper in January? Click the links below for info on other fun things to help you enjoy winter in Jasper.
Taking a Bite out of Jasper's Backcountry Cooking– by Jennifer Allford
Alberta Adventure: Jasper in January is the perfect winter escape– by Dave S. Clark
Recap: Weekend getaway to Jasper in January– by Linda Hoang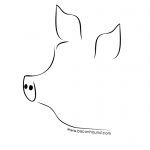 Baconhound is an Edmonton food blog, focusing on the best restaurants and dishes in Edmonton and beyond. Phil Wilson is also host of the Edmonton, Alberta based food podcast, Off Menu.