You may have noticed that I've had perogies on the brain recently. While I may have had my fill of traditional style, there is something about they classic flavours of potato, cheese and bacon that I don't think I'll ever get sick of. Since I am always in search of an interesting way to re-invent an old favourite, and I'm a sucker for a hearty soup in the winter, I figured repurposing perogies into perogy soup form would be an ideal fit.
The next time you can't make it out to buy one of the city's best perogies, and don't feel like pinching some yourself, give this soup a try.
DOUGH
Equal parts flour and sour cream, by weight.
– Mix together until a dough is formed (Don't overwork it).
– Wrap in plastic and let rest in the fridge an hour.
– Roll out well floured dough to 1/8″ thickness.
– In a frying pan over medium heat, brush with bacon fat and fry the dough pieces on both sides.
– Sprinkle each piece with salt.
SOUP
3 medium potatoes, peeled, diced, and boiled until about 90% cooked.
1/4 of a small onion, minced
1 clove of garlic, minced
1.5 cups chicken stock
1.5 cups half and half (no, it won't be as good with milk)
Salt and pepper to taste (go easy on the salt to start as the bacon will add some)
1 lb bacon (1/2 pound to garnish soup, 1/2 pound to nibble while cooking)
2 tbsp velveeta (optional, but bumps up the cheese-factor)
1 cup shredded old cheddar.
– Chop bacon and fry until desired crispiness achieved. Reserve fat.
– Saute onions and garlic in 1 tbsp bacon fat (or butter) until soft
– Add half the cooked potatoes, stock, cream, salt, and pepper
– Simmer until potatoes are very soft, approx. 10 minutes.
– With immersion blender, puree soup until smooth.
– Add remaining potatoes and cheeses. Simmer another 10 minutes, stirring often to melt the cheese.
Top each bowl of soup with copious amounts of bacon, and a couple fried dough pieces.
Makes 2 dinner sized bowls, or 4 small ones.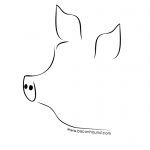 Baconhound is an Edmonton food blog, focusing on the best restaurants and dishes in Edmonton and beyond. Phil Wilson is also host of the Edmonton, Alberta based food podcast, Off Menu.