After blind taste testing 3 rounds, and 13 different perogies, I rounded up the 5 best and assembled a crew of food lovers to do one final round – the round that would finally crown a champion.
It's been a very interesting experiment, this practice of tasting multiple versions of the same thing back to back, and hopefully you all have enjoyed reading it as much as we've enjoyed doing it.
The final 5 in alphabetical order are:
I also decided to bring back a few of the judges from previous rounds, but also added one more judge who was randomly drawn from readers on facebook. Here's the lineup (besides me):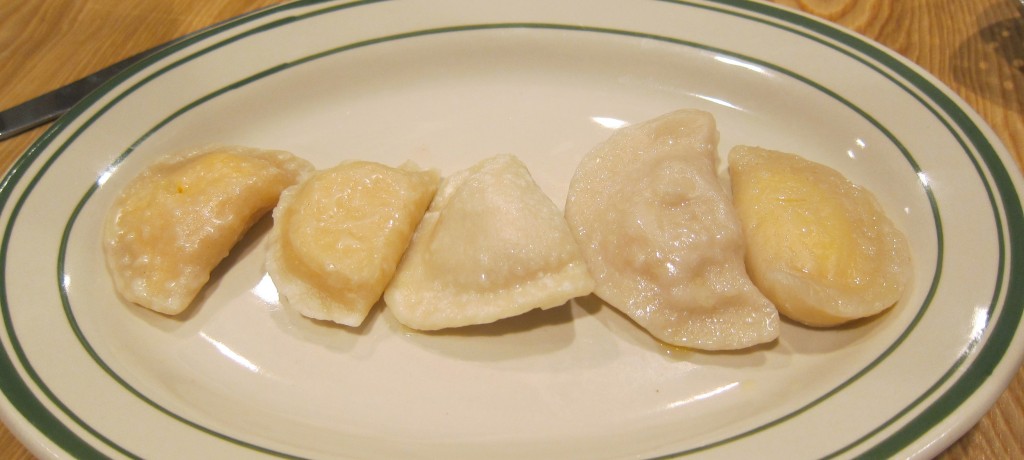 Sample A
Judges on the whole found this dough decently tender, with a couple finding it a little bit chewy. The filling had some cheese flavour, but needed more salt.
Sample B
The comments on the dough for sample B ranged from "ok" to "I want more!". The small dough rim and tenderness made it our favourite dough of the 5 samples. A couple of judges felt there could have been more filling, but it was decently seasoned.
Sample C
Sample C stood out visually for sure. The large triangles scored well for the saltiness and cheesiness of the filling with most judges, but overall the judges found there to be just too much dough. Way too much, according to a couple judges. A couple judges also noted that the dough was more tender than it looked.
Sample D
A couple judges found D's dough too thick, and a little inconsistent. A couple judges would have liked a smaller rim around the outer edge as well. The filling, however, is easily the cheesiest of any tested, with judges calling it "amazingly cheesy" and "delicious". The strings of cheese were prominent when you cut into the perogy, which drew some oooh's and aaaah's.
Sample E
The nice soft dough on this perogy scored well, with the most common complaint being a bit of a skimpy ratio of dough to filling. The filling was nicely cheesy and salty, but a couple judges felt it ventured into "too salty" territory. One judges comments were just too good to edit, so I'll quote directly from the sheet- "Well seasoned. Wait…the salt is building! Too much. Sad Trombone".
The Verdict
After some discussion, we came to a consensus on our favourite perogies. The rankings are as follows:
1st Place- Taste of Ukraine (sample D)
The fantastic filling was our judges favourite, and carried these perogies to the top. ($14.70 for 2 dozen)
2nd Place- Widynowski's Sausage House (Sample E)
The 118 ave sausage maker's perogies had the best balance of good dough and filling, and a value that's tough to beat. ($8.50 for 2 dozen)
3rd Place- Ukrainian Girl Food Company (Sample B)
If we scooped Taste of Ukraine's filling into this dough, it would be the winner. Still very good perogies overall. ($15 for 2 dozen)
4th Place- St. John's (Sample A)
Finished fourth, but still a solid perogy at a solid price. ($20 for 60 perogies)
5th Place- Shumka (Sample C)
Just too much dough to beat out the others in this final round. ($5.75/ dozen)
Each of the top 3 are great perogies, and got at least 1 vote for first place, so here's your cheat sheet for which perogies are the right ones for you:
If the ultimate filling is your thing, Taste of Ukraine fits the bill. It was far and away our favourite filling.
If the best dough with a decent filling rocks your world, give Ukrainian Girl Food Company a try.
If you're looking for a perogy that ranks highly in both categories at a great price, head to Widynowski's.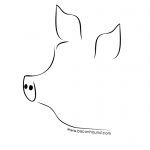 Looking for Edmonton's best bacon to top whichever perogies you choose? Find Irvings Farm Fresh bacon at numerous locations around Edmonton, including the Old Strathcona Farmers Market. Click the logo below to learn more.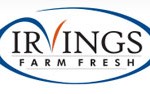 Baconhound is an Edmonton food blog, focusing on the best restaurants and dishes in Edmonton and beyond. Phil Wilson is also host of the Edmonton, Alberta based food podcast, Off Menu.