Confession time: I'm starting to get sick of perogies. I could probably only stomach another half dozen, or so…
Round 3 consisted of 5 perogies this time instead of 4, which brings the total number of perogies tested to 13. We included a mix of farmers market perogies, a church perogy, a perogy from a Ukrainian caterer, and even a grocery store brand that Cynthia threw into the mix just to see how it would compare.
As usual, Robyn, Cynthia, and I were the holdover judges.
Joining us this week, and continuing the parade of Edmonton food stars coming to the table, were Giselle Courteau and Jake Pelletier, 2 of the owners of the famed Duchess Bake Shop. 
The round 3 contenders were:
2 Baba's and a Stove- Old Strathcona Farmers Market vendor.  $5/ dozen
Our Compliments- Sobey's brand perogies- $2.99 for 2 dozen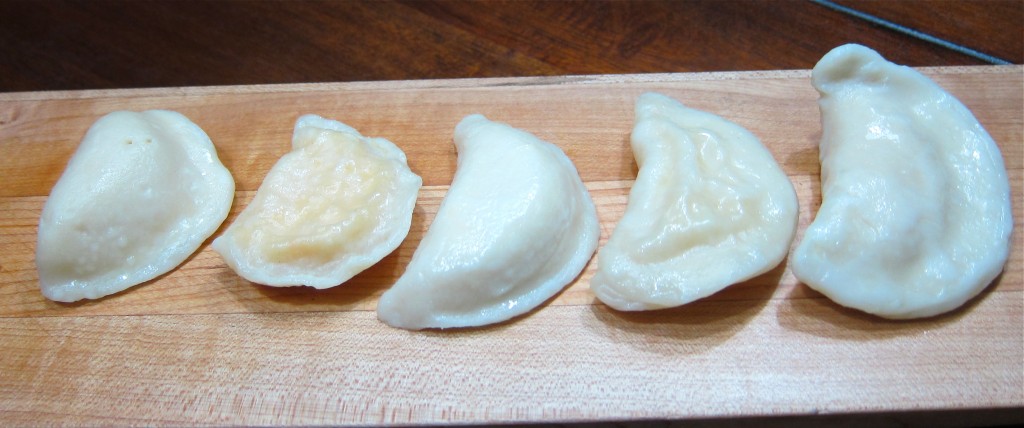 Sample A
The first perogies of round 3 looked plump and uniform. I expected them to be bursting with filling, but, as all 5 judges mentioned, a lot of that plumpness came from the overly thick and chewy dough. We found the filling seasoned well, and was nice and smooth, but didn't have any cheesiness.
Sample B
One of the judges got excited as soon as the second perogy hit the table, because the dough was thin and translucent enough that you could see the filling through it. Visually, it was pretty appealing. Cutting into this one didn't disappoint either, and judges commented that the dough was "soft," and "awesome," with a nice small rim.
Our panel really enjoyed the ratio of dough to well seasoned filling, and these perogies elicited comments such as "no sour cream needed," "Oh yeah, I could hoover a dozen of these," and "Its like the potatoes and cheese are making love." I think that last one is a good thing?
Sample C
After the more irregular shaped perogies from sample B, the perfectly uniform and consistent shape of sample C was quite a contrast. Every edge and seal was crimped precisely, suggesting these were likely machine made. The dough turned out to be as thick as sample A, but the judges found this one more tender. The filling didn't fare as well as the dough, however, as it was found to have a starchy potato flavour that had multiple judges suspecting instant potato. It was the defining characteristic of these perogies, causing one judge to coin them "Sidekicks perogies". Another judge wasn't crazy about the "powdery/gritty" texture of the filling.
Sample D
On the whole, the judges found the dough was just a bit too thick and tough on these perogies. That thickness varied from perogy to perogy, suggesting they were definitely hand rolled. One of the judges noted that the wrinkly dough created little potholes for the butter, and since butter is delicious, that's a good thing.
The filling was also inconsistent on these perogies, which one judge described as "flavourful, but tons of onion." That strong onion flavour wasn't a hit with most judges, but the bit of pepper was nice.
Sample E
When sample E hit the table, I referred to them as "big flatties" (of course the one that got put aside for the picture was the plumpest of the bunch). I wasn't the only one that found them under-stuffed though, as "too much dough/ not enough filling" was a common theme across all scorecards. The very large rim around some of them made them look like half a sombrero. The dough wasn't particularly bad though – there was just way too much of it.
The filling on sample E was a real source of conversation. Judges were finding "flecks" of bright orange cheese in the filling which had us all questioning if this was powdered cheese. The grainy texture didn't earn high marks either, and when you consider it was also quite dry, it's no surprise that it ranked as our least favourite filling.
I'm sure it's pretty obvious that winning perogy from round 3 is…
Sample B, from The Ukrainian Girl Food company. 
The ranking for the remaining 4 perogies were all over the map, and since there was no clear consensus other than a winner, and the rest being far below that, we didn't bother ranking the distant 2-5. Here's the breakdown of where each of the samples were obtained from.
Sample A- Maru
Sample B- Ukrainian Girl
Sample C- Our Compliments
Sample D- St. Anthony's
Sample E- 2 Baba's and a Stove
Stay tuned for our Great Perogy Showdown final round. We'll be pitting the top perogies from each round against each other to find the very best perogies in Edmonton. Watch for that, coming soon.
These perogy taste tests are made possible in part due to the support of my official bacon dealer, Irvings Farm Fresh. Theirs is the bacon of choice at my house, and I'm sure you'll love it too.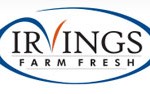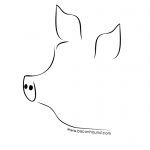 Baconhound is an Edmonton food blog, focusing on the best restaurants and dishes in Edmonton and beyond. Phil Wilson is also host of the Edmonton, Alberta based food podcast, Off Menu.