Edmonton is a bit of a hotbed for perogies, due to our large Ukrainian population, but it seems that everyone has their own ideas on where to find the best ones.
Since the demand for perogies goes way up at Christmas, I decided that I should make an effort to find the best ones for myself (and for you) before the season arrives. Armed with a bunch of recommendations, and after doing a bit of scouting, I narrowed down the list to 8 contenders I felt could have a reasonable shot at the title.
A few notes about how I selected the contenders:
They had to be readily available. That means churches that hold occasional perogy dinners where you can buy frozen ones to take home were out. If a church group sells perogies anytime the church is open, they're elegible for my list.
For the sake of standardization, all perogies tested would be potato and cheddar. Apples to apples, and all that jazz.
Similar to my Fried Chicken Crawl, samples would be tasted blindly with no prior knowledge of it's source. Only Robyn who, again, was in charge of cooking and portioning the samples knew who's was who.
All perogies were cooked with the same method, and served only with butter and optional sour cream, to maximize focus on the perogies themselves.
The top 2 finishers in each of the 2 rounds will go on to the finals, where the tasting panel will again taste all 4 blindly and select a winner.
Round 1 had 5 judges
Cynthia Strawson– former president of Slow Food Edmonton
Kara Fenske– Co-owner of Drift Food Truck and Dovetail Deli
Nevin Fenske– Chef, and Co-owner of Drift Food Truck and Dovetail Deli
Robyn Wilson– podcaster (The One), and taste tester of all my cooking
Me, of course. I'm not missing out on perogy gluttony.
In alphabetical order, here's the list of contenders for round 1:
A Taste of Ukraine– #40, 516 St. Albert Trail, St. Albert, Alberta.
This St Albert restaurant sells their perogies frozen to take home as well as serving them in the dining room. Cost- $14.70 for 2 dozen
Sandy's Ukrainian Foods– #9 8103 127 ave
Sandy's sells all kinds of Ukrainian foods and you can see them all being hand made from the very open front counter. They retail for $11.50 for 2 dozen
Mundare Sausage House– 4824 118 ave
The Mundare Sausage House is renowned for their Stawnichy's sausage, but also sell frozen perogies to take home as well as serving them in the attached restaurant, Uncle Ed's Ukrainian Restaurant. The perogies retail for $8.00 per 2 dozen, making them the least expensive on the list.
Shumka– 2 locations
Shumka is best known for their food court location in Kingsway mall, but also sell frozen perogies to take home from both locations. Retail price- $11.50 for 2 dozen
Sample A
Tasters found perogy A's dough to have a bit of a gummy texture, with that word appearing on 4 of 5 comment sheets. The filling was seasoned well, but despite the bright orange colour, lacked much cheddar flavour. The tasters also found the filling a bit undercooked, resulting in a grainy texture.
Sample B
This perogy definitely had the largest amount of filling, and was practically bulging at the seams. They were certainly the most visually appealing of the group and had a more tender dough than A. The edges were a little tougher, but that was noted on all samples.
The filling had more cheese flavour than A, but all tasters noted an onion flavour that overpowered everything else.
Sample C
This perogy had a thicker dough, which tasters noted as toothsome, yet mostly tender. The edges were a touch firm, probably due to the thickness.
The testers found this filling to be the cheesiest, with strings of cheese easily visible when the perogy was cut. All that cheese was evident in the silky mouth feel of the filling too. This filling was seasoned quite well with salt and pepper also, and even the potato flavour came through.
Sample D
Perogy D's dough was quite thick also, but was judged the most tender of the 4 samples. Tasters enjoyed the consistency of this dough, but a couple of testers noted an overly large dough rim around the filling.
The filling here didn't have as much cheesiness as C, but had a good flavour. A couple tasters found it a overly salty, with the others noting that the saltiness would pair well with the sweetness of some fried onions.
After some discussion, we came to agreement on our results.
Sample C- A Taste of Ukraine
Sample D- Shumka
Sample B- Stawnichy's (Uncle Ed's)
Sample A- Sandy's Perogies
As a group, we unanimously agreed that after tasting all 4 side by side, the deliciously cheesy filling from A Taste of Ukraine earned it the top spot of this round. Shumka placed second, and their dough was rated the best of the bunch.
Stay tuned for round 2, which will follow shortly. In the mean time, I'd like to hear your thoughts on the local perogy scene. Thankfully, you don't have limit yourself to just butter and sour cream – I find the best way to enjoy a big plate of perogies is with fried onions and some nice crispy bacon. My bacon of choice is Irvings Farm, who's local, free-range pork is the best around. If you haven't already, check them out for yourself and thank me later.
Click the link below to learn more about Irvings and the products they offer: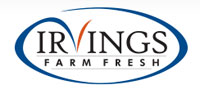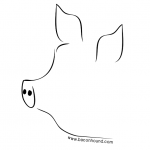 Baconhound is an Edmonton, Alberta food blog, focusing on the best restaunts and dishes in Edmonton and beyond. Phil Wilson is also the host of Edmonton, Alberta based food podcast, Off Menu.