As a general rule, I tend to be disappointed in restaurant desserts. I often opt to indulge a little more in the meaty options of dinner, and take a pass on the sweet goodies at the end, but I have found some mighty tasty exceptions to that rule.
Here's my list of 5 Edmonton restaurant desserts worth saving room for, with a bonus sixth entry because I like even numbers and dulce de leche:
Sticky Toffee Pudding- Characters Fine Dining
It's sticky, sweet, and gooey, which is pretty much a fantastic end to any meal. The date ice cream adds a nice creaminess, and there's even a few fresh raspberries on the side, so it's healthy!
Carrot Cake- Leva
Impossibly thin layers of moist carrot cake with sweet cream cheese icing spread between each, results in the best carrot cake I've ever eaten. I mean, really, who raves about carrot cake? It has to be good.
Chocolate Hazelnut Torta- Corso 32
Among the most decadent desserts in Edmonton, the Chocolate Torta at Corso 32 has a luxurious texture that's smoother than George Clooney. It's a great one to share since it's so rich, and those candied hazelnuts take it over the top.
Bourbon Banana Parfait- Meat for Dinner 
I didn't need to go any further than Bourbon before I was on board with this one, but if you're going to throw in house-made custard, delicious graham crumb layers, and whipped cream, who am I to say no?
Lemon Curd Tart with Meringue- Tzin
How so many delicious dishes can be created in a kitchen barely bigger than a Smart car is beyond me, but that's Tzin. Be sure to save room for this Lemon Curd Tart; you'll get a good lemon pucker, and it's balanced nicely with perfectly textured short-crust and a beautifully light and fluffy meringue.
Churros with Dulce de Leche Sauce- Rostizado
Mexico's answer to the doughnut has crispy and sugary ridges on the outside, and a soft creamy centre, which hits all the right dessert notes. When dipped in the creamy dulce de leche sauce, it's the secret to a healthy life. You can fact check that if you want, but don't be surprised if all your churros are gone by the time you're done Googling.
Thanks to Edmonton Tourism for partnering with me on this post. Check out ExploreEdmonton.com for plenty of ideas on what to see, do, and of course eat in Edmonton.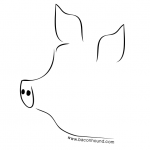 Baconhound is an Edmonton, Alberta food blog, focusing on the best restaunts and dishes in Edmonton and beyond. Phil Wilson is also the host of Edmonton, Alberta based food podcast, Off Menu.