Edmonton summers are beautiful but short, so we like to pack as much outdoor fun into those precious summer months as possible. That's probably why we have such an infatuation with food trucks, and that infatuation explains why there has been such a rapid proliferation of new ones in the last few years. Edmonton has truly become one of Canada's hotbeds for the mobile eateries, but with such an increase in the number of trucks out there comes the inevitable question.
How do you decide which one to visit first?
Lucky for you, the folks at Edmonton Tourism asked me to compile my list of the Top 5 Edmonton Food Trucks, and I am happy to oblige.
S'wich Food Truck
S'wich, headed up by Chef Alexei Boldereff, has been around a few years now and just keeps getting better and better. The S'wich trailer is pretty understated, and they're not as adept at flashy marketing as some other trucks, but one taste of their completely homemade sandwiches and you'll understand why they are my number 1 pick this year.
Everyone I talk to seems to have a different favourite S'wich sandwich, which pretty much tells you they're all fantastic. My current favourites are the Rootbeer Brisket, the Chinese BBQ Pork, or the Korean Smoked Meat.
When Chef Alexei says everything is homemade, he means everything. There's fresh-baked bread daily, and not just plain white bread, we're talking fresh made pretzel rolls, ciabatta, and hoagies here. The myriad of condiments get the personal touch as well, and the list of them is long, from maple bacon mayo, to kimchi aioli, to green curry mayo. On top of all that, special goodies like whipped ricotta, pickles, and bacon jam are each house made when they make an appearance on the menu too.
I have it on good authority that he doesn't make the foil wrapper for the sandwich himself though, so there's still room for improvement..
*When food truck season is over, you can get your S'wich fix at the MacEwan campus downtown.
Drift Food Truck
Drift rose to the top of the Edmonton Food Truck heap almost immediately upon opening their door in 2011, and really were the catalyst for the popularity of food trucks in Edmonton. Their take on globally-inspired flavours combined with locally sourced meats and vegetables have created a loyal legion of fans who can't get enough of Drift's delicious sandwiches.
The overwhelming favourite at Drift is the Hoisen Glazed Pork Belly sandwich, with chili mayo, cilantro, and pickled carrot and diakon. It's perennially named one of Edmonton's top things to eat, and with good reason. If you track them down at the 124st Grand Market on Thursday evenings you can even pair it up with their fantastic poutine. That gravy will make you happy.
If you're not in the mood for pork belly, and if that's the case you should see a doctor about that affliction asap, go for the Roast Beef with pepperoncinis, red pepper spread, crispy onions, and provolone. It's their most underrated sandwich in my opinion, and it always satisfies.
Oh, and don't forget to give their french fries a try, they are seasoned with their own Drift spice. Best in the city.
Filistix
Edmonton is Canada's festival city, and one of my favourite things about festival season is getting my hands on a big bowl of deliciousness from Filistix. Having transitioned into a bricks and mortar operation serving the University of Alberta and MacEwan University, their presence on the festival circuit is now the most reliable way to track down the Filistix trailer in the summer, and it's definitely worth finding.
Focusing on filipino cuisine, Filistix pumps some stunningly delicious rice bowls out of their tiny trailer. The flavours are bold and satisfying, and the food is light enough to keep a little spring in your step.
* During the school season you can also visit Filistix on the U of A and MacEwan campuses.
Orbit Street Food and Catering
Edmonton's emerging taco scene hasn't led to a cultivation of taco trucks, to the dismay of many. Orbit is the only truck based in Edmonton that is focused mainly on tacos and, thankfully, they do a great job of it. In using soft white flour tortillas, they're setting themselves apart from the usual corn tortillas, but since I all too often find the corn ones overly dry and crumbly anyways, it's a welcome change for me.
Both the Jerk Chicken tacos and the Shrimp tacos are delicious, and each gets topped with a bright and fresh mango salsa that takes them over the top. Even better than the tacos though, is the Korean Burrito, which has sesame ginger beef or pork, kimchi fried rice, black beans, avocado cream, cilantro onion lime relish, and a ton of cheddar.
Full disclosure: I'm currently sporting an intense addiction to this burrito.
Little Village 
Edmonton's resident Greek food truck truck is Little Village. Their Slow Roasted Lamb Sandwich, with pickled cabbage, feta, and mint is a real standout, and they're not skimpy with the lamb. I'm always taken aback with how flavourful it is, and when paired with their Lemon Roasted Potatoes w/ tzatziki, you've got yourself an outstanding lunch or dinner.
As an added bonus, the Little Village Kefteddy Burger, which is a beef, pork, and bacon patty on brioche, topped tzatziki and fresh cabbage has to be one of Edmonton's best burgers.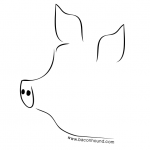 Baconhound is an Edmonton, Alberta food blog, focusing on the best restaunts and dishes in Edmonton and beyond. Phil Wilson is also the host of Edmonton, Alberta based food podcast, Off Menu.