Everyone loves a Top 5 list, and I'm no exception. That's why I've partnered with Edmonton Tourism to create the following list of the Top 5 Fried Chicken dishes in Edmonton, so you'll never be caught without a great fried chicken recommendation again.
*This list is mostly compiled from notes gathered during my Edmonton Fried Chicken Crawl, the full details of which you can read here. My number 3 pick was added after the blind taste tests were completed.
North 53– 10240 124 st. 
For my money, North 53 has the best fried chicken in town, hands down. It's deliciously salty, packed with flavour and a nice creeping background heat that keeps you wanting more. The catch here is that you can only get it on the late-night eats menu, on Friday and Saturday nights, from 11:15 pm – 2 am. Not to worry though if you can't keep the eyelids open that late – there's also a very different, yet equally delicious, popcorn chicken on the regular menu.
It' Dog– 8621 109 st
If you like your chicken to bring the heat, then It' Dog might just be the place for you. It's got a nice, crispy coating, and a moderately aggressive spiciness that'll warm you up but don't worry, it's not "sweat-through-your shirt" hot, so most people should be ok with it.
Packrat Louie – 10335 83 ave
The Nashville Hot Chicken at Packrat Louie didn't pack the punch of heat I was expecting based on its name but, even without it, it's a very solid fried chicken in its own right. There's plenty of salt, and a great crunchiness, plus it's served with a delicious bacon creamed corn that almost steals the show.
Meat for Dinner– 8216-104 st.
The fried chicken at Meat actually outshines the bbq and, to me, is easily the best thing on the menu. The meat is moist and flavourful, and the coating hits all the right crispy and salty notes. Since it's a mere 1/2 block from Packrat Louie, Old Strathcona is the ideal location for tasting both back to back and deciding on a favourite for yourself.
Coco Deep Fried Chicken– 3350 Parsons Rd.
At first glance, Coco Fried Chicken may look like a strip mall fast food chicken joint, and that's because it is a strip mall, fast-food, fried chicken joint. Located a hefty drive south from the Edmonton's core, it's a great option for those on the south side who are craving a crispy fried chicken that won't break the bank. As a bonus, you can get regular fried chicken, or make it Korean Fried Chicken by adding their signature sweet and spicy sauce.
Check out the Edmonton Tourism website, ExploreEdmonton.com, to find many more things to see and do in Edmonton.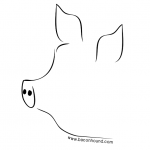 Baconhound is an Edmonton, Alberta food blog, focusing on the best restaunts and dishes in Edmonton and beyond. Phil Wilson is also the host of Edmonton, Alberta based food podcast, Off Menu.