This recipe is the result of a competition my wife Robyn and I were in a couple of years ago at the Taste of Edmonton festival, where we had to make brownies on the bbq. Though the results were good (yes, we won), I'm much happier to make them in the far more precise comfort of the kitchen oven. To practice for the competition, we ate a lot of alternately raw or way overcooked brownies in the process of finding a way to get them cooked properly on a bbq in the time allotted, so the accuracy of an oven is definitely ideal.
When I decided to participate in the competition, neither of us had ever baked a brownie before, so we spent a lot of time fiddling and tweaking this recipe until we got the right balance of gooeyness without being raw. We also needed an interesting spin on the regular old brownie, because we had no idea what kind of crazy ideas the other competitors would come up with.
In the end, we created these coffee and Bailey's brownies that play on our well-known love of the drink, and served it in a glass coffee mug with alternating layers of brownie, whipped cream, and a salted Bailey's reduction.
They were a hit.
After all the product testing though, neither one of us wanted to touch another brownie for a good long time; thankfully, just enough time had passed when I decided to make them for a cooking class I was hosting recently, and that reminded me just how much I enjoy them.
I hope you love these as much as we do, and if you really want to kick these up another level, try making homemade Bailey's instead of the store-bought stuff. My pal Twyla Campbell has a recipe on her website HERE.
Enjoy!
Coffee and Bailey's Brownies 
Brownies
3/4 cup melted butter
1 1/2 cup sugar
2 tbsp vanilla
3 tbsp instant coffee
3/4 cup cocoa
3 eggs
3/4 cup semi-sweet chocolate chips
3/4 cup all-purpose flour
Salted Bailey's reduction
3/4 cup Bailey's
1/4 heavy cream
Pinch of fleur de sel
Whipped cream
1 cup whipping cream and 1 tbsp icing sugar
Preheat oven to 350 F
Mix sugar, vanilla, instant coffee, and cocoa in a bowl, then add melted butter and stir
Add the eggs and chocolate chips and stir to combine
Add flour and gently fold until just combined. Don't over mix
Grease a 9×13 baking dish with butter and sprinkle with flour
Spread batter in even layer in dish and back 25 minutes.
A toothpick inserted in the middle should not come out clean at this point – you don't want it too cakey
Let cool 30 minutes before slicing.

While the brownies are cooling, put the Bailey's in a saucepan on medium/high heat and reduce until a syrup consistency. This can take 10-20 minutes.
Add heavy cream to the Bailey's as it begins to thicken
Finish with a pinch of fleur de sel
In a separate bowl, beat cream and sugar until stiff.

To serve, cut brownie into desired size, top with whipped cream and drizzle a bit of Bailey's reduction over the top.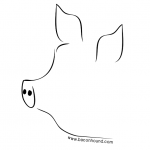 Baconhound is an Edmonton, Alberta food blog, focusing on the best restaunts and dishes in Edmonton and beyond. Phil Wilson is also the host of Edmonton, Alberta based food podcast, Off Menu.