I've posted my final rankings already (check it out here), so I thought I'd follow up with a few parting thoughts, and a few different "Best Of" categories.
I went into this search for Edmonton's best pizza believing that I enjoy thin and thick crust pizzas equally, but by the end it was clear the thin crusts are my preference. It seems that eating a whole bunch of pizzas in succession makes what started as subtle preferences much more exaggerated.
A lot of the thick crusts became interchangeable with one another, with a large grouping of them in the middle essentially being the same pizza. I found that the thin crust pies tended to be a bit more diverse in flavours and crusts, and that's probably a big factor in why I never got tired of them. Well, that and they don't weigh you down near as much as the thicks.
Best Crust on a Thin Crust Pizza
Cafe Leva
Honorable mention – Rosso
This was really close, but I gave it to Leva since their crust had the best and most consistent crispiness and bubbling. The crust at Rosso is the truest Neapolitan crust in town, and on a good day might just be my favourite. You really can't go wrong with either one.
Best Crust on a Thick Crust Pizza
Royal Pizza
Honorable mention – Slice Pizzeria
Slice came out of left field – well, more accurately out of the extreme south-east – and surprised and impressed me, but Royal Pizza is an Edmonton institution for a reason. Their crust is thick, but still quite light and airy. None of the heavy density that weighs down some of the others.
Favourite topping
Gorgonzola at Cafe Leva
Honorable mention – Sausage at Slice Pizzeria
I think gorgonzola is an under utilized cheese, so I was happy to see it on the potato pizza at Leva, and it gave the pie a great tangy zip that made me want to just keep eating it.
Instead of using the more common, pre-made sausage balls that are usually speckled over thick crust pizzas, Slice dotted fresh, raw sausage to cook with the pie which ensures the sausage isn't dry and adds a nice greasy element to the pizza.
Cheesiest Pizza
Rose Bowl Pizza
Honorable mention – Capital Pizza
Both Rose Bowl and Capital pizza offerings had gooey, stringy cheese for days.
Biggest Surprise
Slice Pizzaria
Honorable mention – The Rock
For a strip mall Pizza place in the outskirts of the city, I had very little expectations about enjoying Slice, and yet I really did. A solid crust and this was the only pizzeria of the Odyssey that was dotting fresh sausage on the pie to cook.
Walking into The Rock, I was smacked in the face with the gimmick of the joint and generally, when a place is trying that hard, its to cover up a lack of quality in the food. That was not the case at The Rock and I was happy to eat every last slice of that pie.
Biggest Disappointment
Tony's Pizza
Dallas Pizza
Tony's received the most hype from any place I visited on the Odyssey, but without having any nostalgic memories of my own from there, the pizza didn't stand out for me.
Dallas was a place we have frequented over the years, but the soggy dough needed to be ringed out and ruined what would, otherwise, have been an excellent thick crust pizza.
Best Overall
Cafe Leva
Honorable mention – Packrat Louie
Cafe Leva was the only pizza we ate that had the perfect balance of a nice chewy, charred crust and high quality. tasty toppings.
Packrat Louie had a well-done, distinctive crust and the toppings were simple and well-balanced with a nice bite of acidity from the lemon.
Most Unique
Versato's
Honorable mention – Packrat Louie
I have never seen such a tower of meat on a pizza than on a Versato's pie – it borders on being obscene. If you want to fill up on pizza, this is probably the biggest bang for your buck.
Packrat Louie had a tender crust that stood up to its toppings. The combination of starting the pie in a cast iron pan, then finishing it directly on the deck of the wood fired oven made for a uniquely delicious crust.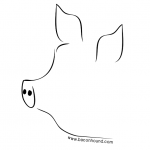 Baconhound is an Edmonton, Alberta food blog, focusing on the best restaunts and dishes in Edmonton and beyond. Phil Wilson is also the host of Edmonton, Alberta based food podcast, Off Menu.