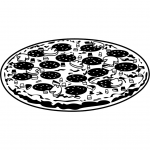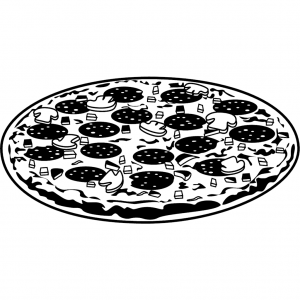 Well it's here at last – my final head to head challenge in the search for Edmonton's best pizza. It's been a blast, but I think I've exhausted my list of possible contenders, and I'm pretty happy with the results.
Coming into the Odyssey, I would have said Rosso was my favourite pizza in town, and Packrat Louie wasn't even on my radar. They're, maybe, a 10 minute walk apart in Garneau/Old Strathcona, so these may be 2 places you'd choose between yourself during any given pizza craving when you're in the area.
Rosso Pizzaria– 8738 109 st.
As one of the few pizzerias in town that do a true Neapolitan pizza, it's normally my go-to when I want a light and bubbly crust with the perfect chew. Historically, they've done it very well, so I was looking forward to some kick-ass pizza in this last week.
There's a lot of pizzas on Rosso's menu that sound delicious, but I decided on the Funghi Misti, which has roasted wild mushrooms, mozzarella fior di latte, taleggio cheese, roasted garlic, fresh parsley, and white truffle oil. We went for lunch when half-sized pizzas are available, so we got a Pera E Prosciutto Affumicato pizzaas well; I've included a couple of bonus pictures of that, but the review is on the Funghi Misti.
The Crust
Nobody does a true Neapolitan crust as well as Rosso. It's nice and light, with a great chewy quality, and has a good amount of delicious char and bubbling around the edges. When we're talking about me trying to cinch up a pair of skinny jeans, bubbling out the top is not exactly appealing but, with a pizza crust, some big bubbles exploding out the top is a good thing.
The crust I got on this day was a bit soggy in the middle, which I attributed to the toppings being quite concentrated in the centre of the pie.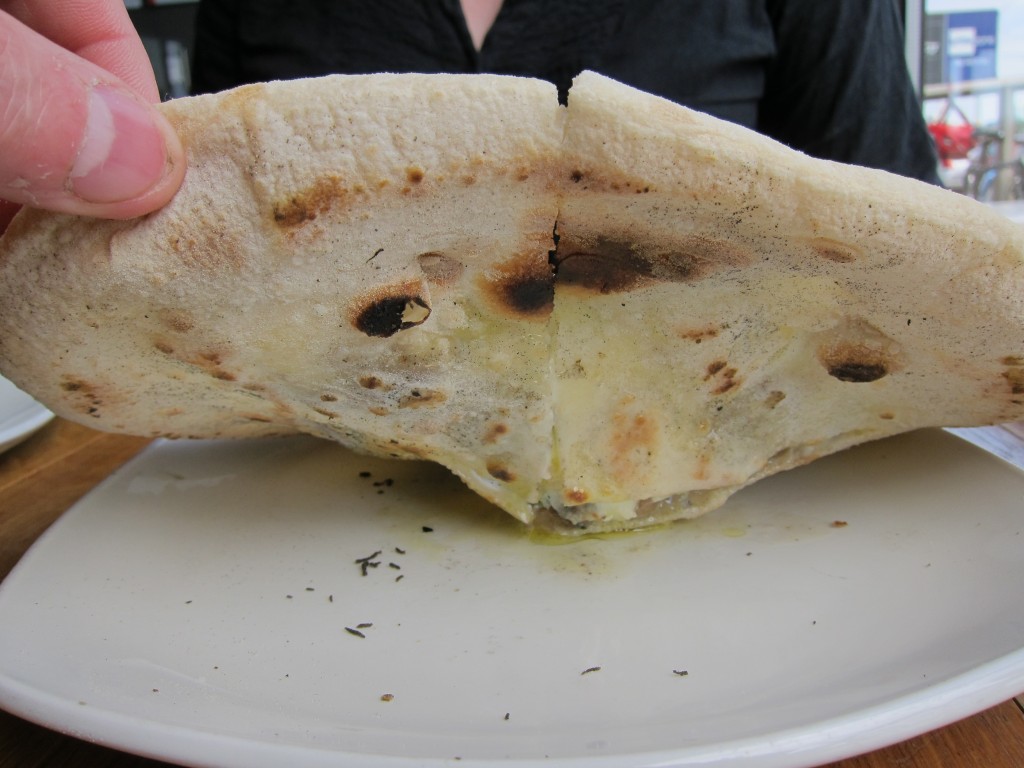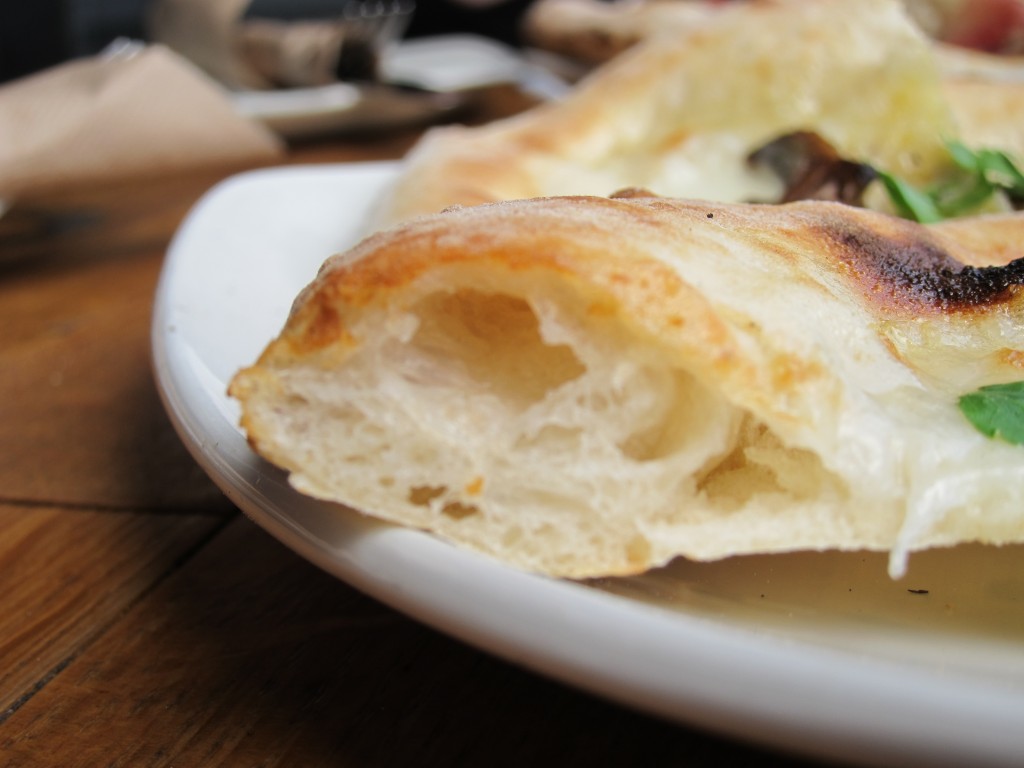 The Sauce
The "sauce" on this pizza is just olive oil which I enjoy because that tends to put the focus squarely on the crust and toppings and let them shine or fail based on their own merits.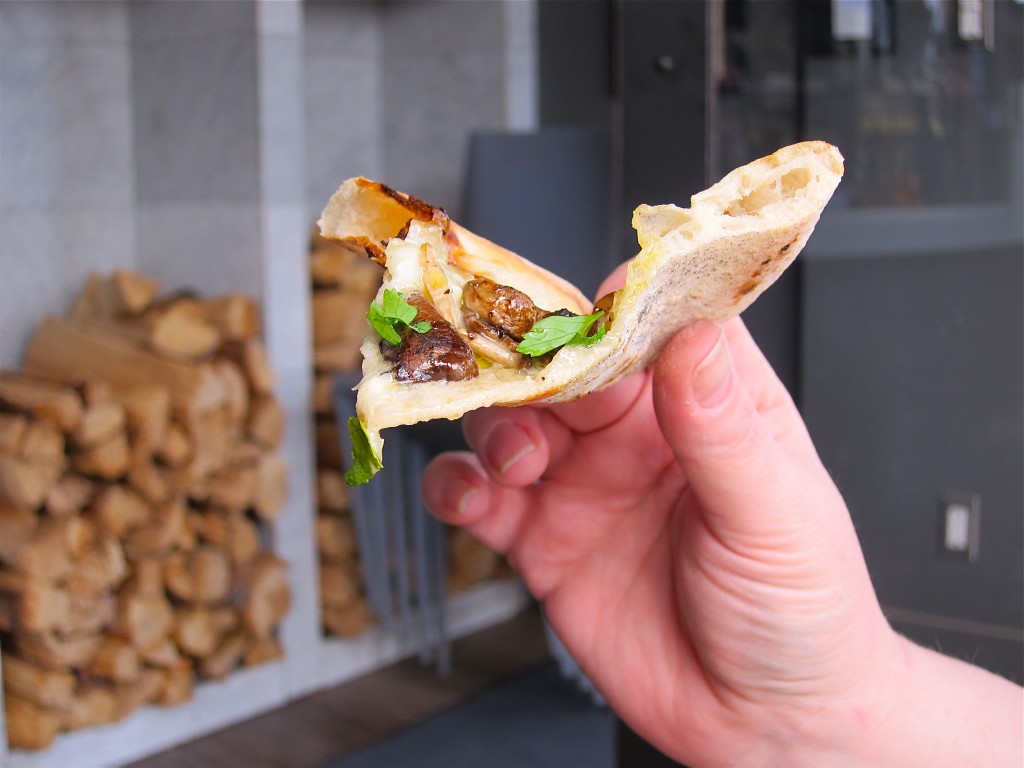 The Toppings
My worry when I see a menu list truffle oil as an ingredient, is that this thing is going to be so overwhelmed by heavy-handed truffle oil flavour that it'll be totally ruined. It doesn't take much of that stuff to add a pungent aroma and overpowering flavour, so thankfully Rosso applied it with care. This one had the perfect amount, and it added a nice bit of umami.
The mushrooms were nicely roasted, and there was a decent amount of cheese and garlic. As mentioned, the toppings were mostly concentrated in the middle, leaving way too much bald crust for my liking. A bit of naked crust around the edge is great but, for me, half the slice with nothing on it is too much.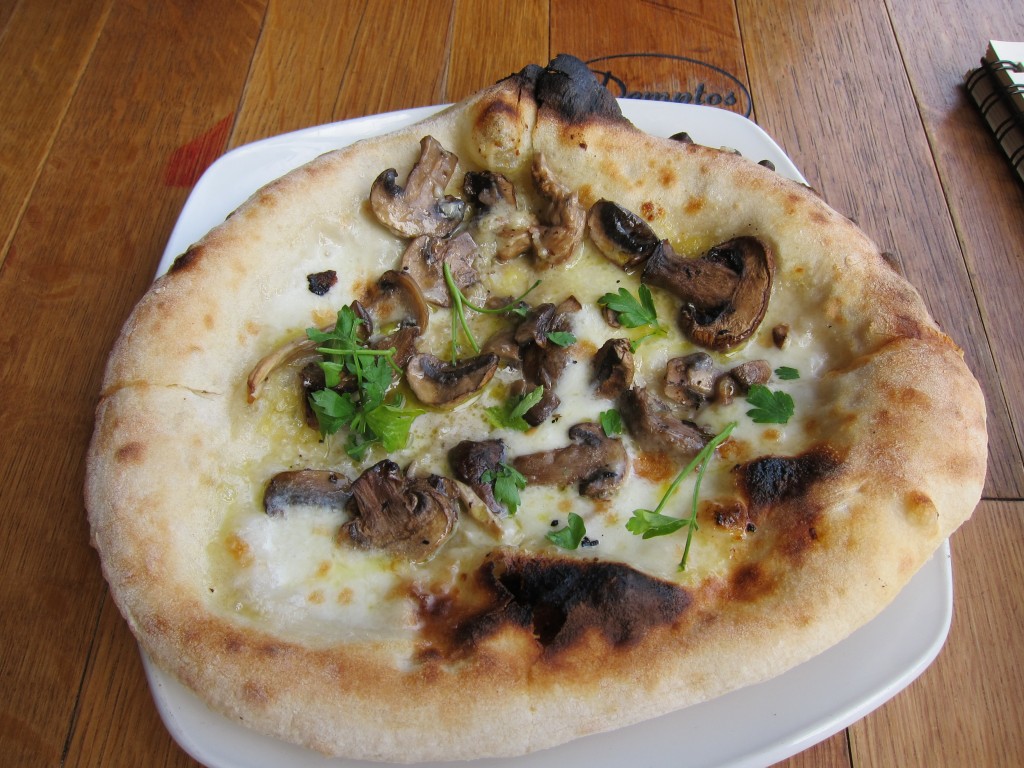 While the pizza at Rosso was pretty good as usual, I have to admit that neither of the ones I ordered left me with that burning desire for another one right away, which is usually my mark of a great pizza.
Cost – $17 for approx. 12″
Packrat Louie- 10335 83 ave
I used to spend a lot of time all around Packrat Louie, but never had the urge to stop in. I had an impression that it was somewhere your grandparents would go for dinner, so when I wanted a bite to eat before or after a show at Varscona Theatre, I never paid it much attention as I made my way to Next Act Pub. I didn't even realize until a few weeks ago that they've got a beautiful wood-fired oven there to serve me and my pizza cravings.
On this day, we stopped in for lunch, and since it was the last official pit stop of the Yeg Pizza Odyssey, we ordered 2 pizzas to celebrate.
I'm going to focus the review on the Lemon pizza, which simply has edam, mozzarella, lemon zest, herbs, and a squeeze of lemon juice on top.
The other pizza we got, the Cordon Bleu, sadly was a victim of the menu change the next day. It had prosciutto, chicken, gruyère, and a toasted herb crumb. Spoiler alert – it was really good and I hope they bring it back on the next menu.
The Crust
The Packrat crust is a stark contrast to the light, airy, and chewy crust a few blocks away at Rosso. This one is far more tender than chewy, but equally thin. Rather than being crunchy on the bottom, this was a bit softer with still enough oomph to hold up the toppings. The edges got nice and crispy, so I was able to get my crunch fix there.
Packrat is unique in that they cook their pizzas in a cast iron pan to start, then pop them out onto the oven deck to finish. The result is a nice mix of tender and crispy, which Robyn and I both enjoyed quite a bit. This crust is no joke.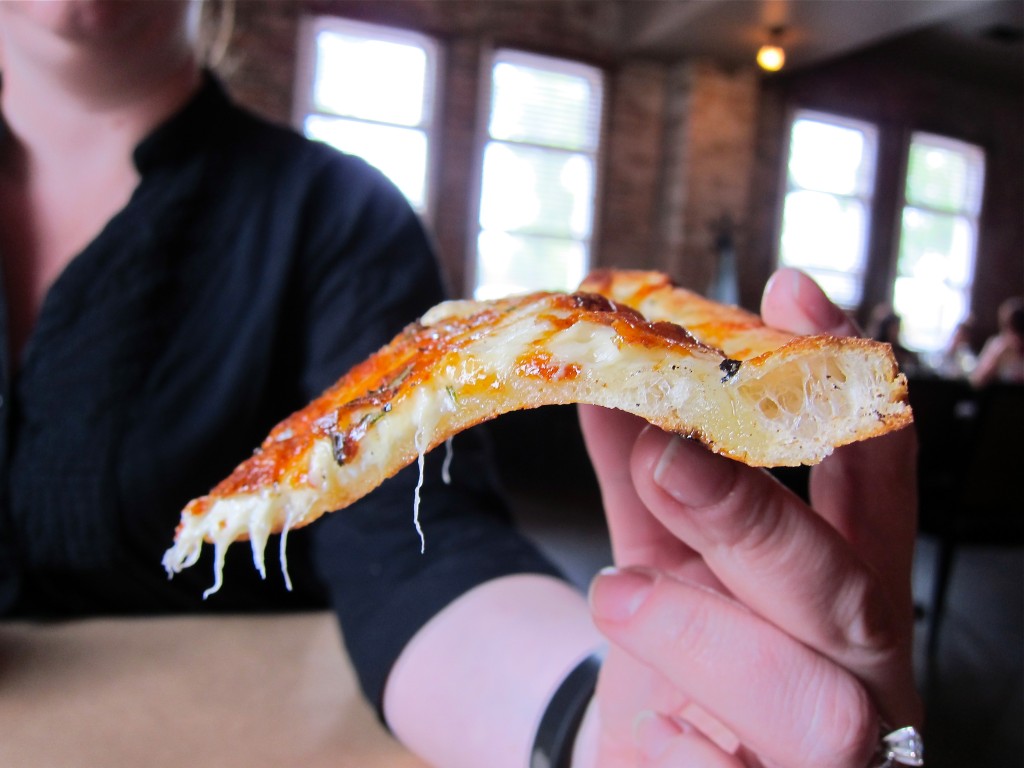 The Sauce
This was another oil "sauce", which suited the simplicity of the pie. There was also lemon zest and garlic added to it which added a bit of zip.
As a side note, the cordon bleu had a nice, bright and tomato-y sauce that was also simple – and simply tasty.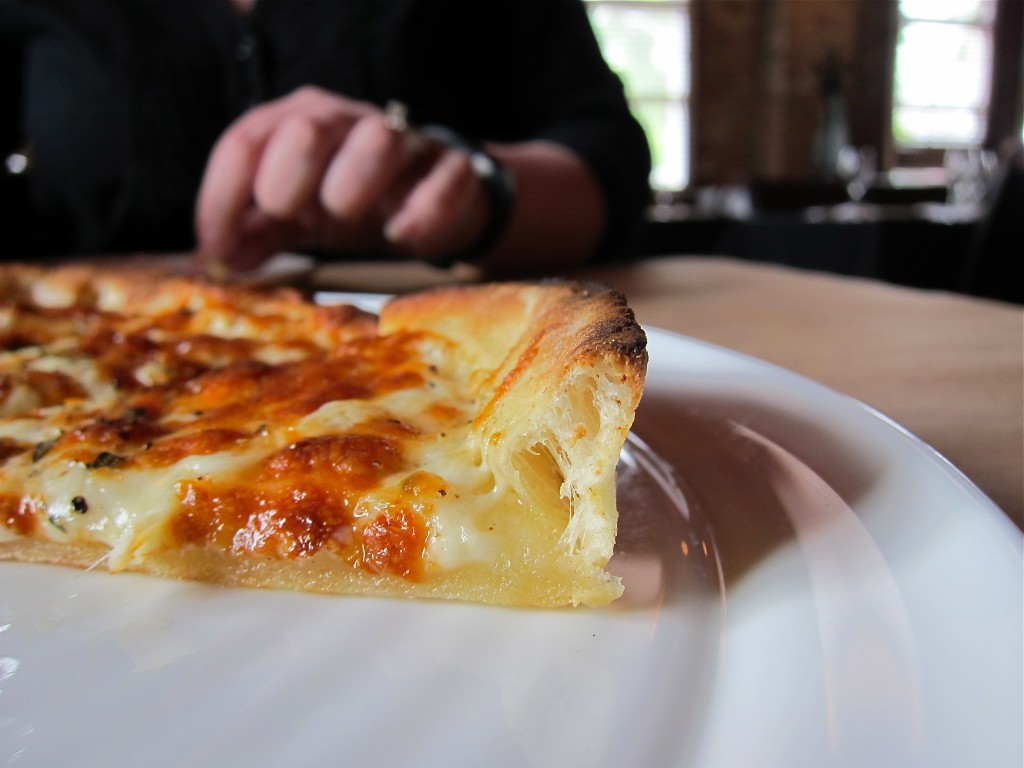 The Toppings
The subtleties of a pizza as simple as the Lemon pizza may be lost on a portion of the beer-swilling, Whyte avenue weekend crowd, but that portion would be missing out on a good thing. The creaminess of the cheese coupled with the fresh acidity of the lemon zest and juice is a great combo, and I found myself unable to stop eating it. Thankfully the lemon pizza is still on the new menu, so I'll be back for another soon.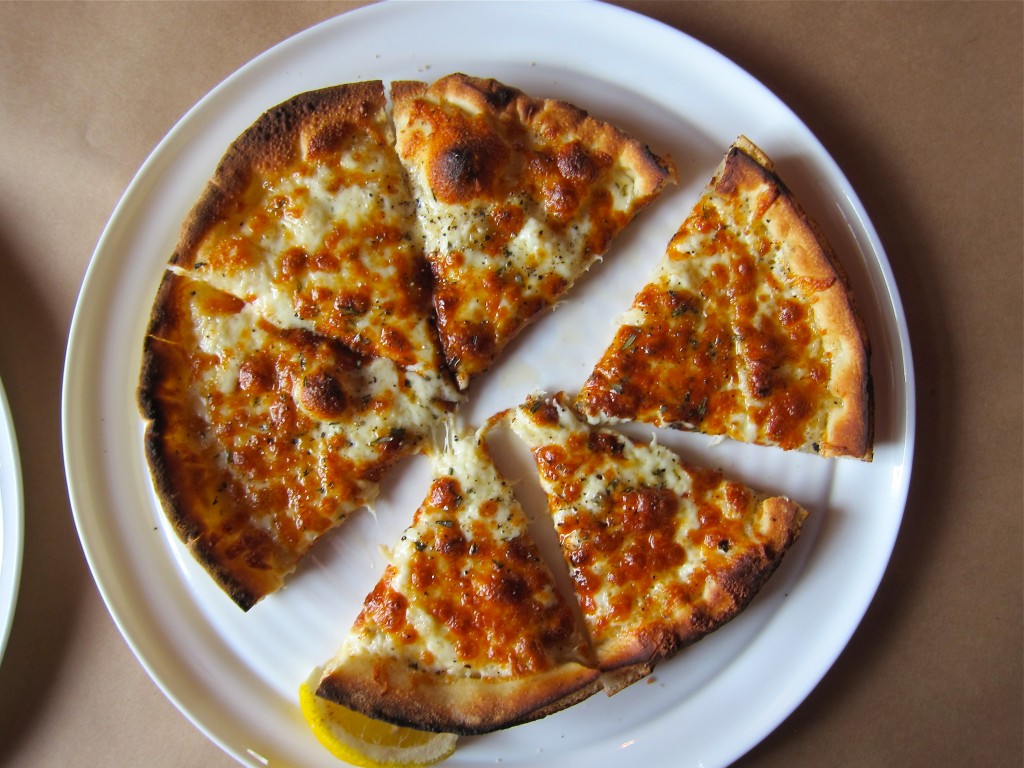 The Cost- $14 for a 10″
I was pleasantly surprised by the pizza at Packrat Louie's – it had all the elements: a great crust, sauce, and combo of toppings that had me wanting more. That's why Packrat, shockingly, got my vote over Rosso in this final head to head.
One more thing:
I also wanted to mention, since this is my last head-to-head of the Odyssey, that I got a chance to try out the new Urbano Pizza Co. While I, technically, did try their pie during the span of the Yeg Pizza Odyssey, I decided not to include a review as they are brand-spanking new and, in my opinion, still have a lot of kinks to work out (mainly regarding the far-below-par crust) to be including in the conversation of great pizzas in Edmonton.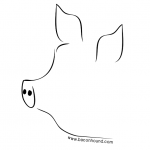 Baconhound is an Edmonton food blog, focusing on the best restaurants and dishes in Edmonton and beyond. Phil Wilson is also host of the Edmonton, Alberta based food podcast, Off Menu.