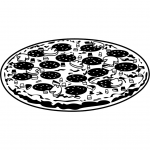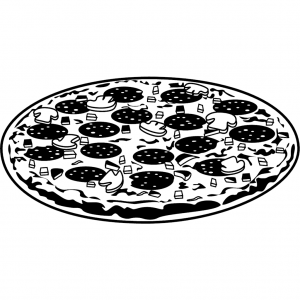 I've got 3 thick crust pizza's left to review in my search for the best pizza in Edmonton, so this week I'm going to do a 3-way.
Wait, that doesn't sound right. Let me try that again…
This week I'm having a cheesy threesom… nope, that's not better.
This week features a pizza menage a trois, with extra meat! Yeah, that's the one.
Versato's and Chicago Deep Dish are a couple of the heftiest pies of the whole Odyssey, and Capital certainly isn't a slouch when it comes to belly-busting calories either. I had to do some extra hills on my new bike this week to compensate, but I'm nothing if not dedicated to my craft (craft beers and pizzas, that is).
Capital Pizza- 7640- 144 ave
The story of Capital Pizza seems like an Omar Mouallem story waiting to be written, along the lines of his great article on the Burger Baron restaurants from 2013. Multiple locations all with variations of the same logo, but seem to distance themselves from association with one another. I decided to check out the original location for the review, and the Meat Lovers caught my eye, with salami, ham, pepperoni, bacon, and beef.
The Crust 
The crust has a crispy and chewy edge, and is lighter in density than a lot of other thick crusts. The bottom was pretty soggy, however, which really takes away from an otherwise decent crust.
The Sauce 
There's a good amount of sauce, and it's lightly seasoned – almost bland. It was better than a sauce that overpowers the flavour profile, but it could have benefitted from more tomato flavour.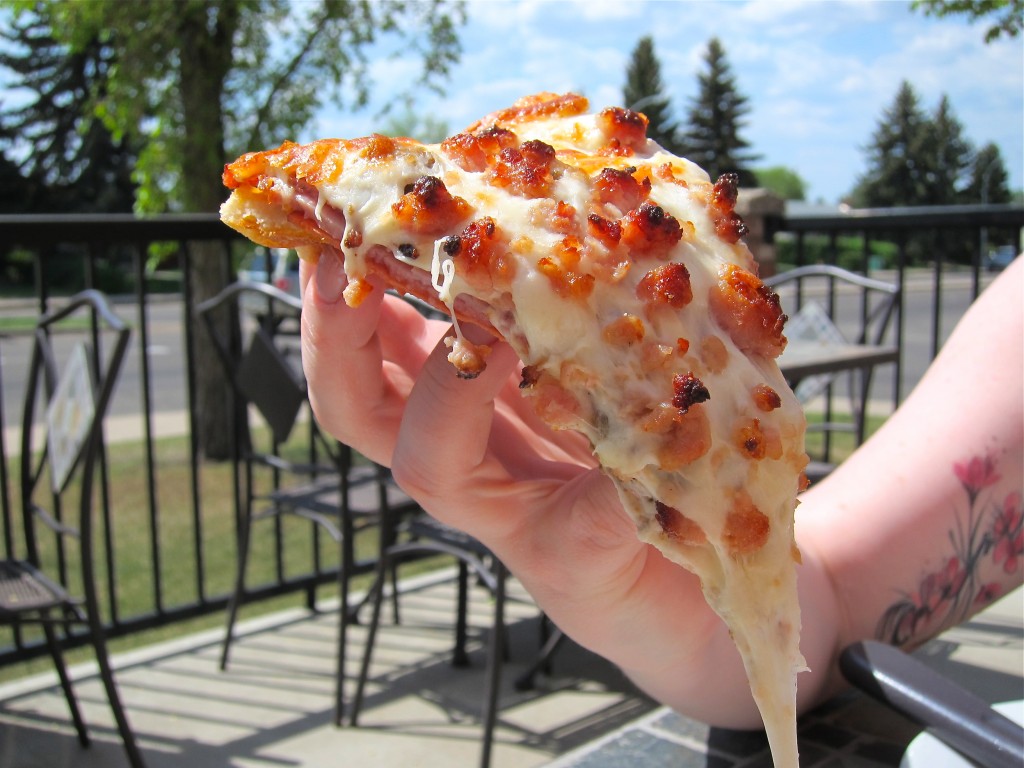 The Toppings
If you're a fan of oozing cheese, this may be your kind of pizza. There's so much cheese that when you take out a slice, the cheese flows off the rest of the pizza and partially fills the space. I like that some of the cheese got pushed to the edge and became nice and crispy. Crispy cheese is one of life's great pleasures.
Cheese wasn't the only thing there in abundance, as evidenced by the double layer of pepperoni and salami. The ground bacon on top was generous too, though I couldn't identify any beef on that pizza anywhere. Were a couple of the bacon kernels on top actually beef? It's possible, I suppose, but if I need a lab analysis to determine the presence of beef,  then I'd call it a fail.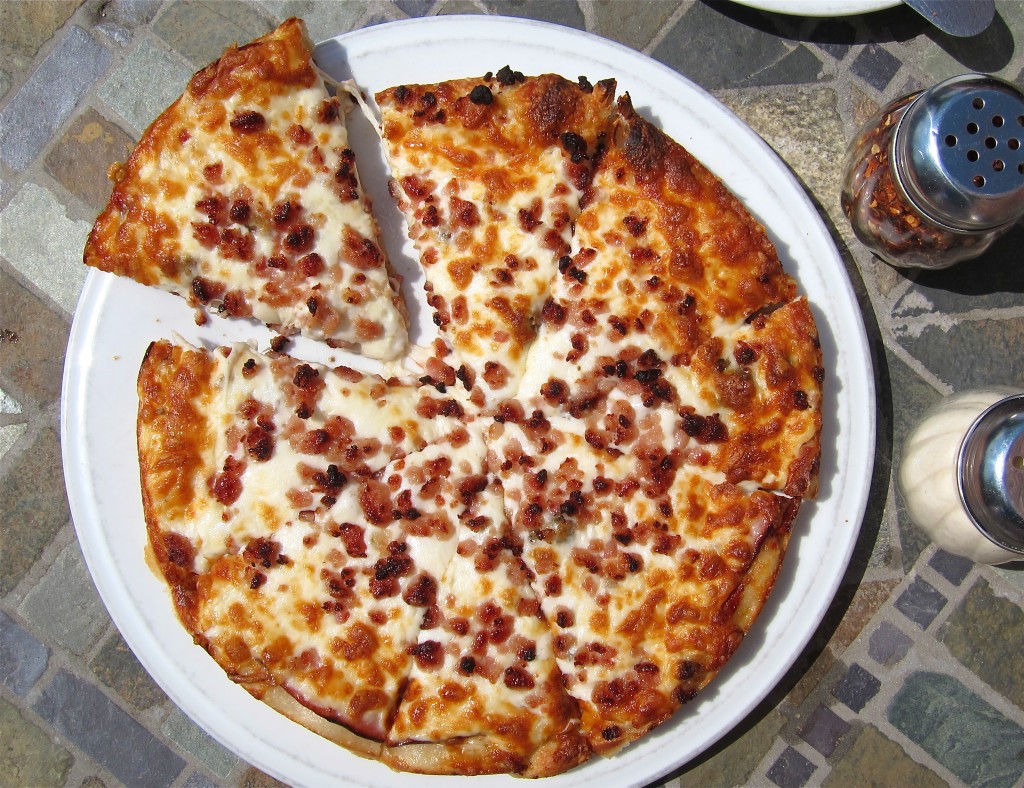 Aside from the unfortunate soggy crust incident, Capital Pizza is a cheese lovers dream. It's quite reminiscent of Dallas Pizza and Royal, really, so if you're a fan of those you'll like this one too I'm sure.
Cost – 10″ $18.75
Chicago Deep Dish Pizza- 8114 104 st (multiple locations)
Lets get one thing straight right up front – The only thing from Chicago Deep Dish Pizza that remotely resembles actual "Chicago Deep Dish" is the name. The actual pizza bears exactly zero resemblance to real Chicago Deep Dish, so the business name is laughable.
*Tangent Alert*
Real Chicago Deep Dish has a tender, buttery crust that is thinner and more crumby than thick and pillowy, and they are built backwards to traditional pizzas, meaning the cheese goes on first, then the sausage or other toppings, then a layer of tomato sauce on top. Like this:
Given that Edmonton's Chicago Deep Dish Pizza looks like this: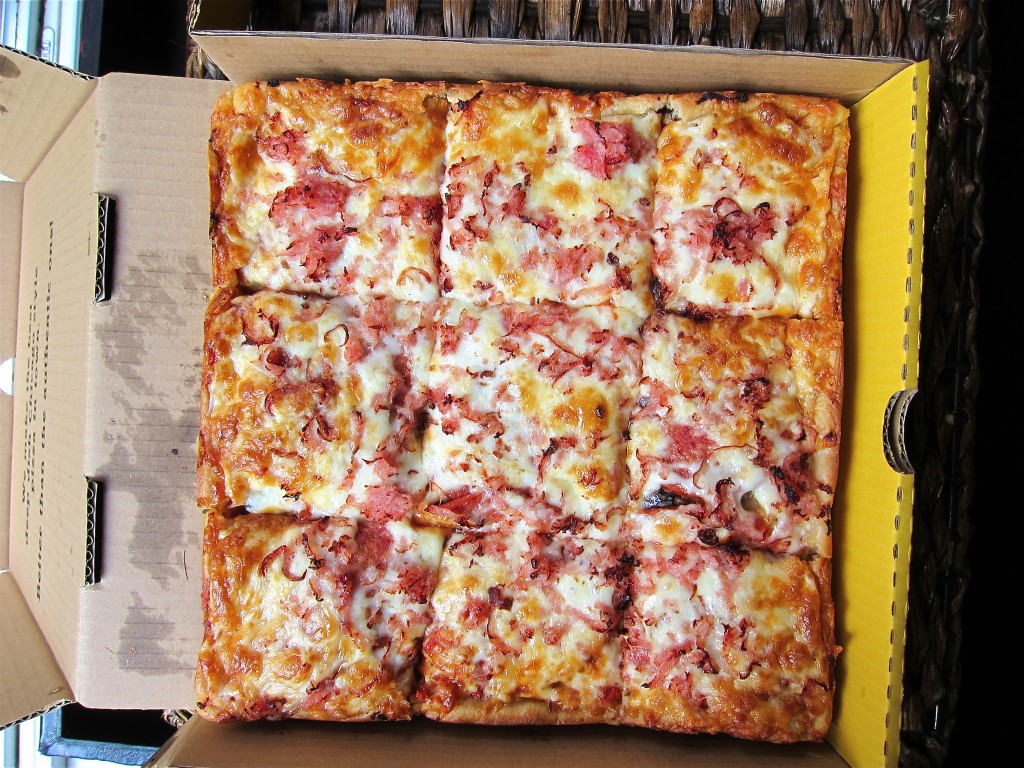 picking out the family resemblance there is pretty much impossible.
*End of Tangent*
Putting aside the name for a moment, I tried a pepperoni, mushroom, and bacon.
The Crust
Good Lord, this is some ridiculously thick crust. In fact, it's far more like a really bad focaccia than a pizza crust. It was dry, too dense, and spongey. There's also way too much bread for the amount of toppings, so who do we blame for that? The bread, or the toppings?

The Sauce
The sauce is loaded with dried pizza seasonings, and not much tomato flavour.
The Toppings
Again the single, thin layer of toppings doesn't accomplish much next to the massive mound of bread, but would have probably been ok on a regular pizza. Sadly, the shaved bacon didn't taste like much either.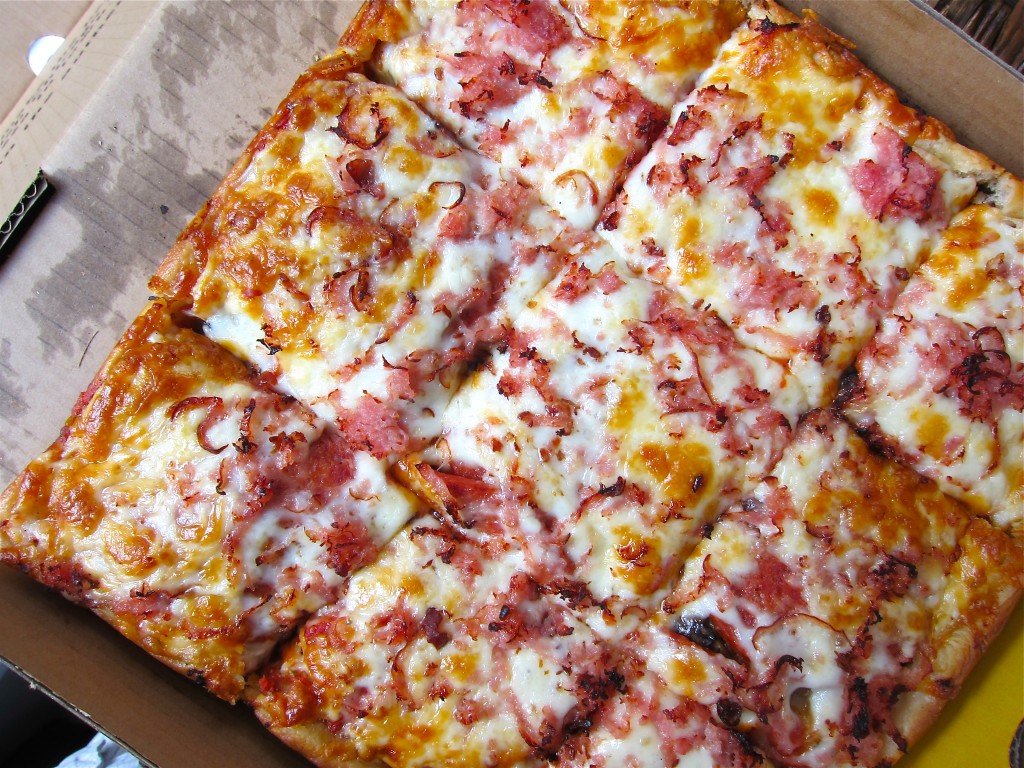 Frankly, this pizza is pretty much everything I don't want in a pizza – overly bready, terrible texture. not enough toppings, and poor flavour. It's got the honour of being the second pizza of the Odyssey whose leftovers went in the garbage.
Cost – $17.80 for a 10″ square
Versato's Pizza- 12753 50st
Versato's is one of the few places that do pizza by the slice as well as by the whole pie but, because of my commitment to the Odyssey, I got a whole one to go. I settled on the T-Rex with pepperoni, salami, ham, beef, bacon, and mozza.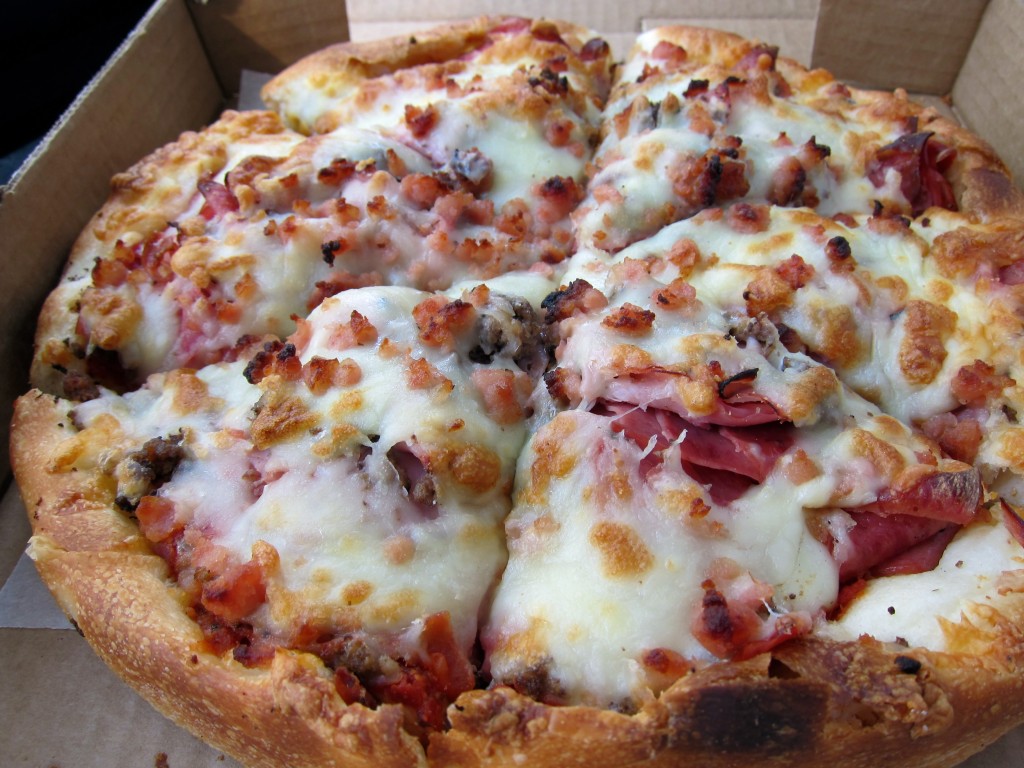 The Crust 
This crust looks like a behemoth at first glance, and the edges definitely are. Underneath though, it's actually quite thin and rigid, and holds up the immense amount of toppings quite well. The bottom isn't crispy, but it isn't soggy either. It's not my favourite crust, but it's better than it looks.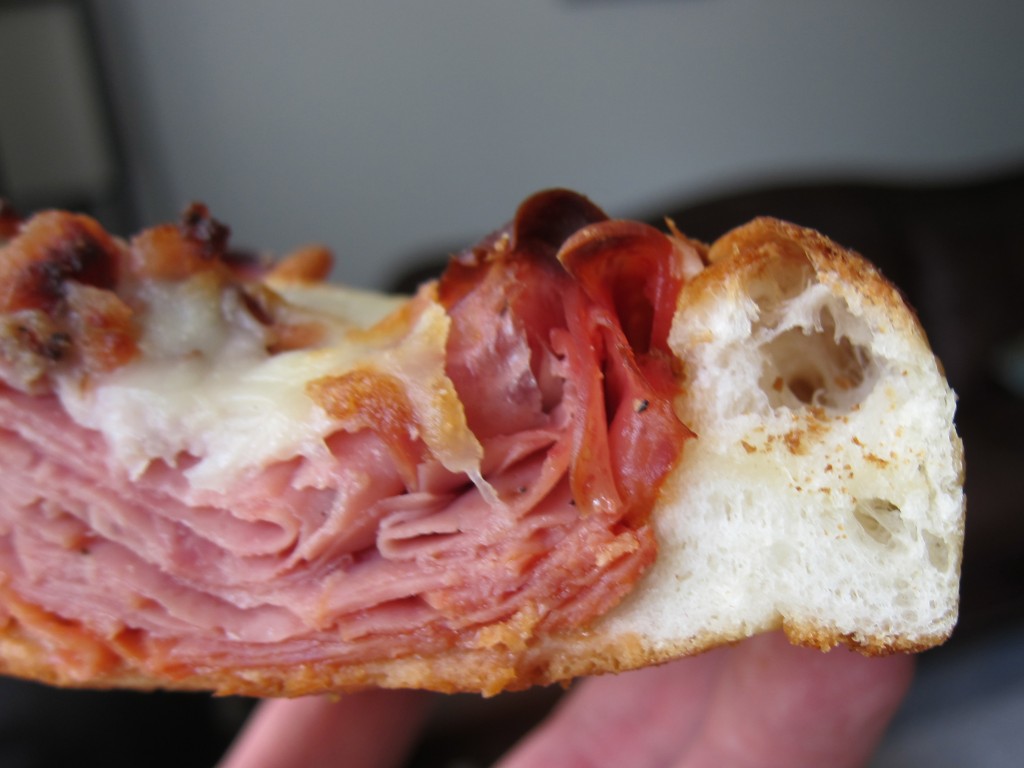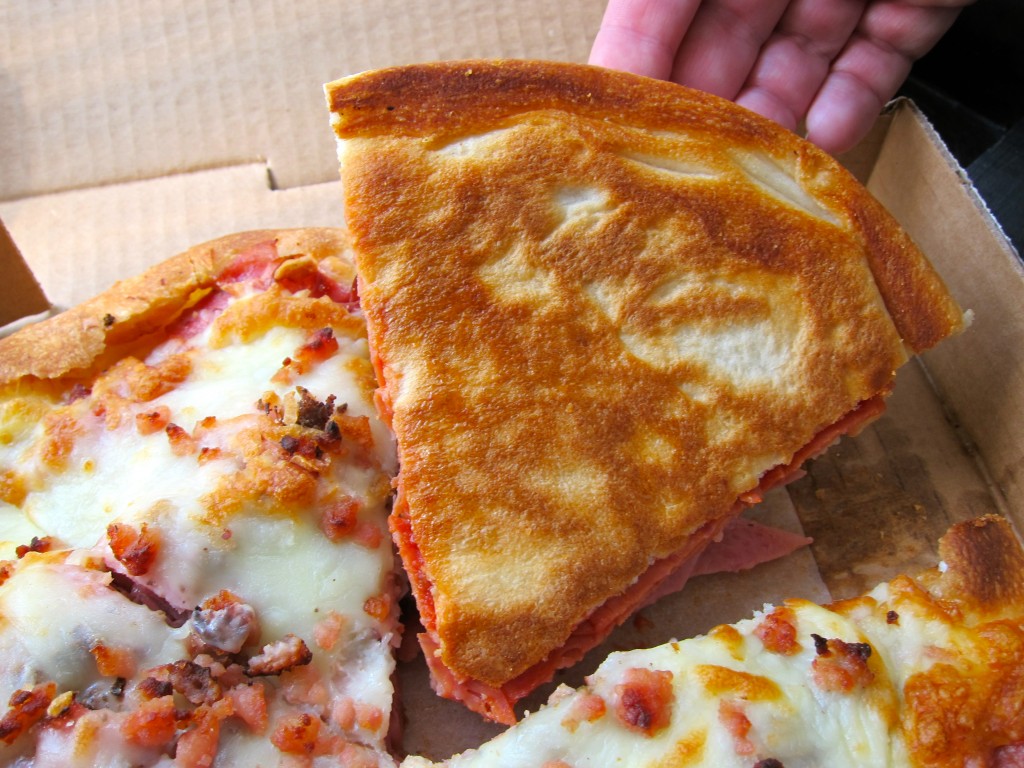 The Sauce
It's very lightly sauced over most of the pizza, so I couldn't even really taste it. This pie is so dominated by the flavour of all those meats, that the sauce is almost irrelevant. I did get a pocket of sauce on one of my last bites and it reminded me that just because you have a club pack of dried pizza spices, doesn't mean you need to use a club pack of dried pizza spices.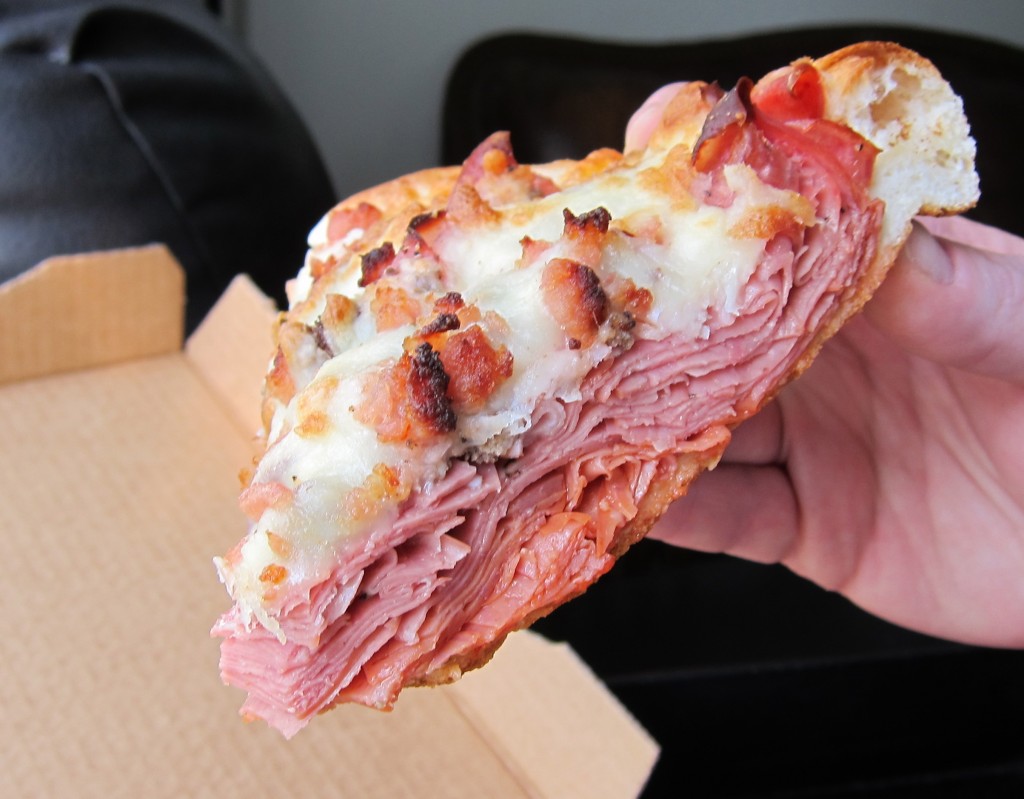 The Toppings
What can you say about this tower of toppings other than wow? I've never seen a pizza with such a giant stack of sliced deli meats on it, and I'm pretty sure I could have stripped enough meat from the pizza to make a few big sandwiches with, and still had an ample amount left on the pizza.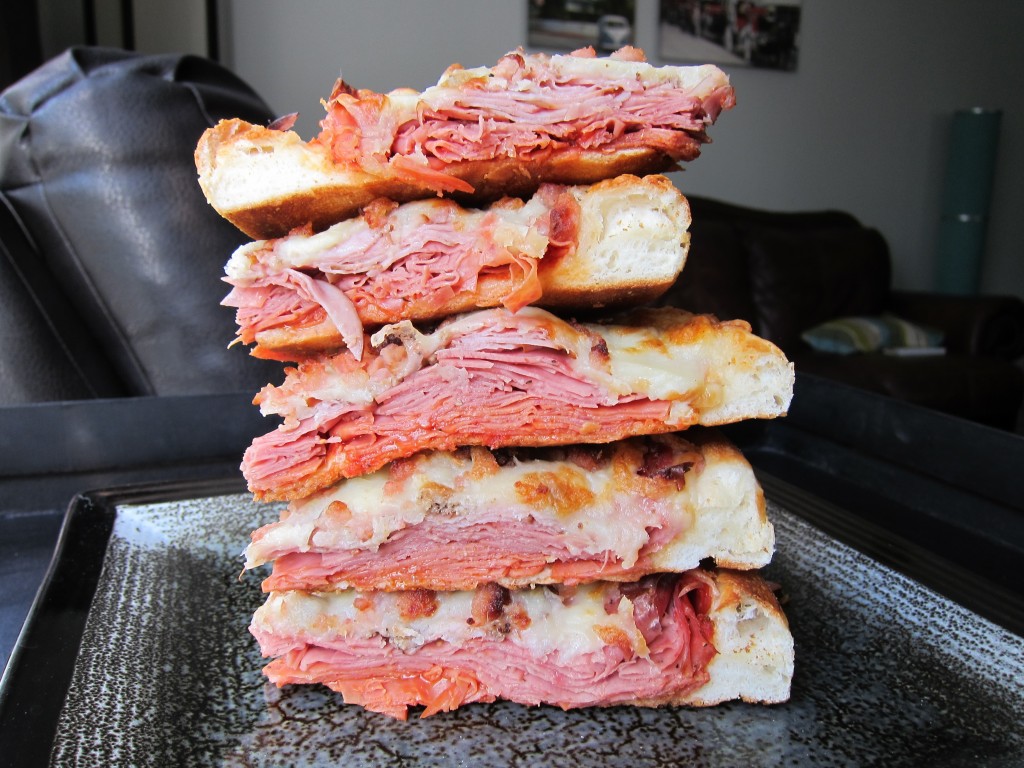 The deli meats are sliced very thin, and piled up like a meat pave. The bacon and beef are crumbled on top and are of much less quantity. The cheese is an almost an afterthought on top of all that meat, but there's enough to get the job done.
Cost – $19.75- 10″
This weeks winner is Capital Pizza, with an honourable mention to Versato's for making one of the most unique "thick" pizzas of the Odyssey…and let's never speak of Chicago Deep Dish Pizza again.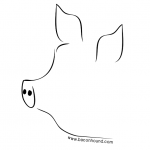 Baconhound is an Edmonton food blog, focusing on the best restaurants and dishes in Edmonton and beyond. Phil Wilson is also host of the Edmonton, Alberta based food podcast, Off Menu.