A while back I was trying to decide on a dessert to make for a southern themed cooking class I was hosting, and after endless debating between bread puddings and cakes it hit me.
PIE!
The south is famous for it's pies, and thankfully they're easy to do, which is a huge bonus for someone not used to cooking (or even worse, baking!) for an audience. I sure as hell didn't want to make a boob of myself up there making some fancy dessert that was out of my comfort zone, so I decided a classic (and dead easy) Buttermilk Pie was the way to go.
Of course traditional Buttermilk Pie doesn't have bourbon in it, but any excuse to add bourbon to something should not be ignored. Who wants to get blasted on sugar pie with me?
Bourbon Buttermilk Pie
3 eggs
1 1/4 cups granulated sugar
1 oz bourbon
1 stick (1/2 cup) butter- melted (or at least very soft)
1 cup buttermilk
1 tsp vanilla
1 tbsp lemon juice
3 or 4 pinches of nutmeg
3 tbsp all purpose flour
1- 9″ pie shell- unbaked
Preheat oven to 350 degrees and move rack to middle
Beat eggs until they start to foam, and add butter, sugar, and flour.
Beat until you get a smooth consistency- usually less than 30 seconds
Stir in lemon juice, vanilla, nutmeg, bourbon, and buttermilk.
Pour into pie shell and bake approximately 1 hour, until top has browned.
Let pie rest 1 hour so it will set completely before serving.
– Topping with whipped cream is optional but delicious (and, of course, a small splash of bourbon in the cream doesn't hurt either)
* A couple of notes on the recipe-
– If you don't have buttermilk, put 1 tbsp of lemon juice and top the measure up to 1 cup with milk. Stir and let sit 15 minutes or so and you've got buttermilk.
– Use a good quality vanilla if you can. The artificial stuff doesn't hold a candle to real vanilla. (There's a great selection at Provisions by Duchess)
– Cooking time can be a bit of a balancing act. 1 hour is a very general guideline, but its more important to watch the colour of the pie. A deep golden brown is optimal, so roll your pie shell a bit thicker to ensure it doesn't burn before your pie is cooked through.
This pie freezes pretty well also, so go ahead and make 2. You might just eat them both anyways.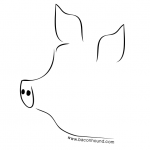 Baconhound is an Edmonton food blog, focusing on the best restaurants and dishes in Edmonton and beyond. Phil Wilson is also host of the Edmonton, Alberta based food podcast, Off Menu.