When I was approached by Melt magazine to create a recipe using bocconcini, I thought "Mmmmm….cheese…." After I wiped the drool off my chin, I happily accepted and camped out in the kitchen, eating cheese, until inspiration hit.
The recipe needed to "spring-inspired" and since, in Canada, the first day of spring means 10cm of fresh snow, my mind immediately when to carbs – tasty, comforting carbs. But my biggest beef with most cheesey breads is there just isn't enough cheese! I mean, what's the point of having a sprinkle over the top when that only accounts for 3 bites of bread.
Cheese bread should have mandatory cheese in every single bite!
Thankfully, the round shape of bocconcini perfectly lends itself to being wrapped inside stuff…like bread. And then mixed with jalepenos. Then topped with bacon. Ok, those last 2 things don't really have anything to do with the shape of bocconcini, they're just ridiculously good and needed to be included.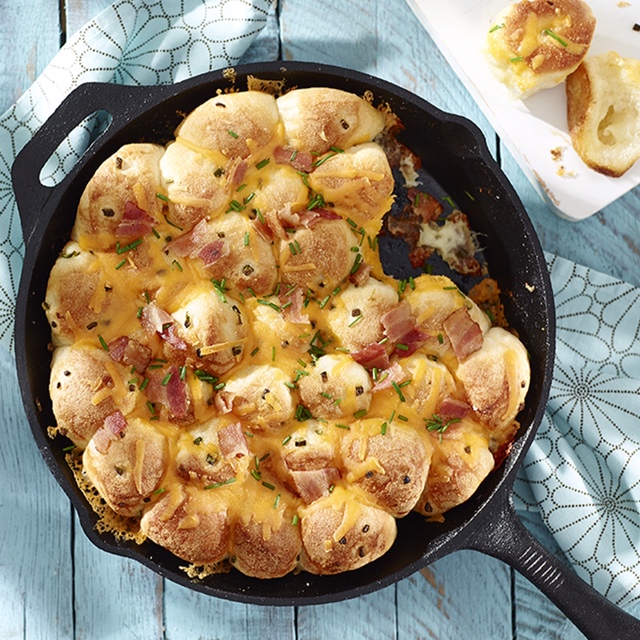 So here is my recipe for Melty Bacon and Tre Stelle Bocconcini Pullaparts:
1 cup 250 mL warm water
2 tsp 10 mL dry active yeast
pinch granulated sugar
2 cups 500 mL all-purpose flour, plus approx. ½ cup extra if needed
1-2 jalapenos
minced pinch salt
1 tbsp 15 mL olive oil
1 tbsp 15 mL fresh chives, finely chopped
8 tranches bacon, cooked and crumbled
1 pqt 200 g Tre Stelle® Shredded Cheddar Cheese
30 Tre Stelle® mini mini Bocconcini balls, drained
3 tbsp 45 mL butter, melted
– Pour water into a large bowl; add yeast and sugar, allow to sit 15-30 minutes in a draft-free place until mixture begins to foam. With a wooden spoon stir in flour, jalapenos, salt and olive oil. Turn mixture onto a floured work surface and knead the dough for approximately 10 minutes until it becomes smooth. Use extra flour as needed to keep the dough from sticking to your hands, but still remaining a little tacky. Place dough into a clean, lightly oiled bowl. Cover with plastic wrap and let rise in a warm place until double in size – approximately 1 hour.
– Preheat oven to 350ºF (180ºC).
– Brush the bottom and sides of a 12" cast iron skillet with butter or non-stick cooking spray.
– Cut dough into 30 equal portions. Wrap each individual portion of dough around each Bocconcini. Roll the dough in your hands to firmly seal around the cheese and quickly roll each ball in melted butter.
– Arrange the balls evenly in the skillet and cover with a damp towel to let rise 15-20 minutes. Top with crumbled bacon, chives and Cheddar Cheese. Bake for 25 minutes. Remove from oven and brush with remaining melted butter. Serves immediately. Serves 6
– Tip: Short on time? A store made pizza dough works just as well!
 ~~~
Sounds good, right? Even if I do say so, myself!
This recipe is part of a Blogger's Challenge that has been running for the month of March and I am competing against other bloggers from all across Canada, so if you think it sounds good, or you don't but just want me to shut up about it – click the link below and vote for me to win!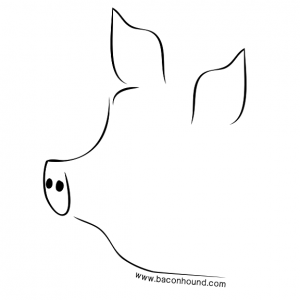 Baconhound is an Edmonton food blog, focusing on the best restaurants and dishes in Edmonton and beyond. Phil Wilson is also host of the Edmonton, Alberta based food podcast, Off Menu.