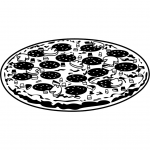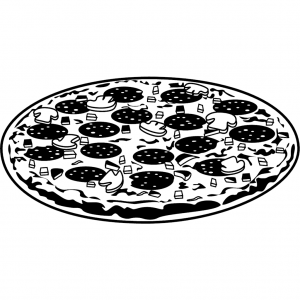 This week's entry in my search for the best pizza in Edmonton is one that a lot of you have anxiously been waiting for, since Tony's and Ragazzi were probably the most frequently recommended to me. Both are doing New York style pizzas, and both have long histories of pizza making in Edmonton, so who wouldn't be excited to see them go head to head?
Before I get into the specific pizzas, here's a little information about what to look for in a New York style pizza:
Whereas Neapolitan pizzas cook very quickly – 90 seconds at over 900 degrees – and give you a puffy, charred crust, NY pizzas are cooked at a lower temperature and can take 10-15 minutes to cook. This means the NY style pies run the risk of the cornicone drying out and becoming crunchy like a cracker, so oil is usually added to the dough to keep it moist and tender. New York pizzas, when done well, don't hold up under their own weight without being folded; when folded, however, the cornicone should have some crackling and bend without breaking.
Of course the authenticity is just one aspect of a tasty pie, and though it's probably what people spend the most time debating, at the end of the day flavour and enjoyability of a pizza is always my first priority.
Tony's Pizza Palace– 9605- 111 ave
Tony's first opened in 1974, back when the Edmonton Oilers were in their 3rd WHA season, KISS kicked off their first North American Tour in our fair city, and The Godfather II ruled the box office. That's a long time to be making pizza, so it must be good, right?
The overwhelming suggestion from my readers was the Sal's Deluxe, which has Prosciutto, Capicollo, Marinated Tomatoes, and Bocconcini cheese, and here's how it breaks down:
The Crust
Perusing Tony's website, I found this description of their dough – "Tonys famous pizzas are made with a third generation family secret dough recepe [sic] that uses both a NY Syle [sic] and an italian traditional method to create the perfect pizza for your full enjoyment. Buon Appetito!!!". I'm not sure what that means, but I can tell you the undercrust is the thinnest I've had to date.  It's got a nice crispness to it, and flopped when picked up, as it should; the cornicone was pretty dry though, and broke when folded instead of bending. It was almost "shatter in your mouth" dry, and that's too dry in my books. If you prefer more crunch to your crust than normal, this is the pizza for you.
The Sauce
There is one overriding flavour from Tony's sauce, and it's tomato – sweet, tangy tomato! It's got a lot of freshness and acidity, and there was a decent quantity without making the bottom soggy.
The Toppings
There's some good flavour going on here from the spiciness of the capicollo, and the saltiness of the prosciutto. As a rule, I lean towards ingredients that are easy to bite through and don't cause all the toppings to come off in one bite, but you can't argue this flavour combination. The bocconcini may have been the weak point for me due to its tendency to firm-up quickly after coming out of the oven, even where it was sliced through, it had congealed together again by the time it got to the table and we had to re-cut it. Admittedly that's not a major misstep, but it's also not ideal.
On my visit, Tony's hit the mark on some things and missed on others; the most notable miss being the overly dry cornicone. At the risk of drawing the ire of Tony's fans, I'd rank it a good pizza, but short of great.
*I should note that the pictures are from a pizza I got later for take-out, due to the poor quality of the pictures inside the restaurant on my first visit. The result, however, was the same.
Cost – Medium 12″- $22.00
As a side note, Tony's has something they call "Jim's Special Sicilian Pizza", which you have to order 24 hours in advance and takes 2.5 hours to make. It's got 2 layers of toppings, including pepperoni, mushrooms, green peppers, onion, shrimp, bacon, and garlic, and rings in at $55.00.That sounds so crazy I might just have to get some friends together and try that out!
Ragazzi Bistro Italiano– 8110- 82 ave
Ragazzi was opened in 2001 by Vincenzo Mazzotta and his 4 sons, and if that last name sounds familiar it may be because you've heard of his brother Tony.
Yes, that Tony.
The info section of both restaurants websites is worth a read – I can't say I've ever said that before – and I'm betting there's a great story to be told over a bottle or two of Peroni.
When I opened the menu, I went with my craving – and that usually means sausage. The Deluxe has Italian sausage, prosciutto, mushrooms, and topped with artichoke hearts. Given the intertwined backgrounds, you'd expect the pizza to be pretty similar to Tony's, and it was, but there were some noticeable differences.
The Crust 
Ragazzi's crust is noticeably thicker than Tony's on the bottom, but don't assume that's a bad thing. The bottom was heavily floured and quite crispy, and the top edge got just a bit of blistering. The cornicone, while crusty, still retained a bit of spring, and had some good chew to it. Score one for Ragazzi.
The Sauce
There wasn't a whole lot of sauce on the pizza to taste on its own, and yet I could still taste the tomato. The pizza in general was quite salty, which is right in my wheelhouse, but I couldn't tell how much of the salt was coming from the sauce.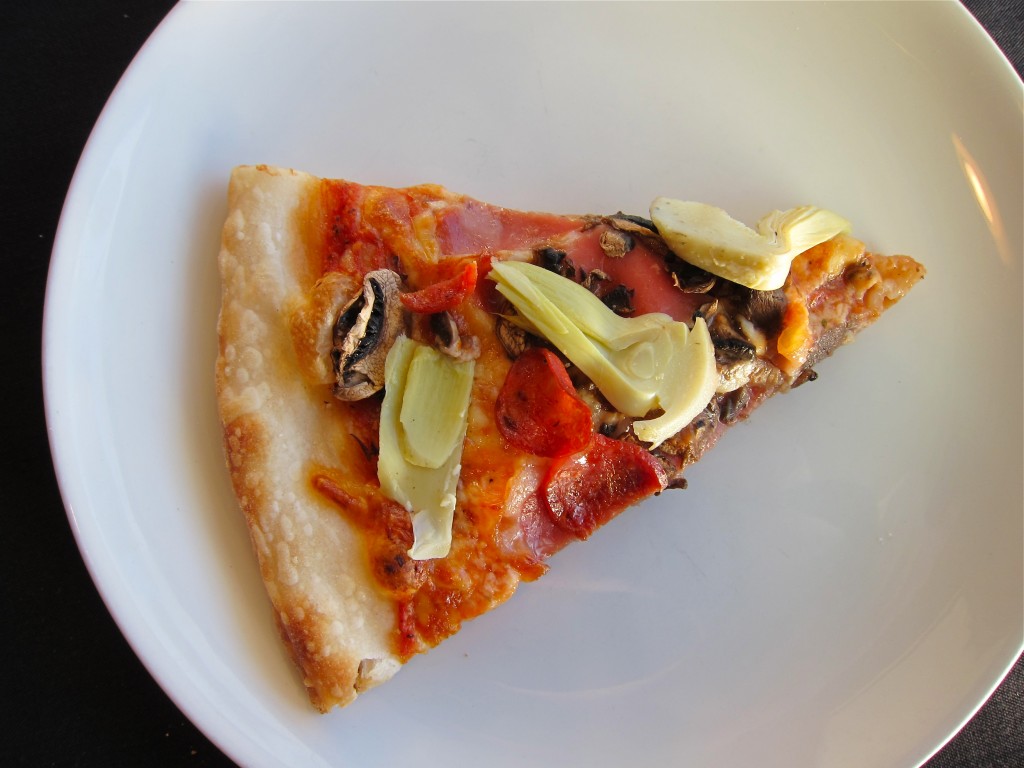 The Toppings
With the combination of toppings we ordered, saltiness should be expected but the prosciutto did seem saltier than most, so the pizza teetered on that line between salty and too salty (it was good for me, but too much for Robyn). Small diameter sliced sausage was used on the pizza and I thought it tasted quite good, especially when you consider the extra grease that creates. Personally, I didn't think the artichokes added anything to the flavour and would probably skip them next time since I found them to be more of a distraction from the other good things going on. The thinly sliced mushrooms added a bit of flavour, but really this pizza is really about the 3 meats.
Many of you told me Ragazzi had good pizza, and you were not wrong. Good crust and tasty toppings – that's what pizza's all about.
Cost – 12″- $20.00
I thought that both pizzas were fine representations of a New York style pie, but in the end it was Ragazzi that had me reaching for another slice.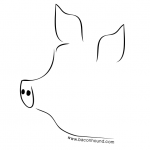 Baconhound is an Edmonton food blog, focusing on the best restaurants and dishes in Edmonton and beyond. Phil Wilson is also host of the Edmonton, Alberta based food podcast, Off Menu.