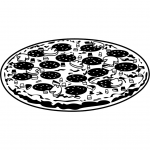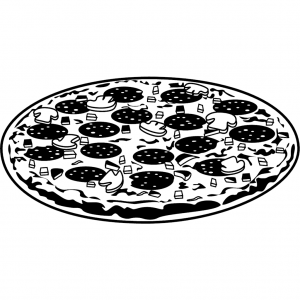 This week's match-up features a upstart pizzeria in the far SE corner of the city vs a longtime staple of the Edmonton food scene. Both Slice Pizzeria and Parkallen Restaurant are thicker, more atypical-crust spots that I haven't been to before, so I was anxious to see who would come out on top.
Parkallen Restaurant– 7018- 109 st
Parkallen has been around a long time, and even had a pizza joint further north on 109 st at one time. I remember really enjoying their fatoush salad when they participated in the A Taste of Edmonton festival, but never had occasion to visit the restaurant until now.
When it comes to thick crust pizzas, I have to confess that they are all seeming very similar to me so far so, for consistency's sake, I'm doing my best to order the same thing at each place; sausage and mushroom.
Crust- Parkallen had a different crust than the other thicks I've had so far. It looked pretty similar when it was first set on the table, but closer inspection revealed more of a crumbly, dry texture than the others. The dough didn't really have much chew, and tended to break apart rather than tear when bitten into. It reminded me a bit of pizzas I've had on focaccia bread which, personally, I'm not a big fan of.
Sauce– New week, same complaint. By now you're all aware that I'm not a big fan of the over-spiced tomato sauces, and this pizza sauce was exactly that. It dominated the flavour of the pizza and lingered long after every bite – it was probably my least favourite sauce to date.
Toppings– Here's where things get better at Parkallen. Firstly, there's a lot of gooey cheese on this pizza and I appreciate that, since under-cheesing a thick crust pizza is unforgivable. It stretched for miles, as you can see, and they achieved a nice shade of brown on top. They went a bit lighter on the mushrooms, but you could still get the flavour from them. The pizza was topped with large slices of pre-cooked sausage, which had some decent flavour but got a bit dry.
Cost- A 12″ sausage and mushroom- $21.50.
SLiCE Pizzaria–  2304 23 ave
If I'm going to drive to the outskirts of the city for pizza, it had better be damn good. Am I right?
Seriously though, the other side of the street from SLiCE is a pasture. We're talking farmer's field kind of outskirts here. If this place was farm to fork, there would be no delivery charges.
Ok, now that I've ranted on about urban sprawl and it's effect on my pizza enjoyment, let's get back to business. I found out about SLiCE  through a reader recommendation, which is great since there is just no way I would ever stumble upon this place on my own. Their standard pie is a regular crust pizza but the option is there to get a thin crust instead if the mood hits you. It seemed they were being pretty careful not to call their regular a "thick crust" though and I get that, it can be hard to categorize some of the in-betweeners.
Crust– The crust here is definitely not as thick as the other thicks to date. It's also not near as dense. In fact, I found it quite light and airy with some great crunch on the cornicone. The underside was strangely firm but not crispy – not in a bad way mind you, just different. The criss-cross pattern on the undercrust suggest that it's cooked on a wire mesh pizza screen, which may account for the lack of crustiness. Overall, despite its nonconformities, it was a pretty enjoyable crust.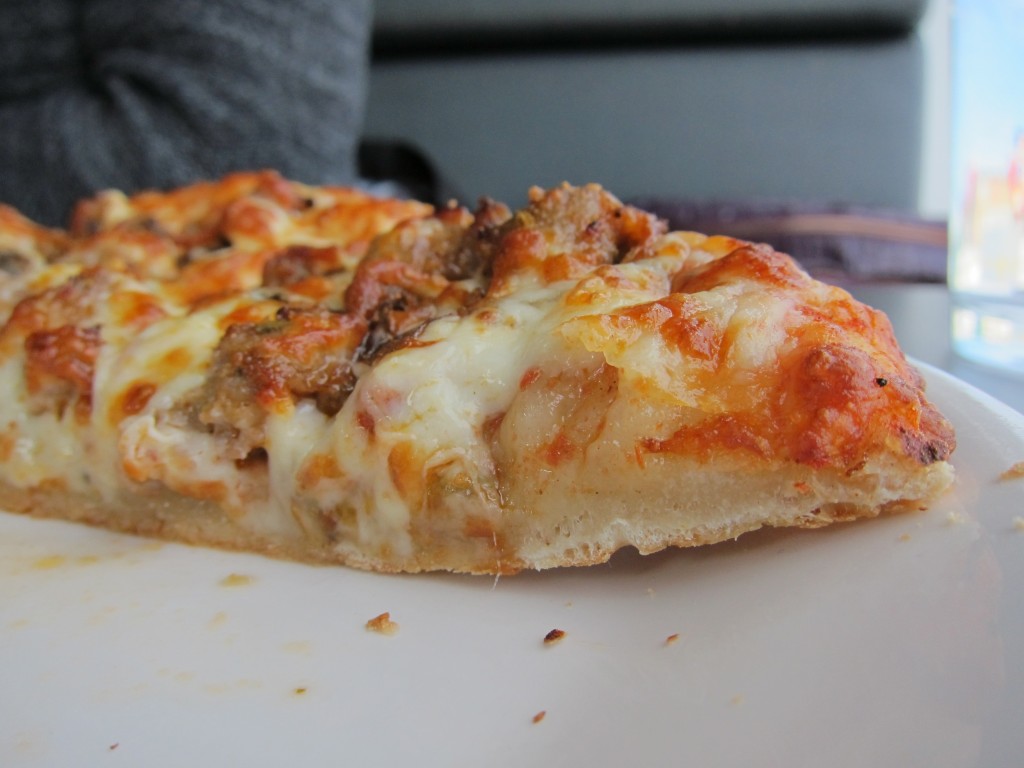 Sauce– It's pizza sauce, but there wasn't an abundance of it and it was far less aggressively spiced than at Parkallen.  It's not particularly tomato-y, but for that style of sauce, it wasn't too bad.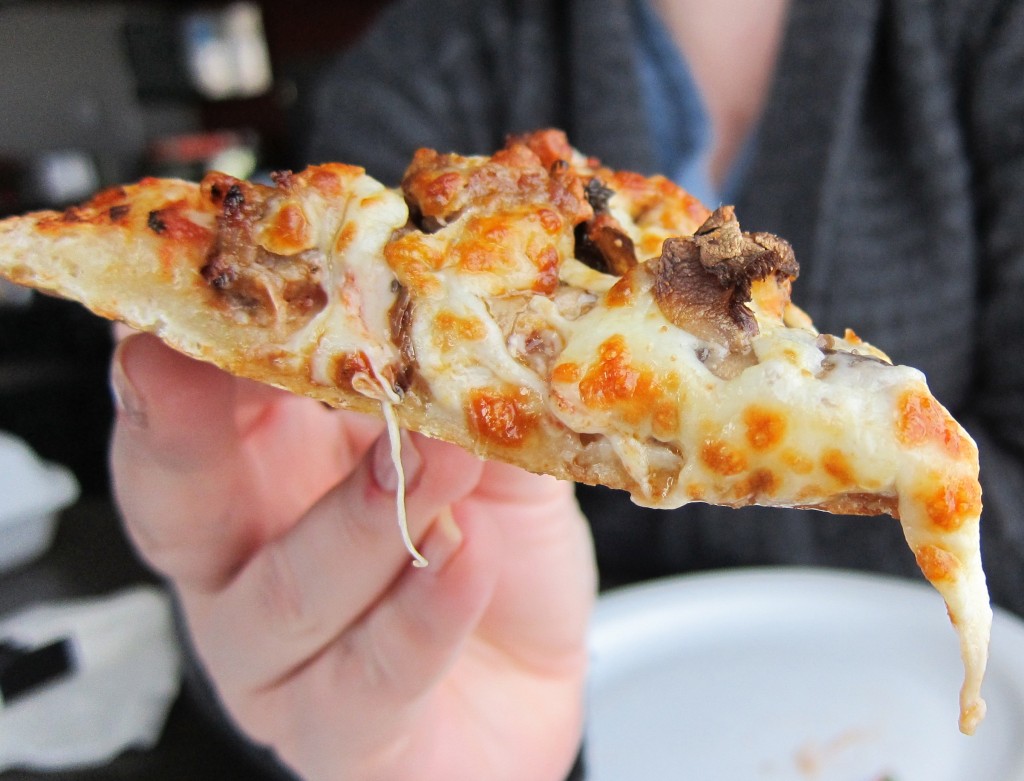 Toppings–  There's plenty of cheese and a decent amount of mushrooms, but the star here is the fresh italian sausage. The folks at SLiCE are dotting the pizza with raw, fresh sausage and cooking it directly on the pizza, and the result is a deliciously moist, springy sausage that makes a huge difference to the finished product. Finally, a pizza place doing sausage the right way!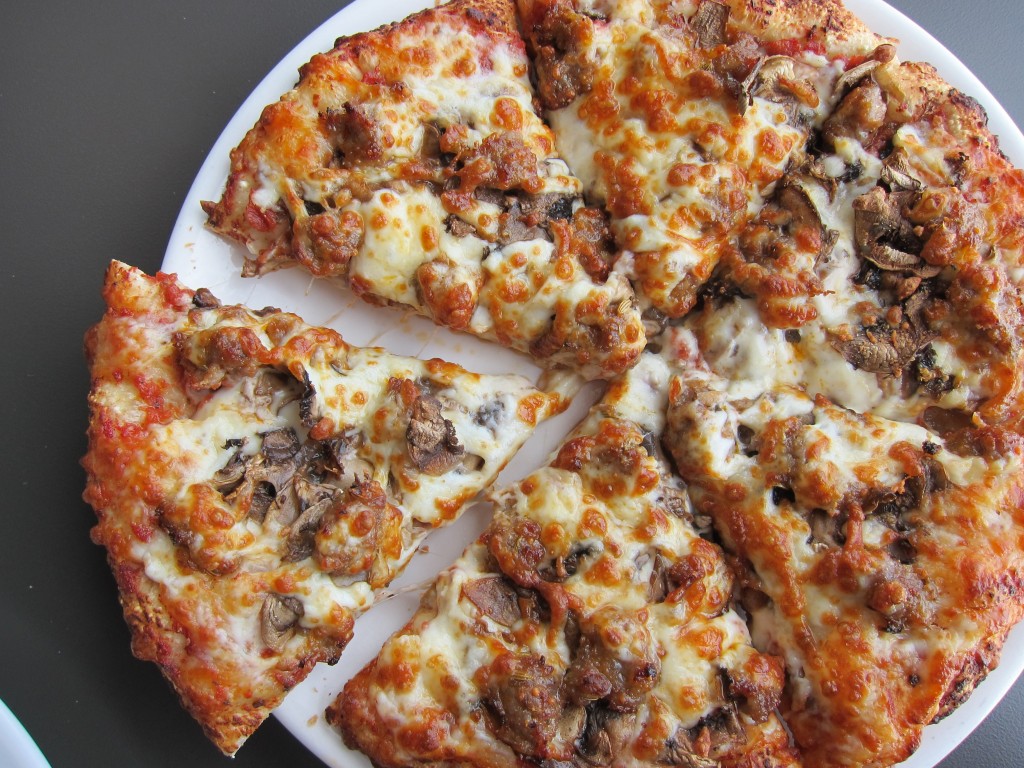 Cost- 12″ 2 topping- $17.00
For a relatively unknown little pizza restaurant in the middle of nowhere, SLiCE has a lot of good things going on, and I'll admit that it was a pleasant surprise.
I think it's pretty obvious that my winner this week is SLiCE – it's a heck of a trip for someone not in the SE area, but may well be worth it.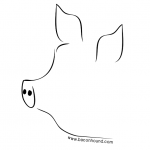 Baconhound is an Edmonton food blog, focusing on the best restaurants and dishes in Edmonton and beyond. Phil Wilson is also host of the Edmonton, Alberta based food podcast, Off Menu.