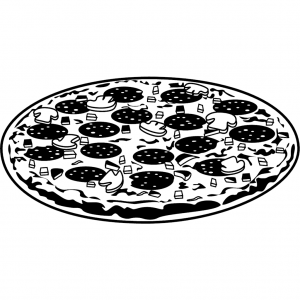 After last week's battle of thin crust pizzas, I really wanted to try a couple of thicker crusts for this edition of the yeg pizza odyssey. Luckily a friend was having a housewarming on Saturday pretty close to Monty's, so I had a built-in excuse to head to an area I don't normally frequent.
Monty's Pizza–  1027 Potter Greens Drive
When the pizza arrived, it looked like the pan-style pizza you find all over Alberta. Thick crust, tons of cheese, and saucy as hell. Exactly the kind of pizza we've all eaten after a few beers (a few past your limit, that is), and have lost all respect for your body and what goes in it.
The Crust
Pan style pizza always has a thick crust, and this one was no exception. Sometimes pan pizza bottoms are oily, almost semi-fried – which I like – but this one was a drier version. It had a bit of outer crispiness to it, and a nice soft interior. It had no problem holding up the ample toppings, so eating it one-handed was a breeze. It's obviously a lot more bread-like than its thin crust cousin, so I think it's better to oil the pan heavier to create that fried texture that gives this crust some personality.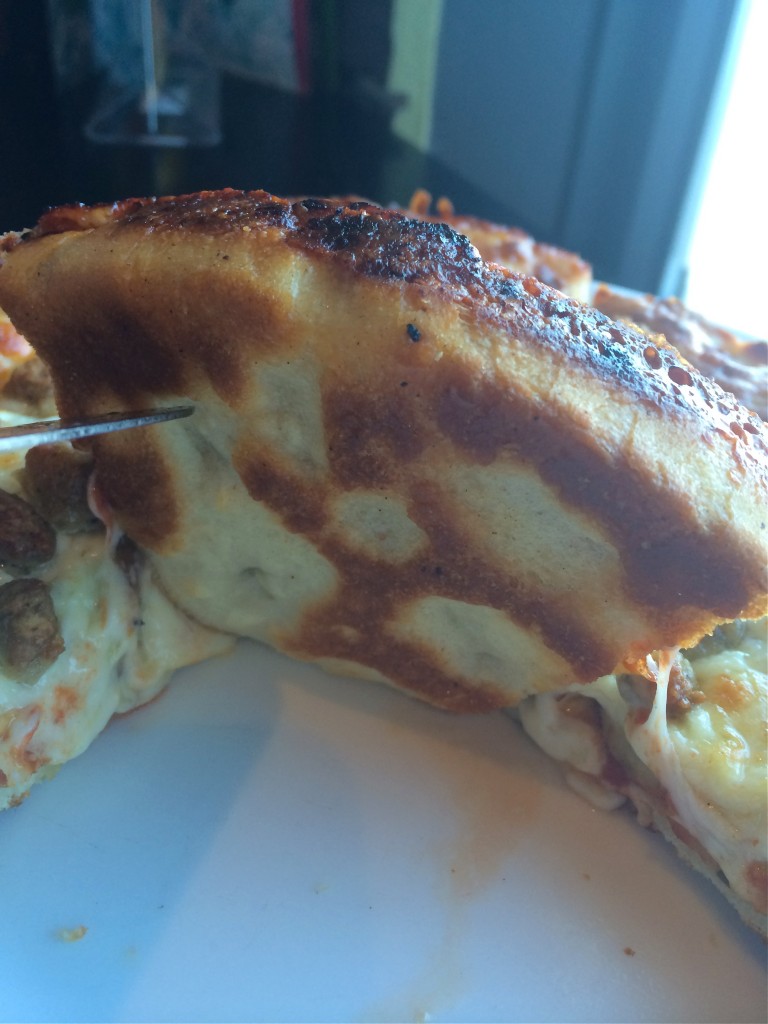 The Sauce
Monty's sauce is fairly heavily seasoned with herbs and spices. It's the kind of sauce I'd classify as "pizza sauce" as opposed to tomato sauce, since the pizza seasonings are the dominant flavour. I prefer the sauce to be light and fresh, providing a nice balance to the fatty cheese and toppings, so I'm not a big fan of this one. There was quite a bit on there too, which isn't great if you don't like the sauce.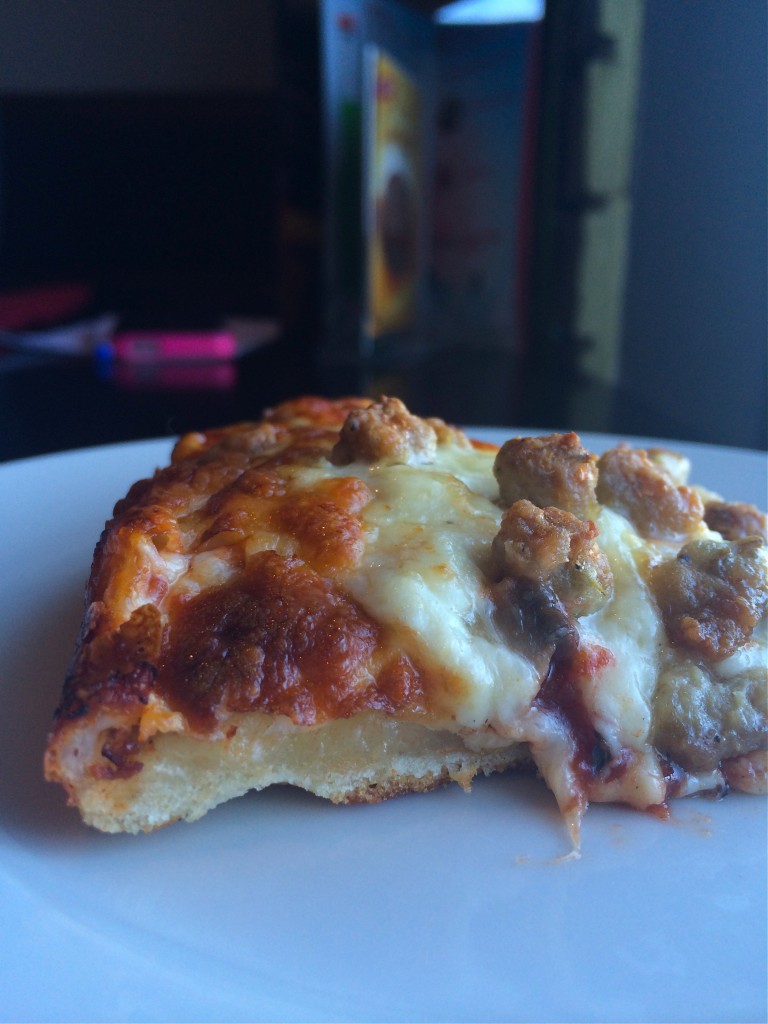 The Toppings
Cheese! Glorious, delicious cheese! There's a mountain of it on Monty's pizza's, and I couldn't be happier about it. They've smartly pushed it right to the edges to get that crispy stuck-to-the-pan goodness, and it was my favourite part of this pizza. You almost have to stand up when you lift a slice because the cheese stretches about a mile. Well done, Monty. Well done.
Under the cheese sat a nice layer of mushrooms which gave off lots of flavour. It should go without saying the mushrooms were fresh and not canned, because does anybody in their right mind use canned mushrooms anymore? Lord, I hope not.
Sausage is a contentious issue for me, and I fully admit I'm a bit of a sausage snob. I'll always prefer fresh sausage on my pizza, but these processed sausage nubs Monty's (and many, many others) use aren't all bad. There was quite a bit of them, and at least they weren't dry.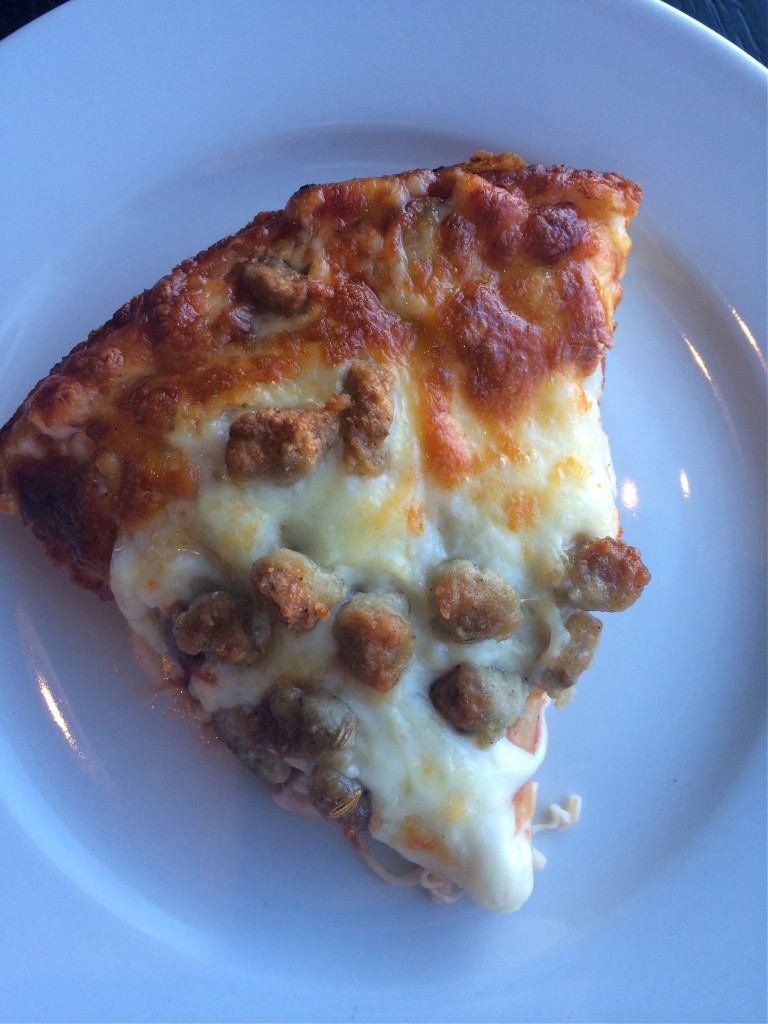 As far as pan pizzas go, this one was pretty much the standard.
Cost– 8″ $12.95. (10″ $15.95)
Coliseum Pizza and Steak House-  8015 118 ave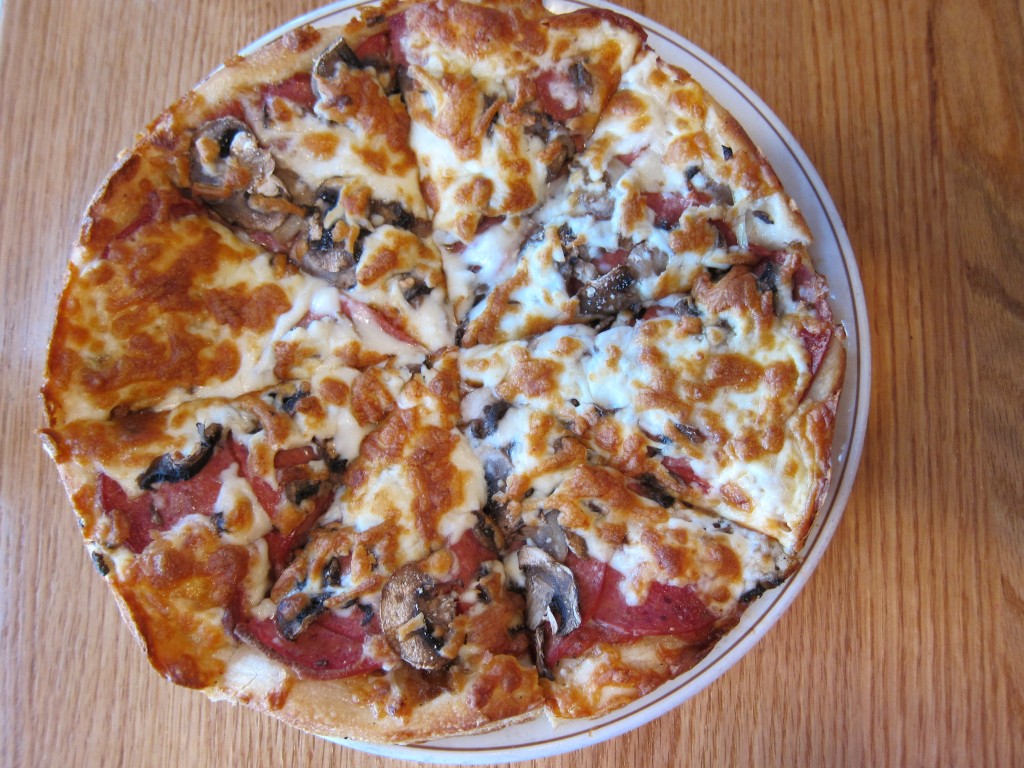 The second stop this week is a  favourite of the old Edmonton Oilers of the 80's, and it's pretty popular with fans and families on the north side too. I stopped by mid-afternoon on a Sunday and it was packed – much more so than some Oilers games these days though, in fairness, Coliseum Pizza is providing much better value.
I went for a pepperoni and mushroom, so it would match up fairly closely with what I got at Monty's (the only sausage I saw on the menu was on the meat lover's).
Crust
The crust here isn't drastically different from that at Monty's but I did find it a bit wetter, almost soggy, towards the middle where some of the mushroom moisture ran under the pizza. It still had some crispness to the edges and was easily capable of holding up the weight of the toppings. It had a definite bready quality to it, which you expect when ordering a pan pizza, but I didn't find it too bulky.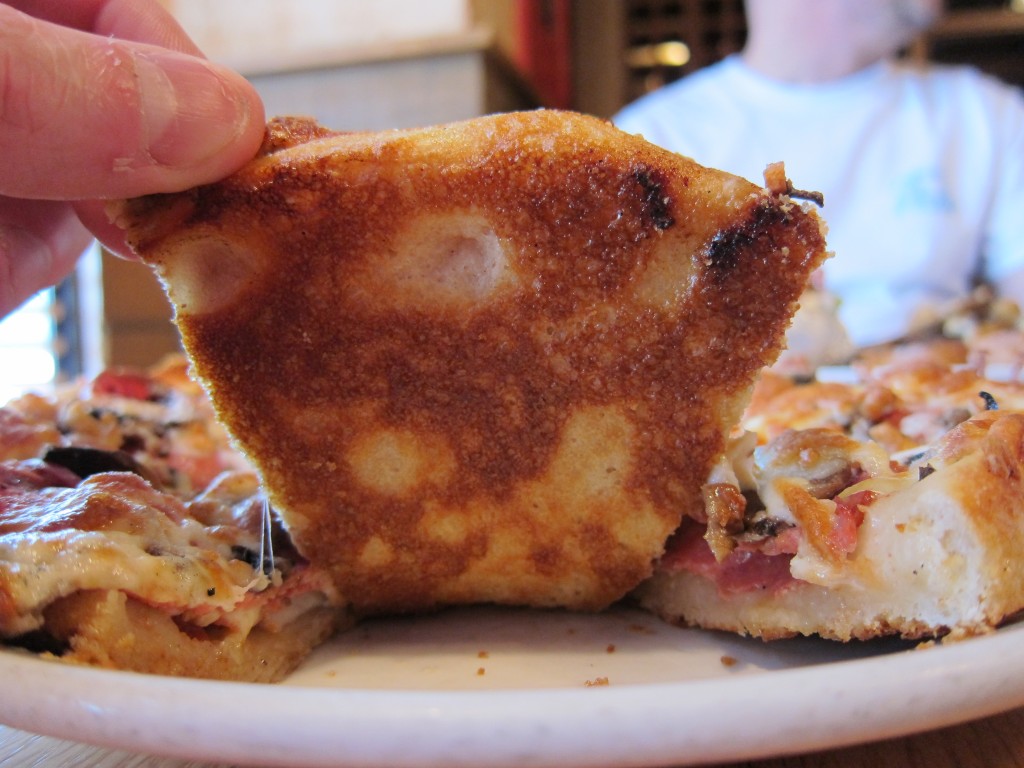 Sauce
The sauce here is pretty thick; like, tomato paste consistency thick. It tended to fill up the divots in the dough, giving you a saucy bite, then a bite with basically none. It was also aggressively seasoned, but maybe slightly less than Monty's. You actually got some tomato flavour, so I'd say I preferred the sauce here.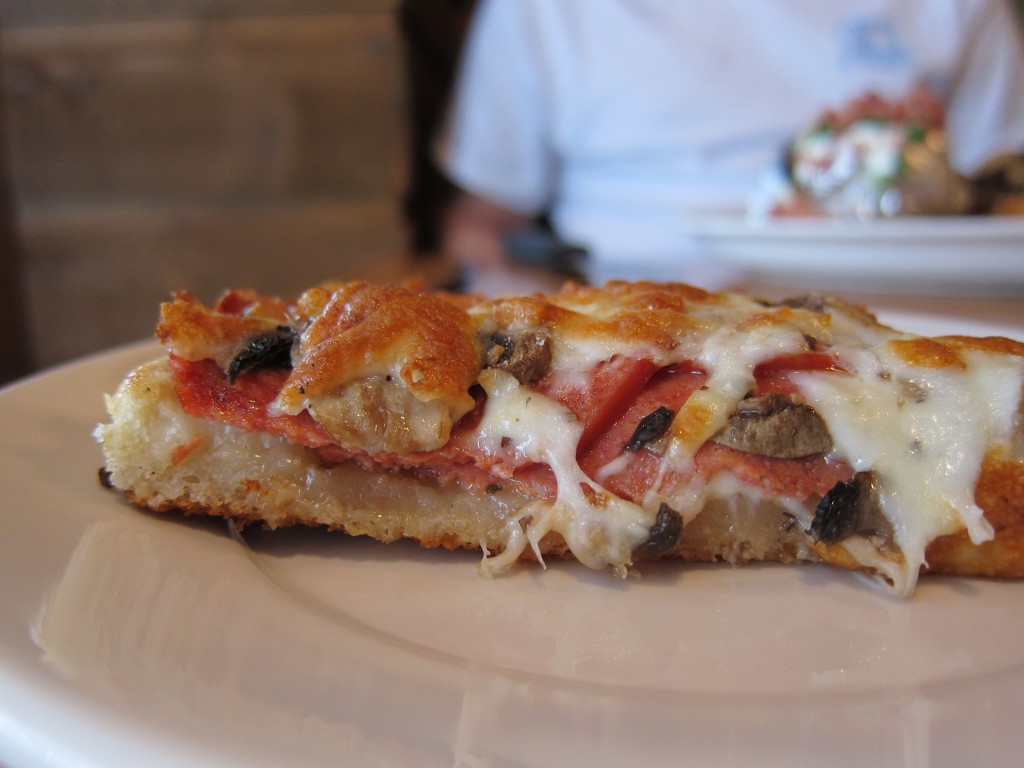 Toppings
The hallmark of a good pan pizza is lots of toppings, and this one didn't skimp.  It was impossible to get a bite without pepperoni and mushroom in it, and though less cheesy than Monty's, the overall balance of the ingredients was better. All the toppings also managed to stay put on each piece as you pulled it away from the pie, so that's a bonus.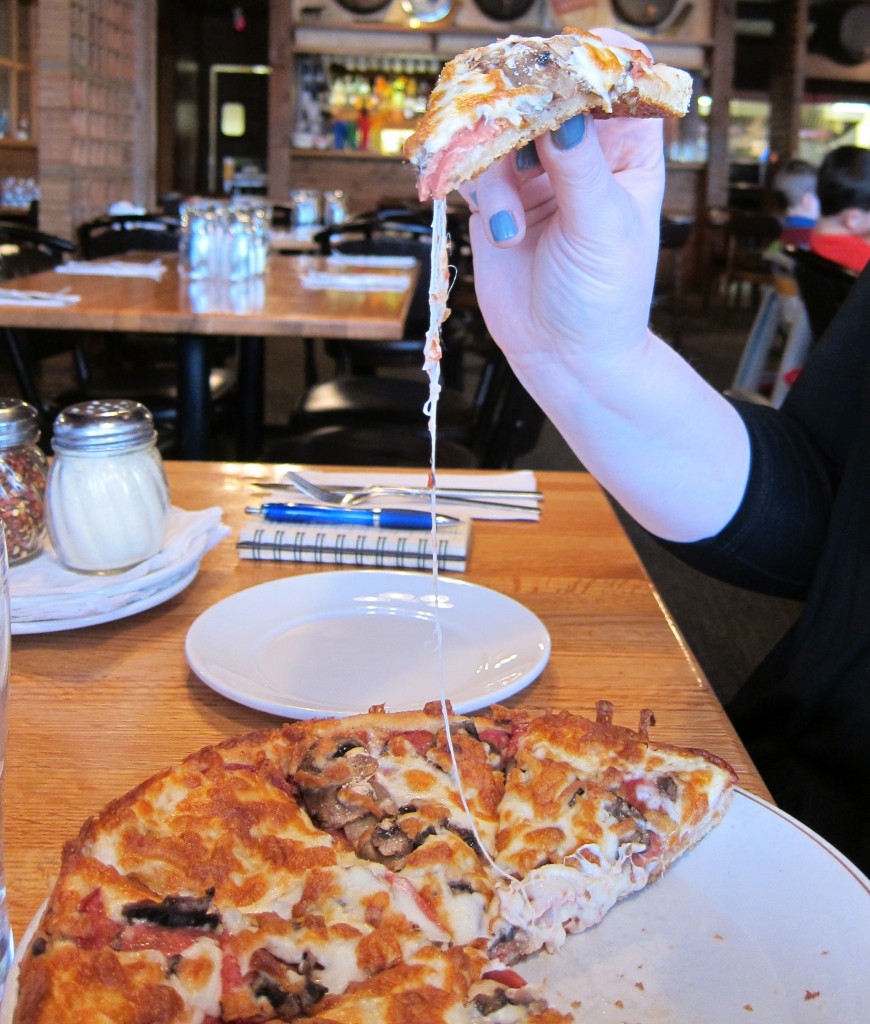 I knew going in to this pizza odyssey that it would be more difficult than the burger odyssey, and the battle of pan pizzas is proving that to be true. You'd be hard pressed to identify much more than incidental differences between these 2 pizzas, but I'm giving the "W" this week to Coliseum Pizza because their sauce was wasn't the predominant flavour and there was a better balance of toppings.
Cost– 10″ $17.95
What do you think – are thicker pan pizzas "if you eat you one, you ate them all"? Or are there ones that really set themselves apart from the pack? Let me know your thoughts in the comments.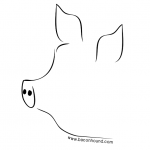 Baconhound is an Edmonton food blog, focusing on the best restaurants and dishes in Edmonton and beyond. Phil Wilson is also host of the Edmonton, Alberta based food podcast, Off Menu.