No matter how many times you've cooked Christmas or Thanksgiving dinner, you can always learn a few new tricks from a pro to help things go smoothly. This year I enlisted the head chef at the Fairmont Hotel MacDonald Hotel, Serge Jost, to give me a few pointers and of course share them with y'all. (sorry for the y'all, I've been in Texas)
Of course if you just want to read along for interests sake and join Chef Jost's Christmas dinner at the Mac, I wouldn't blame you. No matter how many tricks and tips you learn, you've still got to do the work and that dreaded clean-up. There's a whole bunch of festive season dining options at The Mac, and the food will undoubtably by fantastic. Check it all out here.
When it comes to the turkey itself, Chef has a few tips that I found really interesting:
Take the legs off – At the hotel, Chef Jost takes the drums off and in doing so the turkey body as a whole cooks more evenly. Rather than trying to get 2 distinctly different parts of the bird cooked to perfection at the same time, you can just focus on getting the breast succulent and juicy, and do the legs separately. I think it's a brilliant little change to the typical way but, of course, you're going to miss out on that Instagram-worthy full roasted turkey picture. A plump and juicy breast (yes, I'm giggling right now) is far more important than that picture anyways. (I can hear food bloggers gasping from here)
Treat the legs right – So what should you do with the legs now that you (or your butcher) have expertly removed them? Chef Jost's advice is to debone the legs, roll and tie them, and roast separately. I really love this idea for a bunch of reasons, not the least of which is ease of serving. At my house nobody really takes the full leg, so they sit there untouched until there's nothing better to eat. When you roll and roast separately, you can cook it to a perfectly juicy temperature without competing with the readiness of the breast. You can then slice reasonable sized pieces of the tasty dark meat for your guests to enjoy. Heck, if you're feeling especially adventurous you can even take the opportunity to add some chopped herbs or stuffing to the leg to jazz things up a bit. Oh yeah, don't you dare throw those leg bones out either… or the neck for that matter, you've got gravy to think about.
Everything's better with butter – So you've got your turkey amputated and ready for roasting and all that's left to do is slide it in the oven and relax, right? Just a minute there, big shooter, we're not done here yet. Chef Jost's next tip is slick as butter. In fact, it IS butter. Help that naturally dry white meat stay moist by sliding some butter under the skin. Herbed butter even, if you're feeling creative. Just carefully loosen the skin with your fingers, being careful not to tear it. Be generous – that buttery goodness is not going to waste. Those tasty juices will eventually make their way into your gravy (the thought of which has me drooling already). Once you have a nub or 2 under the skin, massage the outside of the skin to distribute. The butter adds moisture in 2 ways – some will permeate the breast, and it also creates steam in the oven. As far as seasoning your turkey, simple is better – sprinkle with salt, pepper, and a little paprika and let the turkey shine.
Don't stuff it – When it comes to stuffing, the chef suggests to cook your stuffing outside the bird. You've got a lot to do already without the worry of possible food-bourne illnesses from undercooked stuffing. My personal opinion is that cavity stuffing is terrible anyways, so I didn't take much convincing to avoid that mushy stuff.
Let it be – Now that the turkey is oven-ready, do yourself a favour and use a thermometer to test for doneness. Cook it at 320 degrees covered with parchment or foil to keep the moisture in and remove the covering with few minutes left to crisp the skin. Try to limit how many times you open the oven door as you're releasing all that valuable moisture every time you just have to peek – with the steam method, there is no reason to baste the turkey continuously. At the Hotel MacDonald, they remove the turkeys from their sous-vide ovens at exactly 149 degrees – they will continue to rise to 160 degrees as they rest. But how long does it need to rest anyways? Being French, Chef Jost not surprisingly times his resting period as "enough time to enjoy a nice glass of wine". Being English, I'd give it a minimum of 30 minutes, but there's no reason you can't do it hours in advance and pop it back in the oven to warm back up before serving.
Up is down – Another valuable tip from Chef Jost is to rest your turkey with the breast down, so the juices don't just run onto the cutting board but rather absorb back into the breast meat. It makes sense to me, but I'm ashamed to admit I hadn't thought of that before. When you're ready to carve, pour all the remaining pooled juices into your gravy or do what I do and ladle some back over the top of the meat.
Bigger is not always better – The optimal turkey size is approximately 5-7 Kg – the gigantic turkeys are older birds, which means the meat is less tender and more dry. Too small of a turkey gets you barely anything more than skin and bones. Better to have two 7 kg turkeys than one 15 kg one.
Now for the gravy which, for me, may in fact be the most important part of the whole meal. A rich, meaty gravy takes the entire meal to another level. When it's really good I've been known to drink a few spoonfuls when nobody's looking. Don't judge me.
Plan ahead – Remember the turkey leg bones and neck from earlier? Here's where we put them to good use. Using these bones, and a few vegetables, you can take a whole lot of stress out of Christmas dinner by making the gravy ahead of time!
Mmm…beer – Roast the bones in a roasting pan with a couple washed carrots until browned. 350 degrees ought to do the trick just fine. When they're nicely browned (careful not to cross that thin line between browned and burned or you'll get a bitter, nasty surprise), deglaze the pan with red wine. How much is really up to your own personal taste, but a cup or so is about right for me. And yes, you can go ahead and use white if you prefer. I actually prefer to use light or amber beer here because, you know, beer. If you want to bump up the flavour of the gravy a bit, chef Jost says to add a tbsp of tomato paste before you deglaze and cook it off a minute, then deglaze as usual.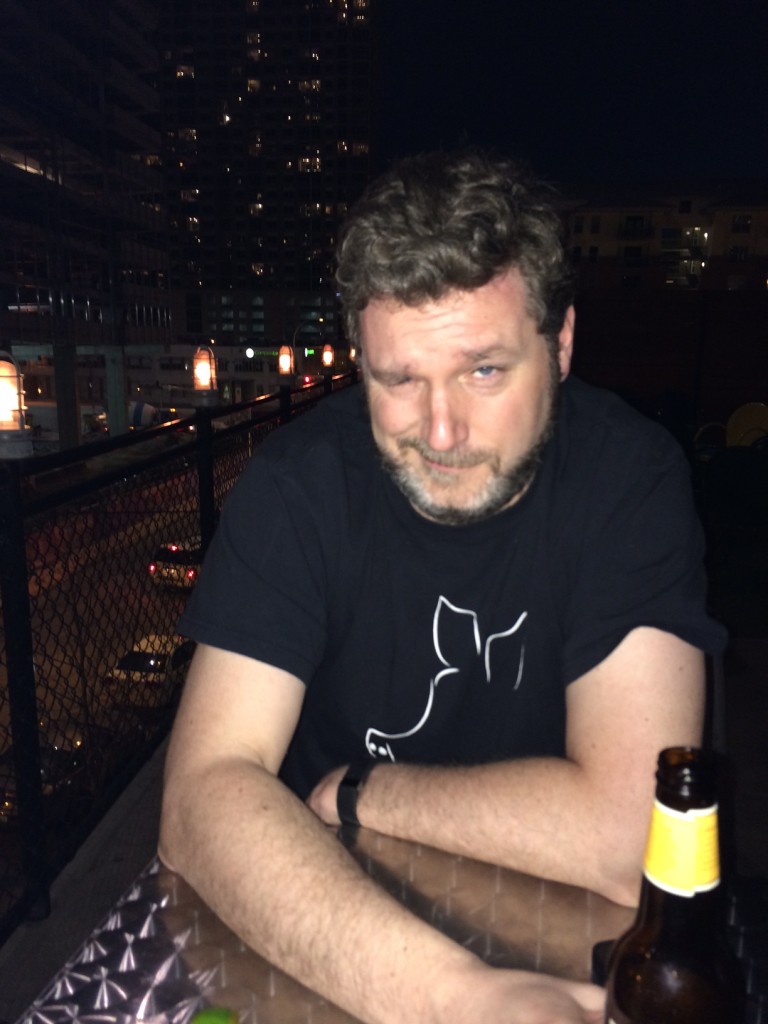 Simmer down now – Once you have deglazed the pan on the stovetop, add chicken stock or water to just cover the bones. Simmer on the stovetop for 1 hour, skimming as necessary to remove any accumulated foam. At this time you can add some dried herbs if desired (bay leaf, sage, ect) or some fresh herb at the end. I'd recommend not salting or peppering at this stage though, as it's going to reduce and you may end up with overly salty gravy; save the salt and pepper until the end.
Roux the day – After it's simmered an hour, strain the liquid into a sauce pot and add in a spoonful of roux to thicken. If you haven't made a roux before, just cook equal parts butter and flour together over low heat on the stovetop while stirring constantly. After a couple of minutes the floury taste gets cooked out and you're ready to use it. Just remember, one of the 2 things – the gravy or the roux – must be cold and the other hot, or you're going to have some problematic lumpiness. I also like to mash the carrot a bit through the strainer to extract as much flavour as possible, and whisk some of the mashed bits right into the gravy.
Save and savour – At this point if the seasoning is to your liking, you're done. Just add any accumulated juices from the turkey resting/ carving, and you've got one fantastic gravy. I love the idea of making the gravy the day before to save some of the frantic scrambling that always occurs as you're trying to piece together the entire meal before serving. It's already done and waiting for you in a pot on the stove, and some of the associated dishes are already taken care of too! As a bonus, you've still got plenty of turkey bones to make yet another batch of gravy on Boxing day to go with the leftovers (pro-tip – leftover gravy freezes beautifully, and there's nothing better than having some kick-ass gravy at your disposal any time you want it).
I tested all these methods myself on a chicken after chatting with chef Jost – I'm amazed at what a difference utilizing a few smart tricks made to my roast chicken, and I'm sure you'll find the same with your turkey.
What are some of your tips for the perfect Christmas Dinner? I'd love to hear them in the comment section below!