This year I got to attend Christmas in November at the Jasper Park Lodge for the first time, thanks to the generous sponsorship of The Edmonton Journal's Gastropost.*
Chef Dale MacKay's session was one of the sessions I was most excited to see coming in, and the Top Chef Season 1 winner did not disappoint.
MacKay, sporting a magnificently lumberjack-esque beard that fit in with the rugged Jasper mountain landscape perfectly, gave a clinic on perfectly made fresh pasta, and doled out plenty of tips to help us all pull it off at home with no trouble.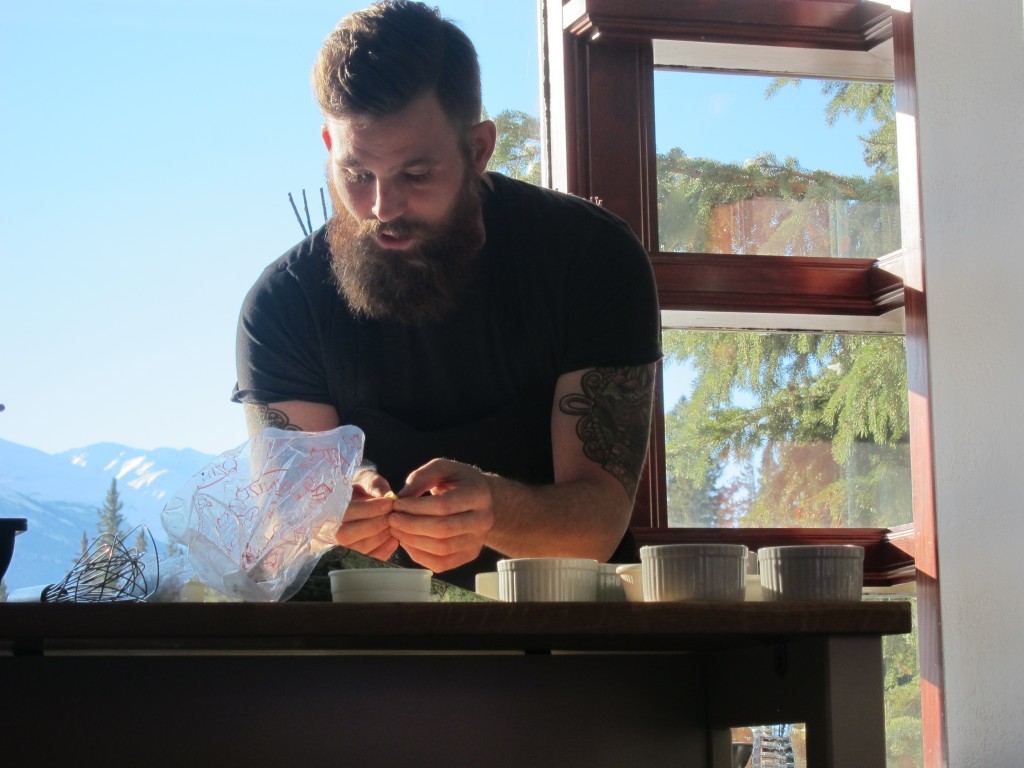 MacKay started by making a simple pasta dough and his opening remarks of  "eating fresh pasta should be about the pasta, not the sauce," immediately set the tone for the session. MacKay explained that the moisture level of fresh pasta is very important; too wet and it'll get stuck in the rollers, but if it's too dry you won't be able to pinch together the ravioli or tortellini.
Dale suggested only rolling out a small portion at a time, while keeping the rest covered with a damp cloth to help ensure your dough doesn't dry out while you're working with it. "You can't save dried out pasta dough; just throw it out and start again", says the former protege of famed chefs like Gordon Ramsay and Daniel Boulud. With credentials like that, you better believe I'll be taking his tips to heart.
Chef MacKay also suggested rolling out your dough into flat sheets (to about a "6" on your pasta roller) and wrapping it in cling wrap which allows you to freeze it easily. This makes having fresh pasta for dinner even easier to accomplish than using the dried stuff. Just remove the sheet from the freezer (it will keep for about a month in there just fine), let it thaw for 10 minutes, and cut it into your desired shape. Fresh pasta boils up much faster than dried, so in less time you'll have a far superior result. FYI, I did exactly that at home a few days after the session and it worked perfectly.
MacKay then made a filling with fresh ricotta, chopped spinach, eggs, nutmeg, parmesan, and salt and pepper (frozen spinach is A-OK, just make sure you squeeze all the excess moisture out of it before adding it to the cheese to help avoid your filling becoming too watery).
MacKay uses disposable piping bags to fill the tortellini or ravioli, and probably the coolest tip, and one that elicited an audible "oooooh" from the whole room, was to fill your piping bag, then wrap the open end around your finger and spin the bag propeller style to force all the filling to the pointy end. It seems simple, but that's a smart little trick, and a fantastic way to find out if you've got a hole in your bag. (Don't ask).
This guy is full of handy-dandy tidbits that I'm stealing for myself!
The chef's advice for filling is simple: "Don't get greedy and over-fill. You're just making yourself a problem when it comes to sealing them up, and you risk them blowing apart in the water." Showing some restraint can be difficult (trust me, I know!), but just remember what chef MacKay said earlier about it being about the pasta first.
When the filling quantity is appropriate and the dough texture is perfect, sealing the little pouches is remarkably easier than you'd think. I can speak from personal experience here, as I was pulled up to help in the demo and seal some tortellinis and raviolis. I had never done it before, but with a quick demo from the Top Chef himself I was making perfect specimens in no time. Not a single blowout either when we boiled them up; the key being getting all the air out while sealing which, if left in the pouch, will burst your pasta.
Before dropping your pasta, remember to liberally salt the water as there is no salt in the actual dough, and it only takes about 5 minutes to cook, so you'd be wise to have your sauce ready to go.
The sauce MacKay made is a super simple Brown Butter Sage Sauce, which adds a ton of nutty flavour and richness to the tender pasta. Just heat butter in a saute pan over medium heat until it foams and starts to brown. Add a sprig of sage and fry for 30 seconds. The only thing you really need to watch for is to not darken the butter too much or it will become bitter instead of nutty. The tip-master also advised to add a couple tbsp of pasta water or chicken stock at the end off the heat to help emulsify the sauce and improve the texture. That's a trick I hadn't heard before, and I can't wait to try it myself.
At the end of the session all the attendees got to have a sample of the finished product, and it really was delicious. The texture of a good homemade pasta is much different than dried pasta, and has a beautiful chew to it that I love. The sauce added a nice rich compliment to the pasta, but as chef MacKay suggested at the beginning of the session, the pasta was definitely the star of the dish.
If you're in Edmonton you'll have a chance to see chef MacKay in action up close and personal, as he is a featured chef for the upcoming Northern Lands Festival happening in March. Check out the website here for all the details.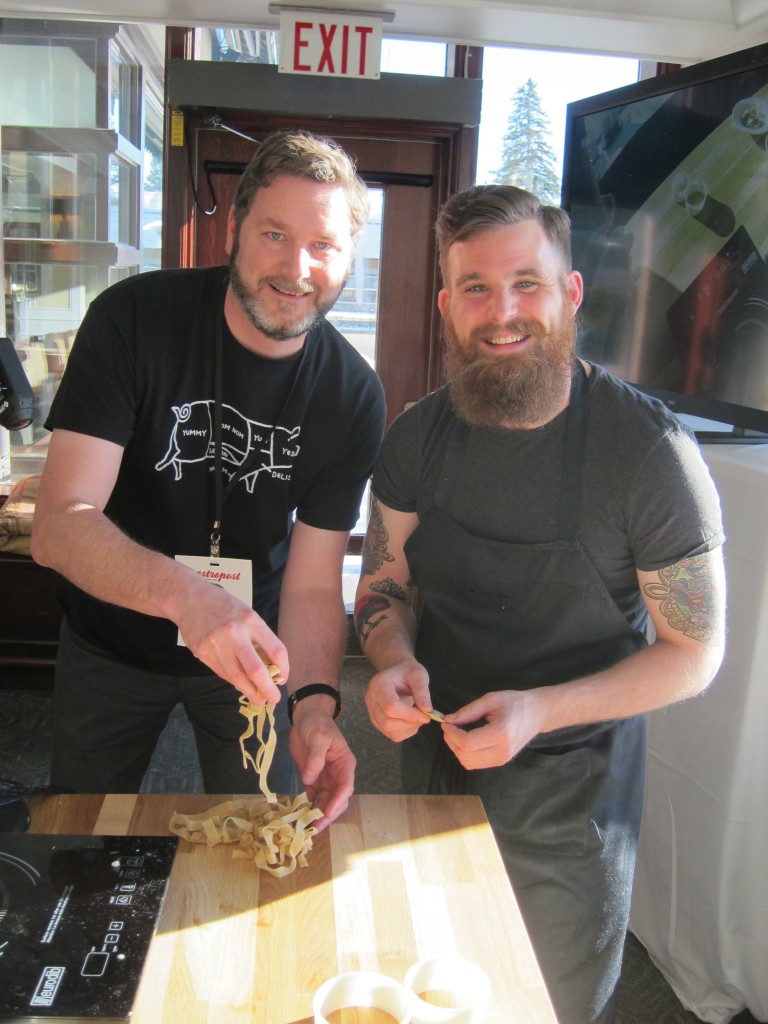 Side Note: I made a batch of pasta a couple days after getting home from Jasper, and though I made a different filling (mine was carrot and boursin) in a brown butter sauce, it was equally delicious. See for yourself…
Pasta Dough:
300 gr AP flour
3 eggs, preferably organic free range
Spinach& Ricotta Filling: 
1 pkg frozen spinach, thawed and thoroughly drained or 6 heaping cups of fresh baby spinach
300 gr ricotta
1 tsp freshly grated nutmeg
2 eggs
1/2 cup parmesan, freshly grated
salt and pepper to taste
Brown Butter Sage Sauce:
4 tbsp butter
2 sprigs sage
1/3 cup pasta water or light chicken stock
Dough:
Place flour in food processor, and with the blade running incorporate eggs one by one. Allow to fully come together. Remove from bowl and mound the pasta dough. Knead the dough to bring together. Wrap in cling film and rest the dough for at last half an hour in the fridge.
Spinach & Ricotta Ravioli:
In a food processor, pulse the spinach to lightly chop it. Transfer to a large mixing bowl and combine with the remaining ingredients. Season to taste. If using frozen spinach, squeeze excess water out before mixing.
Divide pasta into 2 portions. Roll each portion out to be a long thin sheet ( approx. 1/16″ thick). Using a table spoon, place a dollop of the filling every 2-3 inches along one sheet of pasta. Cover with the other sheet of pasta and press out any air around the filling. Then press the edges to seal. Cut between mounds with a sharp knife, a fluted pastry cutter, or a 2 1/2″ round cookie cutter depending on the shape you want.
Add pasta to boiling salted water and cook for 5 minutes until al dente.
Brown Butter Sage Sauce:
In a saute pan over medium heat, add 1 tbsp of butter for every portion of pasta being served. Allow butter to foam and brown, and when lightly browned add a sprig of sage. Allow sage to fry and infuse the butter for approx. 30 seconds, being careful not to over darken it as this will make the sauce bitter. Remove sage. Add 2-3 tbsp of pasta water or light chicken stock to emulsify the butter and give it a pleasing texture. Toss with your freshly cooked pasta.
* What is Gastropost? Join at edmonton.gastropost.com and start sharing your food photos. Maybe you'll even find yours in the newspaper on Wednesdays.