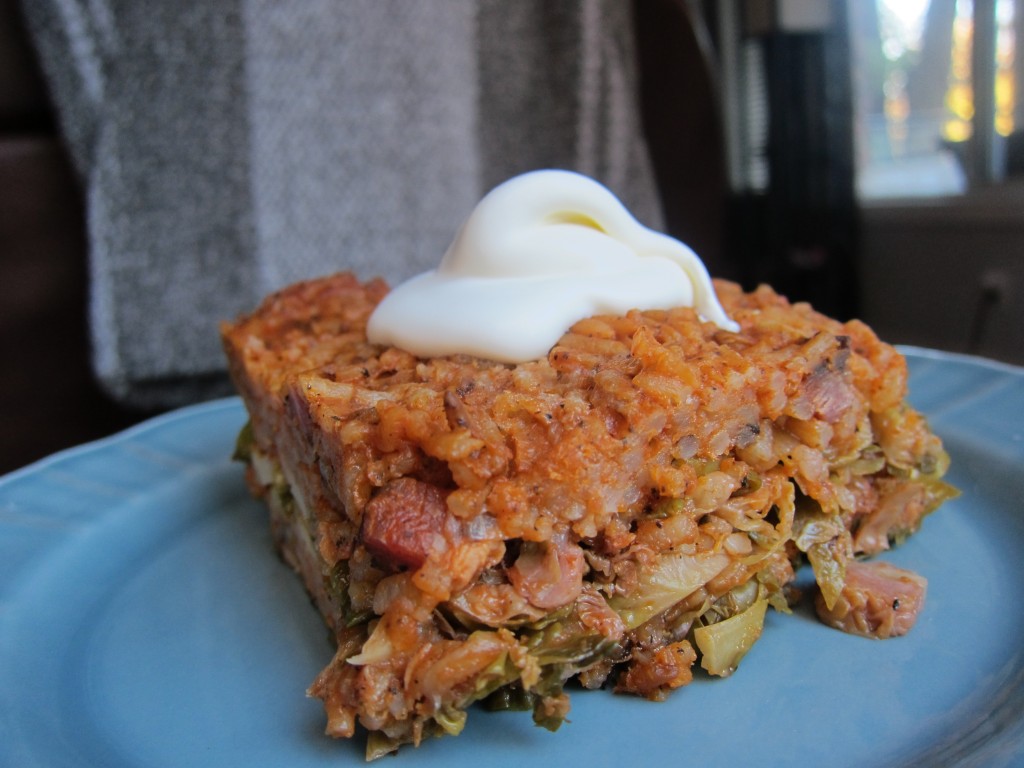 What do you do when your friend gives you a box of fresh brussels sprouts that's so big it won't even fit in the fridge?
You put a twist on an old classic and make Brussels Sprouts Lazy Cabbage Rolls, of course!
I'm a big fan of cabbage rolls, but not so much of the pain-in-the-butt rolling and stuffing of the little rascals. Though we never really ate cabbage rolls in my house growing up, Robyn's mom used to make the lazy cabbage roll casserole every Christmas, and I always enjoyed it. I really don't think the dish loses anything by not being rolled, and it's so much easier and less time consuming.
There's a million recipes out there for it, and though I'm usually a "make everything from scratch" kinda guy when posting recipes, this one just seems right with the canned tomato soup. I'm sure it would be great with homemade tomato sauce, but something about baking with canned soup makes me nostalgic.
The difference using brussels sprouts instead of plain old green cabbage was pretty noticeable, and I think I even liked this version better than the classic. Try it for yourself and see what you think.
Brussels Sprout Lazy Cabbage Rolls
1/2 lb bacon, diced
1/2 medium onion, diced
3 cloves garlic, minced
4 cups shredded brussels sprouts
1/2 cup rice
2 cans of condensed tomato soup
1 1/2 cans chicken stock
2 tbsp butter
Preheat the oven to 350 degrees.
Fry the bacon, onion, and garlic until the bacon is crisp and the onions are soft.
Mix together the tomato soup, stock, salt, and pepper. Reserve 1/2 cup of the liquid and add the rest to the bacon/onion mixture.
Add rice and bring to a boil. Reduce heat and simmer 20 minutes or until rice is cooked.
Grease baking dish and lay down 1/2 the brussels sprouts. Layer half the rice mixture on top, and repeat.
Pour the reserved soup mixture over the top and dot with the butter.
Cover and bake for 1 hour.
Serve with a dollop of creme fraiche. (Recipe HERE)