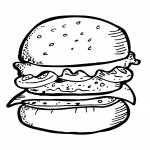 BBQ joints aren't always known for having the greatest burgers. The typical "low and slow" bbq credo doesn't have a lot of place in the burger world, yet these 2 well known bbq hot-spots have both decided to round out their menu's with burger offerings. Of course I was curious if either of these pit masters would produce a real contender in the YEG Burger Quest, so I had to check them out.
Smokehouse BBQ-  10810 124 st, Edmonton
I've tried a few items off the Smokehouse food truck with mixed results, but the restaurant has a burger on the menu that really caught my eye- the Smokehouse Candied Bacon and Jack Burger. Here's the deets:
Meat- The patty was dense and very dry. Not only dry, but it seemed to us to be kind of old, as if the burger had been fully cooked, then reheated again afterwards. I decided to ask about it, and was told that the burger is cooked totally in the smoker…BUT if it sits around too long they chuck it on the grill to warm up. That explained a lot. There was a slight smoke ring encasing the patty, but the smoke flavour wasn't really noticeable. On the plus side, I didn't get any gristle in this burger.
Bun- The bun was soft and grilled just about perfectly. Stabbed into the top of the bun was a spear of deep fried pickle, which we both really enjoyed.
Toppings- The burger was topped with candied bacon and peppered jack cheese. Underneath the patty was a mixture of chopped tomato and lettuce, along with a couple slices of red onion. I realize that people have varying opinions on the perfect amount of candy to bacon ration, but in my books that ratio was seriously off-kilter. It was more like bacon with a very light dusting of sugar – a letdown, to say the least. There was a decent amount of Monterey Jack but, while it melts beautifully, Jack doesn't add much flavour. The lettuce and tomato were fresh and crisp, but being chopped allowed for more spillage when you bit into it. There were no condiments on the burger itself but, as with any pit worth its dry rub, the tables had multiple bbq sauces to choose from for added flavour.
Unfortunately, there wasn't a lot going on with this burger that would get me excited, especially since we both thought the best thing about it was the fried pickle on top. A dry burger with flavourless cheese and no condiments except bbq sauces- none of which I particularly liked- isn't going to have me craving another.
Cost- $13.95 served with fries
Sloppy Hogg's Roed Hus – 9563 118 ave, Edmonton
After being disappointed in the burger at the first bbq joint I tried, I was a little apprehensive about trying their competitor, Sloppy Hoggs Roed Hus.  However being always the optimist, I soldiered on in the search for Edmonton's best burger.
Having visited a couple times in their old location, I couldn't help but notice the burgers making their way to other diners tables (believe me, they're almost impossible not to notice). To give you an idea of the portion size, just picture trying to eat a canteloupe filled with bbq pork and covered in melted cheese. Yeah, this is a ridiculously sized burger, alright.
Even though there is a burger on the menu called "My Ridiculous Fat Ass", I opted for their namesake – The Sloppy Hogg. Now since the description of the burger is almost as big as the burger itself, I'll give it to you straight from the horse's, pig's mouth:
"We start with our house baked waffle bun, top it with waffle sauce, 8 oz. grilled pork burger, two slices of bacon, two slices of mozza, lettuce, tomato, pickle, grilled pineapple, 8 oz. smoked pork butt, two more slice bacon, two slices cheddar cheese finished with our sloppy hogg bbq sauce."
Ok, so over a pound of meat, plus cheese, plus whatever that sweet waffle sauce is, plus a bun that weighs more than a typical loaf of bread? Who can eat all of that?
I was willing to give it a shot.
Looking at my physique, you might not have guessed that I'm not a fan of circus side-show portion sizes. They always seem like more of a gimmick designed to draw your focus away from the fact the food wasn't that good. I have had some exceptions to that rule, with Hash House A Go-Go in San Diego being a prime example, but those exceptions are rare. Would this Sloppy Hogg burger be an exception, or prove the rule?
Meat- How the hell do you even get started talking about all the meat on this behemoth? Luckily I can break it down to just the patty, and talk about the over half pound of meat "toppings" a little later on. Unfortunately, the patty was a total fail for me, it was very dry and short on flavour. I could excuse the patty being under-seasoned given the glut of flavour topping it, but the dryness couldn't be saved by the saucy toppings.
Bun- Sloppy Hoggs uses a house made "waffle bun" for their burgers, and it really did taste just like a waffle. I'd gladly take it home, toast it and butter it, and eat it all on it's own…in fact that's exactly what happened. As a burger bun though, it was dense and heavy. I also found it a touch too sweet to use with burgers.
Toppings- There is no shortage of cheese or juiciness or flavour when it comes to the toppings, that's for sure! The pork butt was moist and tasty, the cheese plentiful, and the waffle sauce added a bit of sweetness (which was probably the reason I found the sweetness of the bun overpowering – keep the sauce, ditch the bun, I'd say). The bacon was nice and evenly cooked, though it does tend to get a lost under the mountain of pork butt/sauce/cheese. The only complaint about the toppings was the lettuce being held hostage between the patty and that pile of meats and melted cheese on top. Maybe hot, wilted lettuce is a delicacy somewhere, but that didn't work for me.
Unfortunately the things that make this a burger are also the things that I found least enjoyable about it. If you just scraped off all the toppings onto another smaller, softer bun, you'd have yourself a pretty good sandwich, but as far as burgers go I think it's more of a head-turning conversation piece than a legitimate burger.
If I had to pick a winner between these in the battle of the bbq burgers, I guess I'd pick the Sloppy Hoggs burger.  At least it had a bunch of toppings that I really enjoyed. Truthfully though, with so many better options on the menu, I'd skip the burger altogether and go straight for any of the other meaty offerings.
Cost- $19.50 with fries and enough leftovers for lunch the next day.