Christmas at my family's house never included a Tourtiere. In fact, I didn't have a tiny clue what the heck a Tourtiere was until seeing it on the table at my wife, Robyn's, family Christmas Eve feast. I mean, who ever heard of serving a minced pork pie at Christmas?
Not me, that's for sure.
Christmas Eve with Robyn's family a big deal, unlike the complete non-event on my side. The whole family would get together, Aunts, Uncles, and cousins included, and partake in a huge Ukrainian orgy of carbohydrates and fat. Perogies, cabbage rolls, Ukrainian Sausage, and a bunch of other stuff I can neither spell or pronounce. It's great! You just unbutton your pants and eat like nobody's watching.
But there was always this one lonely looking plate at the back of the table that didn't seem to fit the theme for the rest of the meal.
Tourtiere.
Truth be told, I wasn't a fan of it at all when I tried it, and it didn't exactly have a legion of fans around the table either. I always found the filling kind of dry, and it always needed a swig of water to help wash it down. It was the kind of pie that could only be saved by gravy. Gravy that wouldn't even exist until tomorrow's turkey dinner.
Last year I saw  Tourtiere for sale at my favourite local bakery, Duchess Bake Shop, and figured that if I was ever going to like Tourtiere, this would be the one. I heated it up, and sure enough it was moist and delicious! I was starting to see how this became a beloved dish in Quebec. It was good enough that it got me thinking about recreating my own version of it at home this Christmas.
So that's what I did.
A couple points about Tourtiere before we get cooking:
Tradition is a little sketchy on Tourtiere. Some say add potatoes, some say not. Some say add diced potatoes, some say mashed. I didn't want any potatoes to be a noticeable part of my pie, so I only used 1,and I blended it into the onions. I figured it would act as a bit of a binder for the pork and help it hold together. I believe I was right on that. I might even add slightly more next time, but I'm hesitant. This pie tasted darn near perfect to me as is.
I pulsed the onion, garlic, and diced potato in a food processor until finely minced. I stopped short of pureeing. Again, I wanted the finished product to look like a pork pie, not a pork and veggie pie.
The spice combinations seemed to vary from recipe to recipe. I knew cloves, cinnamon, and nutmeg were pretty traditional so I used them. Savory is also big in French Canadian cooking, so if you've got it, use it. Equal parts Thyme and Mint is a good substitute of you need to.
Most people make Tourtiere with ground pork, but regular ground pork has a tendency to get dry (as I learnt that first Christmas with Robyn"s family). To combat that, I had my my butcher grind me some extra fatty pork, essentially unseasoned sausage meat, and used that instead. The pie remained nice and juicy, and not dry at all. Another bonus to using a great butcher shop.
If you've got a go-to pie crust recipe, go ahead and use it. However, don't be afraid to use a frozen pie dough like the one I got from Duchess. Sometimes we just don't have time for messing around, making dough from scratch, and we don't have to apologize for cutting the occasional needless corner.
Now that we've made ourselves some shortcuts, let's get cooking.
Fry the pork in a skillet. Medium heat will do as we're not trying to colour the meat here. Add in the minced vegetables, plus nutmeg, cloves, and cinnamon. These are strong spices, so I just used 1/4 tsp of each. Sometime I need an extra pinch, and sometimes I don't.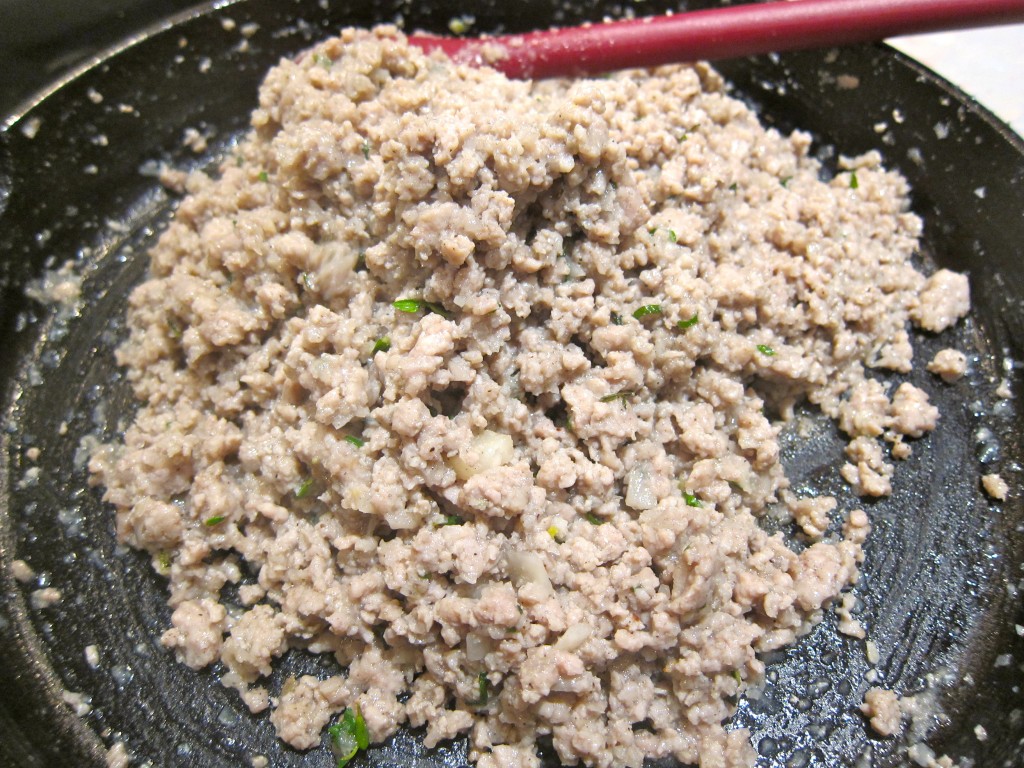 Roll out half the dough and fit it into a standard 12″ pie plate. Fill with the cooled pork mixture.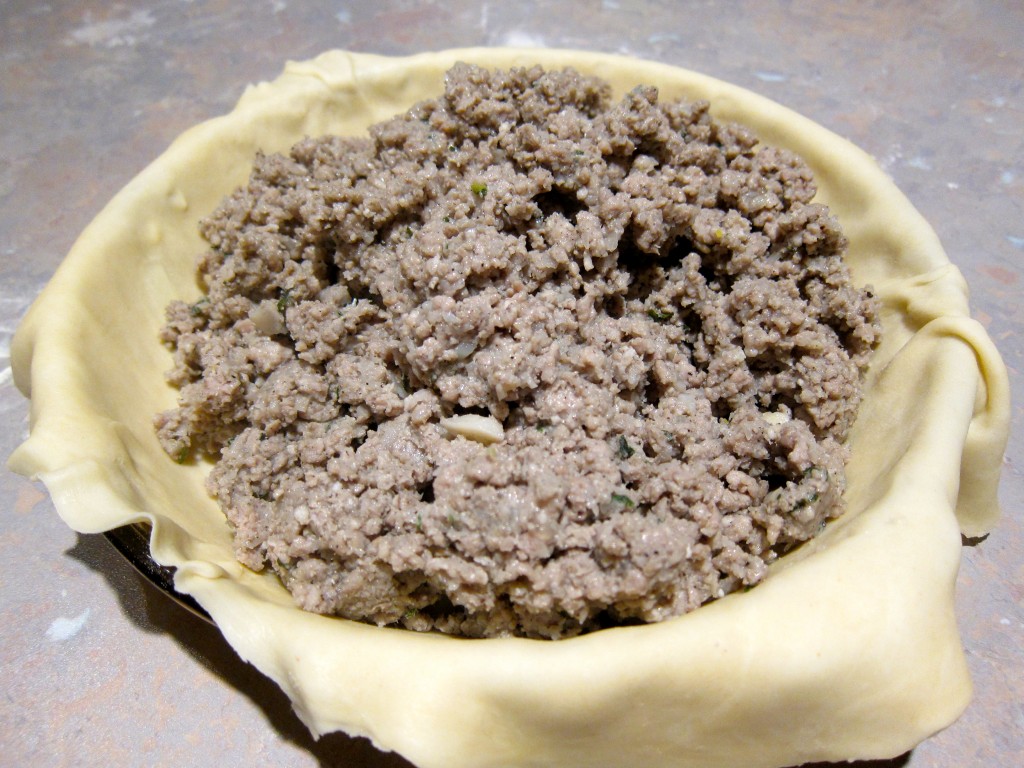 Roll out the other half of the dough and top the pie.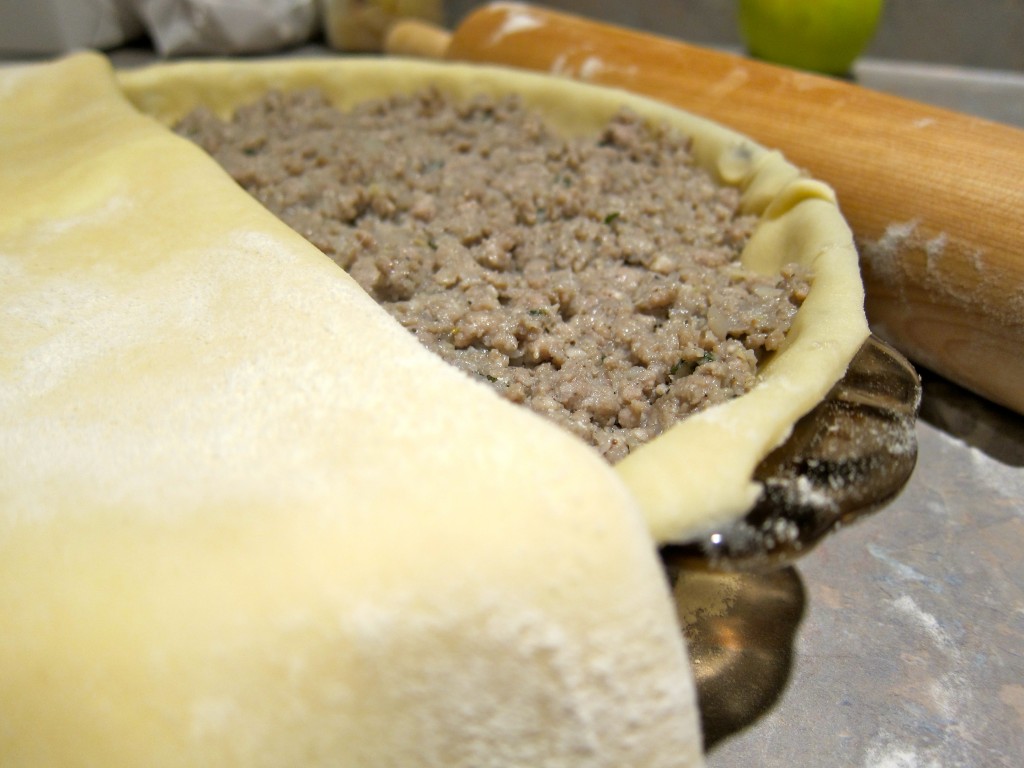 Time for a crimp.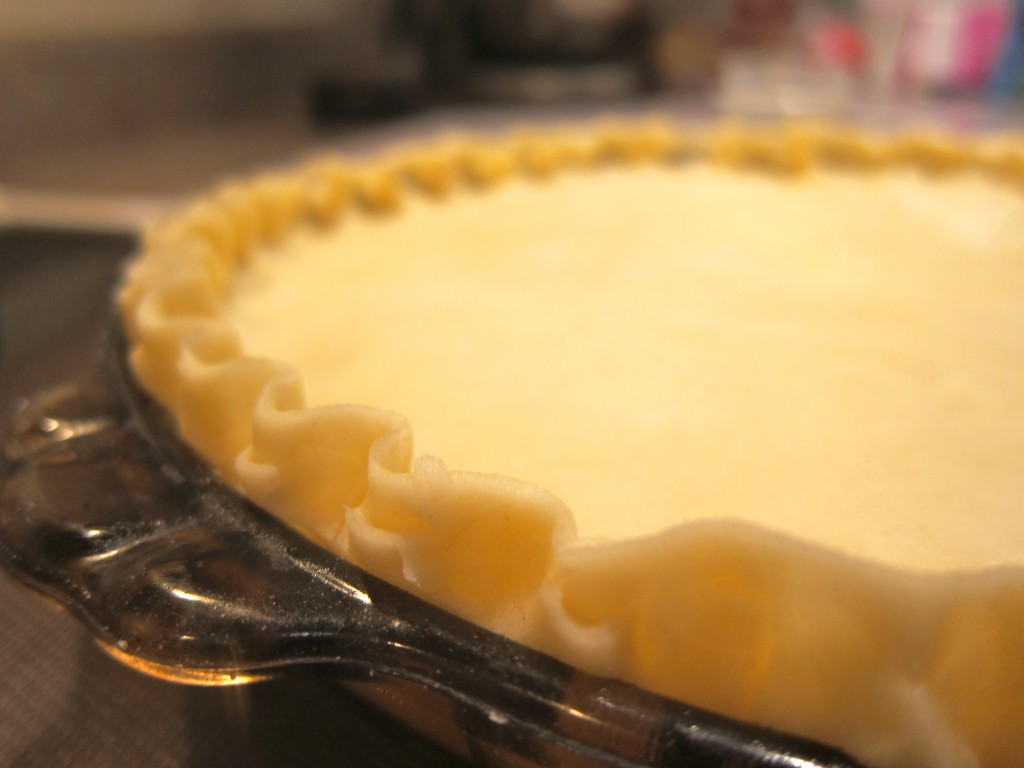 And egg wash the top.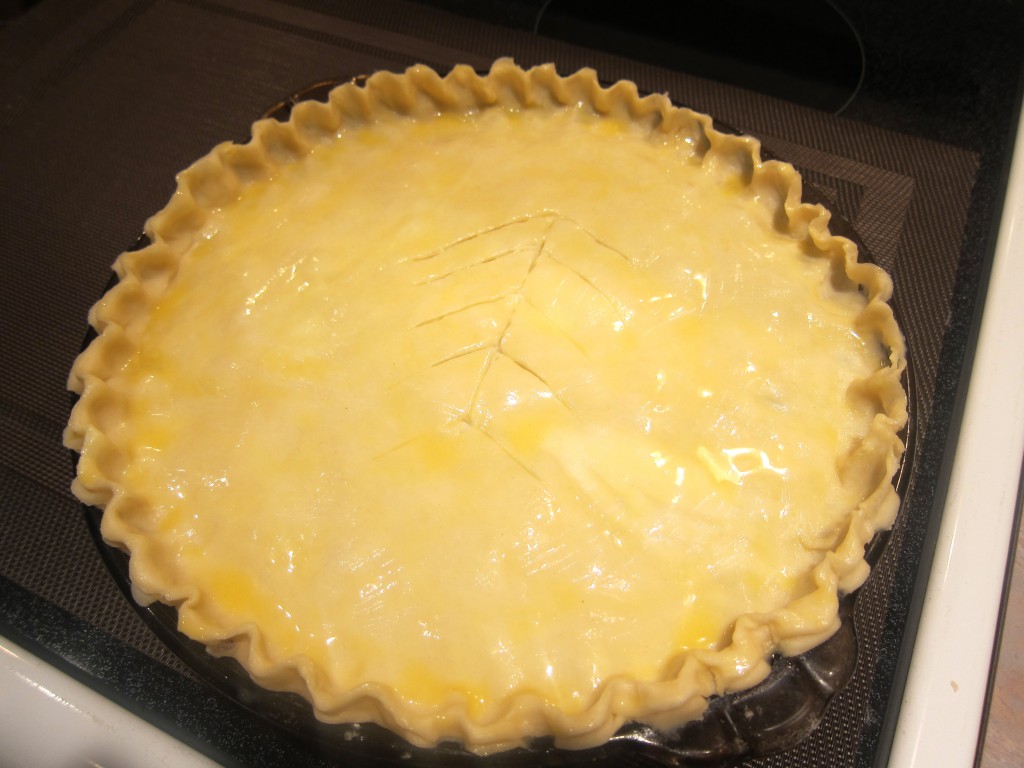 In 1 hour you'll have golden perfection!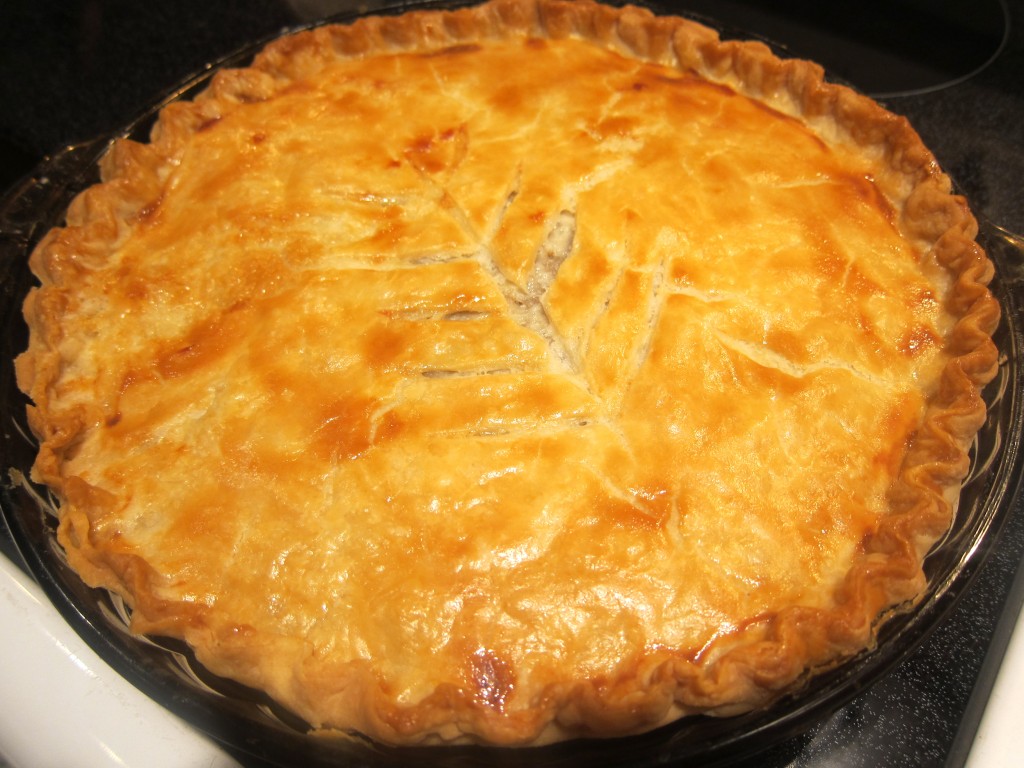 Success!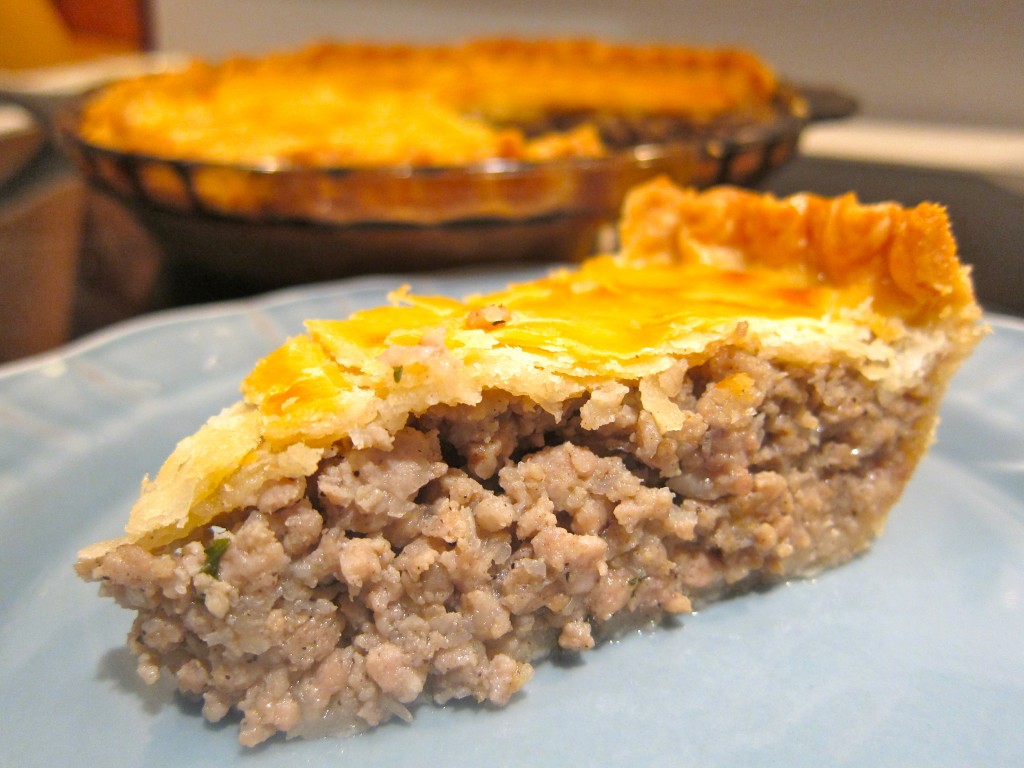 If you're already a fan of tourtiere, I'm sure you'll love this one. If you're not, this may be the one to turn you.
Classic French Canadian Tourtiere
2 lbs ground pork (extra fatty if you can get it) or unseasoned sausage meat
1 small onion
1 medium potato
3 cloves garlic
2 tbsp chopped savory
1/2 tsp each of ground cloves, nutmeg, and cinnamon
Salt to taste (Usually around 1.25- 1.5 tsp)
1/2 tsp pepper
1 package of frozen pie dough- enough for a top and bottom crust
Start by cooking the pork in a large skillet over medium heat. Be sure to break it up thoroughly as you don't want large chunks remaining.
Peel and dice 1 medium russet potato, 1 medium onion, and 3 cloves of garlic. Place in food processor and pulse until finely chopped but not pureed.
When the pork is mostly cooked (about 10 minutes), add the onion mixture to the pan and stir.
Add ground cinnamon, nutmeg, cloves, salt and pepper to taste.
Sautee the pork mixture for another 10 minutes, and add chopped thyme and mint. Stir well to combine and take off the heat to cool.
Roll out pie dough into 2 circles big enough to line a 12″ pie plate top and bottom.
Fill the crust with the cooled pork mixture and cover with top layer of dough. Crimp the edges and brush the beaten egg on top.
Bake at 375 degrees for approx 1 hour until the top crust is golden brown.
Let Tourtiere rest at least 10 minutes before cutting into it to serve.
Makes 4 obscene portions, or 6-8 more reasonable sized ones.