I must admit that when I first heard of Scotch Eggs, my gut reaction was "geez, leave it to the U.K. to find a way to make sausage and eggs more unhealthy", but the more I thought about it the more sense it made. I mean when you really think about it, it's a whole breakfast wrapped into a little ball that you can take with you without any mess at all.
Brilliant!
My biggest issue with Scotch Eggs however, has always been that by the time you envelope the hard boiled egg in sausage, then bread it, that crispy bugger is going to be as big as a Highland Coo. Since I'm a big fan of smaller, bite sized things, especially deep fried things, I decided I would solve the problem by using the much smaller quail eggs instead of chicken eggs. As an added bonus, what you end up with is more of the crunchy coating in each bite, which is a very good thing.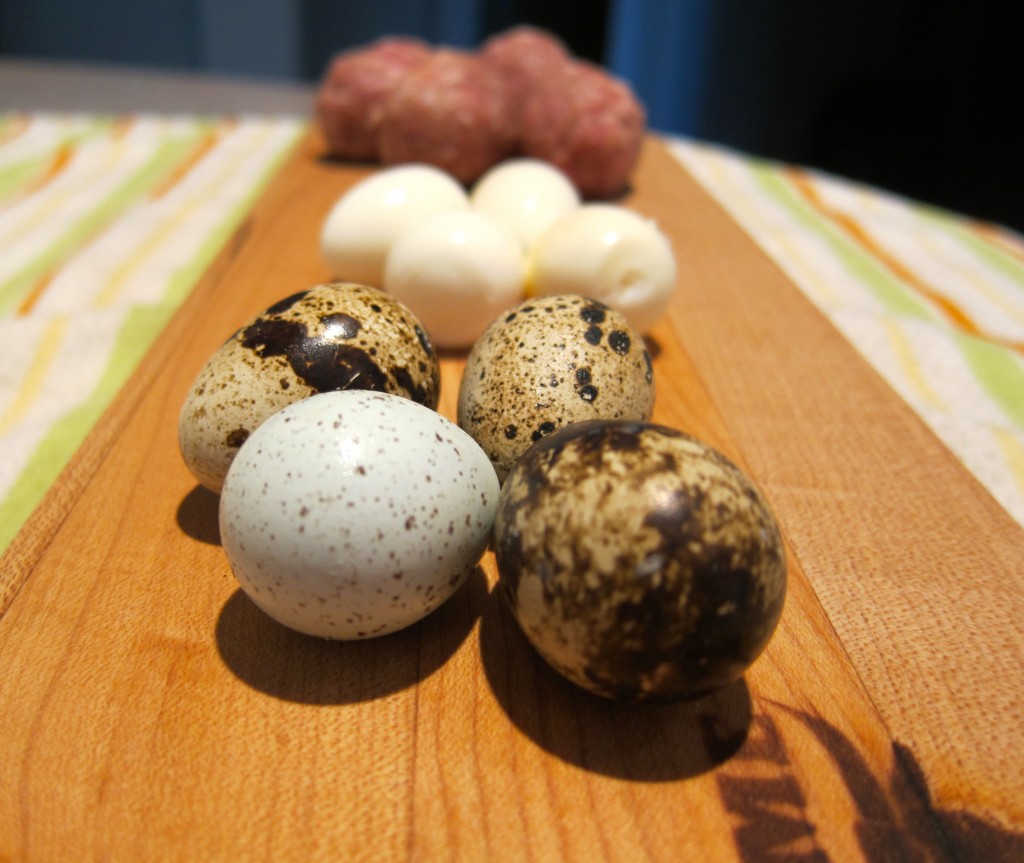 The whole process is a bit time consuming, so you can cut a few corners here and save some time and headaches. Here's a few tips to get you off on the right track.
Soft boil and peel the eggs the night before you want to make the Scotch Eggs
Quail egg shells are very thin, so you don't need to apply much pressure to crack them. Crack the fat end gently and use a sharp knife to pierce the membrane. Peel carefully. This is where having tiny girl fingers would have come in handy instead of my clumsy ogre hands. If they're being stubborn, crack the shells and soak 10 minutes. If that doesn't work, add another shot of Bailey's to your morning coffee and keep at it. Life is annoying sometimes. Deal with it.
If you're making your own sausage, season it the night before and let it rest in the fridge. If not, just remove your favourite sausage from it's casing and use that.
Making homemade sausage is as easy as a 6th grade math exam, which is to say a few of you would likely embarrass yourselves. Here's a quick way to heighten your kitchen cred…. Get 1 pound of raw pork sausage meat from your local butcher and add 1/2 tsp each of salt and pepper plus 2 tbsp of Drift spice (available at Acme Meat Market in Edmonton) or pre-made Italian seasoning. Pan fry a nugget of sausage and adjust seasoning as desired.
You can make things really easy on yourself by wrapping the boiled eggs in sausage the night before, then you just need to bread and fry them in the morning.
The biggest mistake you'll make in this whole process is overcooking the eggs when soft boiling them. I simmered them for about 2 minutes and they came out quite nice. If you undercook them they'll give you trouble when you're peeling, so I wouldn't go much less than 2 minutes.
Served with a squirt of ketchup and seasoned with a pinch of salt and fresh lemon zest, this breakfast is sure to blow your skirt up, or kilt as the case may be.
Scotch Eggs
12 quail eggs
1 lb of your favourite sausage meat (quick recipe above)
1 chicken egg- lightly beaten
2 tbsp flour
1/2 cup panko bread crumbs
Canola oil for deep frying
Fresh lemon zest
Preheat oil in deep fryer to 350 degrees.
Soft boil eggs and run under cold water to cool. Peel.
Roll eggs in flour to coat.
Take approx. 1 heaping tbsp of sausage meat and flatten into a patty. Form the meat around the egg gently, so not to damage the egg.
Be sure to seal the sausage all the way around, and dredge in flour. Shake off excess flour.
Roll through the beaten egg, and then the panko to coat.
Fry 2-4 at a time until golden brown. Remove and drain on paper towel.
Season with salt, pepper, and lemon zest while still hot.
Makes 4 servings of 3 eggs each.