I've been to 2 different chili cook-offs in recent months, and not a single competitor has even attempted one of my favourite varieties of chili- Pork Chili Verde (or Green Chili to you anglophiles out there).
For shame.
It seems that P.C.V. (yeah, you know me) is a completely unknown delicacy up here in Alberta. Really, can you name a place that makes it?
Sadly, I cannot.
So if Edmonton restaurants refuse to satisfy my craving, I decided I was just going to have to make it myself. And after I scarfed down my third bowl, I had to wonder- why doesn't anyone here make this mouth-watering New Mexican staple? It's so delicious and unique, and when our temperature drops, a bowl of this stuff on a blustery, winter day will warm you faster than hot cocoa and a fireplace.
Here's how to do it. (full recipe at the end)
Sear the pork
The roasted tomatillos, stock, and seasonings go into the blender
Mix everything in the pot. Easy, right?
Simmer on the stovetop for 2 hours. This is the hard part.
She may not be the prettiest girl at the party, but she will make your tastebuds dance!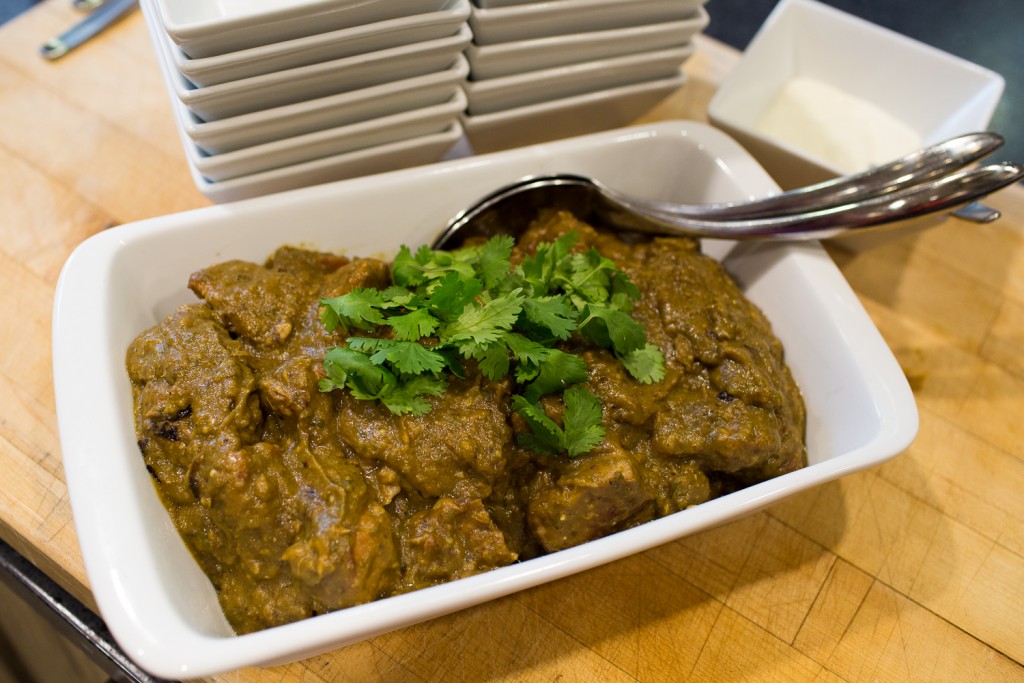 Robyn and I were so happy with the final product, and I'm sure you'll be too. Try it out, and don't forget to invite me for dinner.
Pork Chili Verde
3 pounds pork shoulder, trimmed and cut to 1″ cube
1 1/2 teaspoons salt
1 tsp ground black pepper
1 medium onion, diced
4 Anaheim chiles, roasted, peeled, and diced
3 jalapeños, stemmed, seeded, and finely chopped
1 clove garlic, minced.
1 1/2 pounds tomatillos
1 tbsp dried oregano
2 tsp ground cumin
2 tbsp ground coriander seeds
1/2 bunch cilantro, chopped
4 cups chicken stock
Canola oil and flour
Peel the husk, and core the tomatillos. Remove stem and seeds from chili's. Roast Tomatillos and chili's under broiler until charred and blistered. Set aside. Peel skin from chili's when cool enough to touch.
Season the pork with salt and pepper and dredge lightly in flour. Sear pork on all sides in frying pan with canola oil and transfer to a large pot.
Sautee onions in same skillet until soft. About half way through, add garlic, diced chili's, and diced jalapeno's.
Put roasted tomatillos and chicken stock in blender and add the rest of the seasonings. Blend completely.
Combine all ingredients into the large pot and simmer uncovered on the stovetop for 2 hours.
Adjust seasoning near the end after it had reduced and intensified.
Serve with buttered bread.
Serves at least 4 hungry people.
P.S. It's pretty darn good on homemade pizza too.
.